These fried green beans are beer battered string beans deep fried to golden brown perfection. Serve with ranch dip for a unique and unexpected appetizer!
I love to serve hot appetizers when I'm entertaining, some of my favorites include fried ravioli, crab rangoon and these amazingly delicious green beans.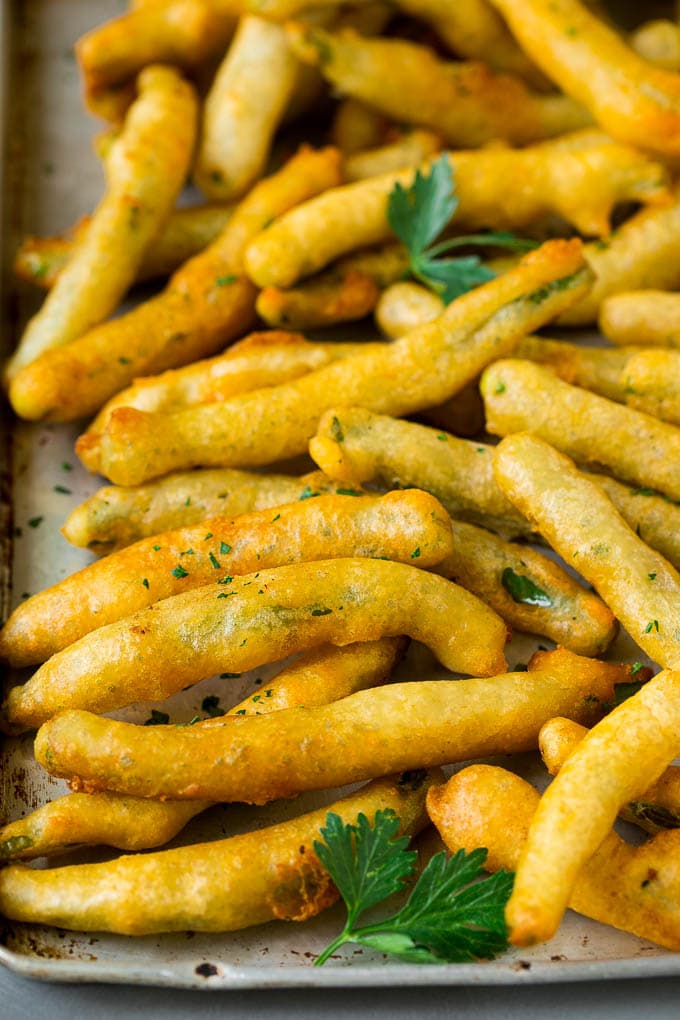 Also read: Egg Drop Soup | Family Cuisine
My local burger restaurant serves fried green beans as an alternative to traditional french fries. I was skeptical at first, but once I tried these green beans, I couldn't get over how delicious they are! This homemade version takes just minutes to whip up and is the ultimate party snack.
HOW DO YOU PREPARE FRESH GREEN BEANS?
To get your green beans ready for the fryer, all you need to do is give them a good wash, then trim off the stem end. The fastest way to trim off the stem end is to line up a handful of green beans, then cut the stems off all at once. It makes prep time go a lot faster.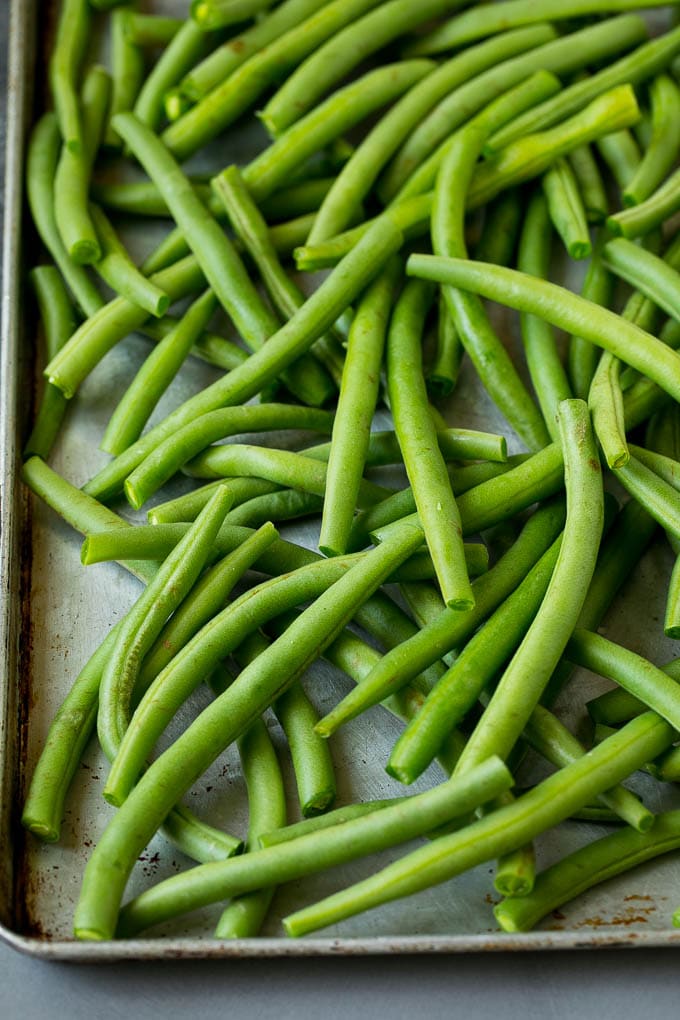 How do you make fried green beans?
Also read: how to deep fry boneless skinless chicken breast | Family Cuisine
Wash and cut the green beans then lightly coat them with flour. The flour helps the batter stick to the green beans and makes for a more uniform coating. Next, make a batter by combining beer, flour, salt, pepper, garlic powder and onion powder. Dip the green beans in the batter and immediately fry them in hot oil. You can fry about 9-10 green beans at a time. Each batch of green beans should take 3-4 minutes. Remove the green beans from the oil when they are golden brown. Sprinkle the green beans with parsley and serve them hot.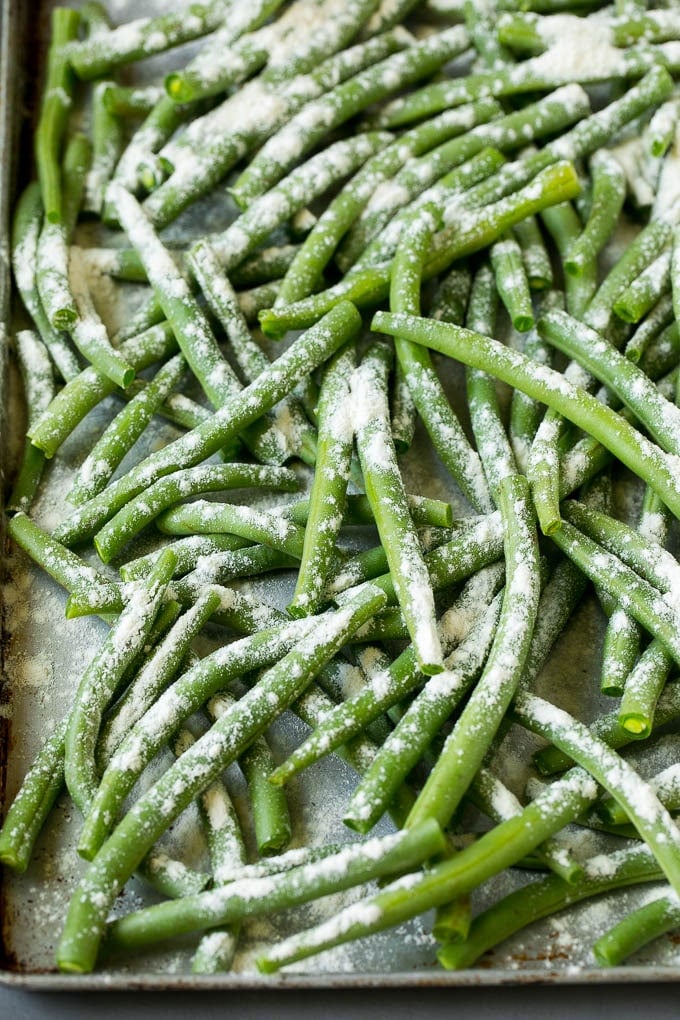 What Beer Should I Use For Beer Batter?
The beer should be a lighter colored beer. Use a lager if you want a mild flavored batter to let the green beans really shine. Use a lighter colored ale if you want a more complex tasting batter. I used a Belgian style wheat ale. The Belgian style wheat ale made for a delicious batter that was flavorful and golden when fried.
Also read: Fried Wonton Strips (Restaurant Style) | Family Cuisine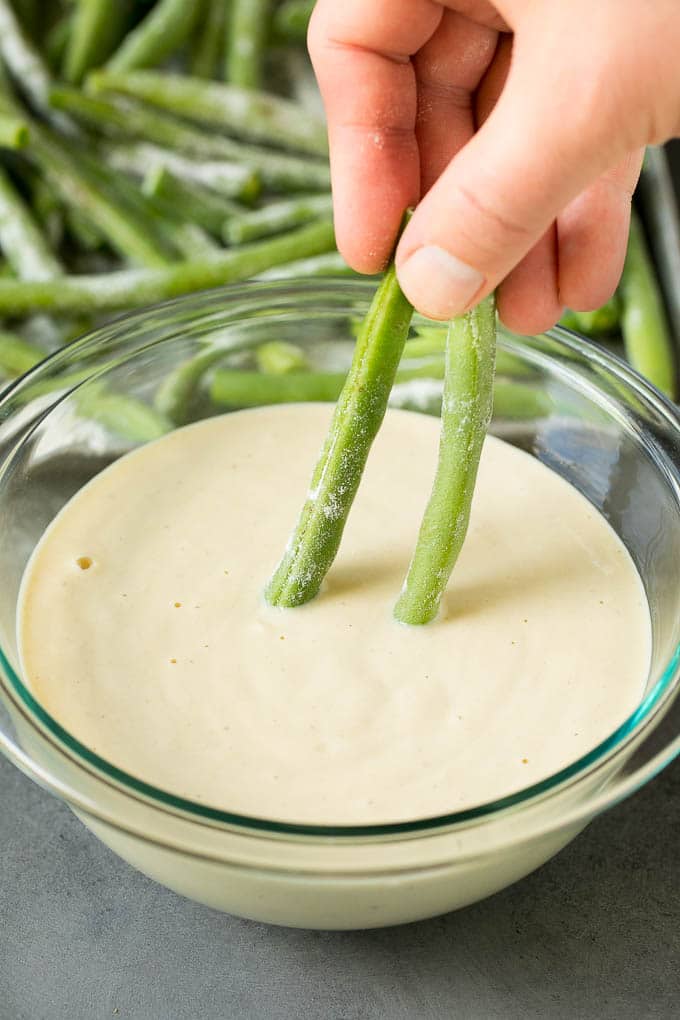 Tips for fried green beans
Fried green beans are best when served warm immediately after being cooked. However, they can be refrigerated and reheated. You can reheat them and crisp them up in a toaster oven or a conventional oven.
Fried green beans are great for an appetizer platter with other fantastic snacks like potato wedges or jalapeno poppers.
For some extra spice, mix some cayenne pepper into the batter.
I like to use fresh parsley to garnish the green beans, but you can use other herbs such as dill, green onions or basil.
When you fry the green beans, keep the batter close to the oil so that you can easily transfer the battered green beans into the oil.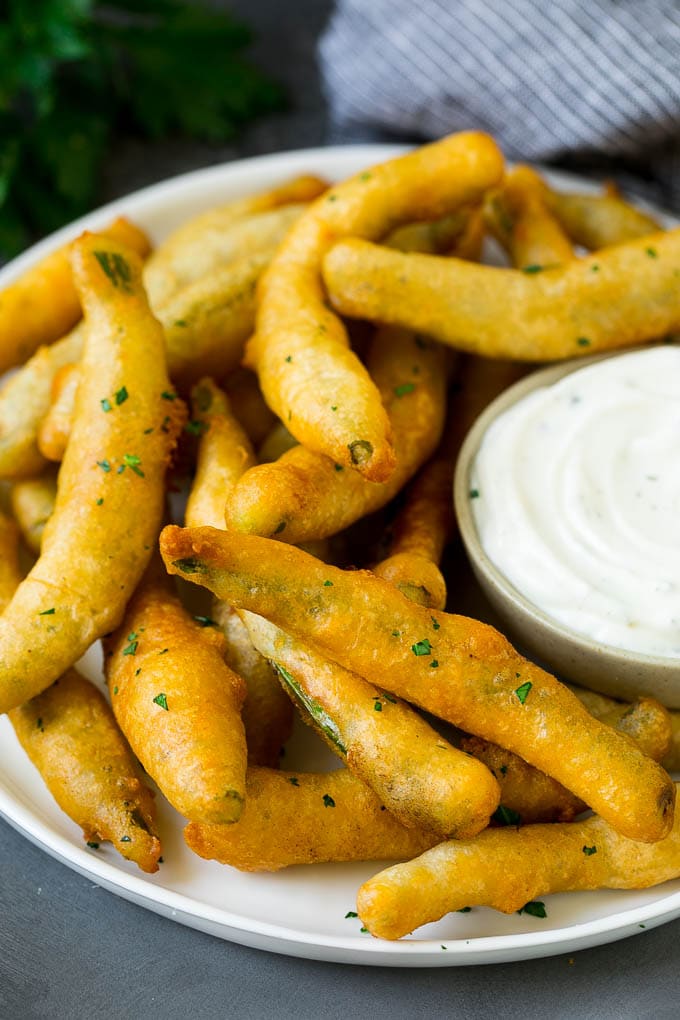 What to serve with fried green beans
Fried green beans are great on their own, but I think they're even better with a creamy dip on the side.
Ranch: Use your favorite homemade or store bought ranch dressing.
Chipotle Sauce: Puree 1/2 cup of mayonnaise with 1 canned chipotle pepper, 1 teaspoon lime juice and 1/2 teaspoon chili powder.
Garlic Aioli: Mix 1/2 cup mayonnaise with 1/2 teaspoon minced garlic, salt and pepper to taste.
You can't go wrong with these green beans. While they make for a fabulous party snack, you can also serve them as a side dish alongside a hamburger or grilled chicken. However you serve them, these green beans are sure to be a hit!
More great appetizer recipes
Buffalo Cauliflower Bites
Pizza Dip
Hot Spinach Dip
Fried Zucchini
Lemon Pepper Wings
Avocado Fries