Fried Sweet Plantains make the perfect side dish for African and Latin meals or a wonderful snack all by itself. They are crispy on the outside and soft on the inside. Sooo good with rice & beans, stews, or a replacement for tostadas! Amazingly delicious!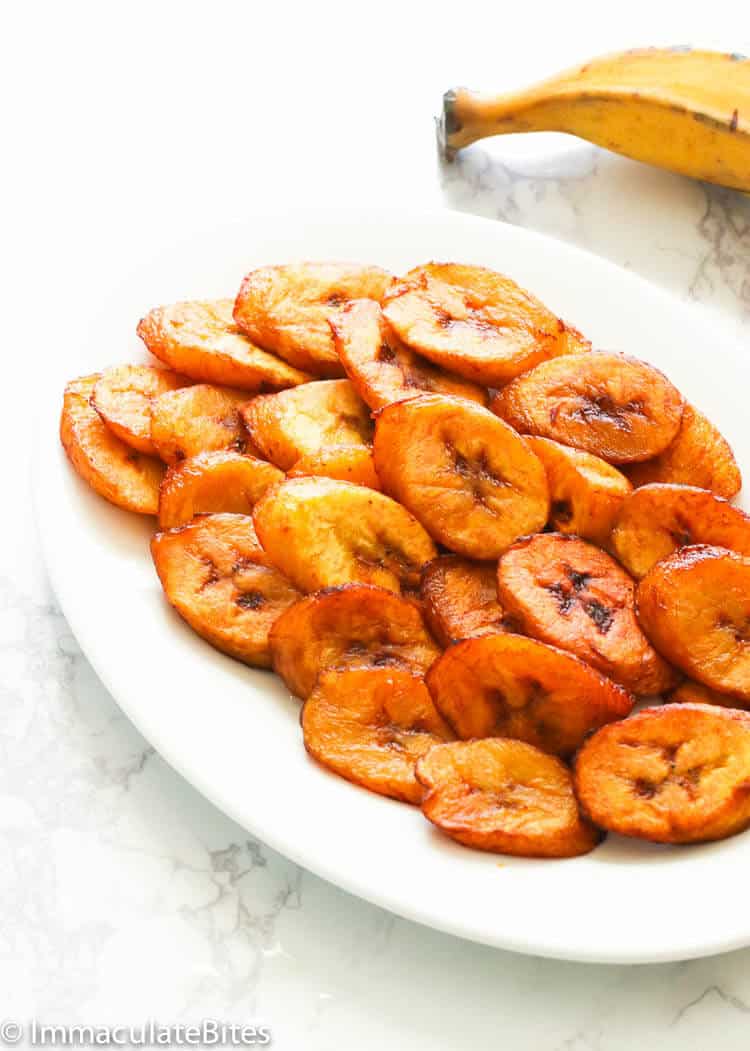 Reading: how to deep fry plantains
This recipe, if you can even call it a recipe, is so SIMPLE that you could make it with your eyes closed. It doesn't require any additional ingredients or complicated cooking methods. Making them is so straightforward, yet these fried sweet plantains always hit the spot!
I grew up enjoying anything with plantains. From Plantain Pancakes and Plantain Bread/cake to Plantain Chips – they always hold a special place on my taste buds. Plantains are widely consumed from West to East Africa, as well as Central America, South America, and the Caribbean. I really love finding and making comfort food from around the world. And for plantains – it is such a versatile fruit/vegetable that it's no wonder there are tons of ways to prepare them and put them on the table!
But the simplest way of all is this fried sweet plantain recipe!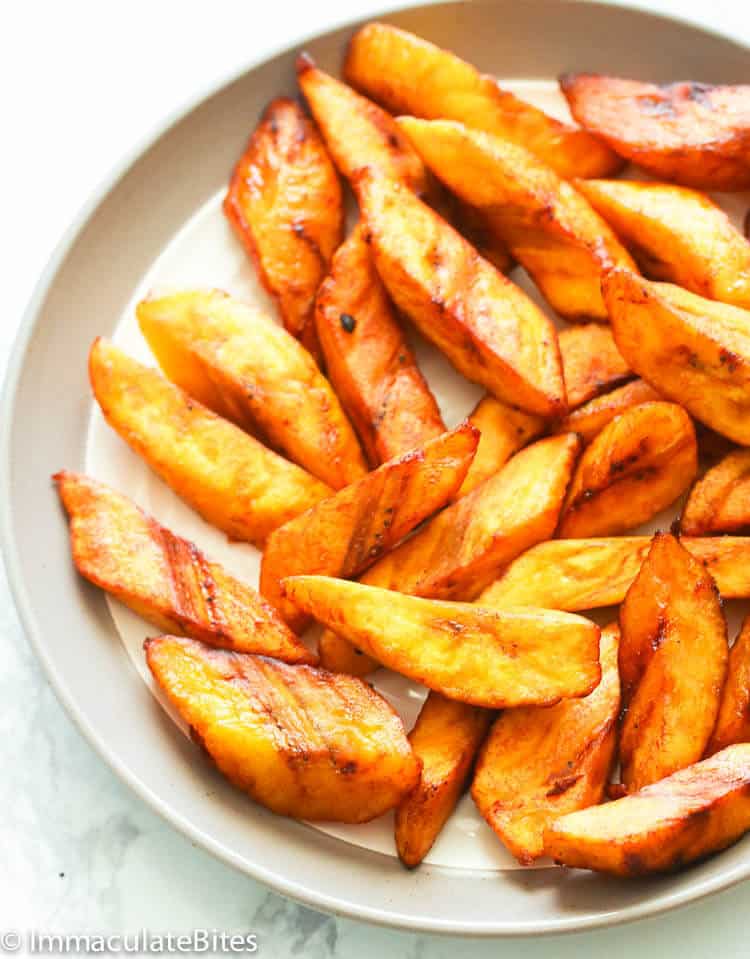 What are Plantains?
We are not going to talk about chromosomes and hybrids to identify what a plantain is. Plantains are also referred to as cooking bananas because they are generally used in cooking.
They can be eaten ripe or unripe and are generally quite starchy. In West Africa and other parts of Africa, plantains are often cooked as part of the main course or as a side dish. However, ripe plantains can also be eaten raw since their starches have been converted to sugars. They are different than bananas in that they are bigger and longer, are bright green (turning black as they ripen), and have thicker skins.
Plantains vs. Bananas
Plantains and bananas definitely belong to the same family. There's no doubt about that!
However, there are some differences. For example, plantains contain more starch and less sugar than bananas. In the unripe stage, they have a high starch content and very mild flavor. As such, they are used as a vegetable in many savory recipes the same way most people use potatoes. When they are green, they should not be consumed raw.
Bananas, on the other hand, are not traditionally eaten before ripening. They are eaten raw when they are ripe and sweeter. They have thinner skins, and you know when they're ripe because their skin turns a beautiful yellow.
Read more: how to make cashew tofu stir fry | Family Cuisine
Another advantage to fresh plantains is that they have more vitamin C, A, and potassium than bananas. Are plantains a healthy food? Of course, they are. Here is a good comparison chart for plantain vs. banana that describes in detail how they differ.
Everything You Need to Know About Plantains
How Ripe Should Plantains be for Frying?
That all depends on what you're using them for. When plantains are green, they are a perfect substitute for potatoes and make great fried plantain chips. They should always be cooked if they're green.
As it ripens, it becomes sweeter, and the peel turns black. Don't let that scare you! As long as it's still firm or slightly soft, it is perfectly ripe. If it gets too soft, it will just be a little messier to peel.
Should You Soak Plantains Before Frying?
It is a personal decision. Some do, some don't. That said, green plantains can be a little dry, and it does help fried plantains to keep their moisture in and not dry out.
If you're going to fry green plantains for tostones, soaking them before the second fry session gives them a nice crunchy outside and moist tender inside. Soak them in water with a little salt. Please, be careful because water and oil can be volatile. Dry off the plantains with a paper towel before putting them back in the hot oil.
How to Properly Keep Plantains
Room Temperature – They do well at room temperature. However, they will continue to ripen. Green plantains are used as a vegetable, while ripe plantains are just as likely to be used as a dessert.
The Fridge – This is not the best place to store plantains or bananas, for that matter, but if you must, then you must. They will last up to a week.
You can freeze plantains? Yes, you can. In a process similar to freezing bananas, remove the ends, and peel the plantain. You can freeze them whole or cut them up. Store them in a freezer bag or container for up to 3 or 4 months. When you are ready to use them, remove the bag from the freezer and use the plantain immediately, or very soon thereafter.
After frying – You can keep fried green plantains in an airtight container for a couple of days in the fridge. Honestly, though, they're best fresh. Fried sweet plantains store a little better in the fridge than the green ones do.
Love This Recipe? More Delicious Ways to Enjoy Plantains
Plantains can be grilled, mashed, Baked, boiled, or fried, and they can be used to replace potatoes in just about any recipe. If it's ripe, you can even eat it raw. Green plantains are the perfect replacement for Mashed Potatoes. Check out this recipe for Mofongo, and you'll see what I mean.
But to show you how versatile a plantain is, let me do a run-down of some of my favorite plantain recipes. (You're welcome! 😉)
Stuffed Baked Plantains – This is my favorite plantain recipe. These are delicious roasted plantains filled with well-seasoned ground meat, tomatoes, onions, bell pepper, and spices, then topped with cheese.
Plantain Chips – Crispy, crunchy, and addictive fried (or baked) plantain chips paired with sweet and tangy mango avocado salsa make a wonderful late-night snack or appetizer!
Kelewele or Aloco – A mouth-watering African spicy fried plantain recipe seasoned with cayenne pepper, ginger, lemon, nutmeg, garlic, and bouillon cubes. It is a soft, spicy, and sweet snack that pairs well with crunchy peanuts or with any protein.
Plantain Frittata – Baked Plantain Frittata, aka plantain and eggs, is a healthy and delicious take on fried plantains and eggs.
What You Need
The ingredient list is incredibly short. What more do you need than good plantains?
Read more: how to keep leftover stir fry vegetables crisp | Family Cuisine
Plantains: The cooking banana that offers the versatility of a vegetable or fruit. If it's green, it's treated similarly to a potato.
Vegetable cooking oil: A mild-flavored oil that can handle higher temperatures is best.
Salt – A basic ingredient that enhances flavor and even acts as a natural preservative.
What Goes Well With Fried Sweet Plantains?
Almost everything! Rice is a given, and several meat dishes just seem to be made for fried plantains. My personal favorite is Jollof Rice topped either Chicken Stew or Asun, spicy roast goat. For some reason, pork goes very well with plantains. Arroz con Gandules and Pulled Pork are absolutely sublime with them. Oh, and plantains go great with fish, too. Try them with this Caribbean Grilled Whole Red Snapper and enjoy a taste of heaven!
How to Fry Sweet Plantains
Now, there is no reason for you to get overwhelmed. As they always say, simplicity is the best; and these easy, fried plantains will always be the best way to enjoy plantains, whether as a side to your favorite savory dish or as a snack. Enjoy!
Peel and Cut Plantain
Slit – Using a sharp knife cut both ends off the plantain. This will make it easy to grab the skin of the plantains. Slit a shallow line down the long seam of the plantain. (Photo 1)
Diagonally Cut – Cut plantains in diagonal pieces or medium-sized slices and set them aside. (Photo 2 & 3) Or you can cut them smaller. (Photo 4)
Frying the Plantains
Heat oil – in a large skillet over medium-high. Test if oil is ready by carefully trying out a slice of plantain. Oil should bubble on contact before proceeding with the rest. If it doesn't, wait another minute or two. If oil is too hot, remove from heat and wait for about 2 minutes before proceeding.
Fry and Turn – Fry in batches until plantains have reached the desired color (golden brown), turning once, about 2-3 minutes per side. Then continue cooking, turning plantains occasionally until soft and deep golden brown, 5-7 minutes. (Photos 5-7)
Plate and Season
Transfer – Carefully remove plantains with a slotted spoon and transfer them to a paper-towel-lined plate or tray.
Season – with salt and/or cinnamon sugar, if desired, and enjoy a bite! Serve hot.
See! Wasn't that easy?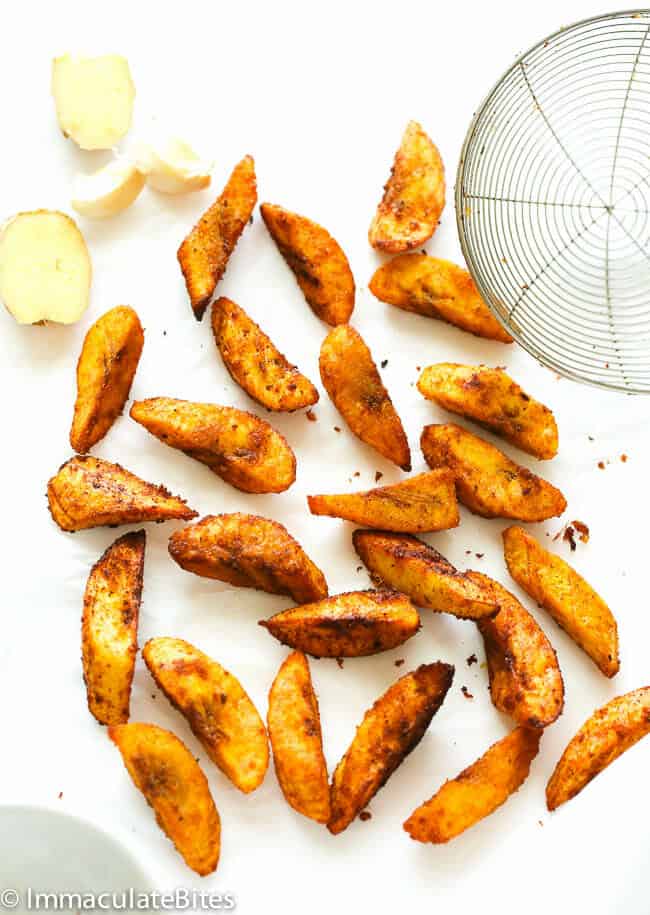 Read more: how to make vegan fried rice | Family Cuisine
Watch How To Make It