This restaurant style Homemade Salsa recipe can be made with canned or fresh ingredients and is ready for snacking in only 5 minutes! Serve with some salty tortilla chips or spoon on top of your tacos, burritos, or nachos. This is the perfect addition to all of your favorite Tex Mex meals!
Why make this salsa?
Quick and easy: this recipe comes together in 5 minutes and can be stored in the refrigerator for up to 5 days.
Fresh or Canned Ingredients: use what you have on hand, grab all of those fresh summer tomatoes, or if needed you can use your canned tomatoes. This allows you to make great quality salsa all year long. Personally I love the texture that comes from using canned tomatoes, but some people prefer all fresh, you can also do a combination of the two.
Control the heat: you are in control of the spiciness of this recipe. If you would prefer you can leave the membranes in the jalapeno, you could add more jalapeno, or you could even toss in a Serrano for a little extra heat.
Sweetness: using a little touch of honey in this recipe cuts through the acidity of the tomatoes and gives you a nice smooth taste.
Ingredients:
Notes on some ingredients:
Tomatoes: use one can of diced tomatoes and one can of diced tomatoes with green chiles if needed. Or grab one pound of fresh tomatoes.
Chile: this recipe is made using jalapeno, removing the seeds and membranes makes for a nice mild salsa that pairs nicely with meals and is great for serving with tortilla chips. If you personally want more heat add in extra jalapeno or even a Serrano pepper.
Honey: adding this cuts through the acidity of the tomatoes and gives a smooth flavoring.
How to make (Step by Step)
Step 1: Add ingredients to food processor and pulse the ingredients together.
Step 2: Taste and adjust salt and lime juice as necessary.
Expert Tips:
The type of tomatoes you use matter! For this particular salsa I love using canned tomatoes. It's quick and easy. If you're using fresh I would go for a Roma tomato or a San Marzano. If using fresh tomatoes I would recommend roasting them in the oven first, or even boiling them on the stovetop for about 10 minutes.
When adding the ingredients to the processor add the garlic, jalapeño and onion first. This ensures that it gets chopped up nice and fine. No big chunks of garlic left to disrupt your enjoyment.
Start with a small amount of lime juice. Lime can be overpowering. So start small and add more to taste if needed. If you add too much there's no going back.
Adjust to taste. One of the best things about making your own salsa is that you can customize it and make it more to taste. More salt, more jalapeño for more spice, more honey, or more lime juice.
Pulse the Processor: we want our ingredients to be chopped up but still be chunky, don't overblend.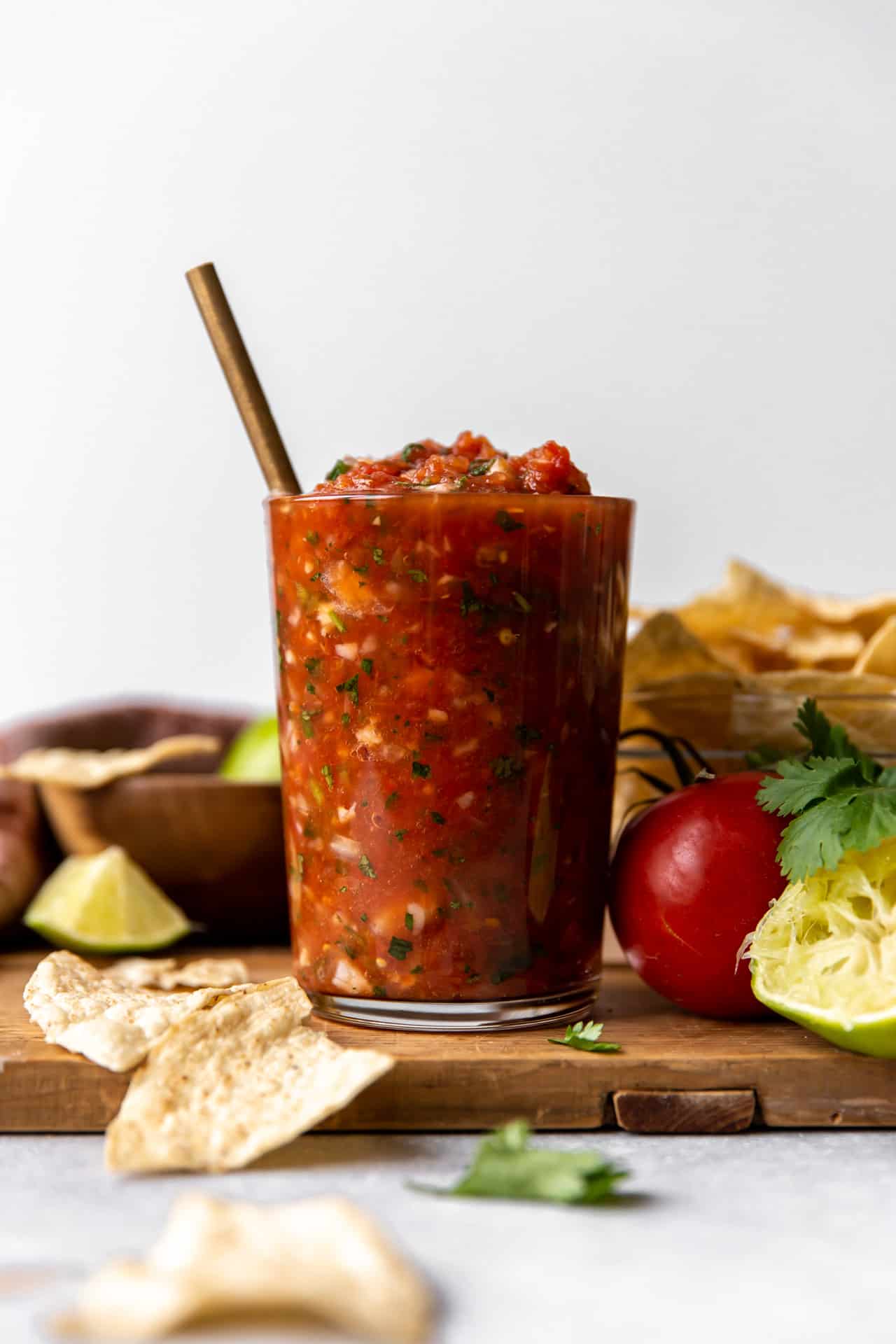 F.A.Q's:
More Salsa Recipes:
This mild and creamy Avocado Salsa is great as a topping and also doubles as a salad dressing.
Fresh and bright this Strawberry Mango Salsa is perfect for a fun summer treat.
A classic Salsa Verde recipe that is easy to make!
If you tried this recipe please leave a comment and a ⭐️⭐️⭐️⭐️⭐️ rating below! Thank you so much!
Reading: how to do salsa sauce
Read more: how to make big mac sauce recipe | Family Cuisine
Recipe first posted in 2014. Updated on February 20, 2018. And again June 11, 2021 with new images and information.
Photography done by the talented @familycuisine.net
Read more: BEST Cherry Sauce | Family Cuisine