Forget Chinese take-out. Not only is this EASY Shrimp and Broccoli Stir Fry recipe a family favorite, it can be on your dinner table in less than 30 minutes!
Succulent shrimp and crisp-tender broccoli in a honey garlic sauce is simply delicious served over rice or noodles.
Double the sauce ingredients if you like a little more. Then, garnish with sesame seeds and serve up with chopsticks to make it fun for everyone.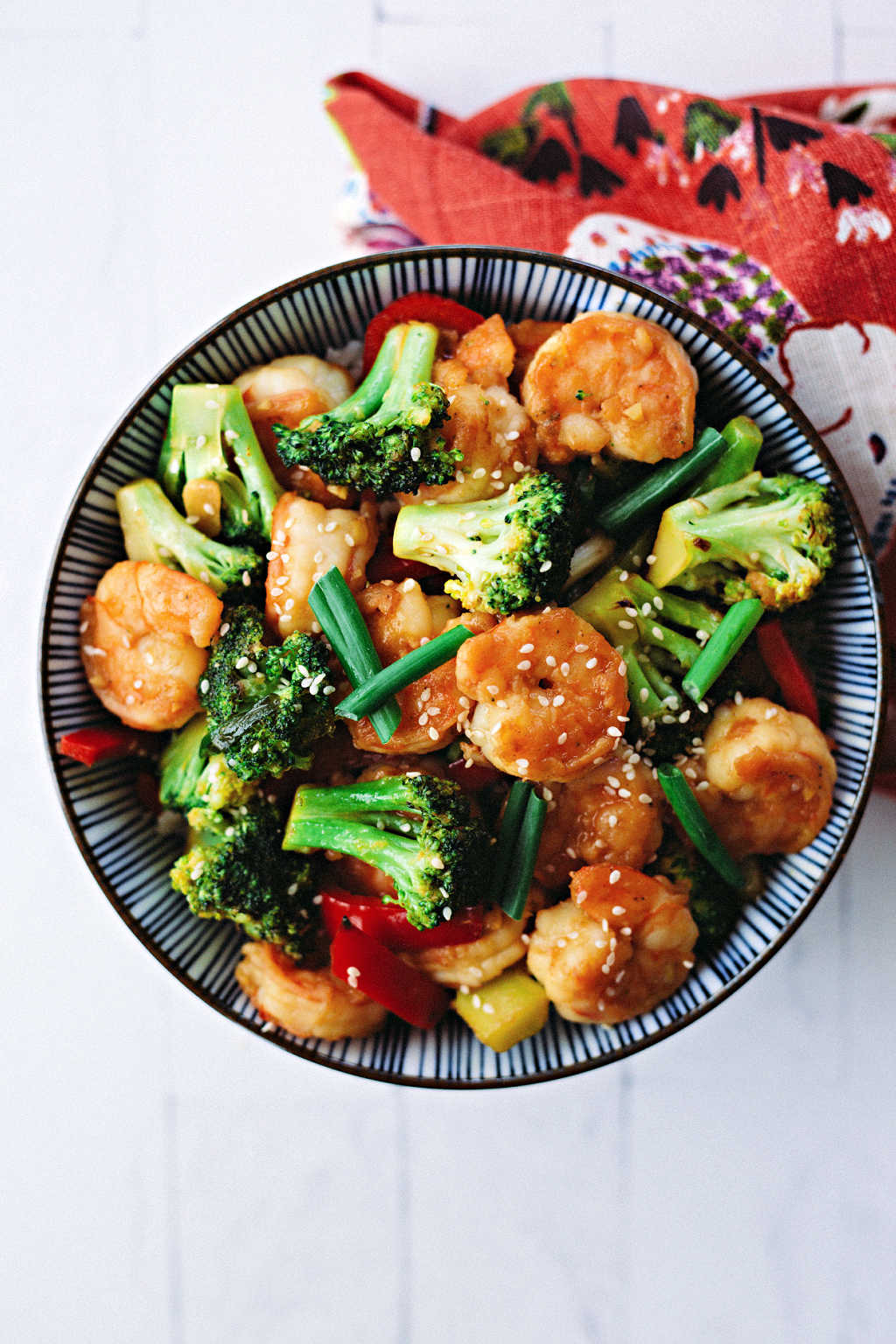 Shrimp Broccoli Stir Fry
This Shrimp Broccoli Stir-Fry recipe that I originally shared over at The Weary Chef is a great weeknight dinner option for busy families.
Planning and cooking dinner after a long day in the office may often seems like a real chore for working Moms and Dads. It's on those days that picking up something quick on the way home is so very tempting.
Also read: how to make stir fry steak simple | Family Cuisine
Even when I feel exhausted from a long day, getting in the kitchen and doing a little cooking can actually be a little bit therapeutic, especially if it's as quick and easy as a stir-fry dinner.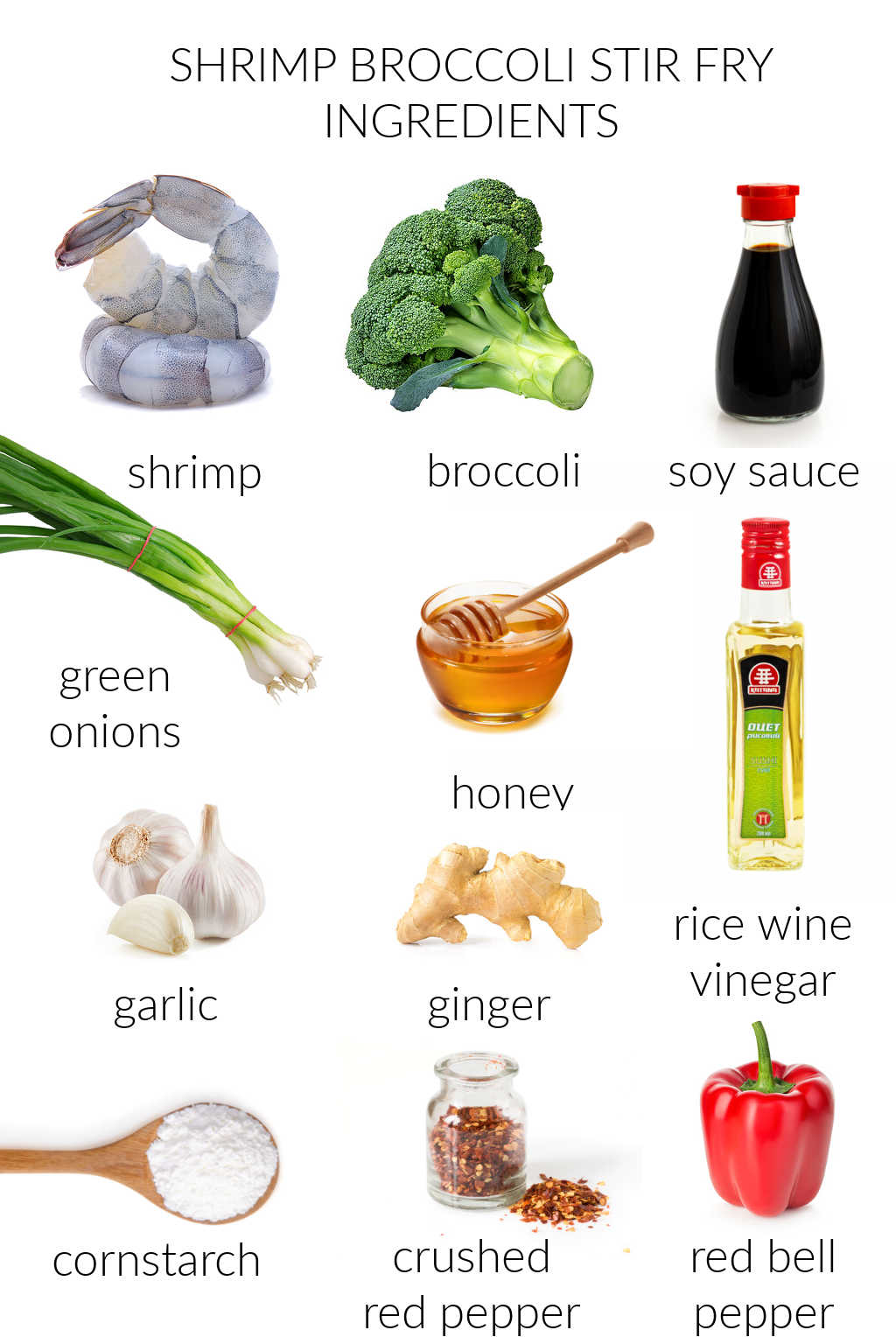 Ingredients
Unlike a lot of other stir-fry recipes, Shrimp Broccoli Stir Fry actually requires a very few basic ingredients!
Shrimp — feel free to use fresh or frozen in this recipe
Broccoli florets — again, either fresh or frozen will work
Green onions or scallions
Red bell pepper — totally optional, but I love adding them for the color!
Fresh garlic — or jarred minced garlic
Fresh ginger — substitute ground ginger if you don't have fresh in your pantry
Canola oil — for stir frying
Soy sauce — I use lower-sodium soy sauce in my cooking
Rice vinegar
Honey
Cornstarch — to coat the shrimp for a slightly crispy texture
Crushed red pepper — to add a touch of heat!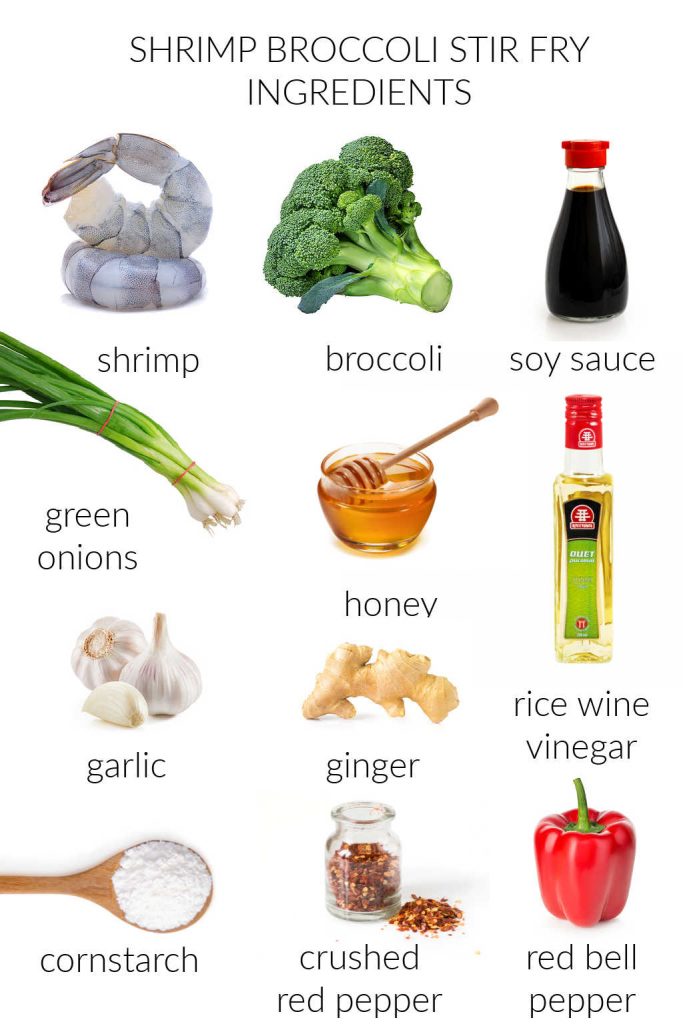 Instructions
Chop the vegetables and measure out all the other ingredients you will use for the recipe.
Use paper towels to blot the peeled and deveined shrimp dry, then place into a medium bowl. Sprinkle with the cornstarch and toss gently to coat.
Heat a large wok or skillet over high heat. Add 1 tablespoon of oil to the pan and swirl to coat. Add the shrimp to the pan and cook about 4 minutes, stirring constantly, until the shrimp are light golden brown. Do not over cook.
Remove the shrimp from pan to a plate.
Add more oil to the wok and swirl to coat again. Add the green onions, ginger, and garlic, and stir fry for 45 seconds, until fragrant. Use a slotted spoon to add this mixture to the plate with the shrimp.
Add another tablespoon of oil to wok, swirling to coat, and toss in the red bell peppers and broccoli. Cook and stir another couple of minutes.
Next, add the shrimp and onion mixture back to the pan. Pour in the soy sauce, rice vinegar, honey, and red pepper flakes and bring to a boil. Cook another minute or until the broccoli is crisp-tender.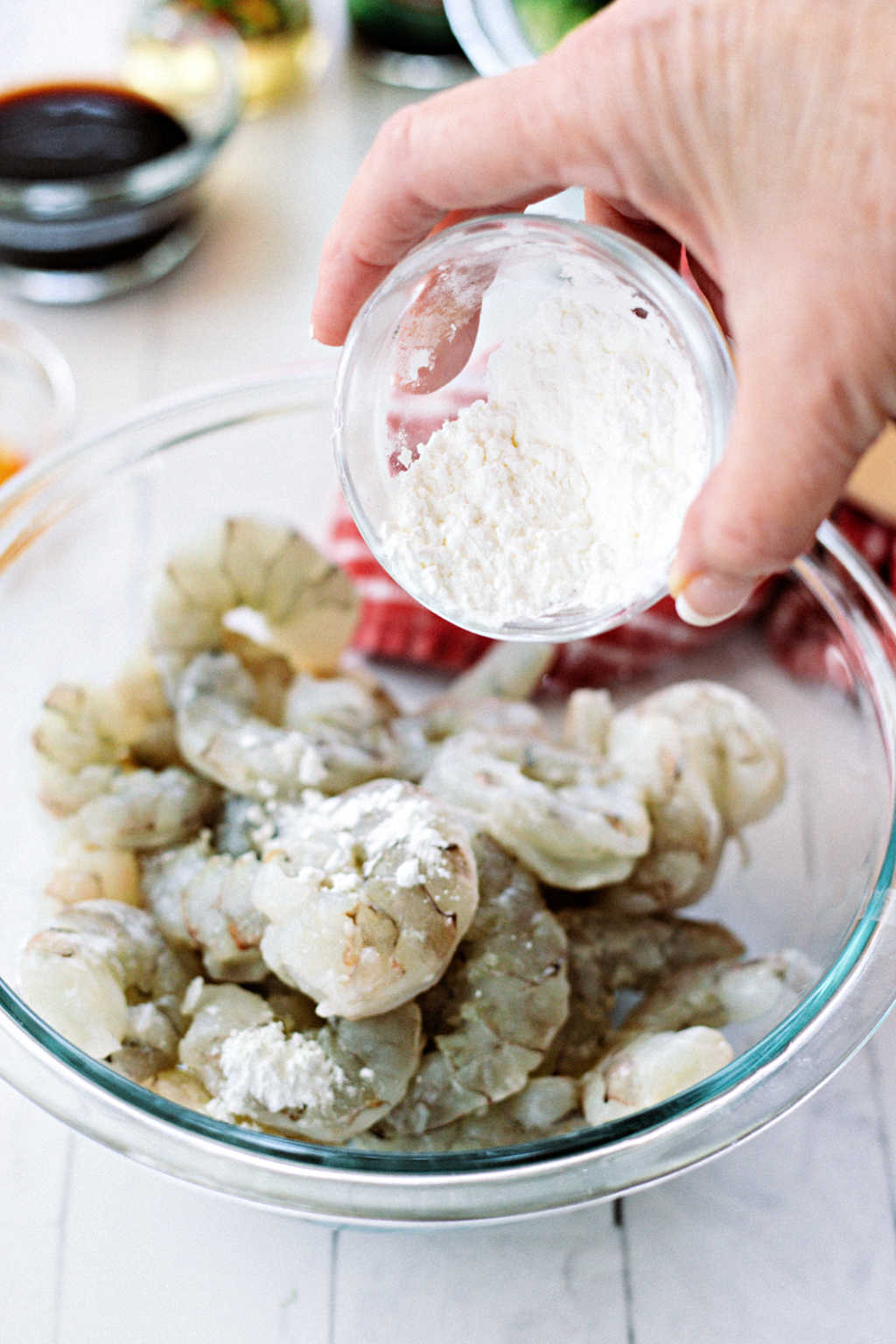 Tips for stir fry success
With stir-frying, smaller pieces of food are cooked in a wok with a small amount of oil over fairly high heat, stirring constantly until done. Because the food cooks so fast, a little planning will ensure a superb stir frying experience:
Always prep all the ingredients before you heat up the wok so you're ready to add the ingredients at the right time without scrambling.
Peel and devein the shrimp, chop the veggies, mince the garlic and ginger, and measure out all the other ingredients.
Add ingredients to the stir fry according to their cook time to avoid soggy vegetables. See the recipe for specific instructions.
What if I don't own a wok?
Originating in China, a wok is a deep cooking vessel with a round bottom specifically designed for fast cooking, or stir-frying, at a high temperature.
A wok is deeper than a skillet and cooks on all surfaces, even up the sides, making it my first choice when stir frying.
Also read: Gyoza (Japanese Potstickers) (Video) 餃子 | Family Cuisine
But don't fret if you don't own a wok! A large, deep skillet will also work for stir fry recipes.
What oil should you use for stir fry?
Since you are cooking at high heat, choose an oil that has a higher smoke point, like canola. Peanut or grapeseed oils also have a higher smoke point.
If you don't have those oils in your pantry, extra-virgin olive oil will work, just be sure to reduce the heat when cooking.
Does broccoli need to be cooked before stir frying?
There's no need to cook broccoli before adding to the stir fry. To ensure it cooks evenly, be sure to cut the broccoli into small florets and halve any pieces that have a thicker stalk.
Can you add frozen vegetables to stir fry?
Absolutely! If you have a bag of frozen broccoli florets, add them to the stir fry according to the recipe order straight from the freezer at medium-high heat.
Can you stir fry shrimp and broccoli at the same time?
Also read: how to make stir fry with fish sauce | Family Cuisine
I wouldn't recommend tossing everything in at once since the ingredients cook for different lengths of time to get done. Shrimp cooks quickly, so stir fry it first, then add it back to the wok after the broccoli has cooked a few minutes to ensure everything comes together perfectly at the end.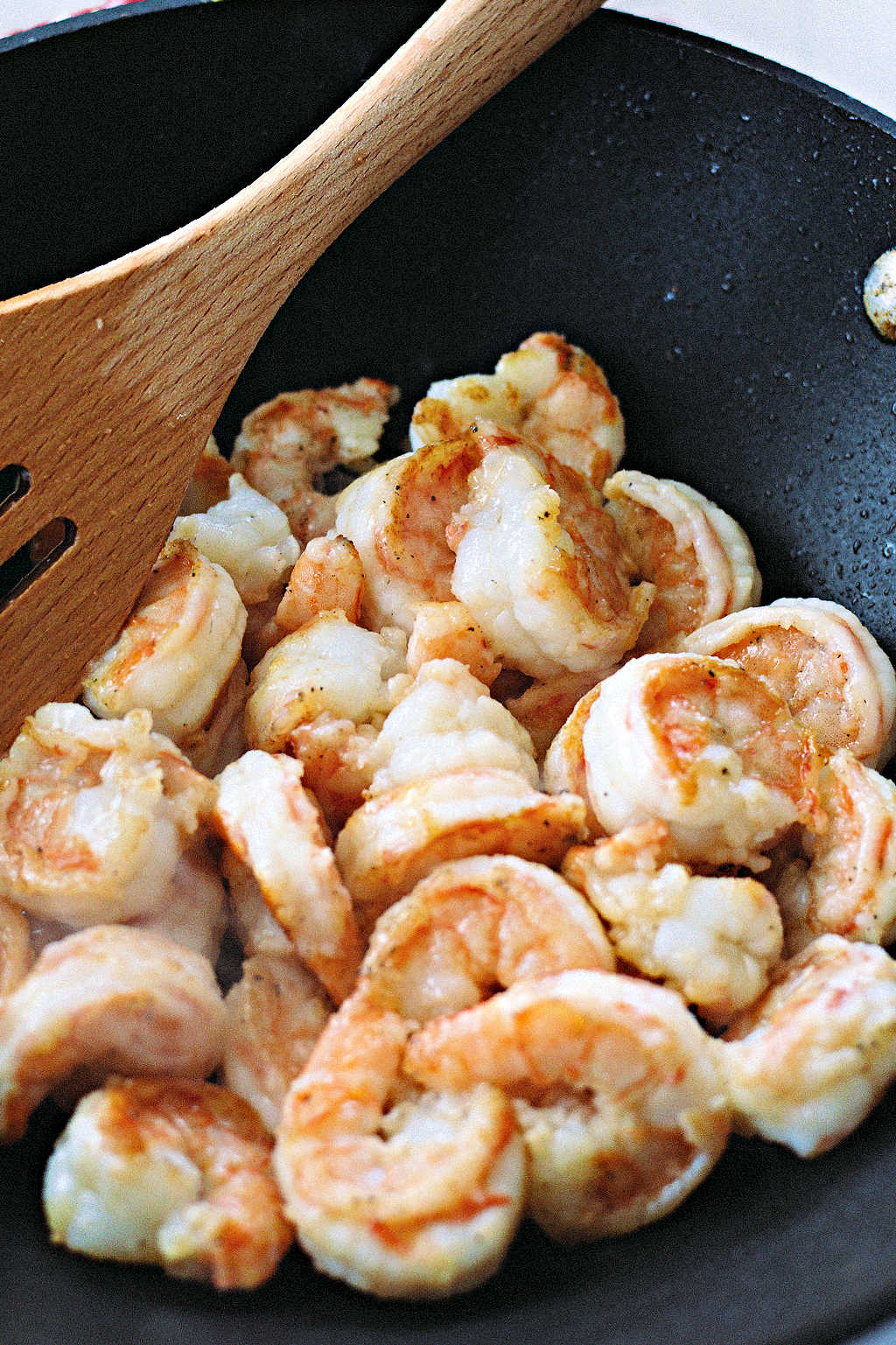 Time-saving tips
Feeling inspired? Dinner really doesn't have to be a chore! Here are a few shortcuts for making this meal particularly easy and quick:
Buy shrimp that is already peeled and deveined (cuts out extra prep work!).
Use a bag of pre-cut broccoli florets.
Boil water for the rice first and allow it to steam while you prepare the stir-fry.
Stage all the ingredients before you start to stir-fry, so that once you get started you can quickly add the next ingredients.
Just in case… how to devein shrimp
Most of the time, I purchase shrimp from the meat counter that has already been deveined. The shells are already split which make them really easy to peel, too.
For those times that deveined shrimp is not available, I follow this easy process:
Use kitchen shears to snip the shell along the top (opposite side from the squiggly feet on the bottom) and stop when you get to the last section and tail.
Slide the shell away from the shrimp, removing the feet, too. Discard the shells or save them to make shrimp stock. Also, if needed use a chef's knife to cut off the heads and discard.
Use the sharp, thin tip of a paring knife to score the shrimp along the back side to expose the black vein.
Pull the vein out with the tip of the paring knife and discard.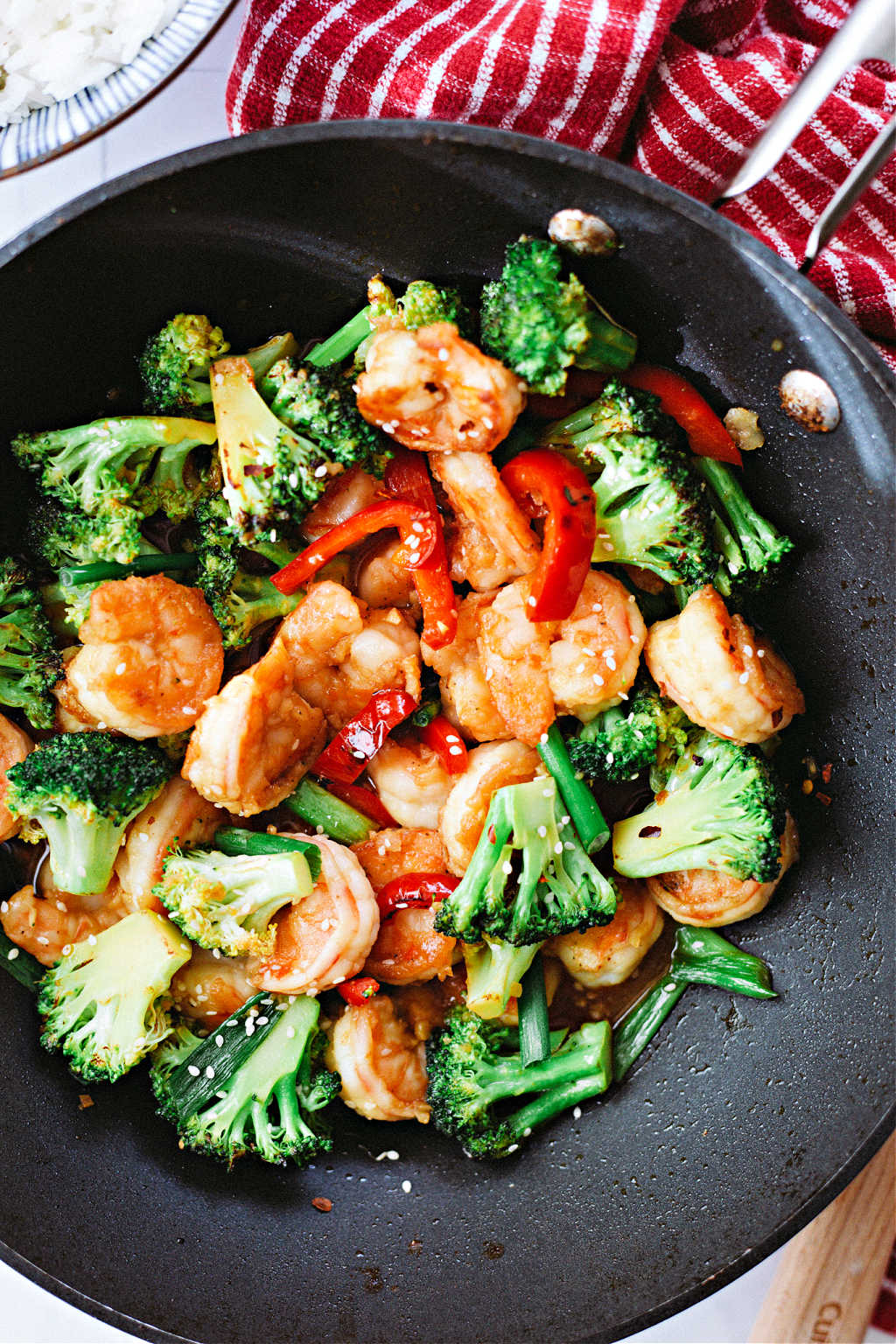 Related recipes
Easy Orange Chicken Stir Fry
Brown Butter Scallops
Southwest Shrimp and Succotash
Honey Soy Salmon Sheet Pan Dinner
Citrus Salmon Dry Rub
Crispy Oven Fried Fish Filets
Let's cook!
We like our Shrimp and Broccoli Stir Fry served over brown rice for a healthier option (as opposed to white rice). I don't own a rice cooker, so I normally purchase the "quick" rice that cooks in just 5 minutes — again, quick and easy for week nights!
Please share!
Your shares are how this site grows and I appreciate each one. Do you know someone who would enjoy this recipe? I'd love it if you would share it on Facebook or on your favorite Pinterest board!