BOLOGNESE SAUCE to RIVAL ANY RESTAURANT!
Everyone needs the BEST Bolognese Sauce in their recipe repertoire and this is it! This Bolognese recipe is rich, hearty and exploding with complex layers of flavor BUT is on your table in less than one hour and most of that time is hands-off simmering! You can serve Bolognese Sauce with spaghetti, pappardelle or any other favorite pasta or use it to make manicotti, lasagna, etc. This Bolognese Sauce makes a generous amount so it's perfect to make ahead and freeze for later (instructions included) or to share with a friend. I've also included a few shortcuts to chop your prep time down to minutes – literally!
PIN THIS RECIPE TO SAVE FOR LATER
BOLOGNESE
Bolognese is probably the most popular Italian recipe in America, with the exception of pizza, and the recipe I make more than ANY other recipe! It's rich, saucy, meaty sauce is my ultimate comfort food. It's perfect to slather on some pasta when you don't want to go all out and make the World's Best Lasagna or Manicotti, and you still get indulgent results.
So, although it's summer, I had to share this Pasta Bolognese recipe with you because I crave it all summer, fall, winter, and spring long.
This Bolognese recipe is almost identical to the recipes I use in my Lasagna, Million Dollar Baked Penne, and Tortellini Al Forno. Many readers have commented that the Bolognese sauce used in those recipes is "the best [they've] ever had" and the "only Bolognese recipe I'll use from now on," so I knew it needed its very own recipe.
This Bolognese Sauce recipe is made with the typical cast of characters of Italian sausage, beef, sautéed minced onion, garlic, carrots and celery, crushed tomatoes, tomato sauce and tomato paste. We also add chicken bouillon (to mimic pancetta and reducing for hours), a splash of balsamic vinegar and pinch of sugar to add dimension and plenty of dried herbs -parsley, oregano and thyme and loads of fresh basil (although you can substitute dried). I also LOVE crushed red pepper flakes to enliven the entire pot of Bolognese sauce. Finally, we finish it off with heavy cream for an indulgent creaminess that elevates it to a whole new level – again.
The end result is the BEST Bolognese Sauce in my humble opinion – divinely comforting, deeply satisfying, wonderfully rich, unbelievably flavorful, – worthy of your recipe binder, worthy of company, and most importantly, worthy of your time. I hope you love this Bolognese recipe as much as us! xo
Reasons to Love THIS Pasta Bolognese RECIPE:
Easy. Want to know my shortcut tip for EASY Bolognese Sauce?! I chop my onions, carrot and celery in my food processor! This means practically ZERO chopping. After you sauté the meat and veggies, all you have to do is stir a bit while it simmers for restaurant quality Bolognese at home!
Pantry friendly ingredients. Just pick up some carrots, onions and celery (which I always have on hand anyway and last forever in the refrigerator), and you can make this Bolognese Sauce recipe any time because you probably already have the rest of ingredients already – or you can easily stalk up on them.
Crowd pleaser. EVERYONE loves Pasta Bolognese! Serve it with your favorite pasta and even the pickiest eaters will be singing your praises!
Makes a large quantity. This Bolognese sauce recipe makes enough to serve for dinner and then enjoy leftovers the next day OR it's enough for large crowds, dinner parties or company.
Less Expensive. This Bolognese recipe tastes like your dining at your favorite Italian restaurant but you can serve the entire family for the same price as one serving!
Make Ahead. Bolognese only tastes better the next day, so it is perfect to make a day or two in advance and then just reheat at dinner time.
Freezer friendly. You can make this best Bolognese sauce and enjoy some now and freeze the rest for later or make it strictly to freeze. It makes a fabulous gift for new moms or when someone has had surgery.
WHAT IS BOLOGNESE?
Bolognese is known in Italy as ragù alla bolognese, and gets its name because it originated in Bologna, Italy. Bolognese is a meat-based sauce which includes a sofrito of onion, celery and carrots along with fresh tomato purée, white wine, chicken broth and either milk or heavy cream. Pancetta is often added as well.
The sauce is simmered low and slow to create a hearty, thick sauce. Bolognese is more meaty than saucy, unlike marinara or what you think of as spaghetti sauce.
Also read: how to marinate steak with teriyaki sauce | Family Cuisine
This Bolognese Sauce recipe is not an ultra authentic Bolognese recipe with pancetta that requires up to all day simmering, standing and stirring, BUT it tastes like it. Instead, I use tomato paste to deliver concentrated tomato flavor so you can be slurping Bolognese in less than one hour!
WHAT IS THE DIFFERENCE BETWEEN BOLOGNESE and WEEKNIGHT SPAGHETTI BOLOGNESE?
You might be wondering what the difference is between this Bolognese Sauce recipe is and my weeknight spaghetti Bolognese recipe?
Well, when I'm feeling a little lazy, I opt for my weeknight Spaghetti Bolognese. When I'm feeling a little more gourmet, I opt for this from-scratch homemade Bolognese Sauce.
The ingredients are very similar except this Bolognese Sauce recipe uses both ground beef and Italian sausage (double the meat), fresh basil (as opposed to dried), crushed tomatoes and tomato sauce (as opposed to jarred marinara). It also simmers for 30-45 minutes as opposed to 15. Both are fabulous, and both have a reason to belong in your kitchen and in your mouth!
WHAT IS THE DIFFERENCE BETWEEN SPAGHETTI SAUCE AND BOLOGNESE SAUCE?
Bolognese vs Spaghetti Sauce: The typical red spaghetti sauce we think of without meat is our slang for Marinara Sauce served over spaghetti. Marinara is a type of tomato sauce made with olive oil, tomatoes, garlic and herbs, it often contains sofrito as well, just like Bolognese. What sets them apart is that Bolognese also includes two types of meat (beef and Italian sausage) as well as heavy cream and is mostly meaty verses saucy.
ARE RAGU AND BOLOGNESE THE SAME THING?
Bolognese vs Ragu: ragu is a meat-based Italian sauce made with any type of protein (veal, beef, lamb, pork, fish or poultry), onions, carrots, celery and often pancetta with a minimal amount of tomato sauce. Heavy cream is often added. Bolognese is a popular type of ragu sauce characterized by its use of beef. So, all Bolognese recipes are a type of ragu but not all ragu recipes are Bolognese.
WHAT IS BOLOGNESE SAUCE MADE OF?
This Bolognese Sauce recipe uses pantry friendly ingredients so you can make it any time. Here is what you'll need:
Meat: I highly suggest using both lean ground beef and Italian sausage. Italian sausage comes seasoned with Italian seasonings, primarily fennel. Fennel is crucial for authentic Italian flavor so if you skip the Italian sausage, make sure you add some fennel to your meat sauce. For the lean ground beef, take care you are using (93/7) so that the sauce doesn't end up greasy. You will also want to drain your meat of any excess grease after cooking.
Vegetables: the best sauces begin with a sofrito of onions, celery and carrots to infuse the entire sauce with flavor. After the sauce is simmered you shouldn't notice any chunks of vegetables but you WILL notice the depth of flavor. If you skip the sofrito, you are skipping a key element of Bolognese and skipping out on tons of flavor.
Crushed tomatoes: you will need one 28 oz can crushed tomatoes (often called crushed tomatoes in puree). Take care your crushed tomatoes don't have any additional seasonings or added salt. The crushed tomatoes add texture and of course our full-bodied tomato flavor. I recommend the brands San Marzano, Cento and Muir Glen. San Marzano tomatoes are usually sold "whole" so you will want to pour them into a bowl and crush them with your hands first.
Tomato paste: isn't a traditional ingredient in Bolognese but is the key to making our Bolognese sauce taste like it's been simmering for hours. Just a couple tablespoons of tomato paste deliver the intense tomato flavor we're looking for.
Tomato sauce: I like to use tomato sauce instead of chicken broth because it creates a richer sauce with more flavor.
Sugar: We balance the acidity of the tomatoes with a teaspoon or so of sugar. The amount of sugar will depend on the actual acidity of the tomatoes and personal preference. I actually find I add a different amount of sugar every time! I recommend starting with 1 teaspoon and adding additional sugar to taste at the end of cooking because the heavy cream or milk added at the end will balance some of the acidity.
Garlic: is essential to flavorful Bolognese! I use 8 garlic cloves but you can use more or less depending on your garlic love.
Seasonings: in addition to the aromatic onions and garlic, this Bolognese Sauce is seasoned withred pepper flakes, basil, parsley, oregano, thyme, salt, pepper and a bay leaf. You may substitute the fresh basil for dried basil with delicious results- I do it all the time.
Red pepper flakes: I LOVE red pepper flakes in my Bolognese. They add just the right amount of kick and really make all the flavors come alive. I recommend ½-1 teaspoon red pepper flakes. If you aren't sure how much you want to add, then start with less and you can add more to taste at the end of cooking.
Chicken bouillon: bouillon replaces the cups of chicken broth in Bolognese that simmers for hours and instead, infuses the sauce with the same intense flavor (as well as replacing the salty pork). This one ingredient is KEY to flavorful Bolognese sauce!
Heavy cream: is added at the end of simmering and is sublime. It balances the acidity of the tomatoes and adds a slight buttery creaminess. I HIGHLY recommend the heavy cream, but if you don't have it on hand, then you can stir in a little milk and a little butter to mimic heavy cream if you're feeling fun and flirty – or just a little milk if you're not.
Recipe Variations
Pancetta: Begin by cooking 4 ounces pancetta, finely diced, in one tablespoon olive oil before adding beef/sausage.
Mushrooms: Add chopped mushrooms and sauté them with the meat and sofrito.
Veggies: Add zucchini, eggplant, bell peppers, or any other veggies you desire. You can also leave the carrots and celery in larger pieces if you want to taste their texture.
Wine: Add 1/2 cup dry white wine or red wine after you drain the grease and deglaze the pan; cook until the wine evaporates, about 8 minutes.
HOW DO I MAKE BOLOGNESE SAUCE?
Making the best Bolognese Sauce is easy! Here's how:
Chop Veggies in food processor. The mixture of finely chopped onions, celery, carrot, is known as a sofrito in Italy and essential for complex flavor. I finely chop the veggies in my food processor to save all the tedious chopping time – this will change your Bolognese making life! Of course, if you don't have a food processor, you may chop your veggies by hand.
Brown beef and veggies. You will want to use a large Dutch oven or a deep stock pot in order to have plenty of room for the sauce to cook without splattering. Add your meat, onions, carrots, celery and cook until the meat is browned. The sautéed veggies add flavor but don't worry, they won't have a distinguishable texture. You don't need to add any oil because the veggies will brown in the grease of the beef and pork for even more flavor. Finish off the browning by adding garlic and red pepper flakes and sauté 30 seconds.
Drain grease. There will be quite a bit of grease, so make sure you drain it all off. Don't skip this step or your Bolognese will be mega greasy!
Add sauce ingredients. Add crushed tomatoes, tomato sauce, tomato paste, balsamic vinegar, sugar and all seasonings.
Simmer. Bring the sauce to a simmer over medium high heat then reduce to low and simmer uncovered for 30-45 minutes, stirring occasionally. Stir more often towards the end of cooking so the Bolognese sauce doesn't burn. If you choose to simmer your sauce longer, you will need to add more water or the sauce will become too thick and burn.
Add heavy cream. Stir in heavy cream and fresh basil and cook an additional 3 minutes. Taste and season with additional salt, pepper, sugar or red pepper flakes to taste (I like more salt). If you are not using fresh basil, you will want to add the dried basil with the rest of the dried herbs and simmer for the entire time.
Serve! Serve with pasta and plenty of freshly grated Parmesan cheese for the best Pasta Bolognese of your life!
WHAT KIND OF PASTA FOR PASTA BOLOGNESE?
Although you might think any pasta goes with Bolognese, there is a reason you've heard of Spaghetti Bolognese, Pappardelle Bolognese and Tagliatelle Bolognese NOT Bolognese Macaroni. Every pasta sauce actually has certain pasta shapes that it pairs best with and makes a dramatic difference in the outcome of the pasta dish.
Also read: how to make cheese cream sauce | Family Cuisine
For example, short, twisty pastas like rotini, fusilli, gemelli pair best with lighter, smoother sauces so the sauce can cling to the twists; long and skinny pasta shapes such as linguine, angel hair, or vermicelli pair best with light, oil-based sauces so they sauce evenly coats the noodles.
So, what pasta shapes pair best with Bolognese Sauce to make the BEST Pasta Bolognese? The best pasta shapes for Pasta Bolognese sauce are broad, flat noodles because the shape holds the sauce and the thickness holds up to the sauce. Here are the most popular pasta shapes with Bolognese:
Tagliatelle Bolognese
Authentic Bolognese is paired with tagliatelle pasta, which are broad, flat, egg-based noodles shaped like ribbons. They are similar in width to fettuccine but thinner. You will always see tagliatelle Bolognese in northern Italy, and never spaghetti Bolgonese.
Pappardelle Bolognese
My other favorite and popular pasta for Bolognese sauce is pappardelle as pictured. Pappardelle is also a broad, flat, egg-based noodle but is wider than tagliatelle and thicker. Its broad, flat surface is perfect for the thick, meaty sauce.
Fettuccine Bolognese
Fettuccini is easier to find than both tagliatelle and pappardelle, but is very similar and a great substitute. It is thicker than tagliatelle but about the same width and thinner than pappardelle but about the same thickness.
Spaghetti Bolognese
Spaghetti Bolognese is not authentic to Italy but it is still one of my favorite combinations. Although many prefer thick, wide noodles to cradle the Bolognese sauce, spaghetti noodles circular shape still cradles the thick sauce and I love the texture. I do not suggest going any thinner, however, such as angel hair pasta, as its too delicate for the hearty sauce.
Rigatoni Bolognese
Rigatoni are large tube-shaped pastas, much larger and thicker than penne. Their tubular shape cradles the Bolognese sauce and the sauce sticks to their ridges. It is a superior choice to both penne and ziti because its larger shape allows the sauce to get inside.
BASTA BAKES
This Bolognese Sauce is also fabulous with pasta bakes such as lasagna, zucchini lasagna, manicotti, baked ziti, baked penne, and tortellini al forno.
WHAT SiDes SHOULD I SERVE WITH Pasta BOLOGNESE?
As far as sides, Pasta Bolognese is delightful with a simple green salad and garlic bread, but we also love serving it with:
Buttery Breadsticks
Soft and Fluffy Dinner Rolls
Roasted Parmesan Broccoli
Sautéed Brussels Sprouts with Garlic, Lemon, Butter
Tomato Cucumber Salad
Roasted Asparagus with Balsamic Brown Butter
Wedge Salad with Blue Cheese Ranch
Berry Salad with Honey Mascarpone
Fruit Salad with Honey Lime Vinaigrette
Winter Fruit Salad with Honey Lime Poppy Seed Vinaigrette
CAN I MAKE BOLOGNESE SAUCE IN ADVANCE?
Also read: how to make horseradish sauce with mayonnaise | Family Cuisine
Yes! Bolognese tastes even better the next day as the flavors further develop and meld so it is the ideal make ahead or meal prep dinner.
HOW DO I STORE BOLOGNESE?
You will want to store your Bolognese sauce separate from any pasta you cook otherwise the pasta will soak up moisture from the sauce.
To store, transfer Bolognese sauce to an airtight container and store in the refrigerator. Take care the container is glass or ceramic as the sauce can stain plastic containers.
To store the pasta, toss it with a little olive oil to keep it from sticking together. Store in a freezer size plastic bag or airtight container in the refrigerator.
HOW LONG WILL BOLOGNESE LAST IN THE FRIDGE?
When stored properly, Bolognese will last for up to 5 days.
How to Reheat
stovetop: Transfer the sauce to a pot and heat over medium until warmed through, stirring occasionally. The sauce will have thickened, so add a splash of milk or broth to reach desired consistency.
microwave: Transfer sauce to a microwave safe dish with a tablespoon or so of milk or broth. Microwave on high for 90-second, stir then at 15 second intervals as needed.
oven: This method works great if you have already combined your Bolognese with your pasta. Simply transfer the sauce and past to an oven safe dish, cover tightly with foil and bake for 15-20 minutes at 350 degrees F.
CAN I FREEZE BOLOGNESE SAUCE?
Yes, Bolognese Sauce freezes exceptionally well. To freeze:
Prepare Bolognese Sauce recipe according to instructions.
Let sauce cool completely.
Transfer sauce to freezer safe airtight containers or freezer bags.
Squeeze out any excess air, seal and label.
Freeze for up to 3 months.
When ready to use, let Bolognese Sauce thaw in the refrigerator overnight.
Gently heat over the stove while you boil fresh spaghetti.
What else can I use Bolognese for?
Aside from the obvious uses on pasta, for lasagna, or manicotti, Bolognese Sauce is also delicious:
stirred into some rice
stuffed into peppers and baked
served over zoodles or spaghetti squash
stuffed in zucchini boats, topped mozzarella and baked
stuffed in savory crepes
as a base for lasagna soup
on top of cheesy bread
LOOKING FOR MORE Italian RECIPES?
Chicken Parmesan with 5 Minute Marinara
Baked Italian Meatballs (and Spaghetti)
Skinny Fettuccine Alfredo
Parmesan Risotto (Baked!)
Shrimp Alfredo
Creamy Italian Basil Parmesan Soup
Sun-Dried Tomato Pasta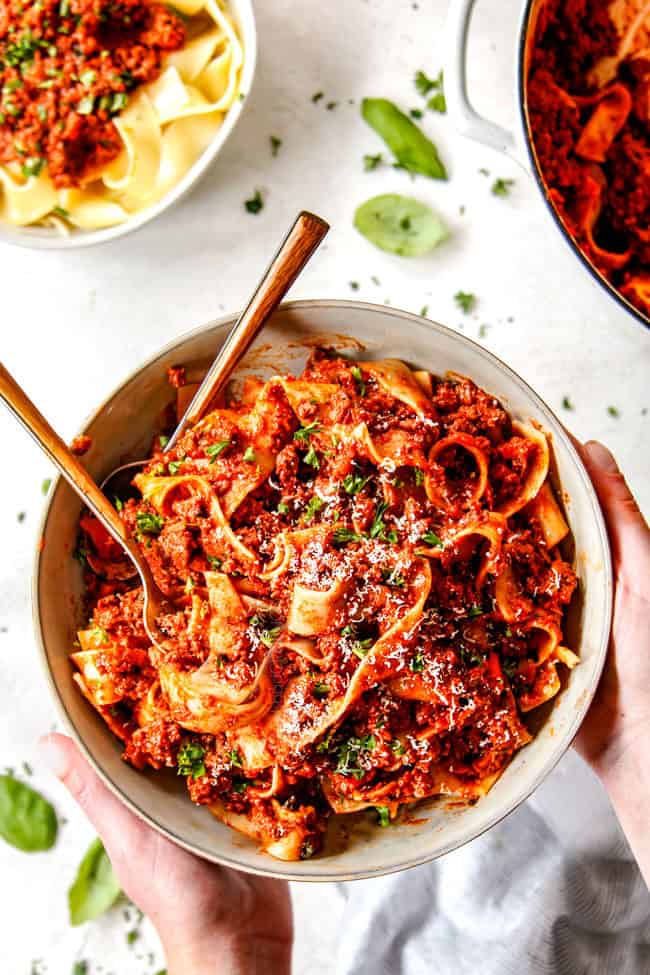 Want to try this Bolognese RECIPE?
Pin it to your ITALIAN, BEEF or DINNER Board to SAVE for later!
Find me on Pinterest for more great recipes! I am always pinning :)!
©Carlsbad Cravings by familycuisine.net
Carlsbad Cravings© Original