Fried yam is a popular street snack in Nigeria, it is commonly served with fried plantain and fried sauce. I have made a special sauce just for you and I am sure you would love it
I fried yam the other day and I am still covering my eyes till date. Is it safe to call me a food blogger or am I still getting there? One thing I noticed since I started food blogging is that I want everything to be perfect. I don't want to plate like I'm serving in a cafeteria but like I'm being watched and my customers are paying a lot to see my food pictures as well as my recipes.
Reading: how to fry yam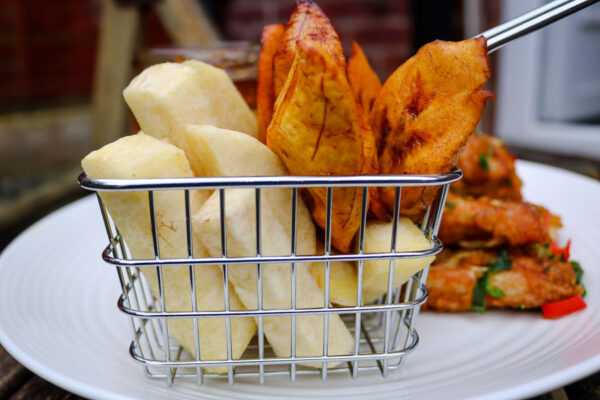 I made this fried yam recently and it was almost perfect until I got a phone call from someone I couldn't refuse to talk to. Anyway, whilst on the phone, I couldn't attend to my fried yam and half of it was overdone which is not bad if you ask me but as a professional, that wasn't good enough. I managed to save the other half but I gave up on taking pictures and all. On my next attempt to blogging fried yam and my special ata didin, I recycled the oil I used to fry the first one but forgot to sieve the dirt out hence the spots on these pictures. Really in real life, we would recycle vegetable oil especially when it has just been used once so I thought why don't I just do it and be real.
So today's post is on how to fry yam and getting the street food feel. It is very easy but you will need to pay attention to it. I call my sauce special because it's indeed special, it is very easy and the flavours do come through. The next time you have a guest, especially the ones you know hardly cooks but loves to eat, lol; wow them with this easy and evergreen fried yam recipe and see that the lord is good. Wink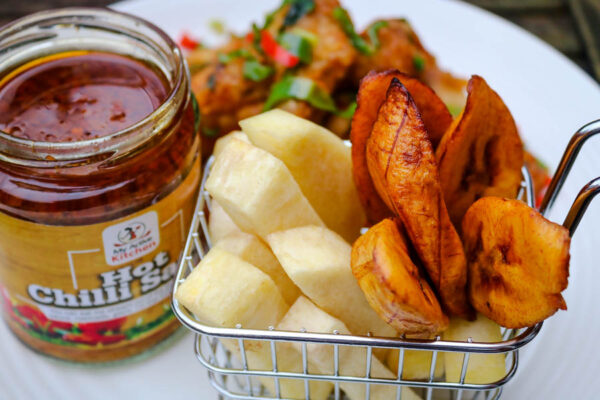 Ingredients for fried yam and plantain
A tuber of yam or less (depending on the size of the people you are catering for)
Salt
Oil for frying
Plantain
water
Ingredients for the fried sauce
3-4 medium-size tomatoes, sliced
1 bouillon cube
1 large onion, chopped
½ cup palm oil
Plantain
1 tsp cayenne pepper
1-2 tbsp ground crayfish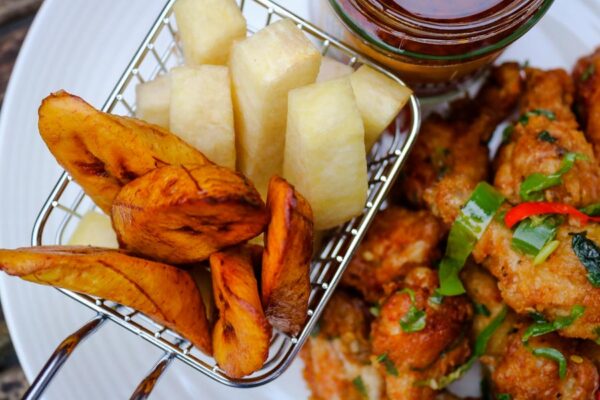 How to fry yam
Read more: how to make authentic egg fried rice | Family Cuisine
Peel and cut yam into half, slice the halved yam into thin slices about 10-15mm thickness
Rinse yam till water runs clean. Add enough water to cover and add salt to taste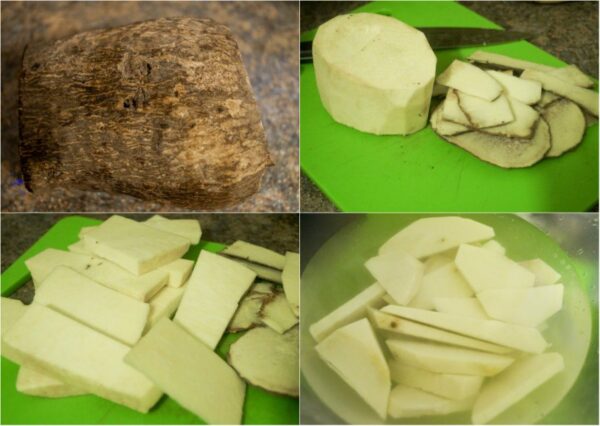 Place a frying pan on medium-high heat, add enough oil and heat till hot
Carefully drop sliced yams to hot oil (please be really careful with hot oil) and reduce the heat
After about 2 minutes, add a little bit of water to the yam being fried, it would foam on top, don't worry it will settle down in minutes.
The trick at achieving a soft fried yam is by adding water to the oil, as odd as this sound it is the best way to do it. If you have seen where the Iya onidundun as they are called fry their yams, you would know that at intervals, they add salted water to the frying yam. This is what makes it tasty and soft.
The yam will soak up the water and the oil will remain for subsequent use.
Pay attention to the yam if you don't want to be left with golden dry yam
Do a fork test on some of the sliced yams and if the fork pierces through, then it is ready to be strained out of oil.
Repeat this process till you have exhausted the yam

See the difference between the two shades of yam…
How to fry plantain.
You can use the same oil you used for frying the yam to fry the plantain. heat oil till hot (I recommend you fry the plantain before frying the yam)
using a sharp knife, cut both ends of the plantain, make an incision on the skin from top to bottom and peel the plantain.
Slice the plantain diagonally to about half an inch.
Season with salt if you want, I hardly do this
Carefully add sliced plantain to the hot oil and fry on both sides until golden brown
Remove plantain from the hot oil and drain on a kitchen towel. reserve to serve with fried yam
How to make the sauce (My special sauce)
Place a pan on medium heat, add palm oil and allow to heat for about 3-4 minutes
Read more: how to make fried pork chop | Family Cuisine
Add chopped tomatoes and onions
Followed by cayenne pepper if using, leave to cook for about 10 minutes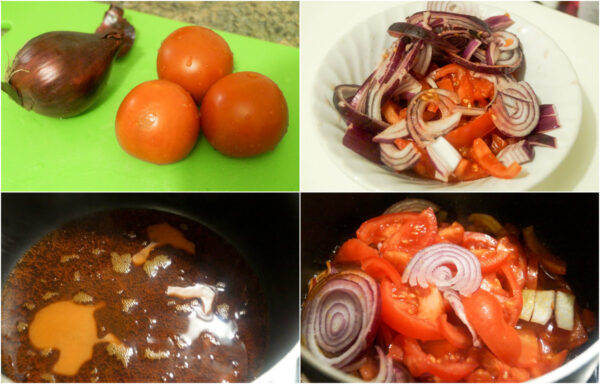 Add seasoning and salt to taste
Add ground crayfish
Continue to cook till palm oil floats on top of the sauce

Plate up your fried yam and enjoy
If you want the street vibe to continue, serve on an old newspaper, cover it up and open after a minute or two.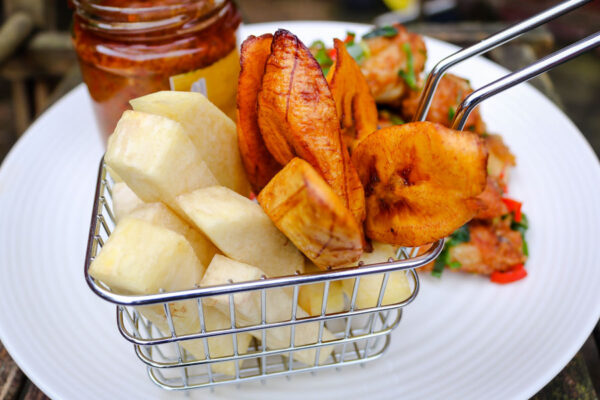 Other Nigerian Street Food You Should Try
Akara
Puff Puff
Nigerian Buns
Ewa Agonyin
Chin Chin
Dodo Ikire
This fried yam and sauce recipe was updated with new photographs in May 2019. Here is one of the images I took originally for this recipe. Not bad eh!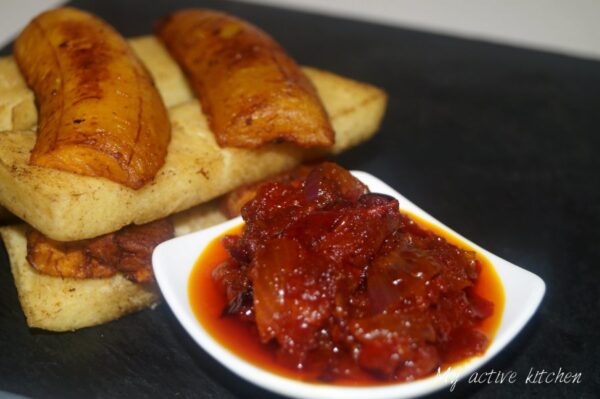 If you try my fried yam, fried plantain and sauce recipe, kindly leave feedback or #myactivekitchen on Instagram so I can see what you have been cooking. Thank you and see you on my next post
Read more: Twice-Cooked Potatoes | Family Cuisine