Get perfectly grilled salmon every single time with this easy and fool-proof step-by-step tutorial on How to Grill Salmon!
This grilled salmon recipe comes out so tender and flakey. It's a quick and healthy protein to make on the grill.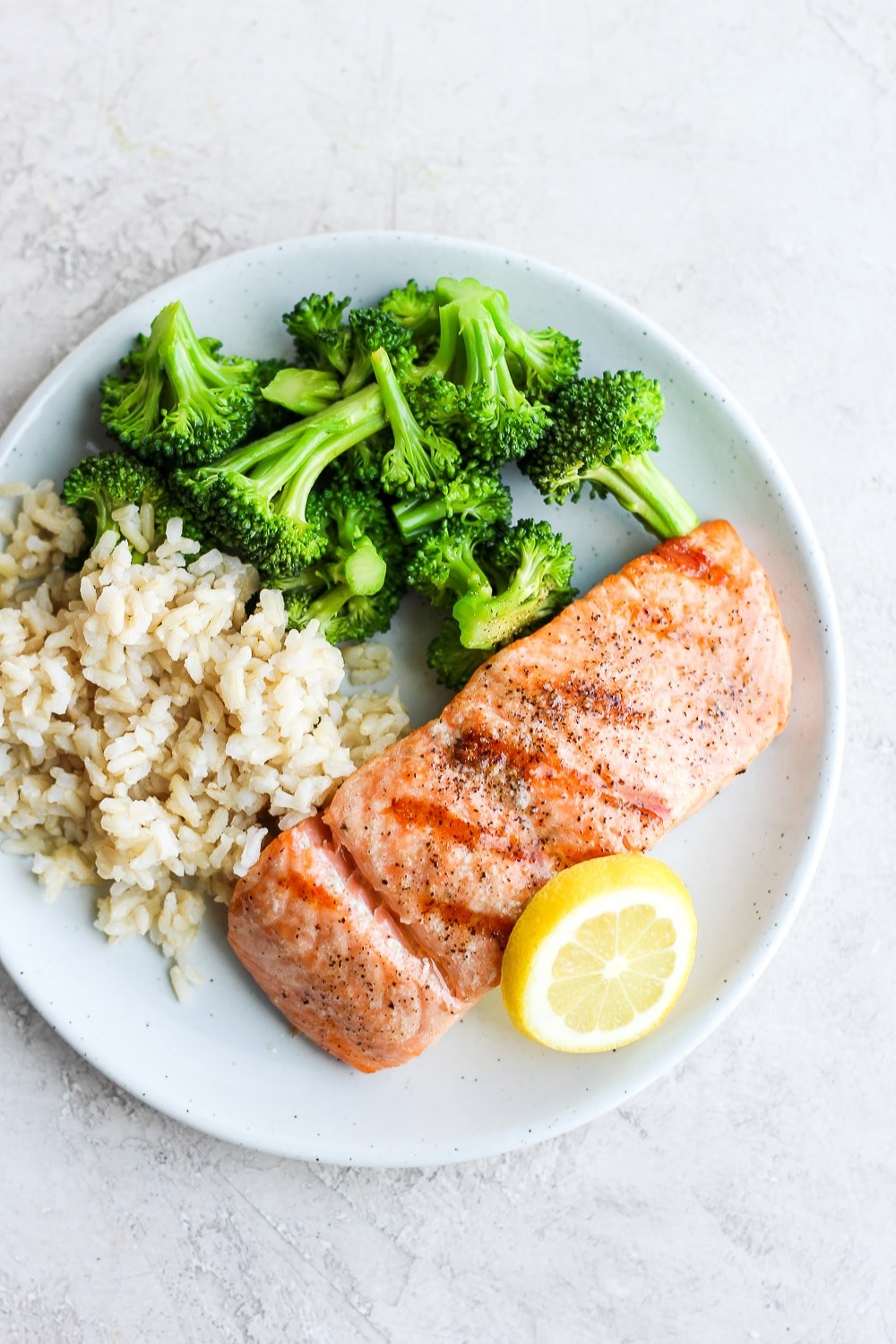 Grilled Salmon = Easy Grilling!
When it comes to grilling, salmon is one of the quickest and easiest (and most delicious!) proteins to grill as long as you follow a few simple steps.
Our grilled salmon recipe is made flavored with the basics (salt and pepper) so that you can serve your salmon in many different ways. Try eating it next to your favorite grilled veggies, in a rice bowl, or in a breakfast scramble!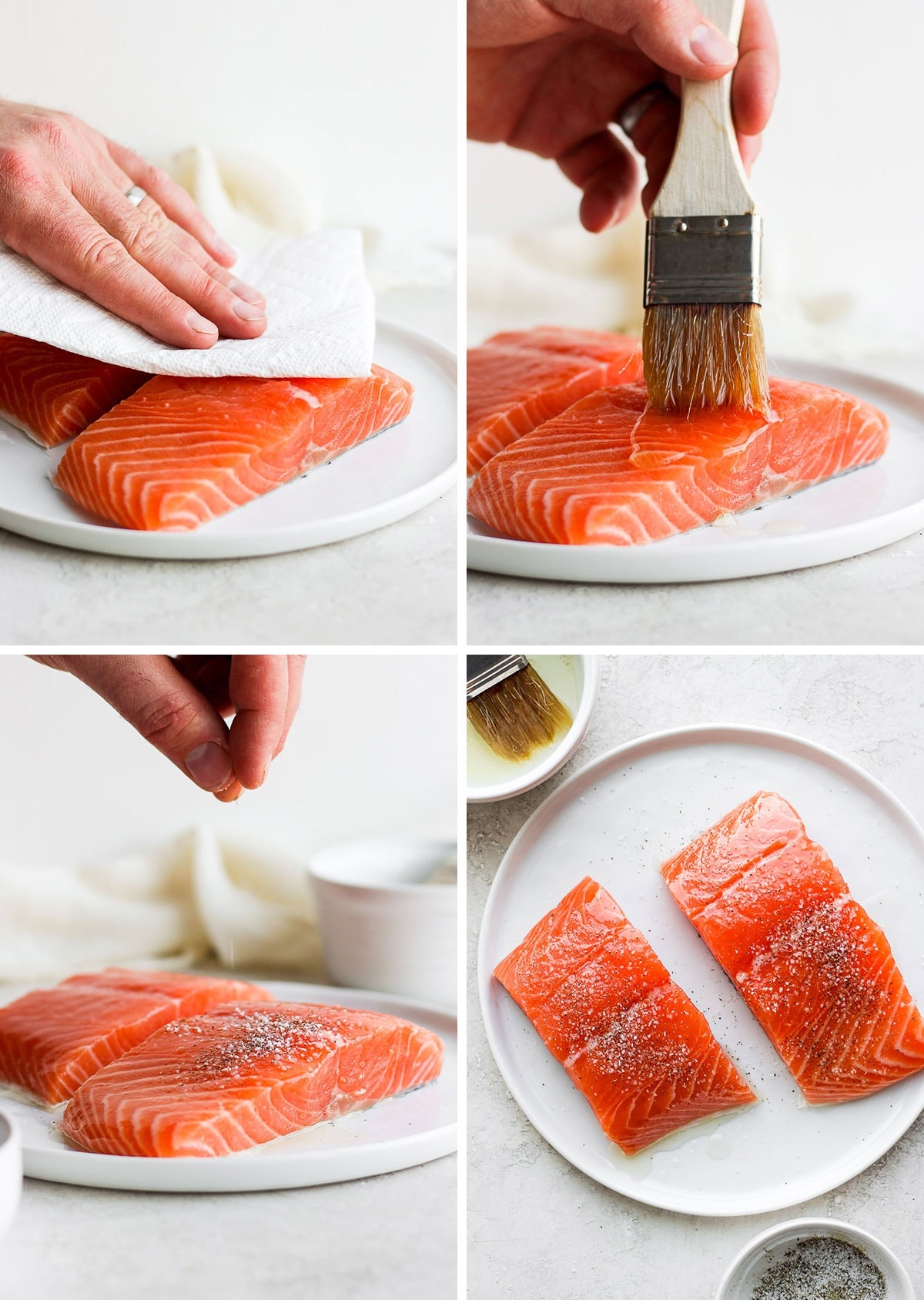 How to Grill Salmon
Grilling salmon is so easy! We'll walk you through how to grill salmon, so you can grill 'em up with confidence and pair with your favorite grilled sides (ahem, we've got some recommendations below) tonight!
Preheat and Prep
Preheat a gas grill or charcoal grill to 450°F – 475°F. High heat is crucial to getting that perfect sear on your salmon without overcooking it!
Then, pat the salmon filets with a paper towel to remove moisture. Once your salmon has been patted dry, use a brush to brush olive oil onto all sides of each salmon fillet (yes, even the skin side!).
Finally, generously season salmon fillets with salt and pepper.
Grilling Salmon
Once your grill has fully preheated, place salmon fillets directly on the grill, skin-side down, and close the grill. Grill your filets skin-side down for 6 minutes (yes, only 6 minutes!).
Then, flip the fillets and grill for an additional 2 minutes skin side up. This will give your salmon those perfectly seared grill marks.
Do you have to flip salmon on the grill? If you are grilling salmon directly on the grates, we suggest starting skin-side down and flipping after 6 minutes to sear the flesh for a few minutes to get gorgeous grill marks.
Check the Temp
Salmon needs to cook to an internal temperature of 140°F – 145ºF before removing it from the grill.
If your salmon needs additional time to reach an internal temperature of 140°F (which is common if your fillets are especially thick!), flip back to skin-side down and grill for an additional 1 minute at a time.
Let it Rest
Remove the salmon from the grill and let rest for 5 minutes. This will allow the internal temperature of your salmon to increase by 5ºF to 145°F.
Serve and Enjoy!
Remove the skin by peeling it back away from the fillet. The skin should peel off easily on cooked salmon. Then serve with your favorite grilling sides. We recommend any of the following 😀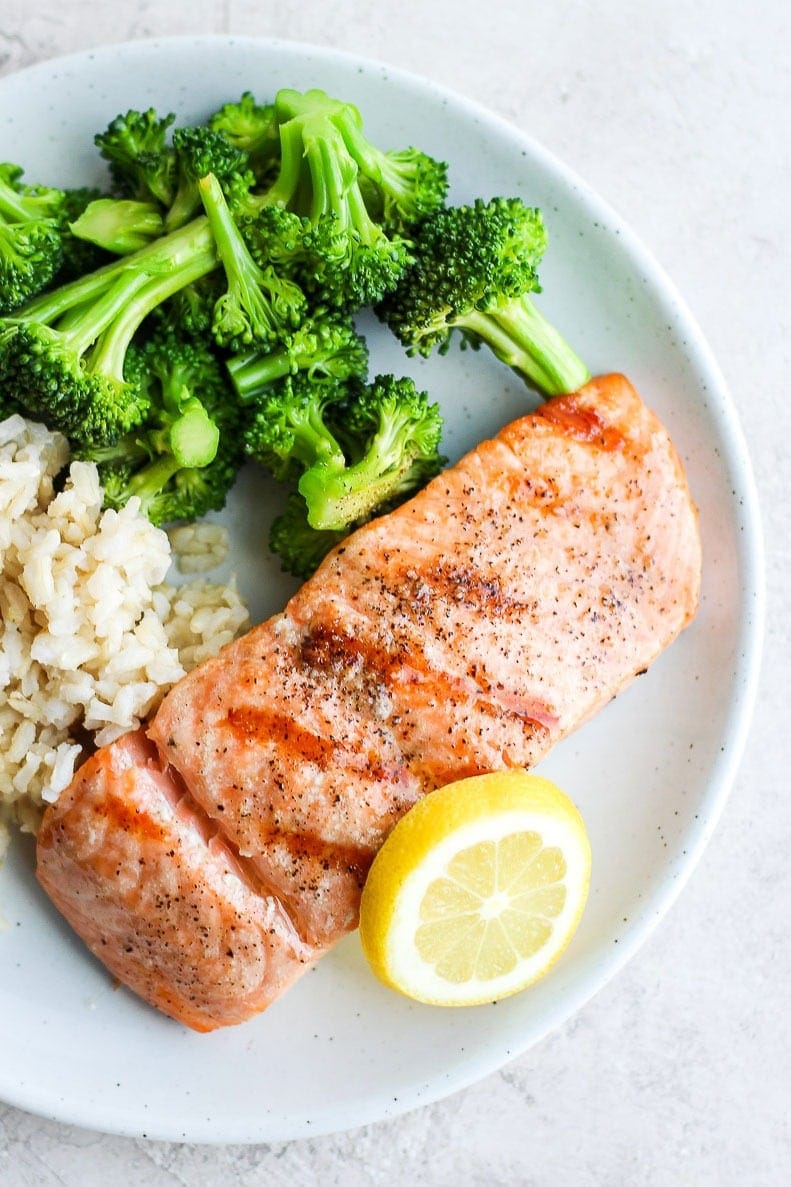 Grilled Salmon FAQs
What to Serve with Salmon
While you're grilling up your salmon, consider making any of the following side dishes that pair perfectly with salmon!
Vegetables
Grilled Carrots
Balsamic Grilled Brussels Sprouts
Foil Pack Red Potatoes
Grilled Asparagus
Grains
Cilantro Lime Rice
The Perfect Quinoa
Healthy Fried Rice
Drinks
Spicy Grapefruit Margarita
Rosemary Vodka Collins
Strawberry Peach Rose Sangria
Honey Greyhound Cocktail
For more information, please see more information about Grilled salmon on gas grill
Detail: 🔗