Over-Medium Eggs are one of the most delicious ways to fry eggs. These eggs are similar to sunny-side up eggs, but they are flipped to cook the egg yolk just a little bit more.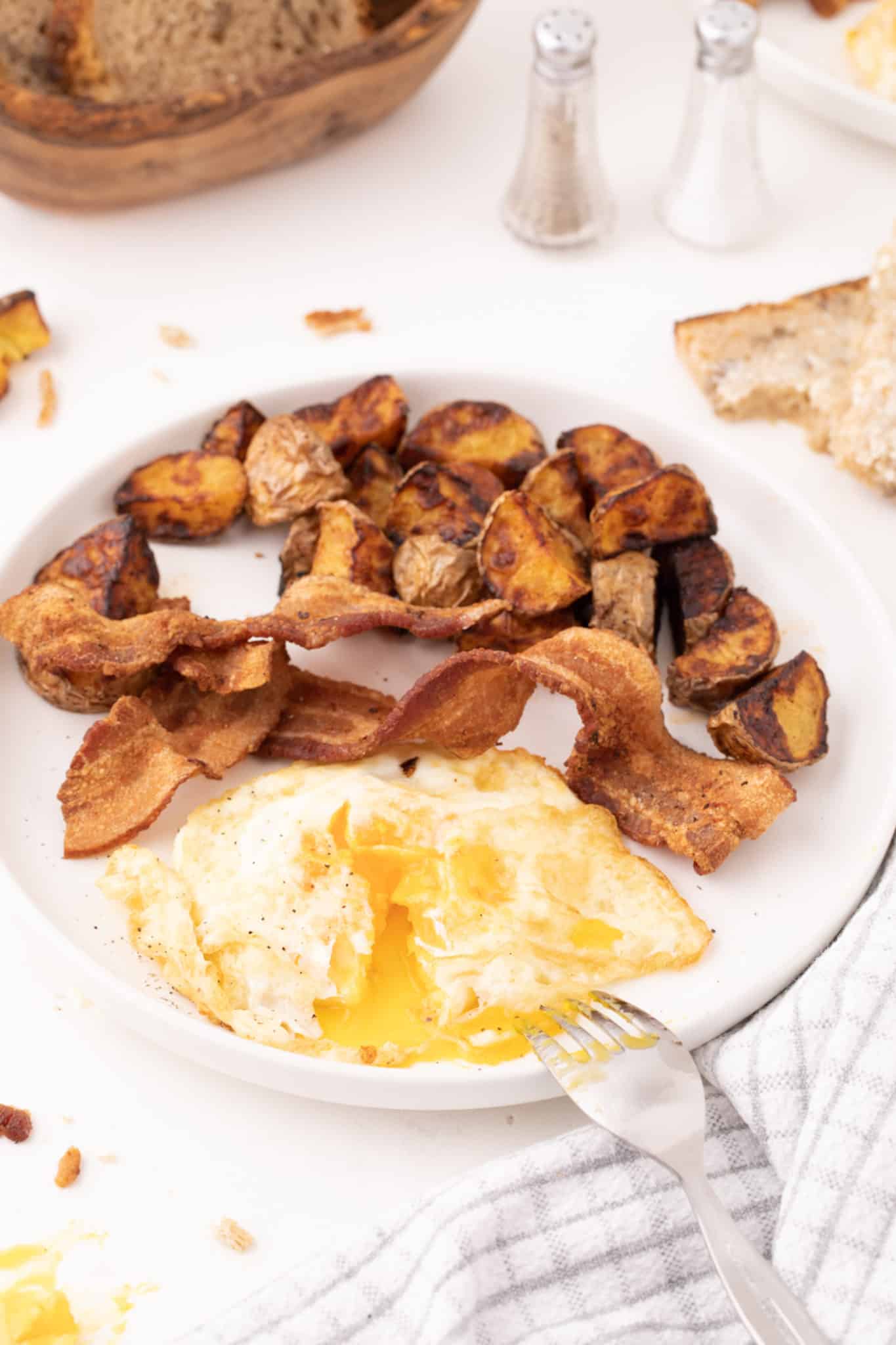 Over-medium eggs are my fried egg of choice and for good reason too. The yolk is slightly runny while the egg white is completely cooked. What could be tastier than a jammy yolk?
Reading: how to make a fried egg over medium
Eggs cooked over-medium are the perfect topper to avocado toast, burgers, any type of rice bowl, potatoes, or grilled vegetables. The runny yolk almost acts like a sauce for the toast or whatever you serve with the cooked eggs.
Different Ways of Frying Eggs
There are four ways to fry an egg and all of them are rather similar. In egg terminology, "over" refers to flipping the egg and easy, medium, and hard eggs refer to the doneness of the yolk.
Sunny-side up – The egg is fried over medium heat on only one side just until the whites are set and the yolk is runny.
Over-easy – The egg is fried until the whites are set and then flipped to the second side and cooked shortly so you still have a runny yolk.
Over-medium – The flipped egg is cooked slightly longer so the yolk is only partially runny. The egg white is completely cooked.
Over-hard – The flipped egg is cooked even longer until the yolk is completely set and has the texture of a hard boiled egg. You will have a hard yolk with this method.
Why You Need This Recipe
Over-medium eggs are the one of the easiest ways to elevate any dish. Master this skill and all your dinner ideas might just include a fried egg on top!
The whole process only takes 11 minutes from start to finish. This can usually be done while your main dish cooks or can be a super speedy breakfast.
If you aren't a scrambled egg person you may just love fried eggs! For the longest time I couldn't get my husband to eat eggs until I served him over-medium eggs.
How you like your fried eggs is completely up to you!
Key Ingredients
Oil or butter to keep the eggs from sticking to the pan. You can use olive oil for a dairy-free choice.
Read more: how to make fried ice cream with bread | Family Cuisine
Eggs to fry – fresh eggs are best!
Salt to season the eggs. Don't underestimate the power of seasoning.
Ground black pepper is optional but if really adds a great deal of flavor if you like black pepper.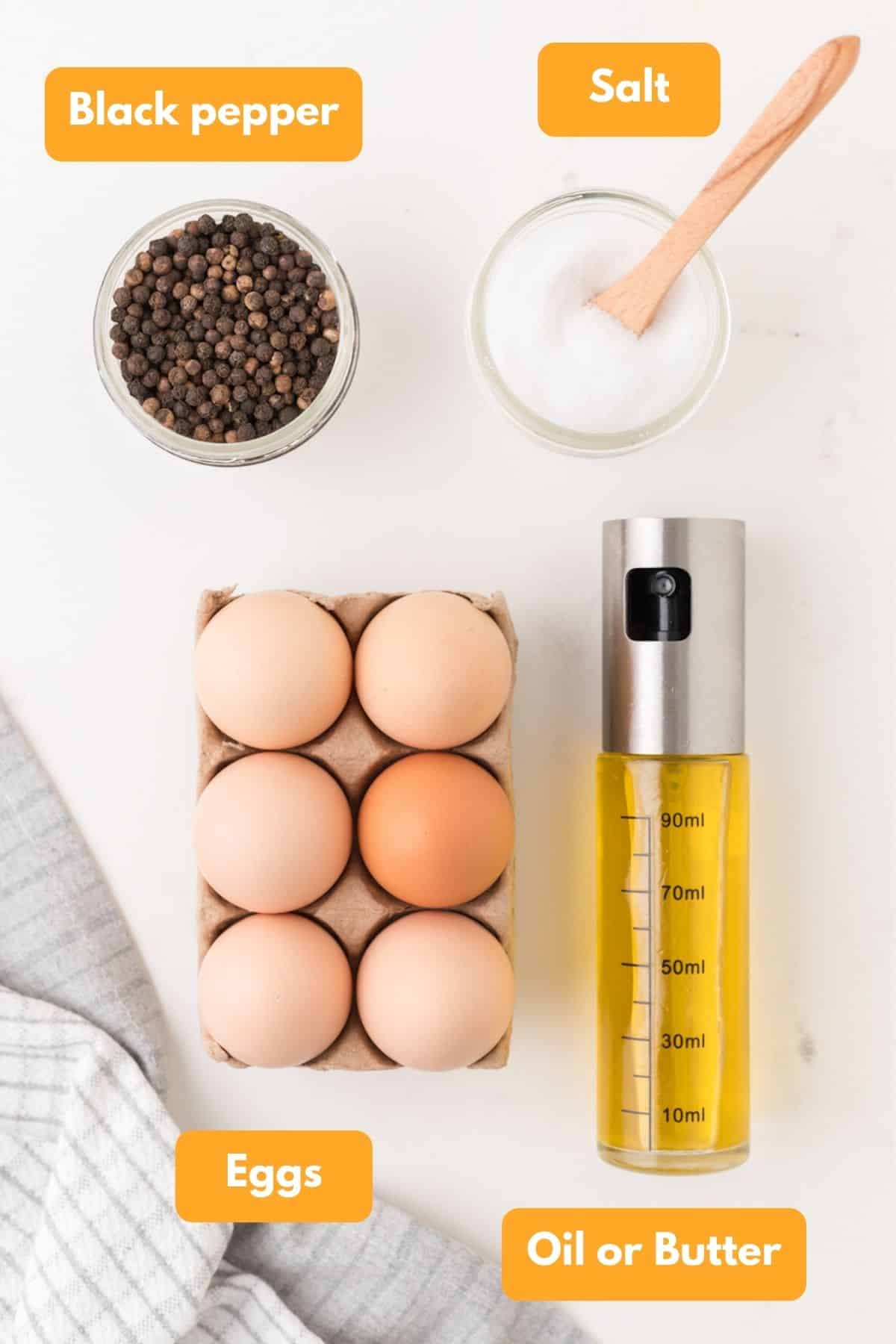 There's nothing worse than attempting to fry an egg with a runny yolk only to cut into an over-hard pale yellow center with a firm yolk. Follow these simple steps to learn how to fry eggs over medium.
Recipe Steps
Step One
Add olive oil, coconut oil, or butter to a nonstick skillet and bring it to medium heat.
Step Two
While the skillet heats up, crack each fresh egg into a small bowl.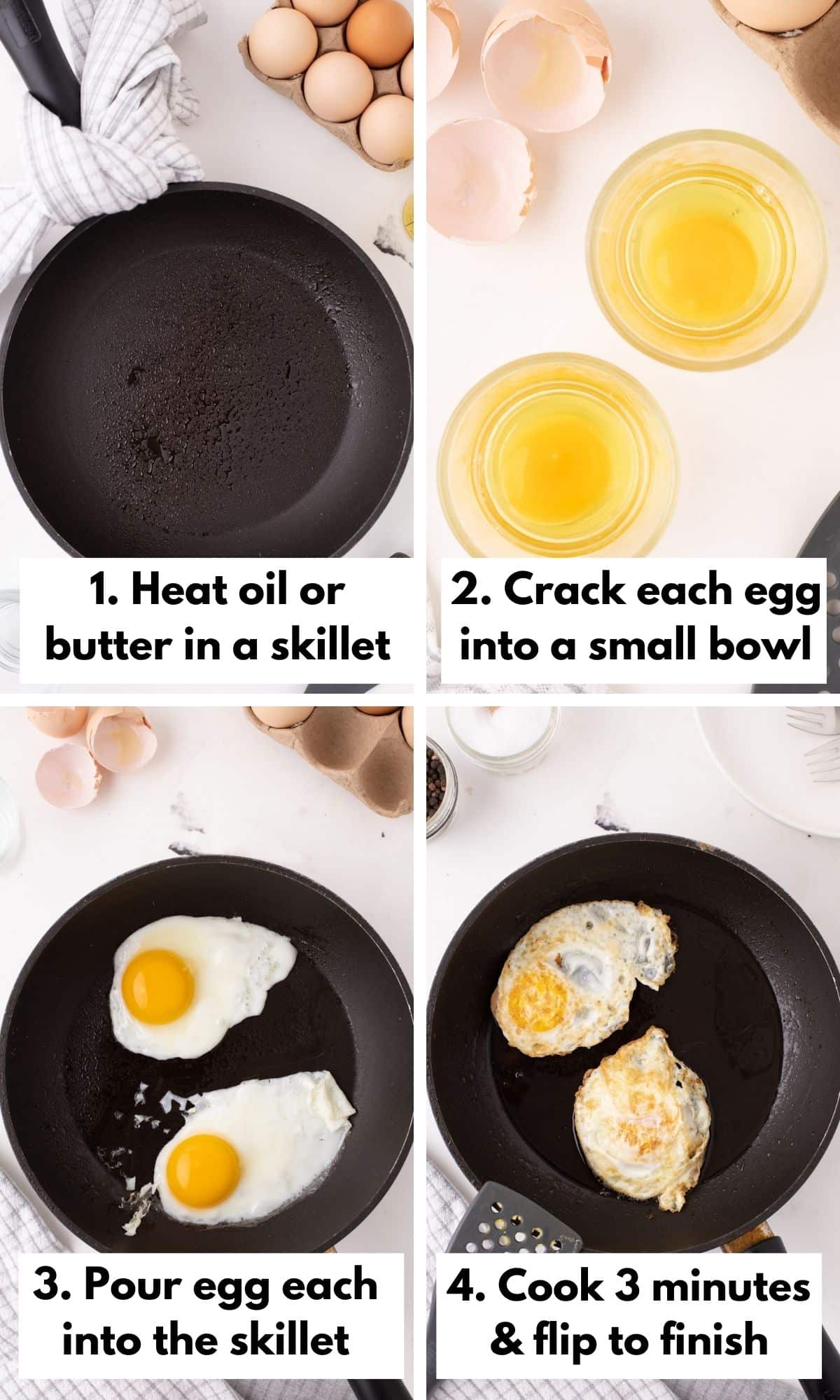 Step Three
Gently pour each egg into the hot fat in the frying pan.
Read more: how to cut brocoli for stir fry | Family Cuisine
As always, please do see the recipe card at the end of this post for the exact ingredients and measurements.
Step Four
Let the eggs cook for 3 to 4 minutes or until the whites of the egg are almost completely solid white.
Step Five
Reduce the heat to low and gently flip each egg. Let the eggs cook for another 2 minutes.
Step Six
Use a rubber spatula or a fish spatula to transfer the eggs to a plate and serve hot with salt and pepper for the perfect breakfast.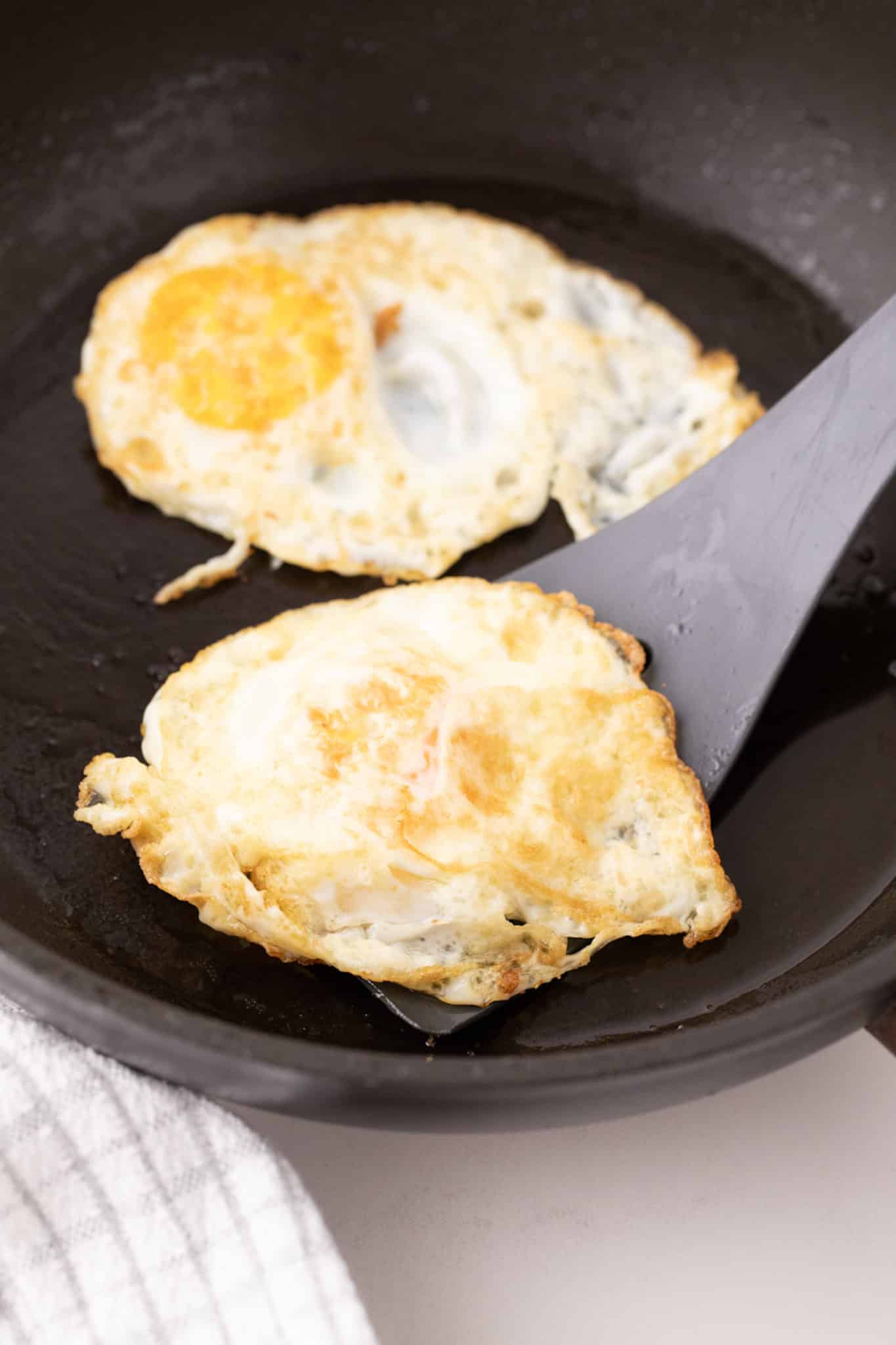 Recipe Tips & Substitutions
You may need more oil or butter if you are using a cast iron skillet or a stainless steel pan as opposed to a nonstick skillet. See my recommendations for the safest cookware and right pan for your kitchen.
For dairy allergies, use oil or vegan butter for frying.
Make sure to use a thin turner spatula. Big, thick spatulas make it much harder to flip the egg without tearing it.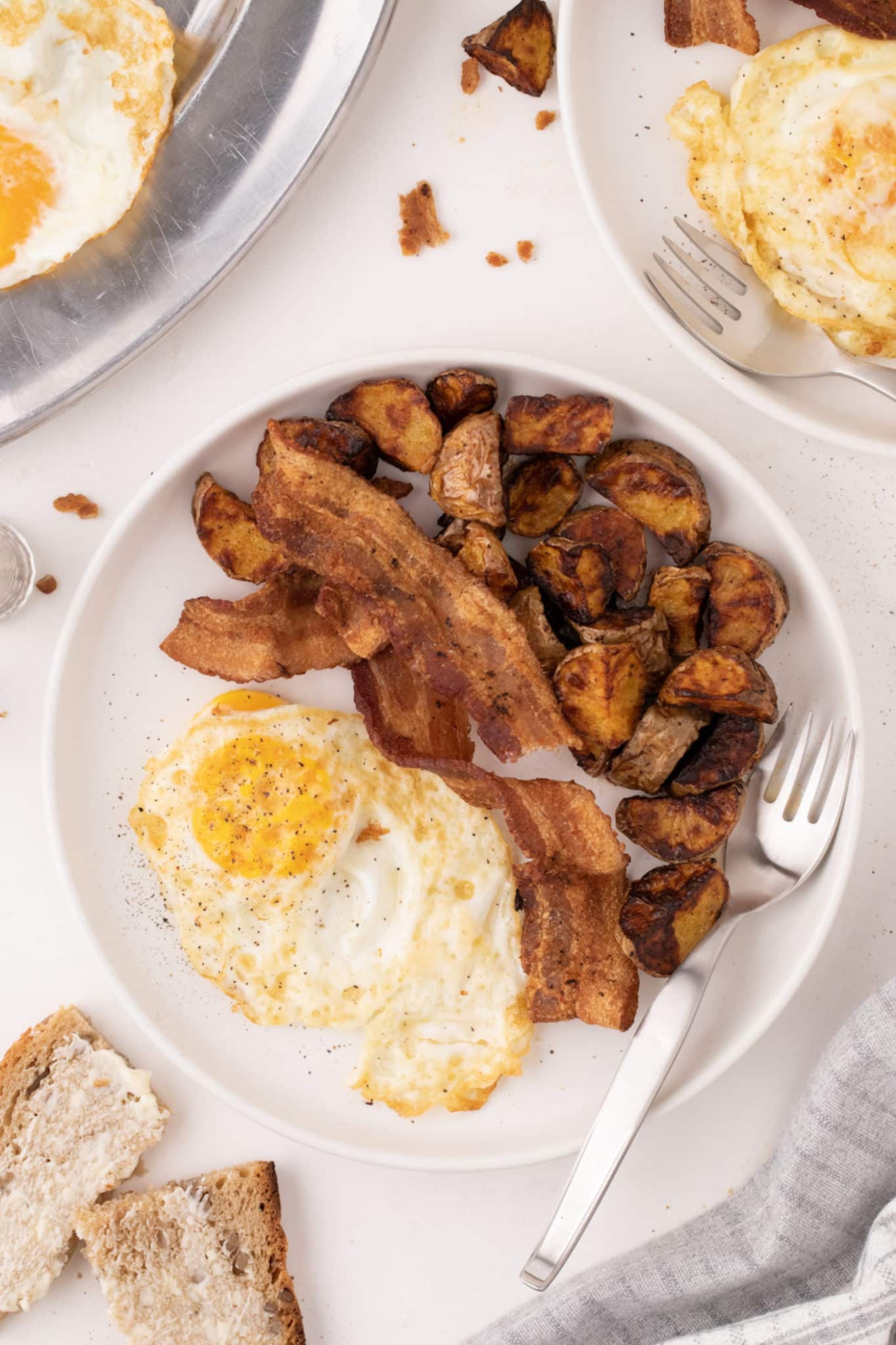 FAQs and Easy Tips
Other Easy Breakfast Recipes You Might Like
Air Fryer Roasted Breakfast Potatoes
Sweet Potato Apple Breakfast Hash
Gluten-Free Blueberry Coffee Cake
Air Fryer French Toast
I hope you make this recipe! If you do, please leave a comment and a starred review below.
And, consider following me on social media so we can stay connected. I'm on Facebook, Pinterest, Instagram, and YouTube!
Print
Don't forget to join the Clean Eating Kitchen newsletter. You'll get my Clean Eating Quick Start Guide, plus links to all the latest recipes.
Read more: Chinese Tomato Egg Stir-fry | Family Cuisine