This white garlic sauce for pizza turns any old pizza pie into something really special! Creamy white garlic sauce is one of our favorite pizza sauce recipes, and not only does this one deliver mega flavor, it's also versatile! Save some of this silky, garlic-y, gold for your veggies, pasta, and even soups!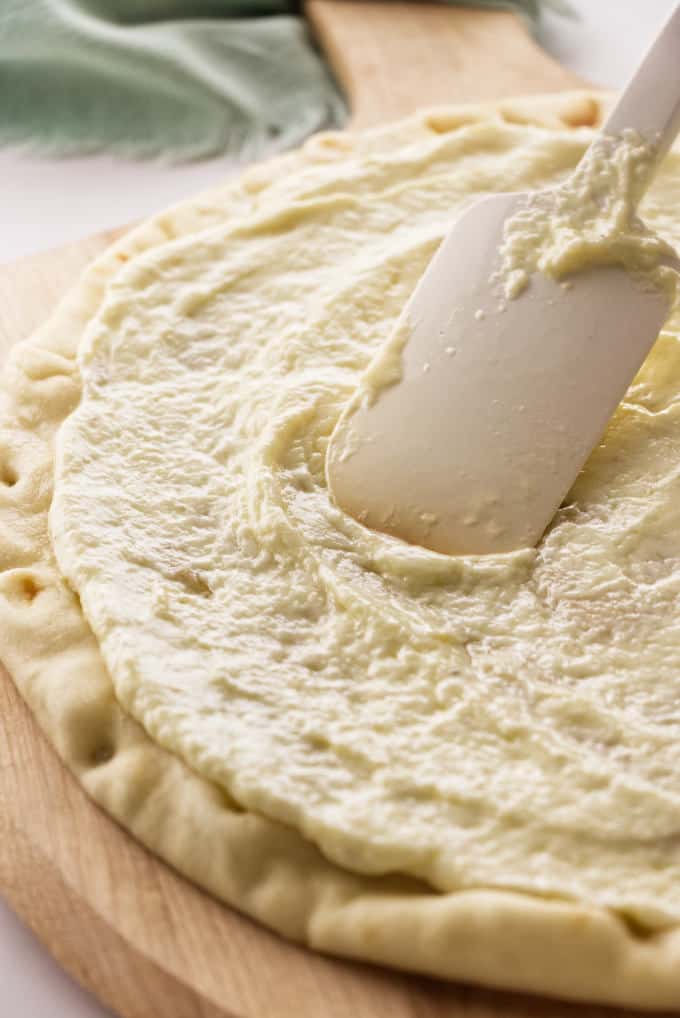 Do you like to dip your pizza crust in garlic butter sauce? Well, now you can have a double dose of garlic with your pizza by adding this white sauce.
Reading: how to make a garlic sauce for pizza
For the most flavorful garlic sauce for pizza, we use loads of fresh garlic and we don't stop there.
Garlic powder maximizes that incredible garlic flavor, and when it comes to this MVP of ingredients, our motto is "more is more." The cream and butter only up the deliciousness, and the combination results in a luscious white garlic sauce for pizza perfection.
how to make garlic sauce for pizza
This white garlic sauce is ready in 15 minutes, and we definitely recommend keeping a jar of it handy for your next pizza!
But it's not just for pizza. A batch of our garlic sauce that is ready to use can be a lifesaver for meal prep. Throw in some cheese for a creamy pasta sauce or use it as a garlic dip for a vegetable platter.
Read more: how to make pasta sauce better | Family Cuisine
Other ideas: smother it on a burger or whip up some sort of savory toast situation. Basically, garlic sauce is always a good idea! Agree?
the ingredient list
The ingredient list is simple and straightforward. Whole, real foods, and no preservatives that you'd typically find in a store-bought sauce.
To make this garlic sauce for pizza, you will need the following ingredients:
butter
minced garlic cloves
flour
heavy cream
garlic powder
fine salt
white pepper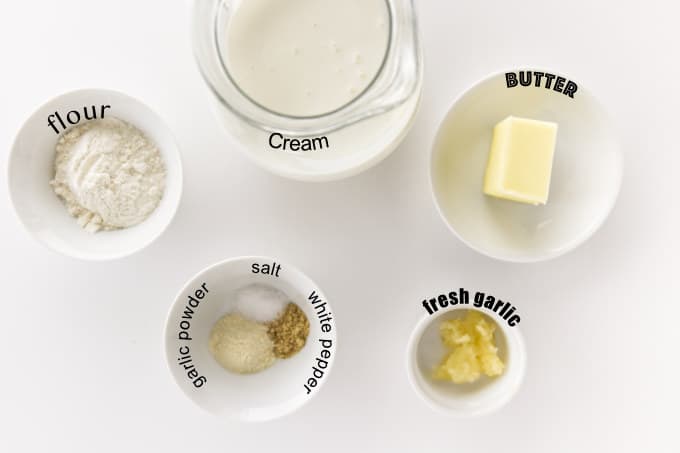 our white garlic sauce recipe
Not only is this garlic sauce delicious and versatile, it's also really easy to make! Once you have the ingredients gathered, one saucepan and 15 minutes is all you need for this garlic-y goodness to come together.
Here's a quick look at the process (scroll to the bottom of the page to see the full recipe and ingredient amounts):
Cook the garlic: In a small skillet or saucepan over medium heat, melt the butter and then add the garlic. Cook it for about 1 minute, being careful not to let it brown.
Add the remaining ingredients: Stir in the flour and cook another 1-2 minutes. While whisking, slowly pour in the cream. Cook and stir until the garlic sauce is smooth and thick, about 3 minutes. Stir in the garlic powder, salt, and pepper.
Cool and transfer: Remove the saucepan from the stovetop and transfer the sauce to a dish or pitcher. Allow it to cool before refrigerating, or use it immediately.
Tip: in order to make this garlic sauce for pizza a cheesy sauce, stir in 1-1/2 cups grated parmesan after the sauce is removed from the heat.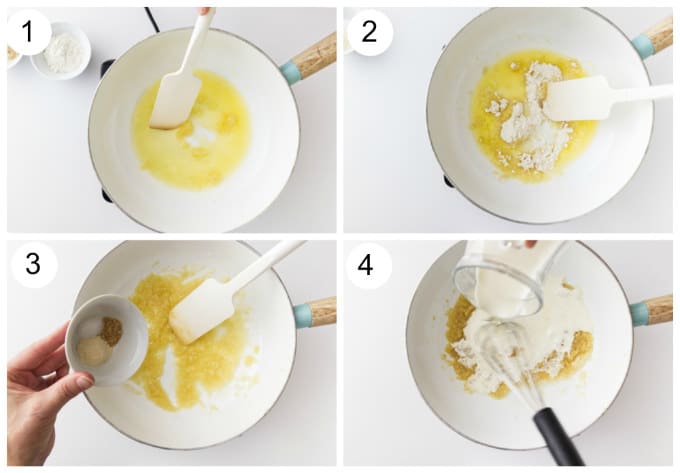 Our favorite ways to enjoy this sauce
Read more: How to Make Homemade Chocolate Sauce | Family Cuisine
So many options, where do we start?!! This white garlic sauce for pizza is sooooo good. And really, really addicting. We love a classic tomato-based pizza sauce, but we're currently giving this garlic sauce a moment and we can't complain. We know you'll love it too!
Here's some pizza inspiration for you:
Chicken-Mushroom Pizza with Einkorn Crust , a flavorful and earthy combination that elevates pizza night!
Sourdough Pizza Dough, because garlic and sourdough is a match made in heaven.
Garlic and Herb Focaccia Bread, the perfect dipping vessel!
Chicken spinach pizza with white garlic sauce. A seriously delicious pizza.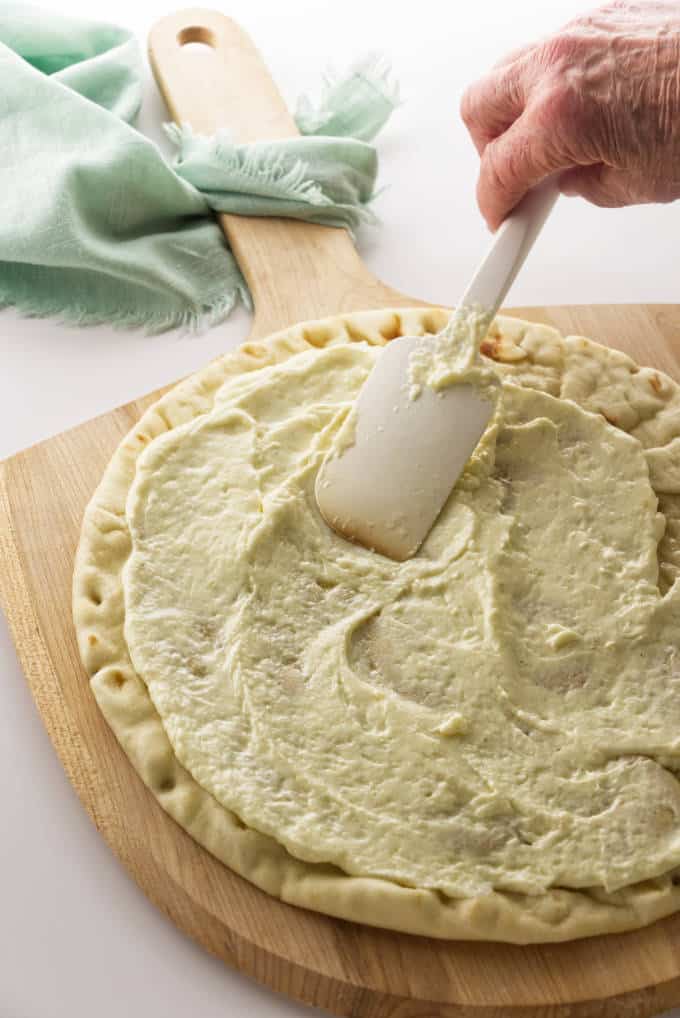 Our garlic sauce for pizza is incredibly simple to make, and adds loads of garlic flavor! It's perfect for all you fellow garlic lovers, whether you're using it as a pizza sauce or a multi-purpose sauce. It's also pretty delicious by the spoonful, another method of consumption that we fully support. 😉
Enjoy!
SOME OTHER RECIPES WE ARE SURE YOU WILL LOVE:
Roasted Garlic Spread and Garlic Oil is luxurious and addictive! Spread it on toasted baguette slices for a simple and delicious starter. Roasted garlic adds a nutty, mellow flavor to the garlic that is unbeatable!
Lobster Pasta with Creamy Garlic Sauce might as well be the dinner of all dinners. Lobster. Garlic Sauce. So much flavor! It's rich and decadent and so very special- a meal to savor, for sure.
Whole Grain Einkorn Pizza Dough is easy to make and extra rich. This pizza crust is soft and tender, packed with the wholesome flavor of Einkorn.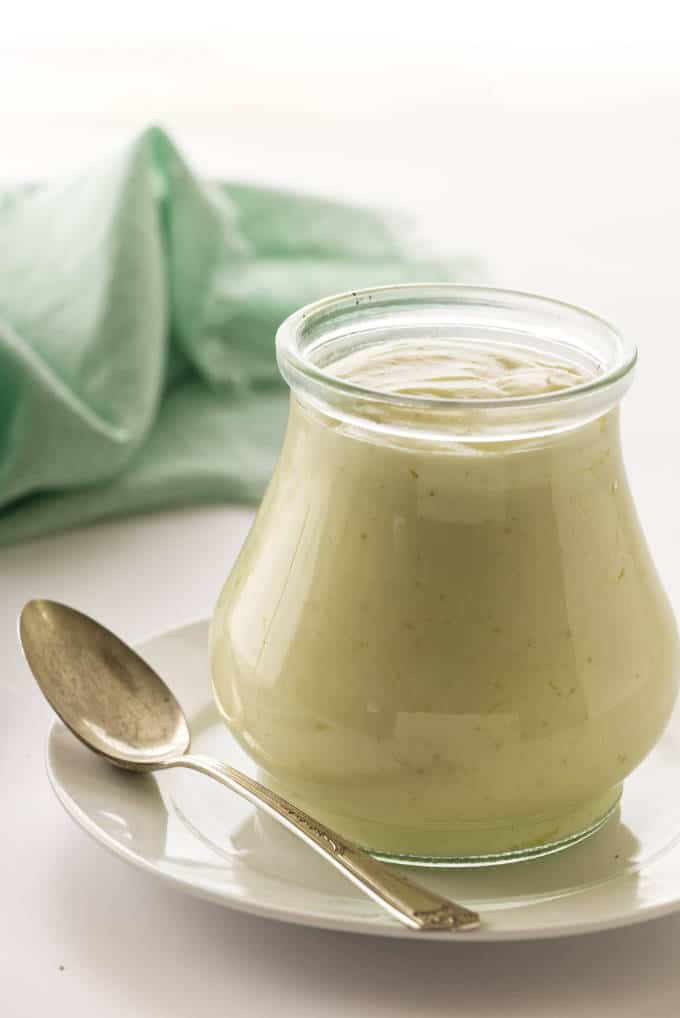 CONNECT WITH SAVOR THE BEST!
Be sure to follow us on our social media accounts
Facebook * Instagram * Pinterest * Twitter * Youtube
Did you make this recipe? We would love to hear from you. Drop us a comment below.