Hearty and meaty, this delicious beef Bolognese sauce recipe is comfort in a bowl. An aromatic dish that's packed with flavor, you're going to want to make this weekly. Easy to make and the perfect weeknight dinner recipe the whole family will love.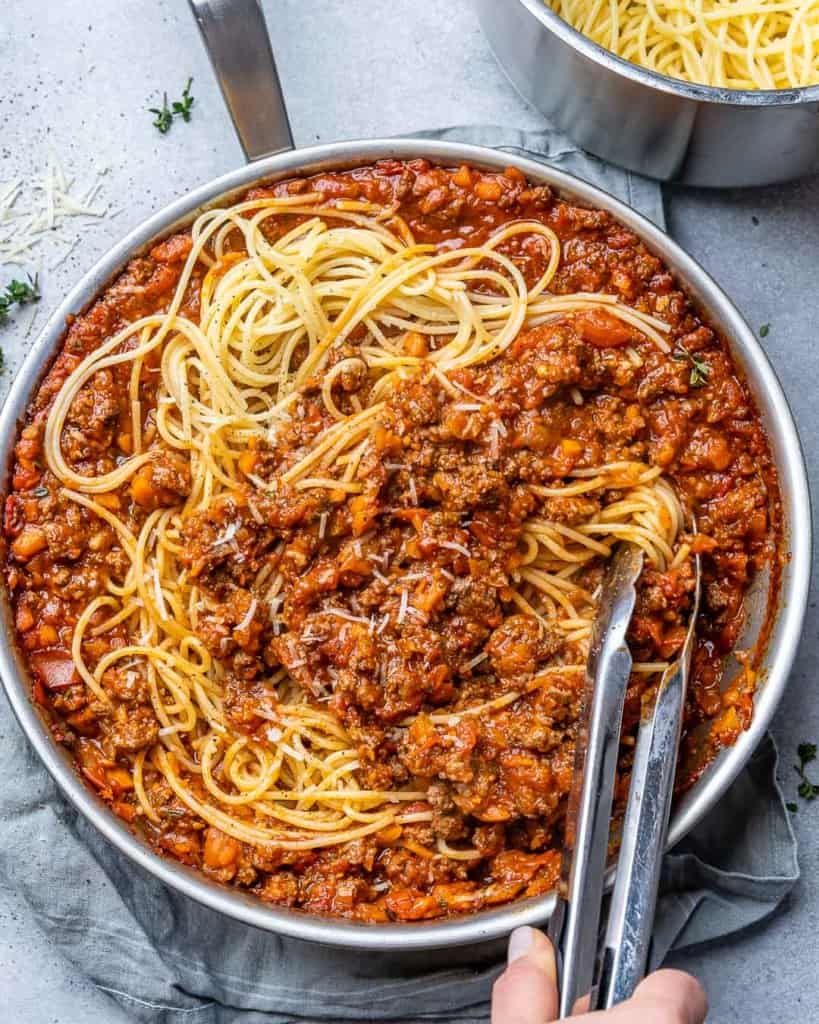 Let's get back to basics with this classic spaghetti bolognese sauce recipe. We love how rich and thick this beef bolognese is and how when combined with pasta, it warms you up, inside out! Don't be intimidated by the cooking time for this recipe, it's not super difficult to make, it just requires a long simmer time. The longer your meat sauce simmers on the stovetop, the deeper the flavor. Other than stirring occasionally, you're not doing much for the hour.
Reading: how to make a healthy bolognese sauce
Why You will Love this Bolognese sauce recipe
It's straightforward. There's nothing complicated about this bolognese recipe. You sauté your ingredients and then simmer for an hour. Most of the work is done after you've sautéed your vegetables and browned your meat.
It's freezer friendly. Since this recipe takes a while to simmer, we like making a double batch so we can freeze half of it for later. You're already putting in the time so you might as well double your bounty!
It's super tasty. There's nothing better than a warm delicious beef bolognese sauce over some pasta. It's the perfect cozy meal during the colder seasons.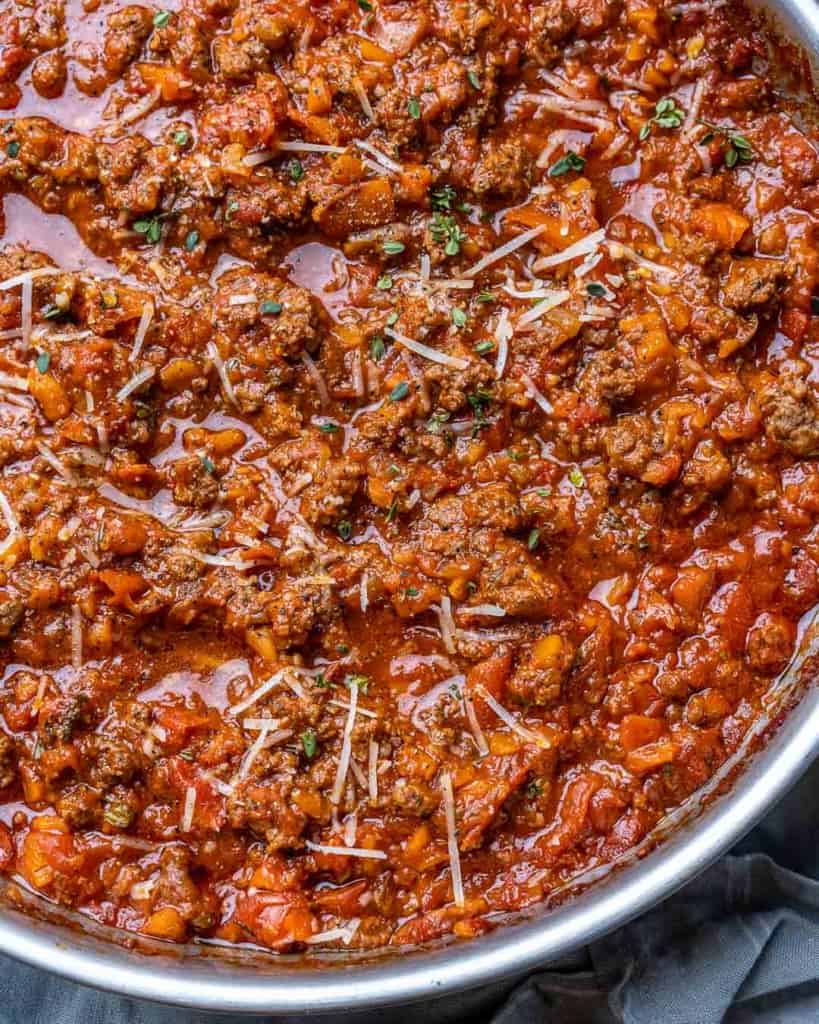 Ingredients You'll Need to Make Bolognese sauce
Carrots — peeled and roughly chopped to around the same size
Celery — roughly chopped to around the same size
Onion — roughly chopped to around the same size
Garlic
Olive oil
Kosher salt & ground black pepper
Lean ground beef
Tomato paste
Crushed tomatoes
Low-sodium chicken broth
Herbs: rosemary, thyme, bay leaves
Parmesan rind
Grated parmesan
Pasta — use whatever pasta you like.
How to Make this Homemade Bolognese Sauce
Chop your vegetables: place the carrots, celery, onion, and garlic in a food processor and pulse to chop. If you don't have a food processor with a chopping option then you can finely dice them by hand.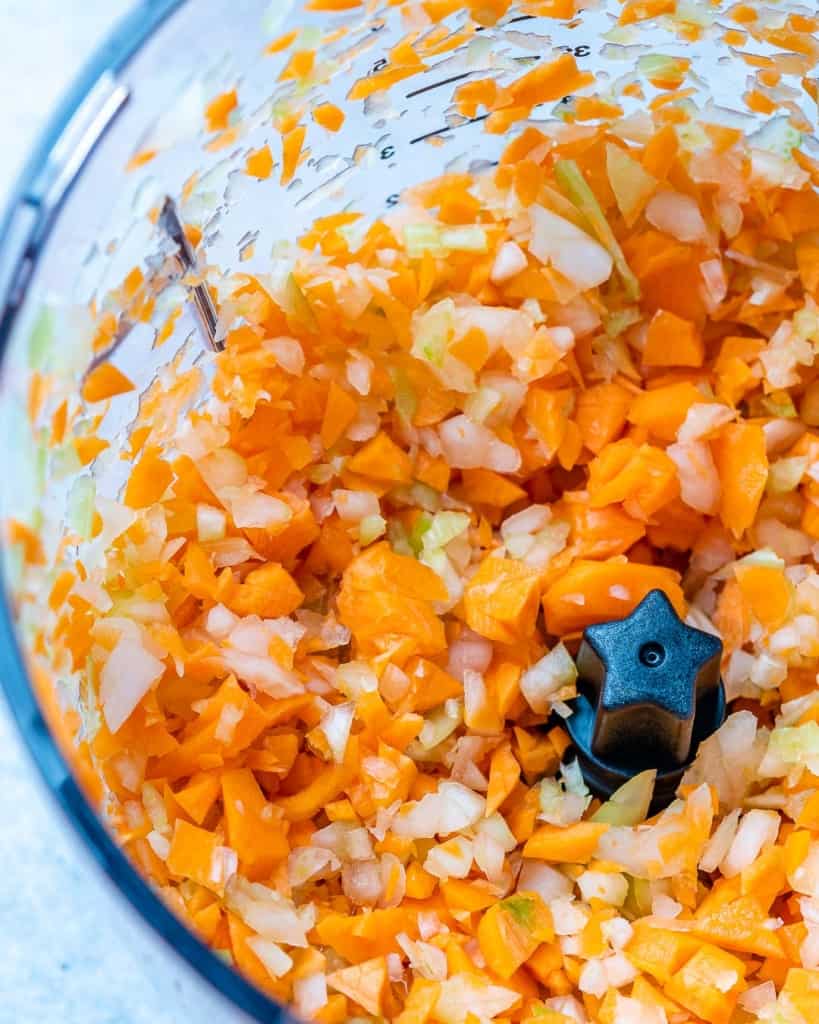 Next, heat oil in a large pan over medium heat. Add the chopped veggies and sauté for 3-4 minutes, or until softened.
Brown your meat: bring veggies to the sides of the pan and add in the middle add the ground meat. Season with salt and pepper. Allow the meat to cook undisturbed for 3-4 minutes until it develops a golden crust. Using a wooden spatula start to stir into the meat, mincing it at the same time. Stir to combine the meat with the sautéed veggies, and continue to cook for 8-10 minutes.
Next, add the tomato paste, crushed tomatoes, and broth. Mix well to combine. Then stir in the herbs and parmesan rind.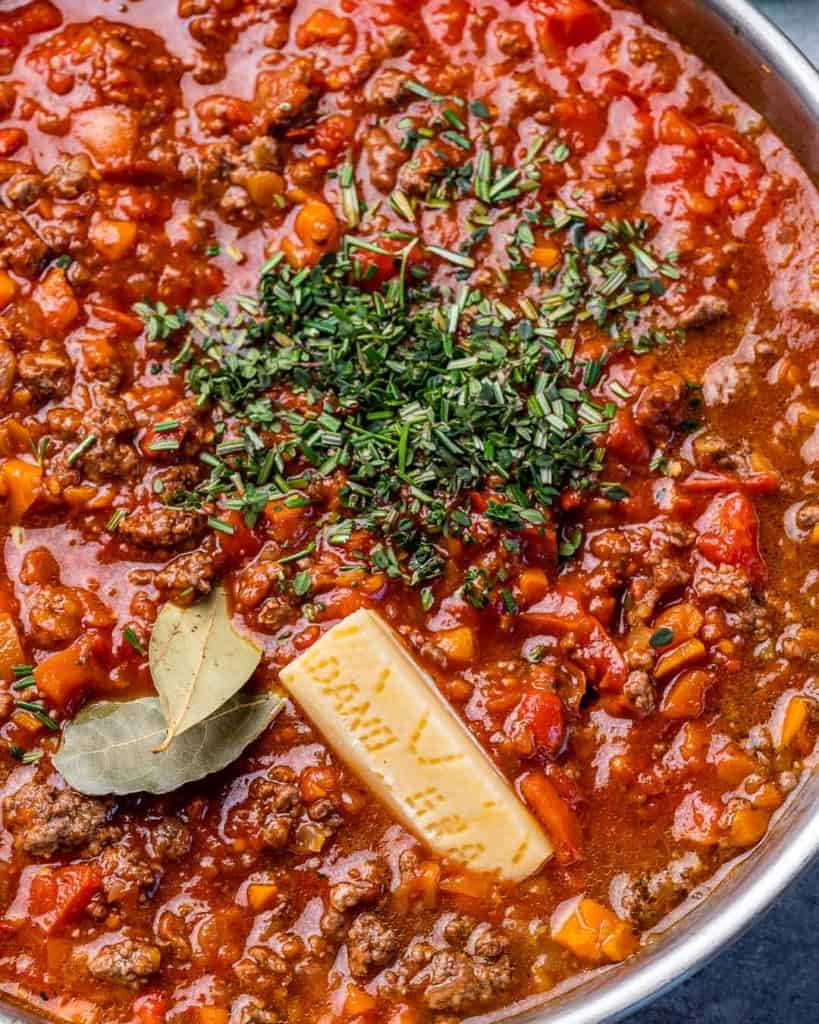 Simmer: reduce the heat to low and partially cover the pan. Simmer the bolognese sauce, stirring occasionally, for 60 minutes.
Make the pasta: just before the sauce is ready, cook the pasta in salted water according to package instructions. Reserve 2/3 cup of the pasta water, then drain.
Remove and discard the bay leaves from the sauce.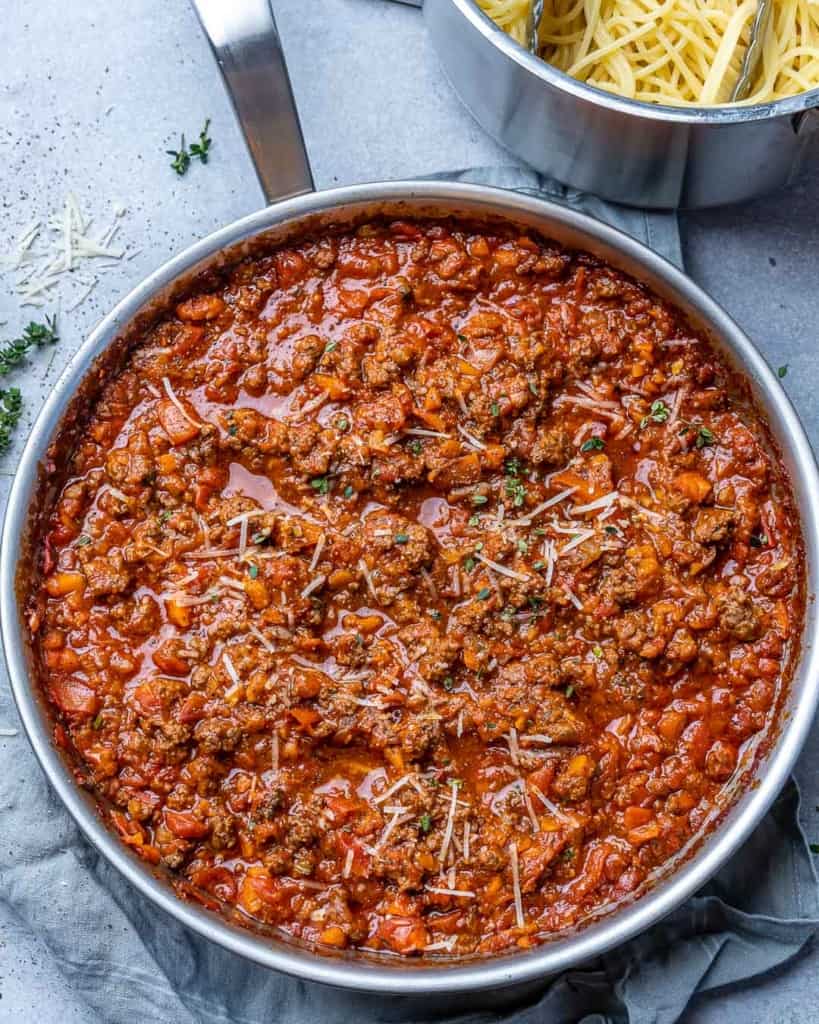 Combine the bolognese with the pasta: While the sauce is still on the heat, add cooked pasta, starchy water, and grated parmesan. Toss well to combine and coat.
Turn the heat off and divide the bolognese pasta into serving bowls. Garnish with extra parmesan if desired and ground black pepper and serve immediately.
Recipe Notes and Tips
Use the leanest ground beef available.
Any oil will work
Broth: we used chicken broth. but you may sub with beef or vegetable broth.
Pasta: any pasta will work, use your favorite. For a low carb option, you may serve your beef bolognese with zoodles.
Don't be tempted to skip any of the vegetables. The three of them play off each other: the carrots add sweetness, the onions add sharpness, and the celery adds a savory component.
Don't skip the parmesan rind. While it's too tough and hard to eat, it adds a ton of flavor to the dish when simmered. Be sure to fish out the parmesan rind at the end.
A good substitute for parmesan rind would be Pecorino Romano and Gruyère.
Don't have fresh garlic? Use one tablespoon of garlic powder.
Allow the amount of time to simmer down for the best flavors.
Store leftovers in a container and store in the fridge for up to 4 days.
To freeze a batch of this bolognese sauce, once it's cooled, add to a ziplock bag, seal, and freeze for up to 3-5 months.
To make this bolognese sauce recipe gluten-free, use gluten-free pasta or zoodles.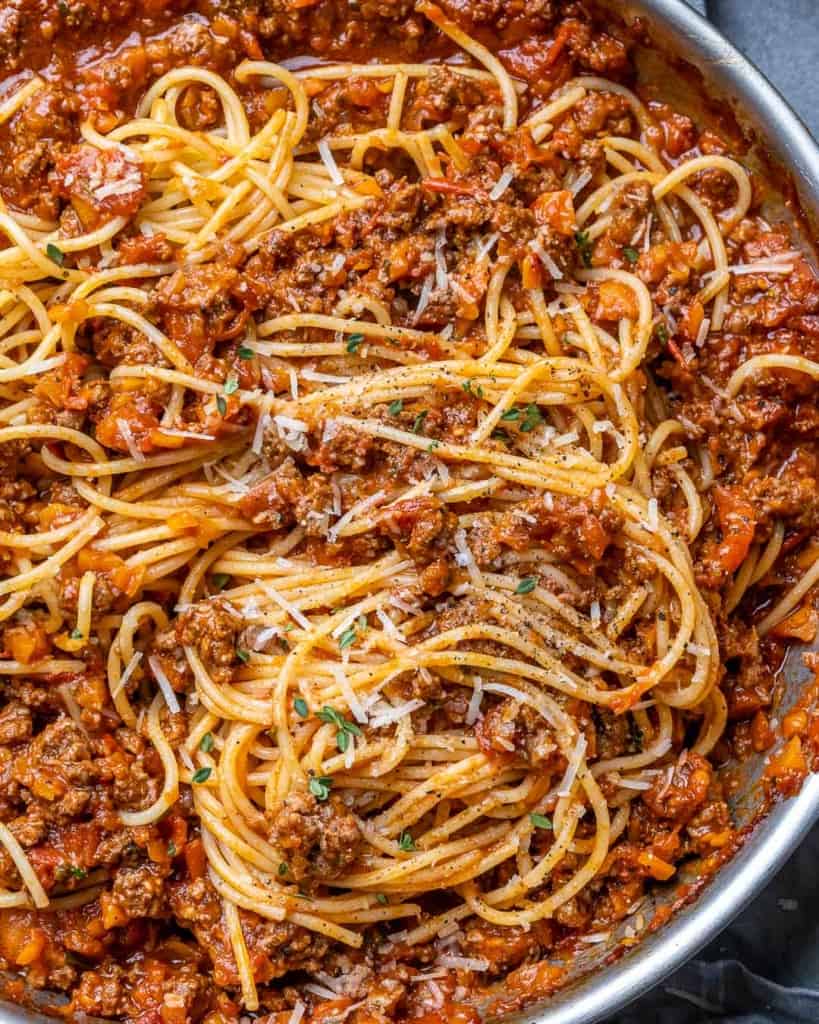 FAQs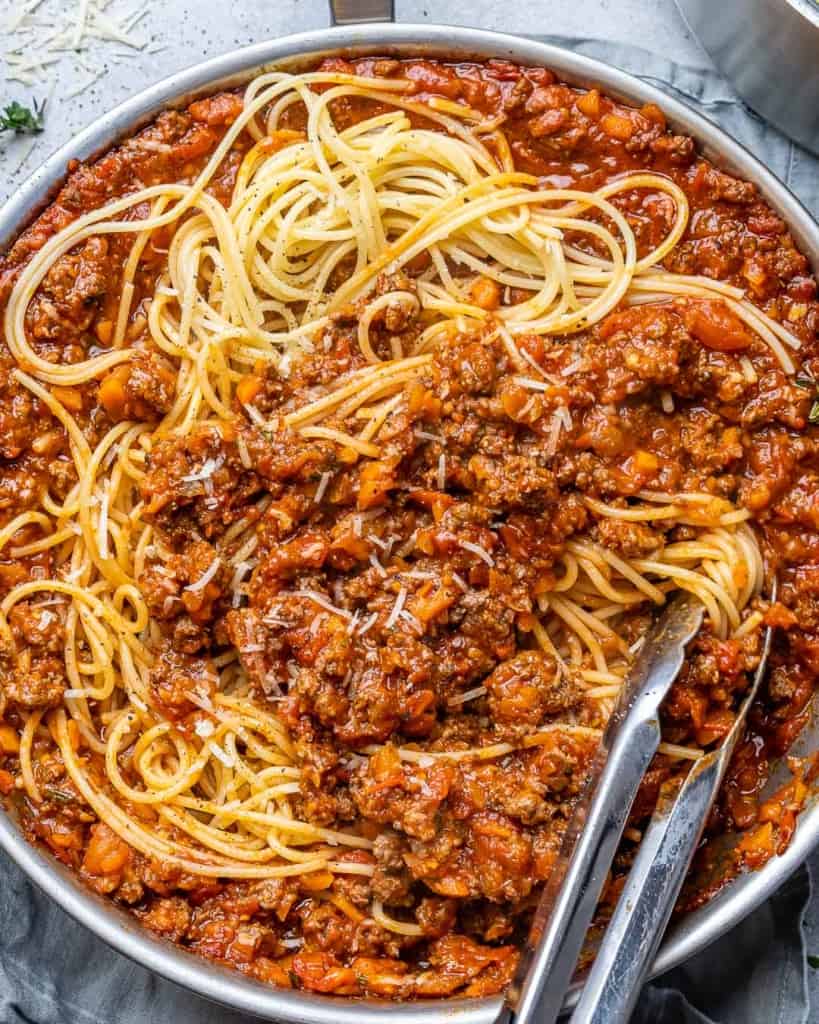 How to make this bolognese sauce in an instant pot
First, turn on the Instant pot into "sauté" mode. Add the oil into the pot.
Next, add the chopped veggies and sauté for 3-4 minutes, or until softened.
Add the ground meat. Season with salt and pepper. Allow the meat to cook undisturbed for 3-4 minutes until it develops a golden crust.
Then, add the tomato paste, crushed tomatoes, broth, and remaining ingredients along with herbs, except for the parmesan rind. Mix well to combine.
Switch the Instant pot from sautee mode to manual. Seal, and pressure cook for 20 minutes.
Once done, do a quick release and allow it to vent. Remove the lid and mix.
Switch the setting back to sautee mode. Add the parmesan rind, sautee for 5-10 minutes. Adjust seasoning if needed.
Discard bay leaf and the remaining parmesan rind and serve with pasta.
Other dinner recipes to try
Mushroom Stuffed Chicken Breast
Baked Lemon Garlic Salmon
Instant Pot Beef Stew
Baked Teriyaki Salmon
Creamy Chicken Enchilada Soup
Read more: how to make vegan bechamel sauce | Family Cuisine
Also, if you try a recipe and you like it, leave us some feedback in the comment section below, and don't forget to rate it! We would love it if you shared it with friends and family.
Finally, please use our hashtag #healthyfitnessmeals on INSTAGRAM for a chance to be featured! FOLLOW Healthy Fitness Meals on FACEBOOK | INSTAGRAM | PINTEREST | TWITTER for all of our latest blog posts and recipes.
Read more: how to make a simple butter sauce for pasta | Family Cuisine