Here I'll show you a secret tip to getting truly creamy Cream Cheese Pasta without the sauce drying up. With just 5 ingredients, this easy pasta dish is a total winner!
This truly is the easiest pasta recipe of all time. Plus it's freaking delish. If you've got a spare 20mins and your belly is rumbling, you've come to the right place. Follow me…
Reading: how to make a pasta sauce with cream cheese
Pasta with Cream Cheese
I don't know about you, but if you've ever tried cream cheese pasta before, you've probably felt a little lacklustre afterwards. Well, same. I've seen so many recipes where it's simply just pasta and cream cheese mixed in. It's a nice idea, but in reality it just doesn't taste that great. I was determined to make cream cheese pasta work, so I did a little experimenting, and here's the result.
It's kind of like a cream cheese Alfredo sauce. Better still, you only need 5 ingredients!
Cream Cheese Pasta Sauce Ingredients
Cream Cheese – I usually go for Philadelphia, but any full fat quality brand works great.
Butter – Adds a richness to the sauce. I usually go for unsalted butter, just so you can control the amount of salt better.
Parmesan – Freshly grated, not the sandy stuff!
Garlic – Where there's a cheesy sauce there's gotta be garlic. It's just the rules 🤷‍♂️
Ham – Great because it doesn't need to be cooked (and it's usually what I've got knocking about in the fridge). Can sub this out (see below).
What Pasta to use?
I usually go for spaghetti because it's the most economical, so fits in well with this recipe. In all cases though I recommend a long-cut pasta, just to allow the sauce to wrap itself around the pasta!
What else can I add to Cream Cheese Pasta?
Read more: how to make sea salt caramel sauce | Family Cuisine
If you haven't got or don't like ham, you can really add most things in this sauce! Here's some of my faves:
Bacon
Mushrooms
Leftover Chicken
Smoked Sausage
Roasted Veggies
A pinch of fresh thyme also works nicely, or even a pinch of chilli flakes to add a kick of spice!
Cream Cheese Pasta Sauce
Okay, so we've added some more flavour to the classic cream cheese pasta, but there's also a second problem. By adding cream cheese straight to pasta it just ends up dry and clumpy. Even thinning it out with milk doesn't particularly help. So, meet your new best friend.
Starchy Pasta Water
By stirring through some pasta water into melted butter you create an emulsion. This will be the base of your sauce and result in a silky, creamy sauce. A lot of traditional Italian pasta sauces actually only use pasta water and butter, purely because that's all you need to create a creamy sauce base. But hey, I promised you cream cheese pasta, so that's what we're getting 😋
How to use Starchy Pasta Water in Cream Cheese Pasta
Two really important factors to consider. First is you want the pasta water to be properly seasoned with salt. This ensures it doesn't dilute the flavour of the sauce. Second, you'll want to scoop the pasta water out JUST before draining. This will ensure the water is nice and starchy, which in turn is what ensures the sauce goes nice and creamy.
How to make Cream Cheese Pasta (quick summary, continue for full recipe)
Fry garlic and ham until lightly browned, then melt in butter.
Completely melt butter and keep on a medium heat.
Stir in pasta water to create an emulsion.
Add cream cheese and parmesan. Season to taste.
Toss through spaghetti.
Thin out with pasta water as needed.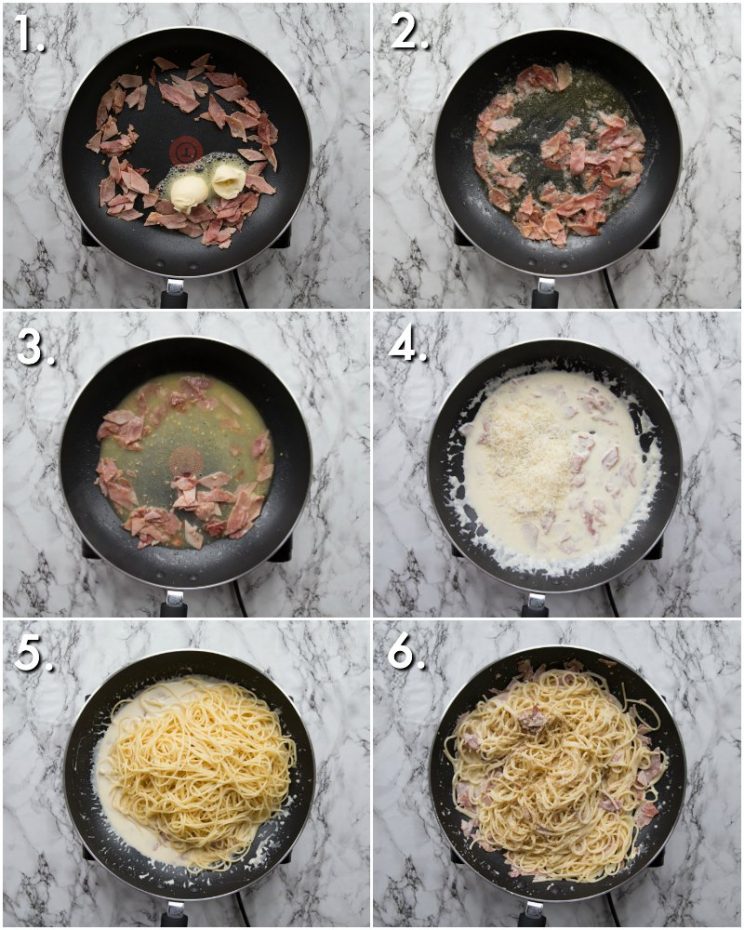 Serving Cream Cheese Pasta
Read more: how to make simple black pepper sauce | Family Cuisine
Serve right away with a sprinkling of extra parmesan, just for good measure. If you want to go wild you could add some garlic bread (or cheesy garlic bread, or even cheesy pesto garlic bread!).
Can I make this ahead of time?
This is best made fresh, but with the same token don't waste any leftovers. Just tightly cover in the fridge then reheat on the stove using a splash of milk or cream to thin out as needed.
If you're looking for another easy cheesy pasta recipe check out my Four Cheese Pasta!
For more similar recipe check out these beauties too:
Creamy Pasta Recipes
Creamy Cajun Chicken Pasta
Creamy Mushroom Pasta
Creamy Roasted Red Pepper Pasta
Creamy Salmon Pasta
Creamy One Pot Pasta
Right, let's tuck into the full recipe for this cream cheese pasta shall we?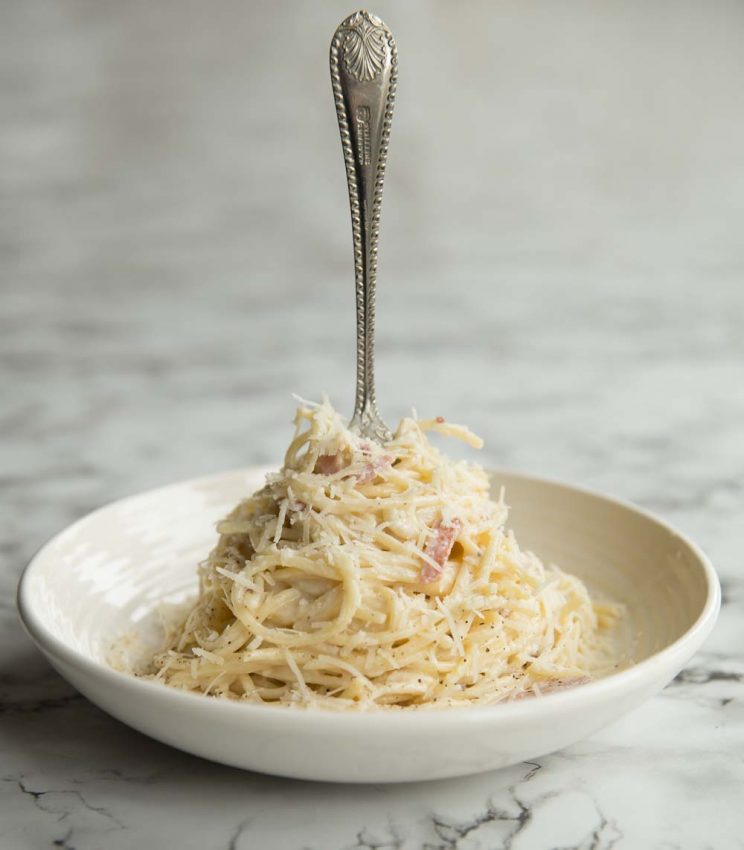 How to make Cream Cheese Pasta (Full Recipe and Video)
If you loved this Cream Cheese Pasta recipe then be sure to Pin it for later! Already made it or got a burning question? Give me a shout in the comments below and pick up your free ecookbook along the way!
Read more: Cannelloni Recipe (Cheesy Italian Comfort Food) | Family Cuisine