Make spicy and super flavorful Schezwan Sauce at home with this easy recipe. This sauce which can be served as a condiment along with dumplings, spring rolls or used in recipes like Schezwan fried rice and noodles.
This sauce is quite popular in the Indo-Chinese cuisine and also happens to be one of my favorites!
Reading: how to make a schezwan sauce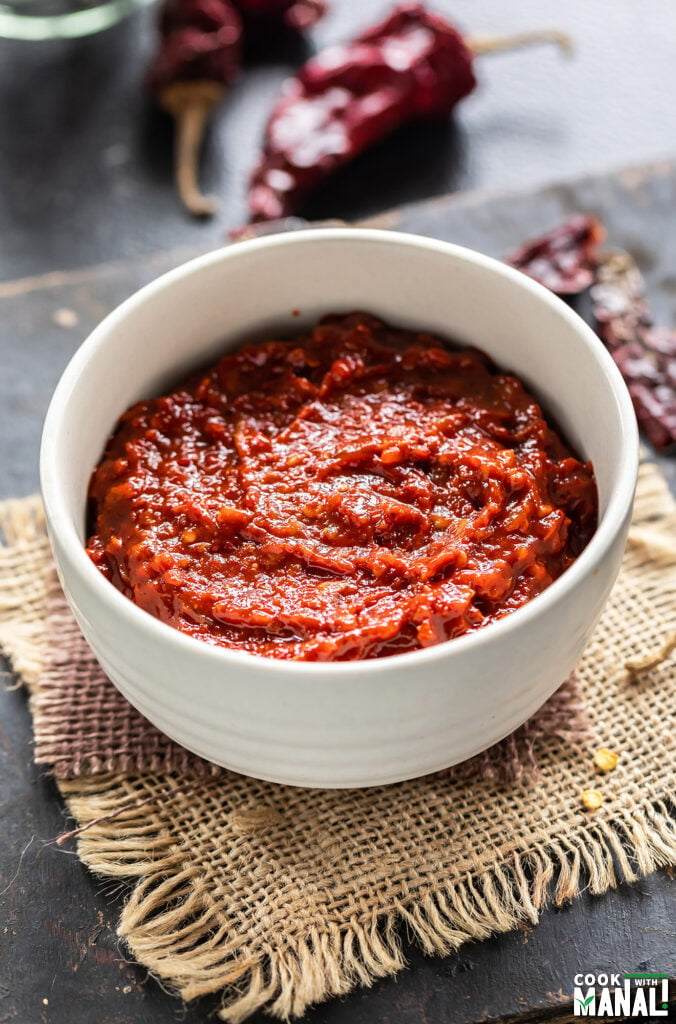 Indo-Chinese when done right is one of my favorite things to enjoy. I say when done "right" because so many places just don't make it right. Sometimes it's just too oily, or too spicy or too bland and so it's rather hard to find a good place here in the US.
In India though it was a different story. There were so many street vendors selling really good Indo-Chinese food. I really miss that food and also those times. 🙂 One of my favorite dish from this cuisine has been Schezwan noodles and Schezwan fried rice. They are both made using a spicy sauce called Schezwan Sauce!
What is Schezwan Sauce
Schezwan sauce is made with dried red chilies. The type of red chili you choose to make the sauce will determine the spice level of the sauce. It's flavored with lots of garlic, there's also some vinegar (for tang and also acts as preservative), salt and sugar. As you can imagine, it is a spicy sauce and really flavorful. Sometimes in India, we also call it as "Schezwan Chutney".
It can be used to flavor noodles, rice, stir-fry vegetables and so much more. It can also be served as a condiment with dumplings/momos, samosa, pakoras etc.
Ingredients
The main ingredient that you need to make the sauce is dried red chilies.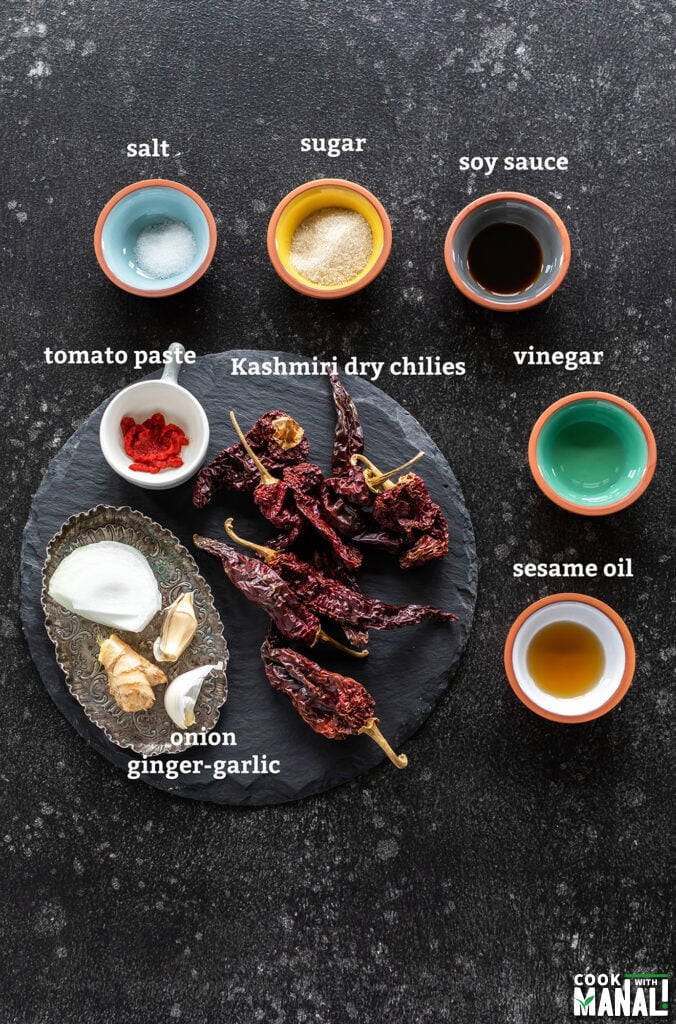 Kashmiri Dry Whole Chilli: I use these red chilies in my schezwan sauce because they have this vibrant red color and are not super spicy. If you use regular dried red chilies (not Kashmiri), then you schezwan sauce will be quite spicy. You can also use a mix of regular dried red chilies and Kashmiri red chilies. I use only the Kashmiri ones for a mild spice level.
Be sure to use a measuring scale here. The chilies can differ in size and hence you might end up using a lot more if you go by the number of chilies alone. Just to give you an example- the regular dried red chilis are quite lightweight and you would need 22 chilies for 22 grams whereas for Kashmiri red chilies, you would need only around 9 to 10 chilies to make 22 grams. So use a measuring scale here else the recipe can go wrong.
Read more: how to make shabu shabu sauce recipe | Family Cuisine
Sesame Oil: this gives the sauce a lot of flavor. You may use regular vegetable, canola oil as well but sesame oil adds to the flavor so use it if you have it in your pantry.
Garlic: lots of garlic is absolutely essential here for that amazing flavor. In fact you can even add more than the amount mentioned here, there can never be enough. The ginger and garlic needed for this recipe should be very finely chopped/minced so use a food processor for that.
Flavoring/Seasoning: to flavor the sauce, we use bit of tomato paste, sugar, salt, vinegar, soy sauce and black pepper. The amount of each of these ingredients can be adjust to taste and preference.
Step by Step Instructions
1- Remove the stalk first and then soak the dried Kashmiri whole red chilies in hot water for 30 minutes. For a spicier version, you can replace half of the Kashmiri red chilies with regular dried red chilies.
2- After 30 minutes, the chilies would become soft and plump. Drain the water in which they were soaked using a strainer and then transfer them to a blender.
3 & 4- Add 3 to 4 tablespoons of water and blend the chilies to a paste. Set this aside.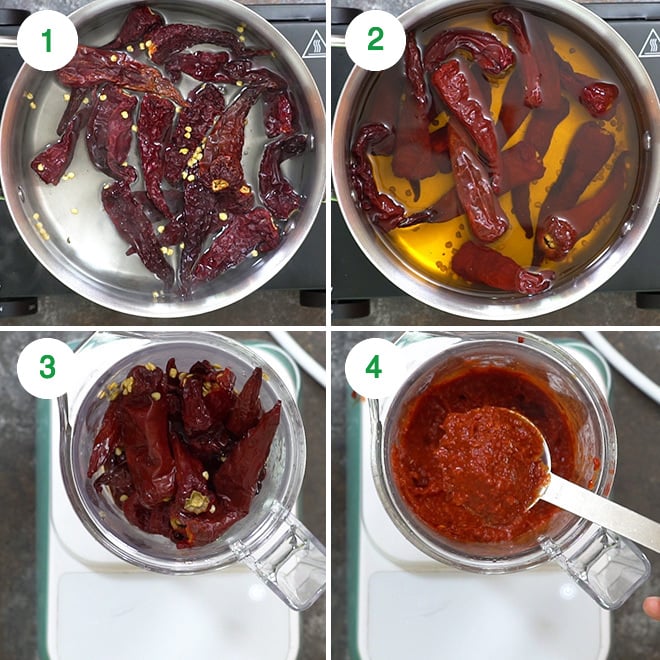 5- Heat sesame oil in a skillet on medium heat. Once the oil is hot, add the chopped garlic and ginger.
6- Sauté on medium heat until the raw smell goes away, around 2 minutes . You don't want to brown them, so keep that in mind.
7- Then add the chopped onion and sauté until translucent, again 2 to 3 minutes. Again don't brown the onion.
Read more: Next! Gordita (style) Sauce | Family Cuisine
8- Add the prepared chili paste, stir well and cook for 2 to 3 minutes, stirring often.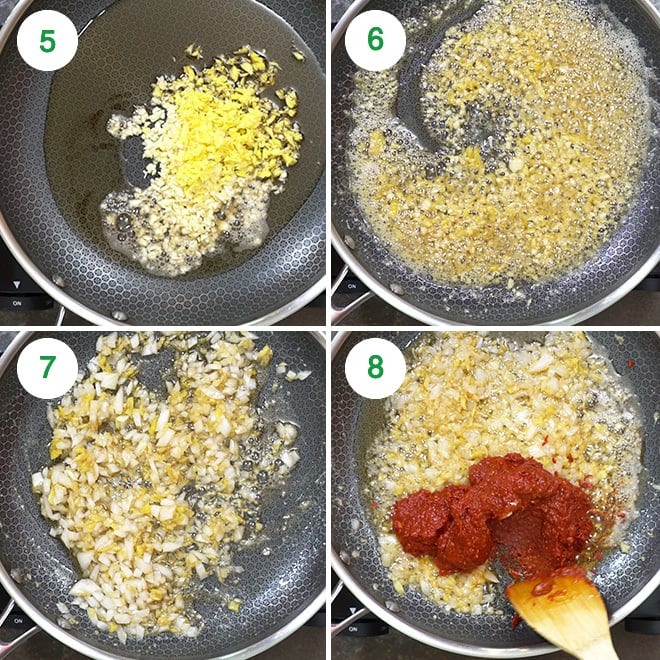 9- Now add around 3/4 cup water (I added water to the same blender in which I blended the chilies, swirled it around and then added to the pan) .
6- Stir, cover the pan with a lid and cook for 3 to 4 minutes on medium heat. At this point the paste will be completely cooked and you will see oil oozing from the sides.
7- Add the tomato paste, vinegar, sugar, soy sauce, salt and black pepper. Mix well. You can add extra water at this point if you prefer a thinner consistency of the sauce.
8- Cook for another 1 minute or so until the sauce thickens and then remove pan from heat.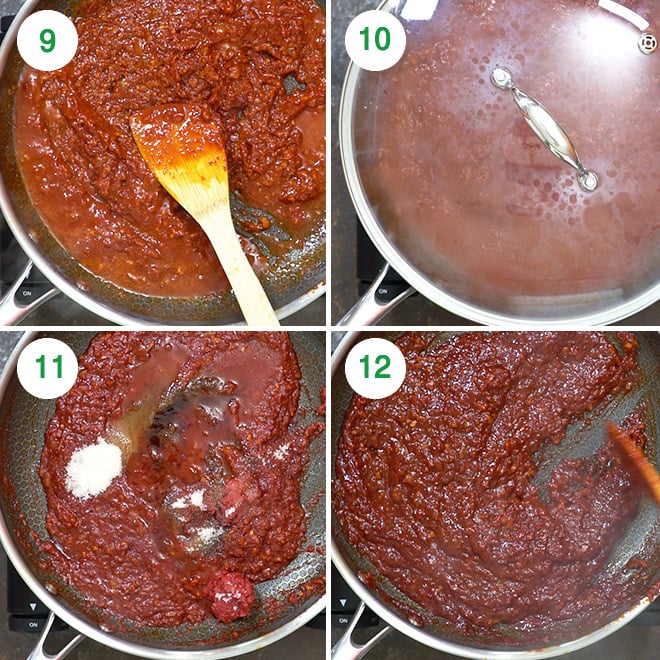 Let the sauce cool completely and then store in a jar and refrigerate it.
Serving Suggestions
There are so many ways to use this sauce.
Mix with rice and make Schezwan Fried Rice.
Mix with noodles and make Schezwan Noodles
Toss with veggies, or dumplings.
It's a super versatile sauce and you can honestly use it in so many ways. I also like to eat it with with samosa or spring rolls! It's a great sauce to have in your fridge for quick meals.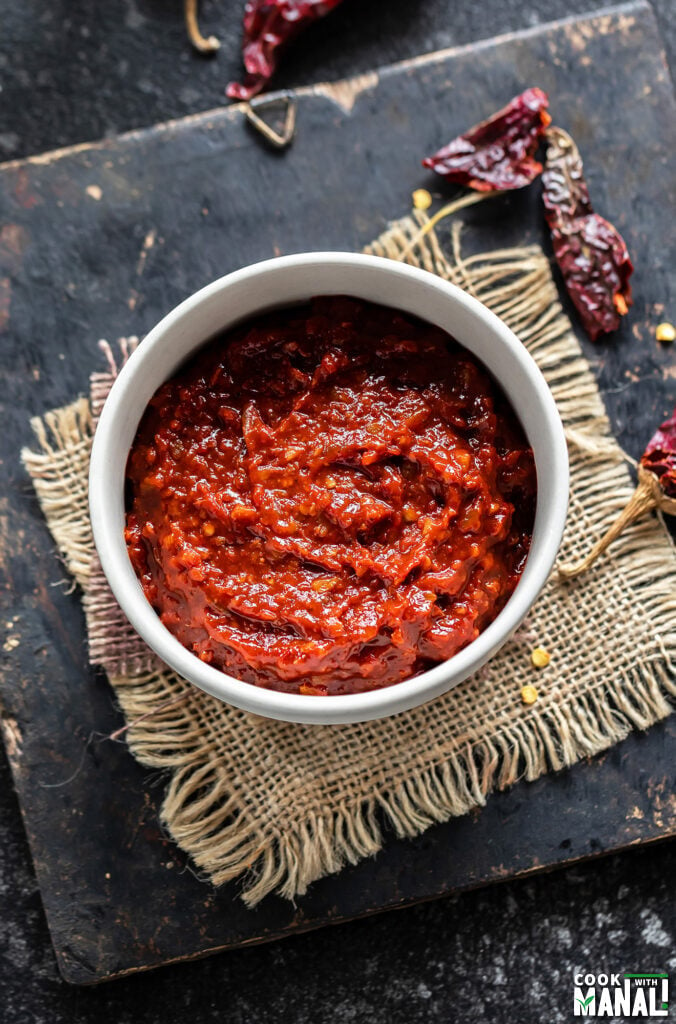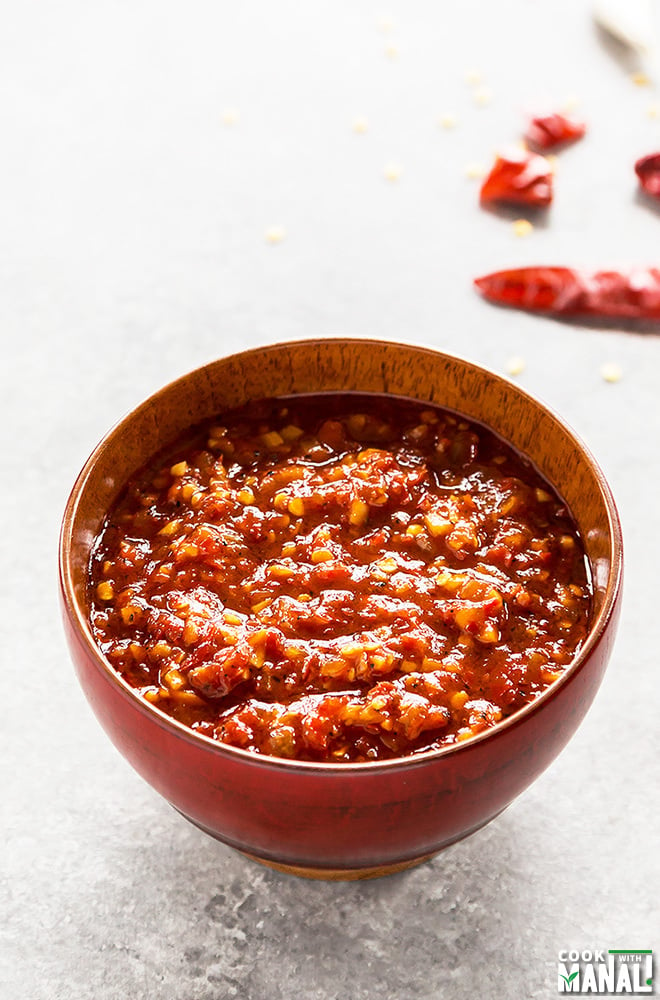 Tips & Notes
Sauce will be much spicier if use regular dried red chilies in place of Kashmiri. I really like this version with 100% Kashmiri red chilies. If you want to make it spicier, I would suggest replacing 50% of the chilies with regular dried red chilies. Don't replace 100% else it will be very spicy.
The amount of sugar in the recipe can be adjusted to taste. If you do not prefer more sweetness to your Schezwan sauce, then you can definitely reduce the amount of sugar.
Sauce stays good in the refrigerator for few weeks in an airtight container.
It should also freeze well. To freeze, place the sauce in individual small portions using a ice cube tray (or anything similar) and freeze. You can just take out as much as needed (freezing in ice cube tray makes it easier) and use in the recipe.
Use a food processor to finely chop the ginger and garlic for this recipe. I use a hand chopped that I have and it does the job well.
You can add more water if you prefer a thinner consistency of the sauce.
If you've tried this Recipe then don't forget to rate the recipe! You can also follow me on Facebook, Instagram to see what's latest in my kitchen and on YouTube to watch my latest videos.
This post has been updated from the recipe archives, first published in 2017.
Read more: how to make a cheese sauce without cream | Family Cuisine