This Shrimp Ramen Stir Fry is an easy, one-pan dinner that comes together in under 30 minutes! Chewy instant ramen noodles are cooked in a sweet soy sauce, and tossed with sautéed shrimp, snap peas, garlic, and plenty of savory shiitake mushrooms.
Other easy Asian we love are these 5-Ingredient Peanut Noodles, this Quinoa Fried Rice, and this Crispy Honey Beef.
Reading: how to make a shrimp stir fry with ramen
Shrimp Ramen Stir Fry
I've made all your Asian takeout dreams come true with Shrimp Ramen Stir Fry. This easy weeknight dinner comes together in literally no time at all, and I can bet money that your kiddos are going to INHALE it. Mine did, and while they're not the pickiest eaters on the planet, they aren't exactly adventurous either. Here's what we having going on:
chewy ramen noodles (that cook instantly!)
a ridiculously easy sweet soy sauce
the sweetest, sesame-infused shrimp
loads of good-for-you veggies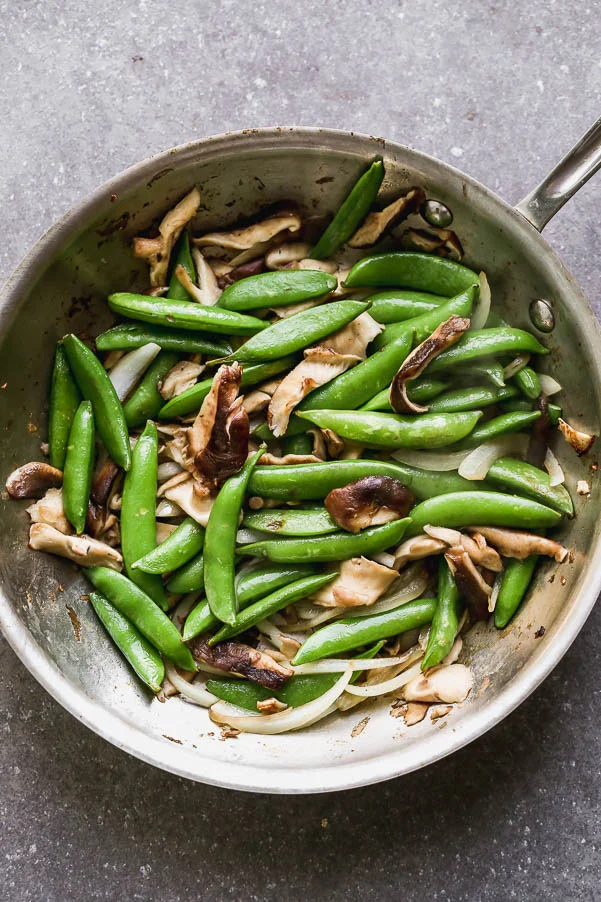 Ingredients in Shrimp Ramen Stir Fry
Sesame oil. I use sesame oil to cook the shrimp and the veggies. I love the nutty flavor it adds, but you could also use coconut oil, canola oil, or olive oil.
Shrimp. I LOVE the Trader Joe's Frozen Argentinean Shrimp. They're pretty large, cook up plump, and have this wonderfully sweet flavor and tender texture similar to lobster. Love love love them.
Veggies. You can really use whatever you like here. I love the combination of snap peas and shiitake mushrooms. Snap peas add a nice bit of crunch and texture to the dish, and the mushrooms soak up the sweet sauce, which make them pretty irresistible.
Read more: how to you stir fry mushroom | Family Cuisine
Onion and garlic. Never make a stir fry without onion and garlic.
Tamari. I prefer to use Tamari in Shrimp Ramen Stir Fry, because it has a little bit more depth of flavor than plain soy sauce. However, if you're using ingredients you have on hand, feel free to swap it out for soy sauce.
Brown sugar. I really wanted a combination of salty and sweet here, so I adding in an equal amount of brown sugar to Tamari. Brown sugar also helps to thicken the sauce so you don' have to add any cornstarch.
Chicken Stock. We need to use chicken stock to cook the noodles and to dilute the soy, brown sugar, and rice vinegar a little bit. Use a good-quality low-sodium chicken stock or broth so you can control the amount of salt that goes into the dish.
Rice Vinegar. I add in rice vinegar for a little additional acidity in the sauce. It's a subtle addition, but one that really rounds out all the flavors.
Ramen Noodles. I know, I know. Ramen noodles aren't exactly healthy. However, they cook up in virtually no time at all. They're chewy and so delicious. And you can cook them directly in the sauce. And I mean, who doesn't love ramen noodles?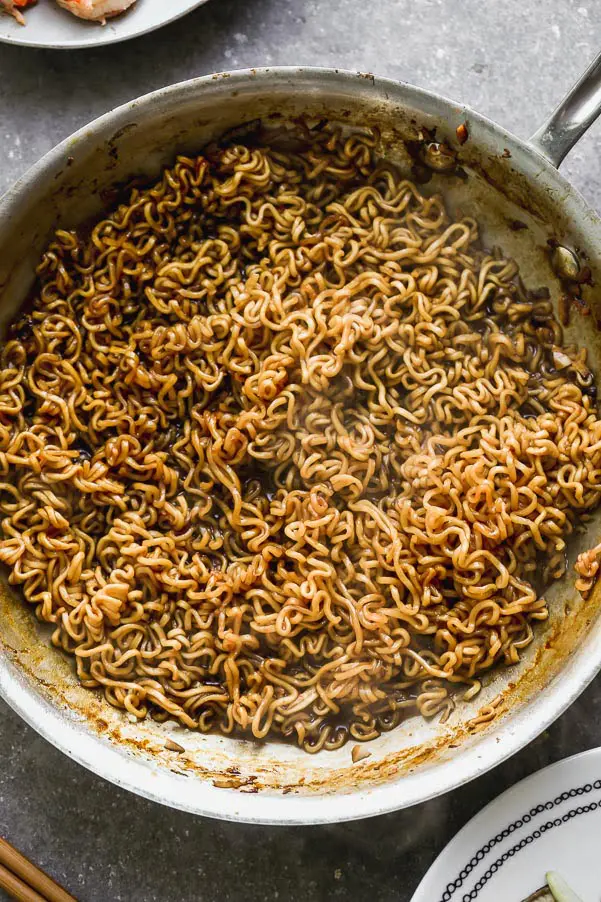 How to make Shrimp Ramen Stir Fry
Cook the shrimp. Season the shrimp with plenty of salt and pepper. Heat a large skillet to a medium-high heat. Add sesame oil. Add in the shrimp and cook until brought pink and cooked through, about 2-3 minutes. Normally, I'd say you don't want to crowd the pan, but here a little bit of steaming is ok.
Read more: how to make stir fry noodles with beef top ramen
Stir-fry the veggies. When the shrimp is cooked, transfer them along with any accumulated juices to a large plate. Add a little bit more sesame oil to the pan. Add in all the veggies (including the garlic). Sauté until the snap peas are bright green and mushrooms and onion are soft.
Make the sauce. While the veggies cook whisk the tamari, brown sugar, chicken stock, and rice vinegar together in a small bowl or measuring cup.
Cook the noodles. Remove the veggies from the pan. Pull the noodles apart so they are in four blocks. Pour in the sauce and put the noodles on top. (See photo.) Turn the heat on medium and let the noodles sit for about 30 seconds while the sauce simmers around it. Use tongs or chopsticks, to flip the noodles over. Cook another 30 seconds. Continue to do this until the noodles bread apart. Use the tongs to break the noodles apart. Let them simmer in the sauce until cooked, about 2-3 minutes. If needed, add a few tablespoons of chicken stock to loosen the sauce up.
Toss everything together! Toss the noodles in the sauce. Add the shrimp and veggies back to the pan. Toss everything together. Season with salt and pepper!
Can I make this ahead of time?
You COULD definitely make shrimp ramen stir fry in advance, however shrimp doesn't really reheat very well, so I'd suggest using a different protein. You could also make the noodles ahead of time and then cook the shrimp before eating. I will say, honestly, this is such a quick easy dinner, that you really don't NEED to make it ahead of time and it's better fresh. It is however, still super delicious the next day for leftovers.
Do I have to use ramen noodles?
Yes. For this Shrimp Ramen Stir Fry to turn out, I've carefully measured the amount of liquid you need to properly cook the noodles while simultaneously creating a sauce. You could probably use other noodles, but you will need to tinker around with how much you'll have to reduce the chicken stock by.
Substitutions and Tips and Tricks for Recipe Success
If you don't have tamari, you can swap out soy sauce.
Feel free to use olive oil, canola oil, or coconut oil in place of sesame oil. (Although you will lose that awesome sesame flavor!)
Use whatever veggies YOU love. Baby corn, water chestnuts, red bell peppers, portabellas, boy choy, or snow peas would be great substitutions or additions.
Any protein will work! Try turning this into a chicken ramen stir fry or a beef ramen stir fry. All delicious!
Be sure to keep an eye on the noodles while they are cooking. If they start to soak up too much liquid before they are done cooking, add a tablespoon of chicken stock until there's enough to cook the noodles.
Even though soy sauce has plenty of sodium and salt, you still want to season your veggies and shrimp when you cook them. Layers of flavor are what make these simple dishes great.
Other recipes we love to use ramen noodles in!
This 5-Ingredient Ramen Carbonara is one of my favorite easy one-pan pasta dishes. It's cream, salty and SO delicious.
Broccoli Ramen Salad with Peanut Dressing has tons of flavor from an easy peanut dressing, and loads of texture from crisp veggies and of course, crunchy ramen noodles. Such a fun spin on a salad.
If you're into soup (who isn't?) this Spicy Thai-Style Pumpkin Ramen is one of my favorite soups on the planet. It's slightly spicy, sweet, coconut-y and everything wonderful.
Read more: Easy Cashew Chicken | Family Cuisine