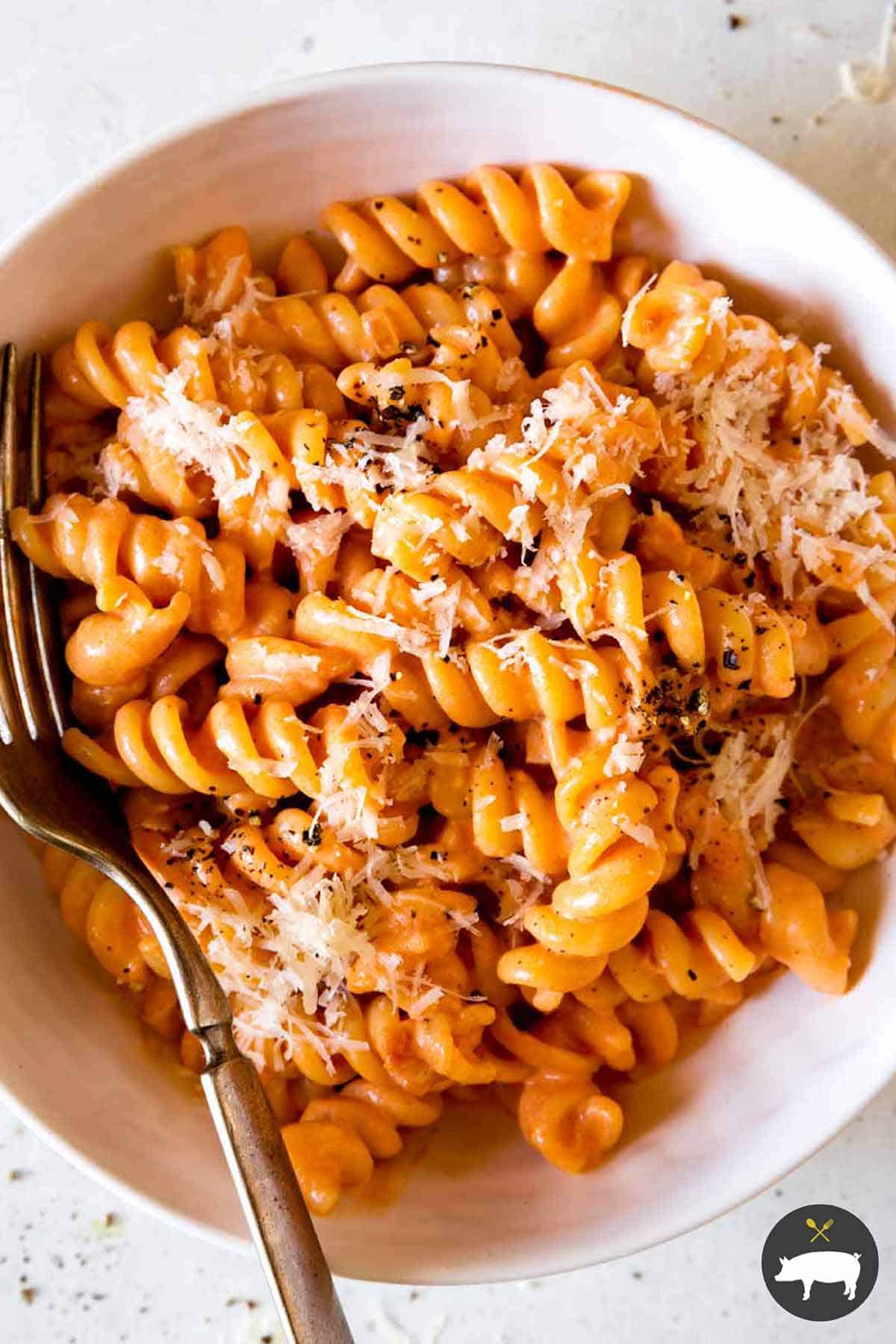 I LOVE this pasta with Vodka Sauce Recipe so much! It takes less than 30 minutes to whip up, with just a handful of basic ingredients! It's a favorite in my household and on regular dinner rotation! It's the best dinner to whip up on busy weeknights, when you want to get a delicious dinner on the table with minimal effort.
What Does Vodka Sauce Taste Like?
Our homemade vodka sauce has a bright, creamy, slightly acidic and subtly peppery flavor.
Reading: how to make a vodka sauce
Purpose of Vodka in Vodka Sauce
The vodka helps to balance out the tomato paste and heavy cream in the sauce. It creates a subtle, peppery heat and almost herbaceous brightness to the sauce.
How to Make Our Vodka Sauce Recipe
Ingredients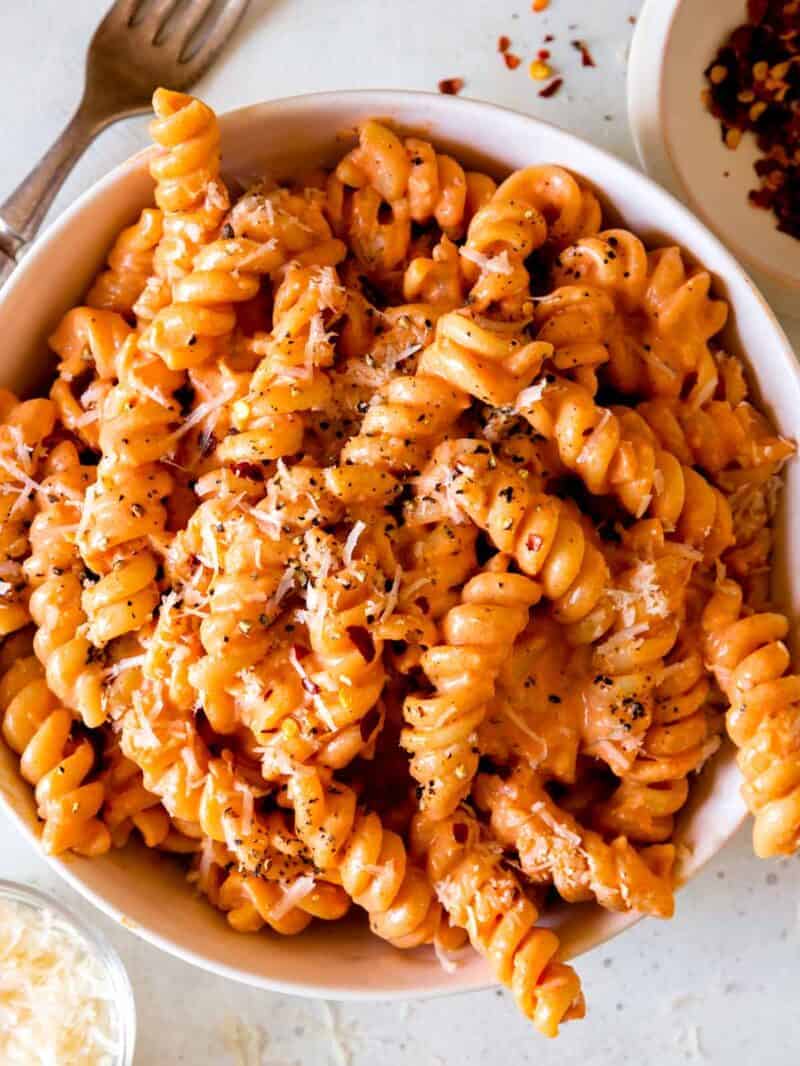 Process
First cook pasta in a large pot of well salted water to al dente doneness.
Drain pasta, reserving some of the pasta water. You'll add this to the sauce.
Place a skillet over medium heat and sauté shallots and garlic in some oil.
Add tomato paste and stir together. You want the tomato paste to turn a deep red color.
Deglaze pan with vodka and stir together for a few minutes.
Stir in reserved pasta water and simmer sauce. Season with salt and pepper.
Stir in cream and simmer for a few minutes.
Stir in grated Parmesan and butter until sauce is smooth and slightly thickened.
Add cooked pasta and toss together until well coated.
Top with more Parmesan and serve!
Tools You Will Need
large pot
knife
cutting board
large skillet
colander
wooden spoon
liquid measuring cup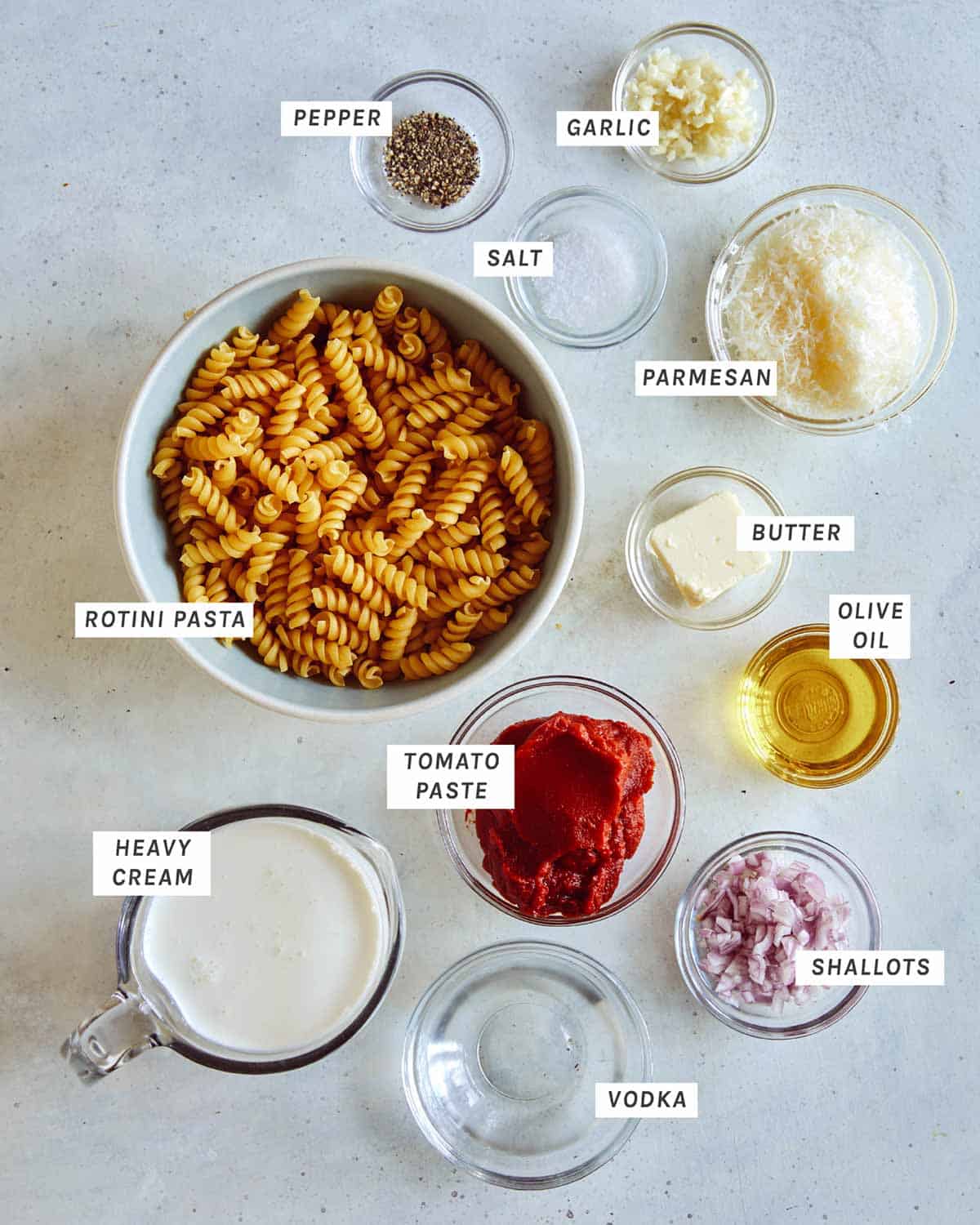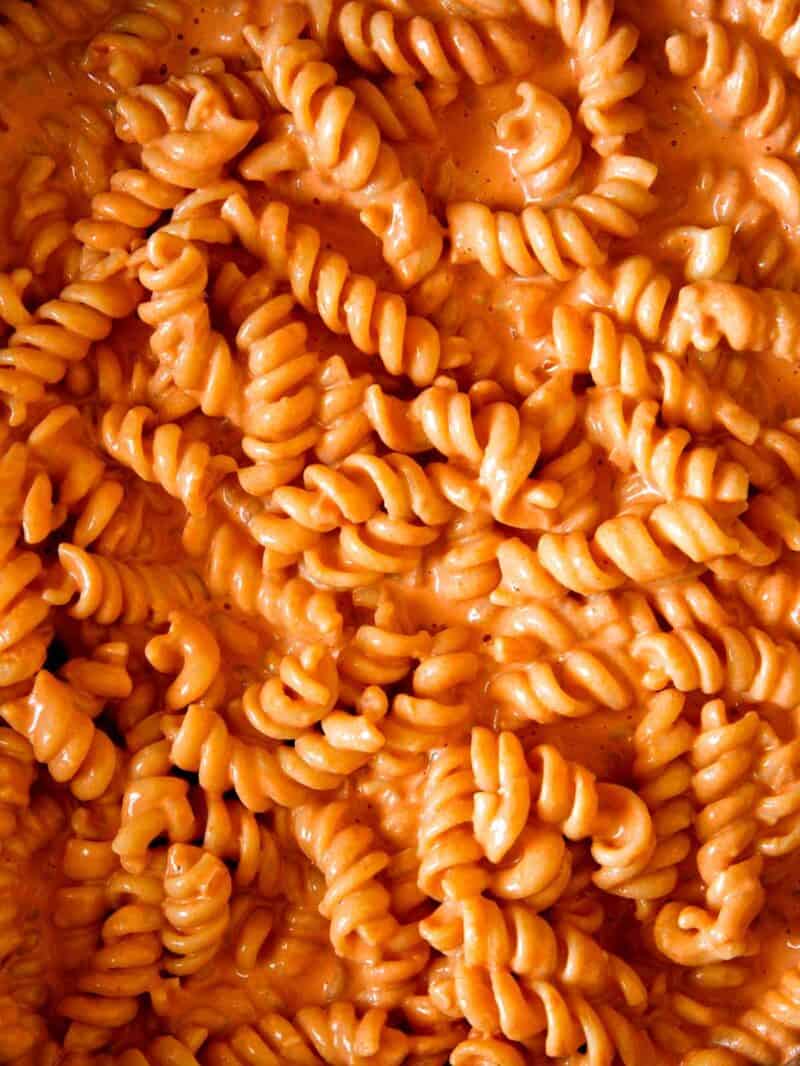 The Best Pasta to Pair with Our Vodka Sauce
Shaped Pasta
Read more: how to make a remoulade sauce for crab cake | Family Cuisine
I like using a shaped pasta for this dish, specifically rotini, because I like how the small spirals pick up the sauce so well. Other great options are:
penne
bow tie
cavatappi
gemelli
campanelle
radiatori
Strand Pasta
If shaped pastas aren't your favorite, I highly recommend fusilli col buco which is a great strand pasta that also picks up the sauce really well! Other great options are:
bucatini
mafalda
tagliatelle
capellini
linguine
Make Ahead and Freezing Instructions
Make Ahead
The pasta can be cooked and stored in an airtight container up to 3 days ahead of time. The sauce can be made up to 5 days ahead of time and also stored in an airtight container (separate from the sauce) until ready to use.
When ready to serve, pour sauce into a large saucepan and simmer over medium-low heat, stirring occasionally, until heated through, about 10 minutes. Stir pasta into sauce and continue to simmer for an additional 5 minutes until pasta has heated through. Serve.
Freezing
Read more: how to make good pizza sauce from scratch | Family Cuisine
The pasta can be made, stored in an airtight container and frozen for up to 3 months. Thaw completely in refrigerator and stir into heated sauce until completely heated through.
To freeze sauce ahead of time, make sauce until it's time to add cream. Cool completely, then store partially made sauce in an airtight container for up to 3 months. When ready to serve, thaw sauce in refrigerator. Heat sauce in a saucepan until heated through, then stir in cream and simmer. Adjust seasonings before adding pasta and tossing together. Simmer until heated through and serve.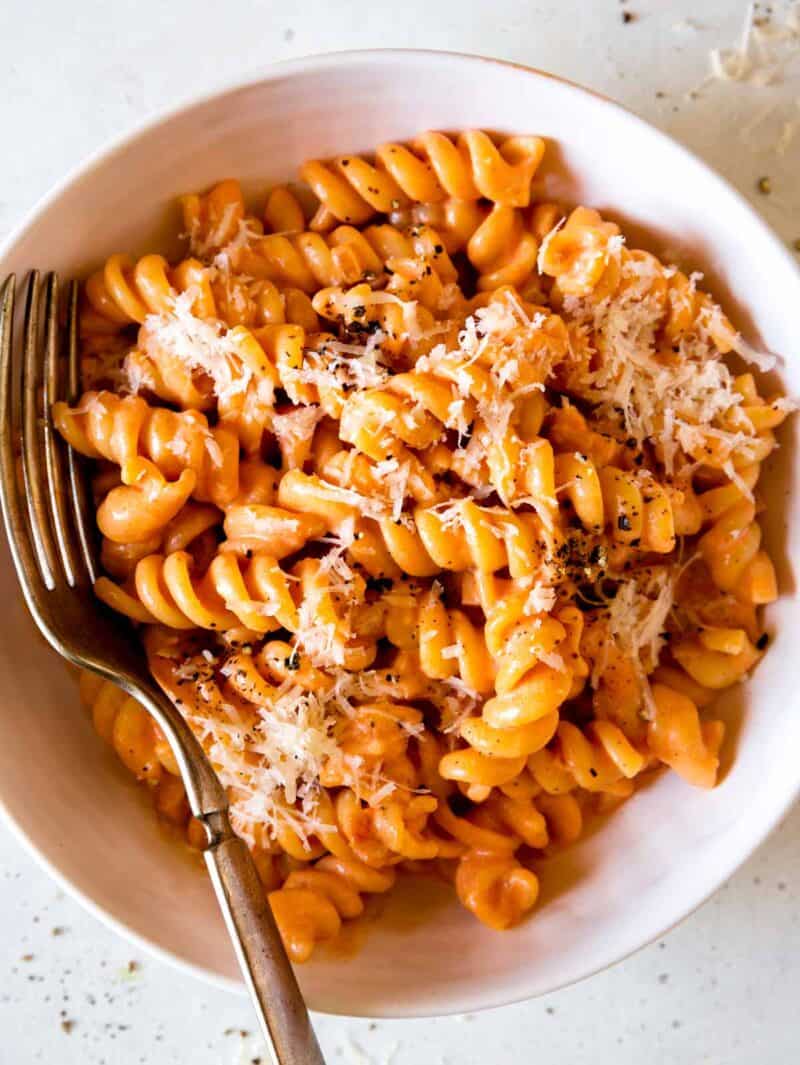 Variations for Our Vodka Sauce
Get veggies into the sauce! Some of our favorites are spinach, kale, broccoli, and asparagus.
Add protein! Precooked shredded or chopped chicken is one of our favorite things to add to the sauce.
Garbanzo or white beans can also be added for a vegetarian friendly protein.
Add herbs! I love adding some torn basil or thinly sliced chives to the sauce to change things up.
Add heat by stirring some crushed red pepper flakes into the dish.
Make a vodka free option! That's right this sauce can be made sans alcohol. Water with a squeeze of lemon juice can replace the vodka. It won't give you quite the same peppery flavor, but it will help to bring out the acidity in the tomato paste.
More Pasta Recipes You Will Love
Capellini with Garlic, Lemon and Parmesan
One Pot Fettuccine Alfredo
Cacio e Pepe
Cajun Shrimp Pasta
Bolognese Sauce
Want a yummy salad to pair with our vodka sauce recipe? We've got you covered: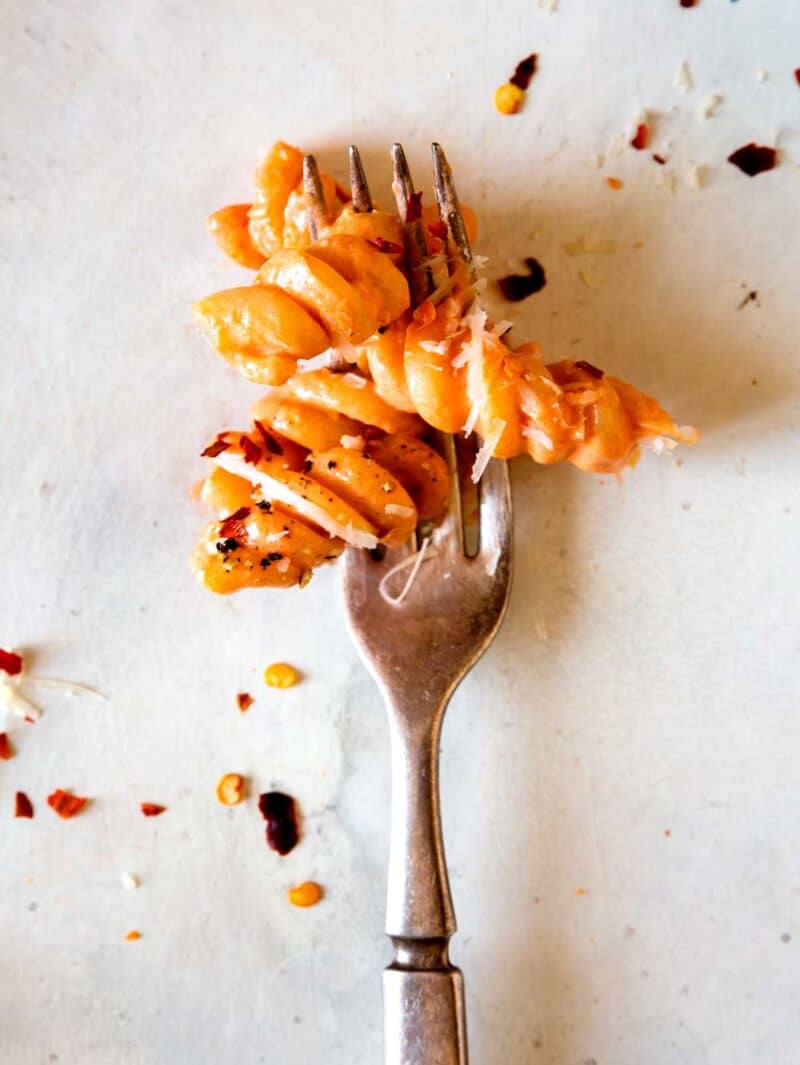 Check out our Vodka Sauce Google Web Story.
Read more: how to make swedish meatballs with barbecue sauce | Family Cuisine