How to cook air fryer ground beef perfectly in just a few minutes. The best part is that the grease drains away for extra lean protein.
Ground Beef Air Fryer Recipe
We buy half a cow every year. With that said we make a lot of easy ground beef recipes year round. You too can buy meat in bulk online. It saves money and trips to the store, I love it. With all the different cuts we get, we cook this the most often by far. There are so many recipes for it we love.
Whether I use it inside our very popular Instant Pot spaghetti recipe, or just mix in taco seasoning, I make this at least once a week. I love the fact that the fat and grease drain away automatically and browns it nicely in no time at all. You could use this same technique with ground turkey, chicken or even ground sausage.
How to Cook Ground Beef in Air Fryer
This is how our meat is packaged when we get it. They're packaged into one pound bags, that is how much I make at a time. It is plenty for the 4 or 5 of us in the house. If you have a larger household, just do two batches.
It is done so quickly that it isn't a big deal. You could break up two pounds and just overlap it more than I did.
Typically I suggest to not do that, but with ground meat it doesn't make that big of a difference really.
Cook time for 1 lb. of hamburger meat is 5 minutes for us.
If you really wanted it to have NO pink, 6 minutes would be better for you.
Super quick timing right?? All you need is a spatula or wooden utensil to break the meat apart and rotate it. Cleans up quickly in the dishwasher if you just throw it in there once you're done. High protein, fast prep, can't go wrong with that if you ask me.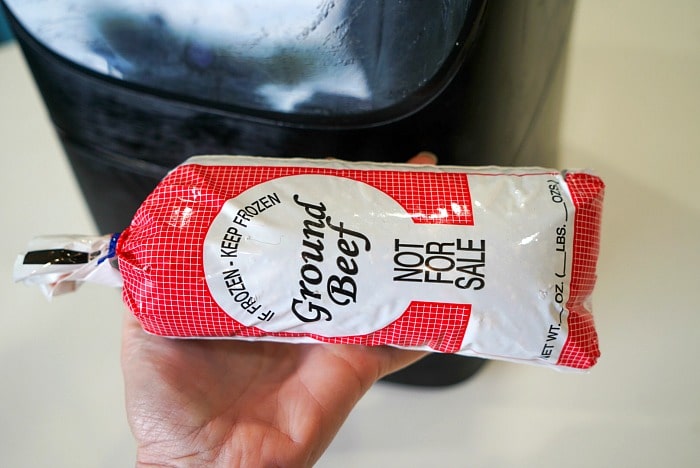 Ground Beef Air Fryer
Here are a few questions you may have before you get going;
First you're going to break up the meat. You don't want it to overlap if possible so each piece gets done at the same time. It doesn't have to be super teeny tiny, you can see here how I did mine.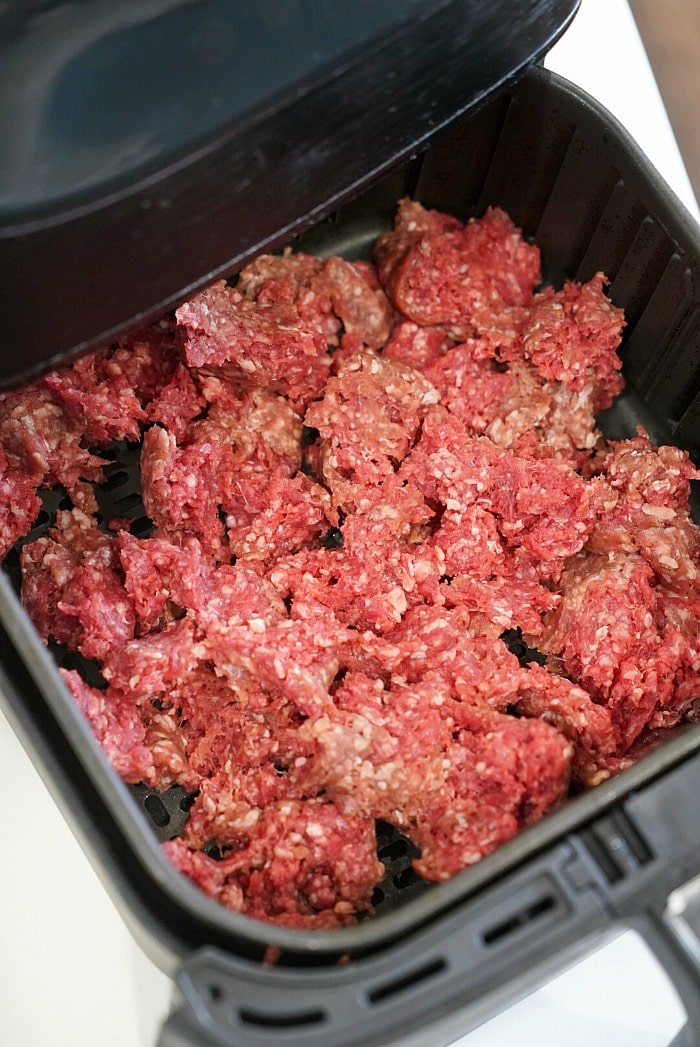 Air Fryer Hamburger
This air fryer beef recipe is quick and easy to make this perfectly.
All you need is your air fryer basket, a spoon or spatula to break up the meat and diced onions if you want to add those.
I chose to turn this into taco meat so I used a bowl to combine the taco seasoning and some water or broth to mix it in. Alternatively you can just season with salt and pepper.
I like to use wooden utensils to cook in my Cosori or large air fryer.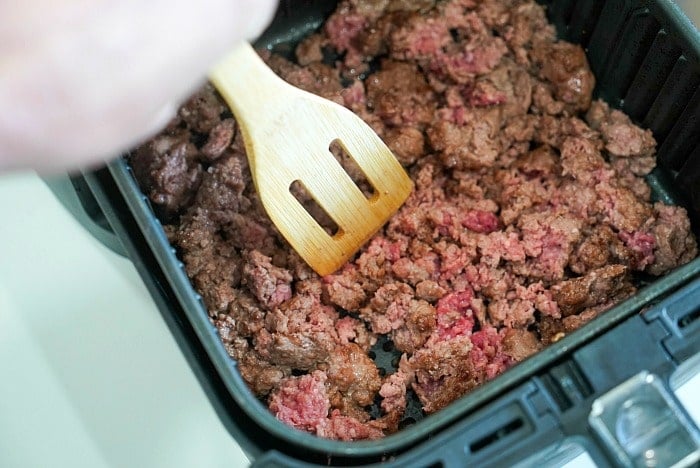 Ground Beef Air Fryer Time
We use about a pound at a time which is just about right as far as our 6 quart pot can fit nicely. Yes there will be a slight overlap but typically you want it to spread out and not have a lot on top of one another so it cooks evenly. This is a brief step by step but there is a printable recipe card at the bottom of this post as well.
Done and looks like this in just a jiffy y'all!! Then you can mix into a casserole, serve with taco shells and all the fixings or whatever your heart desires.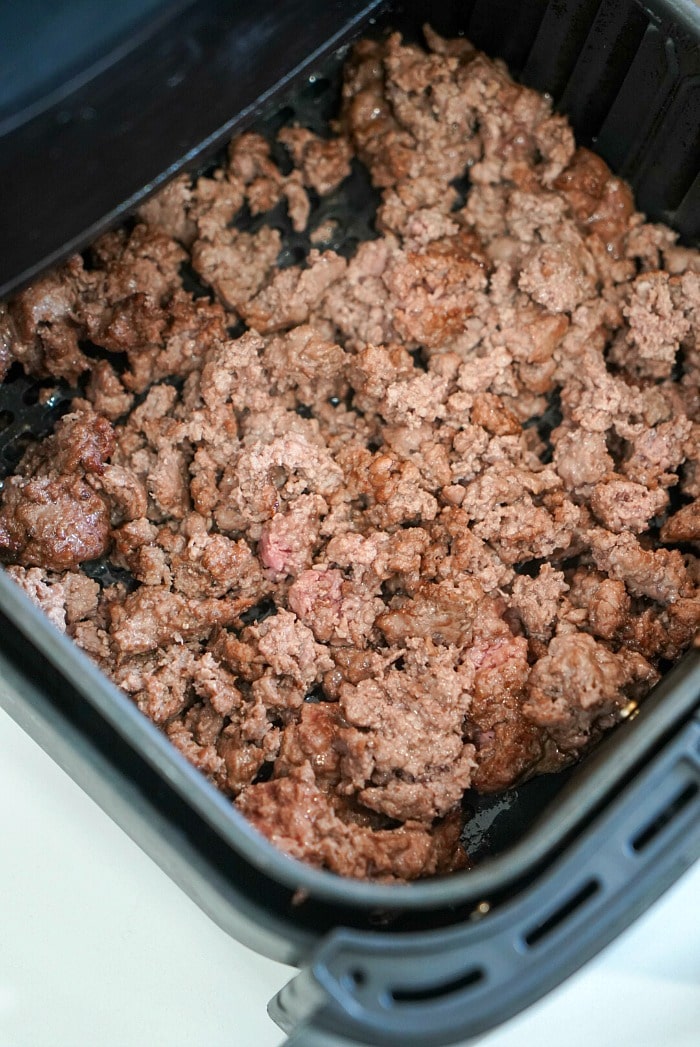 Air Fryer Ground Beef Recipes
Once you have this done and ready you can add them into a ton of meals like air fryer ground beef egg rolls or:
Air fryer stuffed peppers with rice and tomatoes.
You can make some yummy air fryer empanadas too as an appetizer or meal.
Add it into the mix of your homemade air fryer hash browns for a hearty breakfast with cheese on top.
Or throw it into a pot of 5 ingredient chili and you'll have a really cheap and healthy meal for all of you.
For more information please see the list of Cooking stew meat in air fryer
Detail: 🔗