This Shrimp Wonton Stir Fry is an Applebee's copycat filled with veggies tossed in a sweet and spicy sauce, served over rice & topped with wonton strips.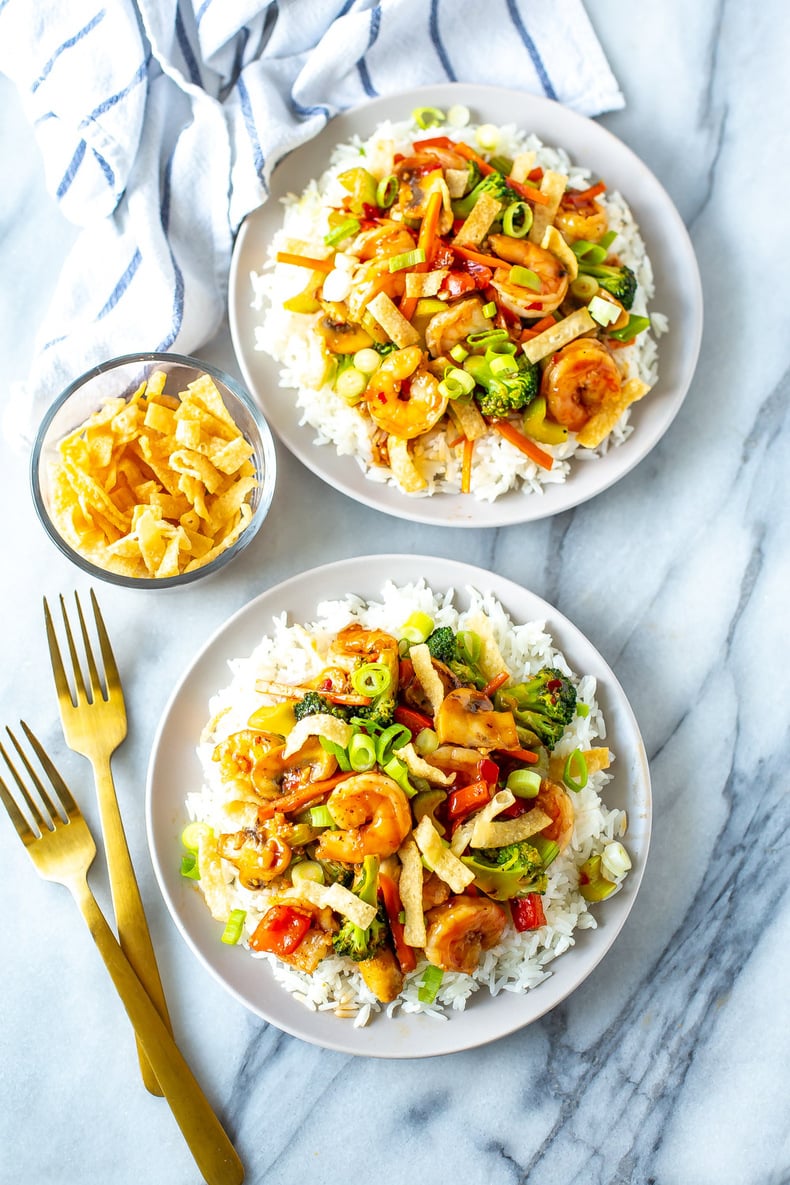 Reading: how to make applebees shrimp wonton stir fry
Ingredients in this recipe
This recipe is filled with healthy veggies, shrimp and rice in an easy sauce. Here's what you need:
canola oil
shrimp
carrot, shredded
celery stalks, chopped
mushrooms, sliced
broccoli, chopped into small florets
red pepper, sliced
green onions, sliced
wonton strips
rice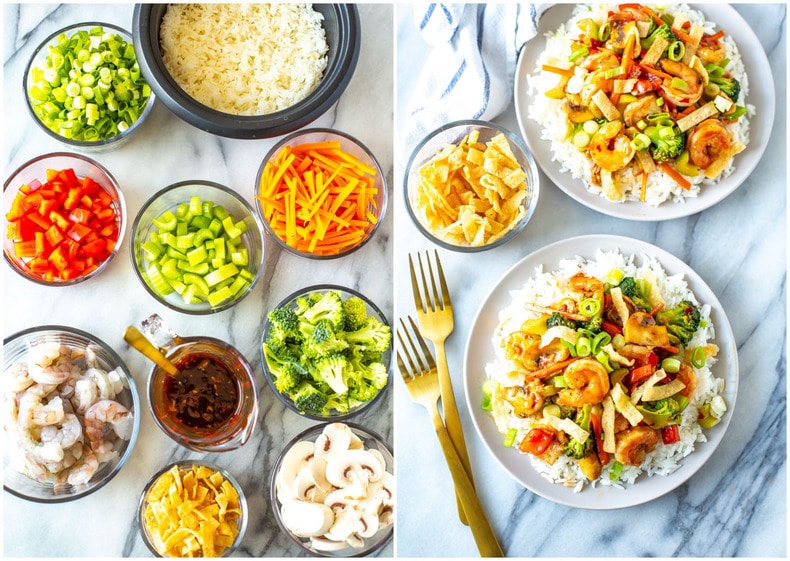 Stir fry sauce
hoisin sauce
sweet chili sauce
soy sauce
garlic
sriracha
How to make this stir fry
Here's how to make this Applebee's recipe:
Mix together the ingredients for the sauce and set aside.
Make the rice and assemble all ingredients.
Heat oil in a large skillet then add shrimp, seasoning with salt & pepper and cooking until pink. Remove from skillet and set aside.
Without wiping pan clean, add all vegetables except for green onions, sauteeing until tender-crisp.
Add shrimp back to pan along with stir fry sauce, cooking until sauce thickens.
Serve shrimp stir fry over rice, garnishing with green onions and wonton strips. Serve and enjoy!
How long to saute shrimp for
Shrimp cooks quickly, so keep an eye on it so it doesn't come out tough and rubbery. The easiest way to tell when shrimp is done is by looking for the following signs:
Exterior is pink and white instead of grey
Changes from translucent to opaque
Tails curl into a "c" shape
Ingredient substitutions
Shrimp – This recipe will work just as well with chopped chicken if you don't like seafood. Cut into bite-sized pieces so it cooks quickly, and check to make sure it's cooked all the way through before serving (it will usually require at least 5 more minutes cooking time than shrimp).
Vegetables – If you don't need a direct copycat version, this recipe is actually quite versatile. Try using zucchini, snap peas, baby corn, and water chestnuts which are all common stir fry veggies.
Wonton strips – Make your own gluten free version by slicing gluten free wonton wrappers into thin strips and frying them in oil until golden brown. Drain on a paper towel until dry.
Soy sauce – Use tamari or coconut aminos to make this recipe gluten free.
Sriracha – Add some red pepper flakes instead or leave this ingredient out altogether to make the dish less spicy.
Read more: how to cook okra stir fry with cheakpee flower | Family Cuisine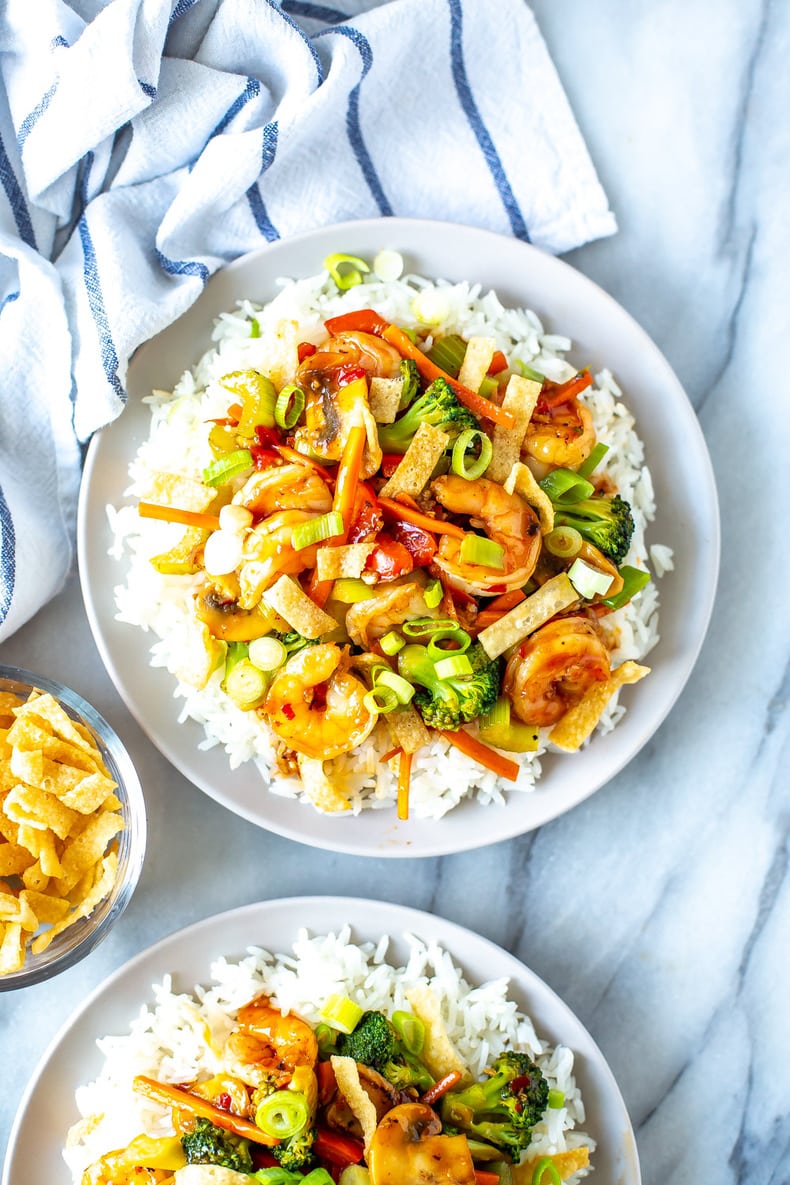 Calories in this recipe vs Applebee's
The calories in Applebee's version of this dish range from 610 to 680 per serving.
In comparison, one serving of my recipe comes in at just 477 calories, and only two-thirds of the carbohydrates.
Obviously, the total calories will change depending on any substitutions, but it's still much healthier to make this dish at home!
Making the rice
There are two options for making the rice that goes along with this shrimp stir fry dish.
Rice cooker – This is the easiest option. You will add the rice and water, then set it to cook. Using this method allows you to focus on making the stir fry without having to multitask at the same time.
Stovetop – This method is best when you want to have more control over the texture of the rice. Follow the instructions on the package of rice, then fluff with a fork when it's done to make sure it's just how you like it.
Or, to reduce the number of carbs in this dish, you could replace the white rice with cauliflower rice instead. Buy your favorite variety from the store, or use my homemade cauliflower rice recipe but don't use the spice blends.
Storing and reheating
Transfer any leftovers to an airtight container, storing the stir fry and the rice separately. Or, you can divide both evenly among meal prep containers to make quick and easy lunches for the week.
Read more: how to cook stir fry beef in a pan | Family Cuisine
The stir fry will stay fresh for 3 to 4 days, while the rice will keep for up to a week.
Heat in a pan on the stove or microwave in short bursts to avoid overcooking the shrimp.
Freezing the stir fry
It's best to freeze just the shrimp mixture and make fresh rice before serving.
Allow the shrimp and vegetables to cool, then transfer to an airtight container or freezer-safe ziploc bag with the sauce.
Thaw in the refrigerator before reheating, and use within 2 to 3 weeks for best flavor.
You may need to add a small amount of liquid when heating the stir fry, or just make another batch of fresh sauce to mix in.
More Applebee's recipes
Chicken Wonton Tacos
Tequila Lime Chicken
Quesadilla Burger
Meal prep tools for this recipe
Grab some glass meal prep bowls if you plan on storing the leftovers of this recipe
Order some bento box containers to separate the stir fry and rice
Read more: how to make stir fry with leftover steak | Family Cuisine