Making Arby's Roast Beef Sandwich at home is more than just the beef and bun. Let me take you through how to replicate this classic in your own kitchen.
"Oh great, the Fox Valley Foodie is going to tell me how to make a sandwich consisting solely of roast beef and a hamburger bun. What ancient cipher did he discover to crack that code?" Yeah, yeah, I know. Don't roll your eyes at me! However, the secret to this Arby's Roast Beef copycat recipe is not the two ingredients needed, but rather how it is prepared.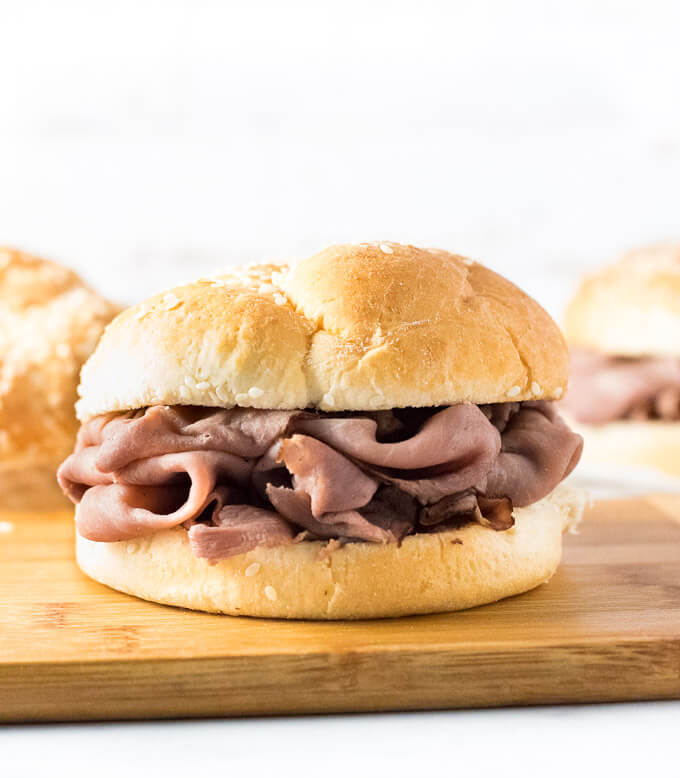 File this recipe under "because I can." Though I would argue the great thing about learning how to make food at home is that you don't have to eat so much fast food, sometimes it is fun to replicate your favorite fast food flavors just because you can. Plus, it is always a great way to impress your kids. You do want your kids to love you, don't you???
How to Make Fast Food at Home
I'm not going to lie. I get a certain sense of satisfaction from being able to demystify fast food in my own kitchen. The Arby's Roast Beef Sandwich copycat recipe was inspired by my attempt to create Arby's Sauce the other day. However, I have also previously tackled How to Make a Fast Food Burger and Panda Express Chow Mein.
Arby's Roast Beef Copycat Ingredients
It is no secret, the two ingredients needed for this Arby's Roast Beef copycat recipe are roast beef and hamburger buns. However, the type of roast beef you select will make a big difference. Skip the deli counter and head to the refrigerated meat section. You are looking for pre-packaged ultra thinly sliced roast beef. I found Hillshire Farm and Land 'O Frost were two brands that sold ultra thin roast beef with reasonably close flavor to the classic Arby's Roast Beef. Don't bother with the Buddig brand. Along with its curiously pink color, it doesn't taste anything like Arby's… or beef… or meat.
After purchasing a couple sandwiches from Arby's to compare, I weighed the beef prior to eating. Each sandwich has exactly 2.2 ounces of meat (UPDATE: I have been informed by readers who work at Arbys that I should have been given 3 ounces of meat), however, feel free to add more if you desire a bigger sandwich.
The best bun to replicate an Arby's Roast Beef Sandwich is a sesame seed hamburger bun. I found Pepperidge Farm even sold one that has the wavy top, just like Arby's. However, in reality, any sesame seed bun should suffice.

How to Make Arby's Roast Beef Sandwich
Once you have the right ingredients, you can't just throw it together and call it a day. The taste and texture will be completely off. The true Arby's Roast Beef Sandwich is homogeneously warm and tender and to replicate the true experience your sandwich needs to mimic that texture.
The roast beef needs to be heated, just as it is in the fast food joint. To do this in your kitchen, using your microwave or skillet on the stovetop would be the obvious choices. However, the microwave cooks unevenly and will quickly turn portions of your beef rubbery, and you don't want to risk searing or crisping the beef in a hot fry pan. Instead, heat an inch or two of water in a saucepan and dunk the slices of roast beef in the hot liquid for approximately 10 seconds. The meat will be fully cooked through, yet still perfectly tender.
After lightly toasting the buns, the whole sandwich can be assembled and then thrown in the microwave for 11 seconds. This warms the bun and modifies the sandwich's texture to perfectly resemble what you would expect to be served in a fast food joint.
All that is left to do is to act like you hate your life as you serve your family the wrong order.
If you enjoyed reading How to Make Arby's Roast Beef Sandwich then you should probably like me on Facebook and follow me on Pinterest too. That's what I would do at least, because if you don't get to know me but you still use my recipe it is kind of like taking candy from a stranger, and your mom taught you not to do that. Don't disobey your mom, subscribe to Fox Valley Foodie today.
For more information, please see more information about Copycat arby's roast beef
Detail: 🔗