This post may contain affiliate links which won't change your price but will share some commission.
With the abundance of basil during the summer months, this recipe for an amazing Basil Sauce with Garlic & Lemon will surely become handy. It contains only 4 ingredients and it takes only a couple of minutes to put together. You can dunk bread in it, you can glaze your chicken, fish or steak with it, or you could even use it as a salad dressing.
Reading: how to make basil sauce
If you have even more basil, you may want to check out these readers' favorite recipes with basil: Lemon Basil Pesto, Burrata Pasta with Lemon Basil Pesto, Instant Pot Bean Soup with Lemon and Pesto or Baked Eggs with Tomatoes and Pesto.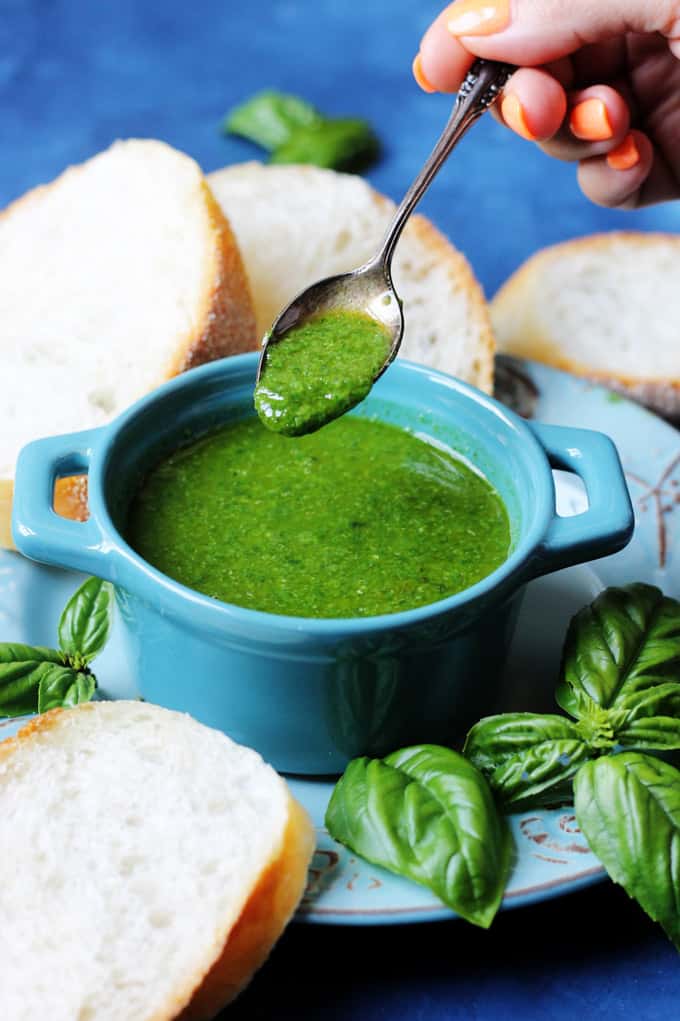 This post may contain affiliate links. I get commissions for purchases made through the affiliate links. You can read my disclosure policy HERE.
Basil Sauce with Garlic & Lemon – Perfect Summer Condiment
Every year after Mother's Day we have a planting weekend at my house. We do veggies, herbs, and flowers, and we feel like the summer has officially started (even though it technically hasn't). But basil is one of the first things that needs to be planted. I absolutely adore it and can't imagine not having plenty of it during summer.
Because I have so much basil I tend to come up with different ways to use it. This basil sauce was inspired by one of my favorite pizzerias on Long Island, which serves their signature basil sauce with fresh crusty bread as an appetizer.
Read more: how to make homemade soy sauce recipe | Family Cuisine
This basil sauce is different than pesto, as it's much lighter in texture. It doesn't contain any cheese or nuts, so it has more like a dressing type of consistency.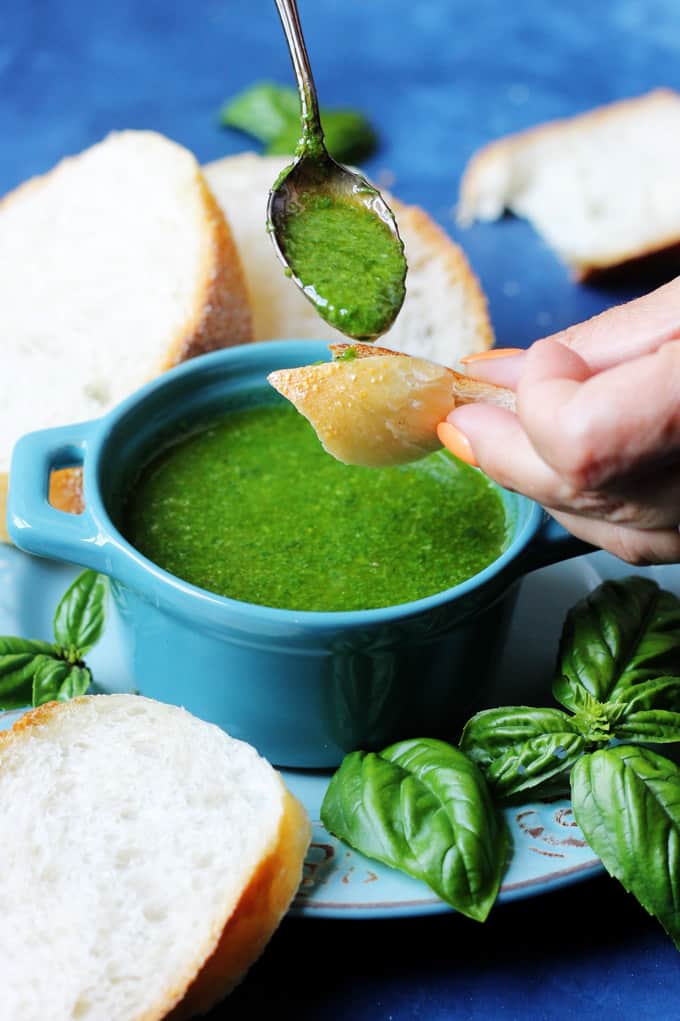 Ingredients Needed to Make Garlic Basil Sauce
As mentioned above, this is a super easy recipe. You'll only need a few ingredients. So without further adieu, here they are:
Fresh Basil;
Extra Virgin Olive Oil;
Fresh Garlic;
Lemon Juice (you can use as much or as little as you like – this is a personal preference – start with a little bit and add more if you want more zing);
Salt & Pepper, to taste.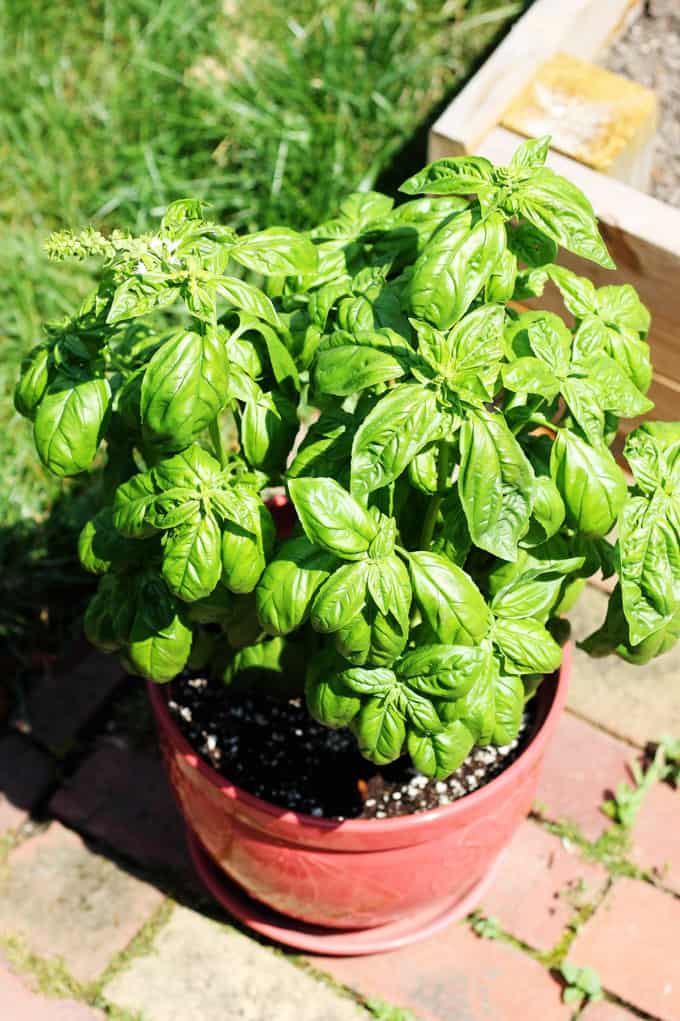 How to Make Basil Sauce
I don't think that making this basil sauce will take more than 5 minutes. You basically need to put all the ingredients into a blender and blend it to your liking consistency (tasting few times for seasoning). That's it! You're done. Dunk bread in it and be speechless.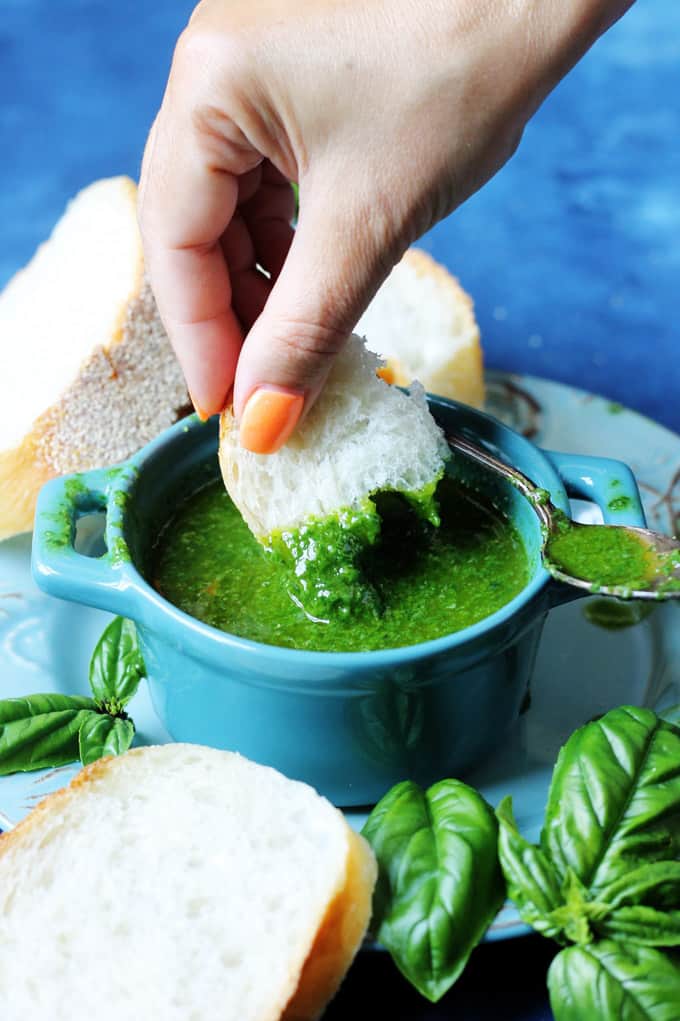 What to Serve with Basil Sauce
Read more: how to make sardines in tomato sauce | Family Cuisine
It's one of these recipes that you want to have handy all summer long as a perfect condiment because it goes great with anything. You name it: salads, pasta, fish, chicken, burger, lamb chops, etc… The possibilities are endless.
Here are a couple of my suggestions:
As a dressing to a green salad or tomato salad;
Use it for pasta salad;
Top it on some Chicken Legs;
Top it on your veggie burger;
With steak or chicken kebabs.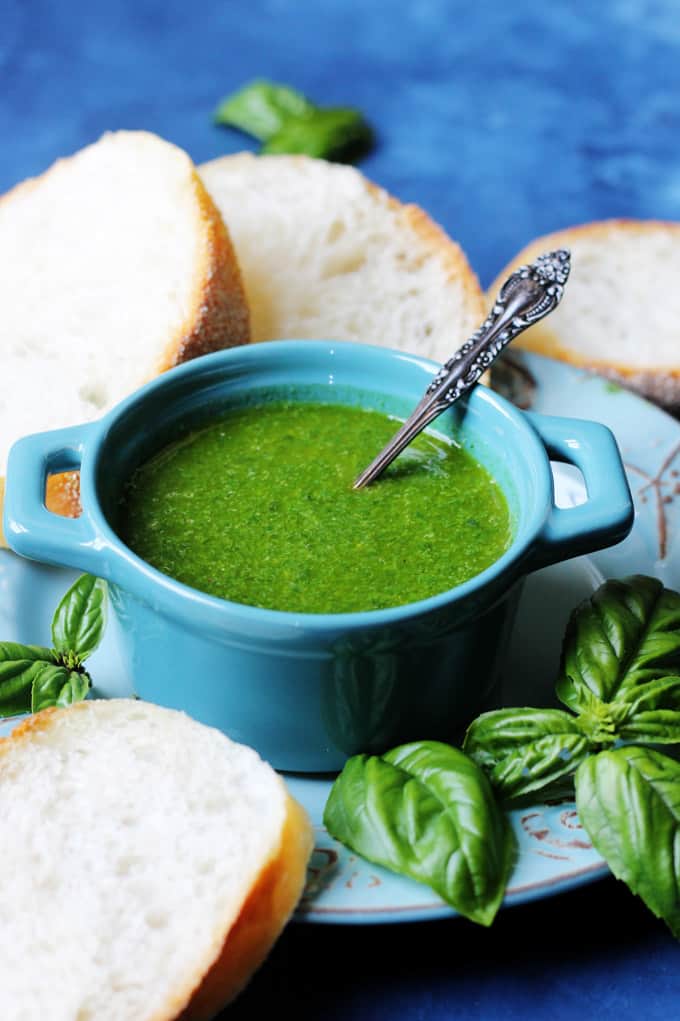 How to Store Basil Sauce
You can store this basil sauce in a fridge for up to 5 days.
But if you have too much, you can also freeze it. I suggest using the ice cubes trays. Freeze the sauce and then remove from the tray and place in a ziplock back. The sauce will be good in a freezer for up to 3 months (now we're talking about stretching the summer).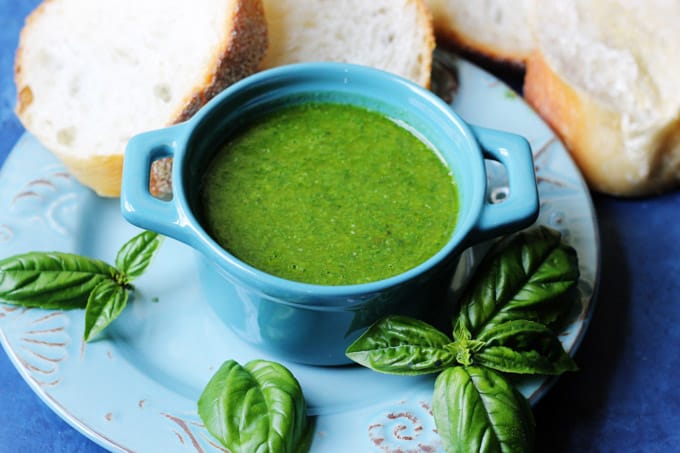 Read about the author Edyta here or follow Eating European on social media: Facebook, Instagram, Pinterest, and Twitter.
Read more: how to make tartar sauce with greek yogurt | Family Cuisine