This beef and vegetable stir fry is quick to make and really good. In this recipe, steak strips are quickly browned then combined with mixed vegetables and a delicious, homemade stir fry sauce.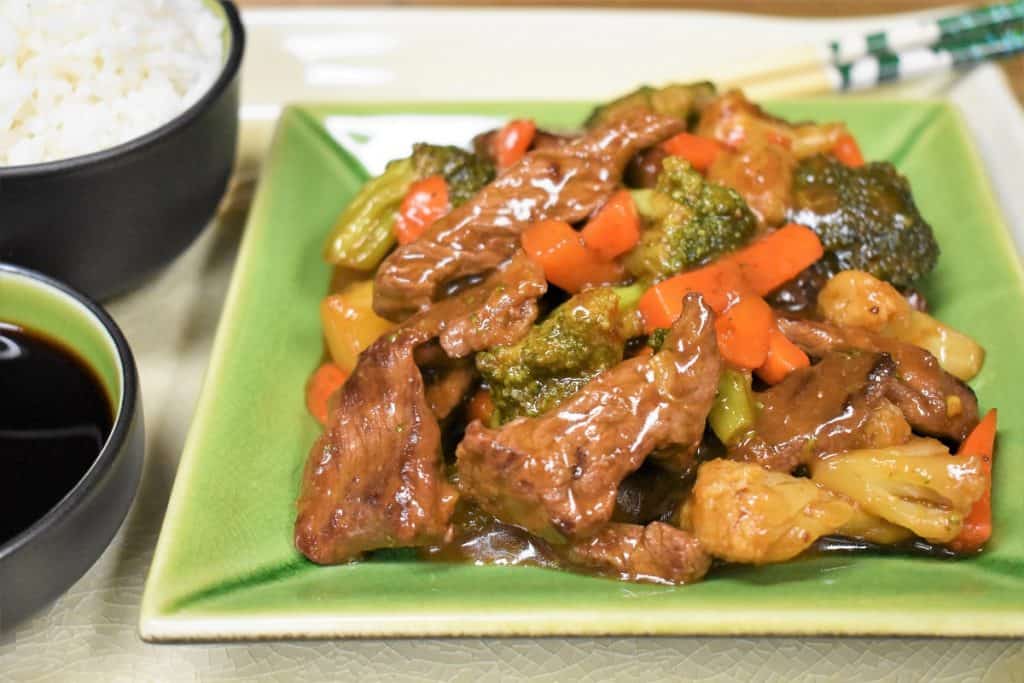 This stir fry is an easy way to get some vegetables in. Plus it's a budget friendly, and really stretches a pound of meat. Serve this dish with white rice or noodles for a filling, delicious meal your family will love!
This site contains affiliate links to products. As an Amazon Associate I earn from qualifying purchases.
Beef and vegetable stir fry ingredients
1 pound Beef, top round or sirloin, cut into strips – here we used top round
¼ teaspoon Salt, or to taste
¼ cup Water
1 tablespoon Cornstarch
¼ cup Reduced Sodium Soy Sauce
2 tablespoons Hoisin Sauce
1 tablespoon Brown Sugar
2 Large Garlic Cloves, grated – I like to use a microplane zester/grater to break down the garlic. If you don't have one, finely mince the garlic
1 teaspoon Ginger Powder, use fresh if you have it on hand (grated or minced)
Pinch of Crushed Red Pepper, or to taste – leave it out if you don't like spicy
2 tablespoons Oil – use a neutral oil with a high smoke point, we used canola oil
12-16 ounces Frozen or Fresh Mixed Vegetables (if using fresh get the steam in the bag variety) we used a frozen blend of broccoli, cauliflower and carrots, but there's a bunch to choose from
Prep Work
Also read: how to you stir fry mushroom | Family Cuisine
There is very little prep work required for this quick, delicious dinner. Making the sauce, slicing the steak and defrosting the vegetables, That's pretty much it.
Prepare the Steak
We bought a package of pre-sliced top round at the market. They come sliced and ready to go. Of course, we pay a little extra for the convenience, but sometimes it's worth it. If you purchase the steak whole, slice it into thin strips. This will only take a few minutes. Sprinkle the sliced steak with ¼ teaspoon of salt.
Let the steak sit out at room temperature for 15-20 minutes, provided that it's cool in your kitchen. That way it will lose some of the chill and won't be refrigerator cold when it hits the hot pan.
Make the stir fry sauce
This stir fry sauce is great with beef, but it works really well with shrimp, chicken or just plain vegetables. I like using small canning jars, to make the sauce. I keep several sizes on hand. I mix my Cuban mojo marinade in a canning jar too, works like a charm! They're super convenient for mixing sauces, marinades and dressings.
Also read: how to make crispy fried potatoes and onions | Family Cuisine
To make the stir fry sauce start by adding the water and cornstarch to a jar or to a medium bowl. Use a fork or a small whisk to stir the mixture until the cornstarch dissolves. Then add the:
Soy sauce
Hoisin sauce
Brown sugar
Garlic
Ginger
Crushed red pepper (if using).
Stir vigorously until well combined.
If you're not using the stir fry sauce right away make sure to give it a good stir right before cooking. The cornstarch tends to settle at the bottom so get in there and stir well until it is incorporated again.
Prepare the vegetables
Also read: Fried Shrimp | Family Cuisine
If you are using fresh vegetables get the steam-in the-bag variety. Cook them just enough to get them going, half the recommended time on the package should do it. If you are using frozen vegetables, like we did, cook them for a bit less than half the recommended time on the package. We just want to defrost them.
Add the frozen vegetables and a ¼ cup of water to a medium sized pan.
Start the vegetables on high heat until the water comes to a boil (which happens right away).
Lower the heat to medium, cover the pan and cook the vegetables for 1 minute.
Use a wooden spoon or spatula to break up any frozen pieces that are stuck together.
Re-cover the pan and cook the vegetables for 2 minutes, stirring after one minute.
Drain the vegetables completely.
Leave the vegetables uncovered and off the heat until ready to use.
Things move quickly with a stir fry! Have everything ready to go before you start cooking.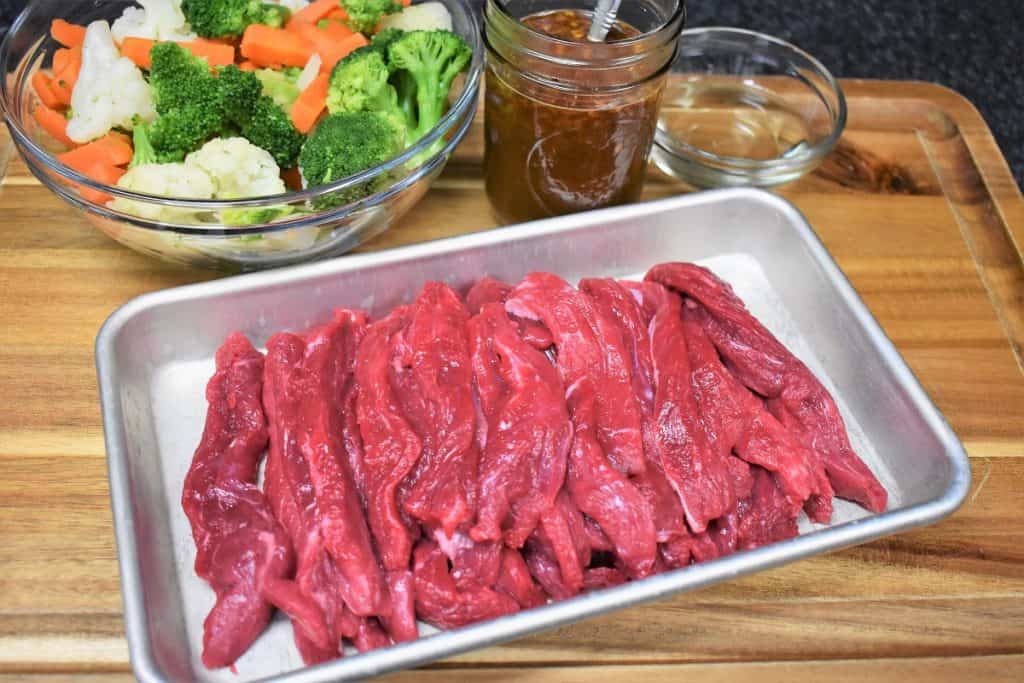 Make the stir fry
Heat the oil in a large skillet or wok over high heat. When the oil is hot, almost smoking, add the beef.
Spread the beef to cover the bottom of the skillet so that it's in a single layer.
Cook the beef strips for 1 minute without disturbing.
Flip the beef in sections until it is all browned side up and cook for 1 minute.
Stir the beef and continue browning for 1-2 more minutes until it's no longer pink.
Add the vegetables and the prepared sauce to the skillet. As soon as the sauce starts boiling, lower the heat to medium-low.
Cook the beef and vegetables for 5 minutes, stirring frequently.
Taste the stir fry and add salt, if needed. As a reference we didn't need any additional salt.
Serve the beef and vegetable stir fry with white rice or noodles.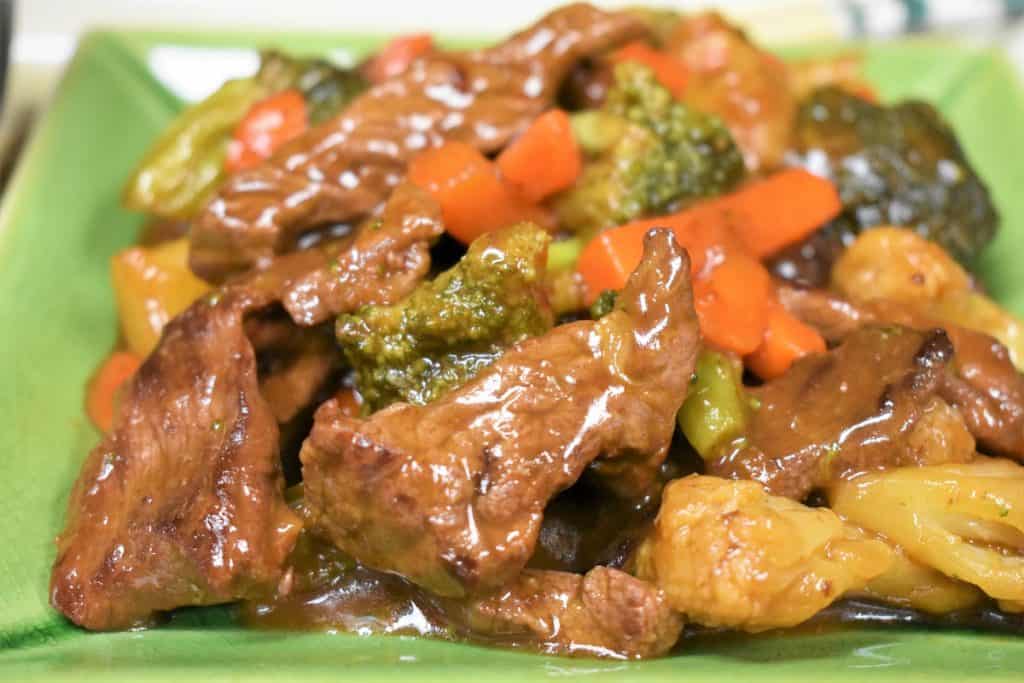 Tips for the best beef and vegetable stir fry
​Use very little salt in this recipe since the soy sauce and hoisin sauce both contain a good amount of salt. You can always add it in at the end if needed.
If you're serving the stir fry with rice or noodles, start them first. This dish takes less than 10 minutes from start to finish and it requires all of your attention. Get the side dish going before starting the stir fry.
You may also like:
Shrimp Lo Mein
Special Fried Rice
Beef and Broccoli
Shrimp and Vegetable Stir Fry
Orange Chicken
Chicken Fried Rice