If you need an impressive appetizer recipe that everyone will love make this Blooming Onion! It has a slightly spicy breading, is deep fried until golden and is served with a delicious sauce. A copycat version of the famous Outback Steakhouse one that you can make at home whenever you want.
PIN IT FOR LATER!
Reading: how to make blooming onion sauce
If you've ever had the blooming onion at Outback Steakhouse you already know how delicious it is: crispy fried "petals" that you can pull off and dip in a sauce. Well, now, you don't even have to leave the house if you get a craving because I am showing you how to make one at home!
It's not as complicated as you think – it's actually pretty straight forward!
Why this Recipe Works:
I'm showing you how to cut a whole onion into a blossom just like they do at the restaurant.
It's double breaded for a super crunchy and crispy coating that is perfectly golden fried.
It has the best flavor! It's a little spicy with a mixture of spices you probably already have in your pantry.
The dipping sauce is so easy to make and can be made ahead!
This is the ultimate game-day and party snack! No one can resist pulling off those crispy bites. Add some chicken wings and chips and salsa for even more party fun!
Ingredients
Large sweet onion (Vidalia or Walla Walla are best)
All-purpose flour
Paprika
Cayenne pepper
Ground cumin
Dried thyme
Dried oregano
Eggs
Milk
Salt and pepper
High-smoke point cooking oil
The blooming onion sauce is super easy to make – I usually mix it ahead of time and keep it in the refrigerator until I'm ready to serve it. All of the details for making it are in the recipe card at the end of the post!
How to Cut the Onion
Basically, we're cutting it so it looks like a blooming flower. It's not hard to do, but be sure your knife is sharp before you start cutting.
Cut a 1/2" off the end opposite the root end. You will want the root intact as that is what will hold it together once it's "blossomed". Remove the outer skins and discard them.
Place it cut-side down on your cutting board so the root end is facing up.
Position your knife about a ½" lower than the root and slice into the onion towards the middle and pull the knife down to the cutting board. Repeat this process four more times, evenly spacing each slice around the onion.
Now, slice each section in half that you already did, evenly spacing each cut. At this point, you will have eight total cuts.
Repeat this again, slicing each section again so you have 16 even cuts all around the onion.
Read more: how to tell if alfredo sauce is bad | Family Cuisine
Turn it over and let it sit for a few minutes so the petals relax and open up. While it rests, you can prepare the breading and batter.
Breading and Batter
Flour Mixture: In a large bowl, whisk the flour and spices together.
Batter: In a medium bowl, whisk the eggs, milk, salt and pepper with water until smooth.
At this point, you are ready to do the breading and batter steps. Before you do, gently separate the petals so they are splayed open. Be careful not to break or pull them out from the root.
Double Breading Steps
1st Flour Coating: Place the onion in a separate bowl, cut-side up, and pour the flour mixture over the top. Use a spoon to coat it in the mixture making sure to coat in between each petal. Carefully lift it from the bowl, turn it over, and gently pat to off the excess flour mixture.
Batter Coating: Place it in the batter in the other bowl and evenly coat it. Lift it out of the bowl and allow the excess to drip off.
2nd Flour Coating: Place it back in the bowl with the flour and use the spoon to coat it evenly. Once done, lightly pat it again to remove the excess coating and then place it in the refrigerator to chill while you get the deep-fry oil ready.
How to Fry It
Read more: how to make onion blossom sauce | Family Cuisine
Fill your pot with enough oil so once the onion is added it will be covered. Heat the oil to 400 degrees F. While the oil heats, place a wire baking rack over a few paper towels.
Remove the breaded onion from the refrigerator and tap off any excess breading. Place it on a wire skimmer and carefully lower it into the hot oil. Once you add the oil temperature will drop, so maintain the heat so the oil is 350 degrees while the onion is cooking.
Fry it for about three minutes and then carefully turn it in the oil and fry it for three more minutes or until it's golden and crispy.
Using the wire skimmer, carefully lift it out of the oil and transfer it to the baking rack to drain. Serve hot with the sauce on the side!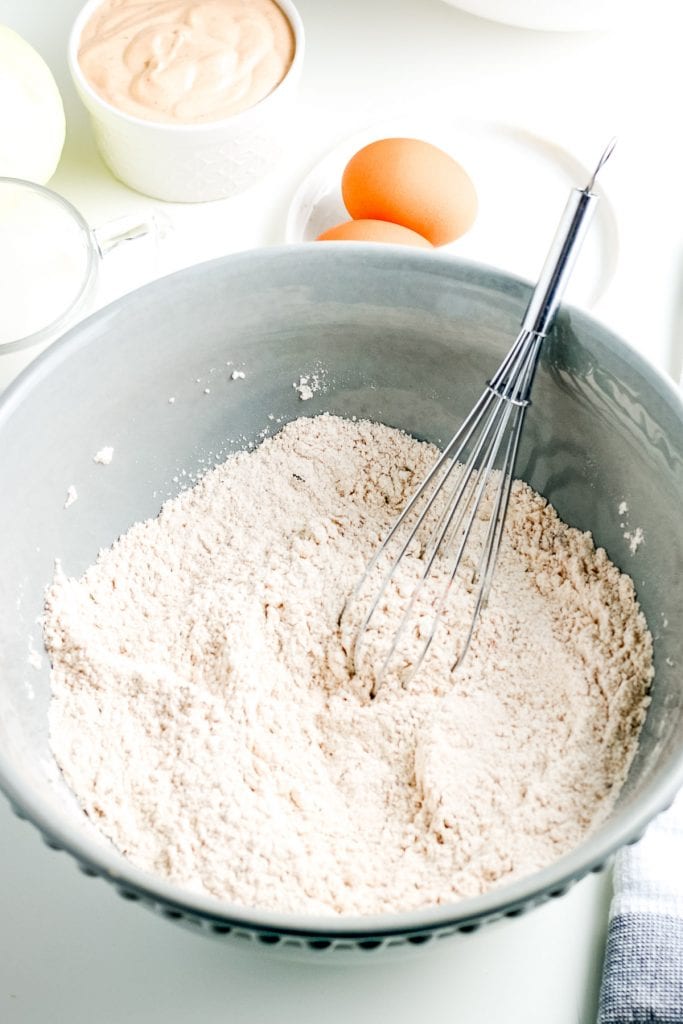 I feel like I should warn you because once you make this crispy golden treat at home your friends and family will beg you to make it all the time! The crispy petals taste just like onion rings but served up in a fun way. I hope you give this one a try soon!
Want More Party Snacks?
If you're like me, there's never enough snacks!
You can skip the restaurant and make your own Mozzarella Sticks whenever you get a craving! Crispy breaded cheese sticks are so delicious with a side a marinara sauce for dipping.
No one can resist a big bowl of Guacamole! My recipe is so simple and is the perfect dip for every party.
My quick and easy Bacon-Wrapped Chicken Bites are a delicious bite-sized appetizer. You only need a few ingredients to make them!
No party is complete at our house without some Cheesy Beer Smokies! This is a really easy appetizer or snack you can make in your crockpot.
Did you love this recipe? I knew you would! Rate it, please!! It would be awesome if you'd give it a five-star rating below!
If you snap any photos, don't forget to tag me on Instagram @julieseatsandtreats or #julieseatsandtreats that way I'm sure to see your pictures!
Read more: Hollandaise Sauce | Family Cuisine