Shredded Chicken – perfectly moist and seasoned chicken breast shredded into bits and can be used in a variety of ways. And it freezes well for your weekly meal prepping. The most delicious shredded chicken you'll ever have to go along with most of your favorite meals!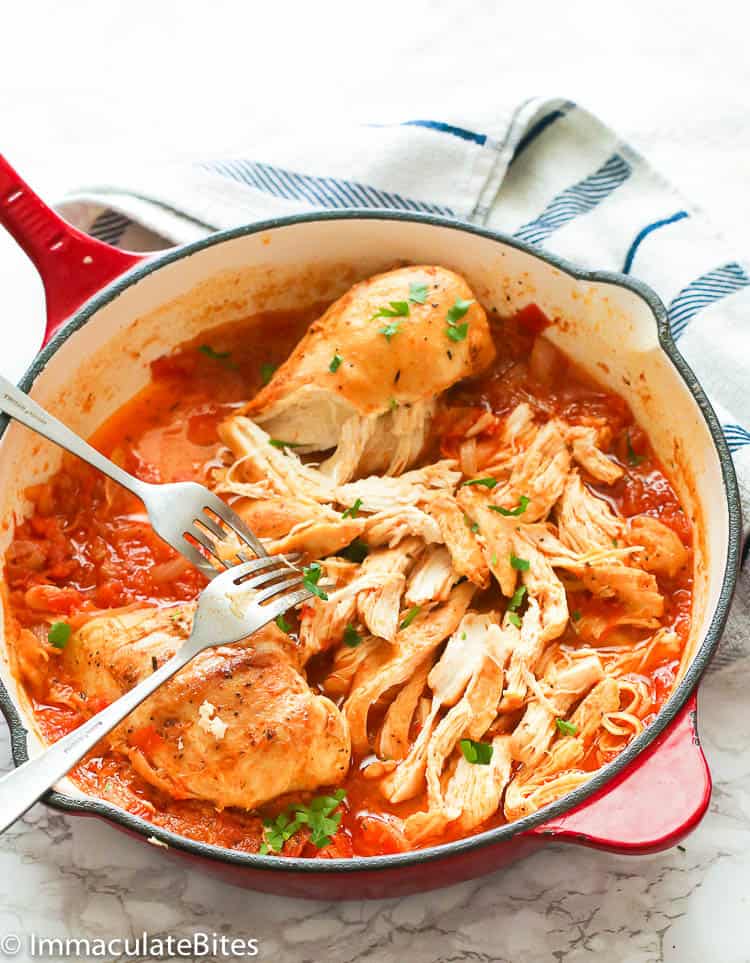 Reading: how to make boiled chicken tastier
I can't believe we're about to wrap up this month and welcome the month of May few days from now. May has always been the 2nd busiest month for me (next to the holidays) with Mother's Day, my birthday ( 😉 ) and all the other get together celebrations here and there.
But before I even finalize my birthday plans, I would like to present to you this ever VERSATILE, over-the-top and no-fuss Shredded Chicken recipe. Well, technically, it's not even a recipe but a *method* of preparing chicken. This shredded chicken here can be served in soooo many ways; perfect for birthdays, regular days and this coming Cinco de Mayo, if you do celebrate it.
How To Boil Chicken
There's nothing handier than having a cooked chicken in your fridge. It can be used in so many ways whether for main meals, as snacks or add-ons on party appetizers.
That's where boiled chicken comes in. Well, you probably would think how hard can it be to boil a chicken, but it's always great to have a few tips up in your sleeves to nail a perfect boiled chicken.
First thing you need to know is choosing the liquid to boil your chicken. You can go with as simple as plain water or a chicken broth for tastier one. Others would go above and beyond by adding onions, garlic cloves, herbs, salt, lemon, etc., to bump up the flavor.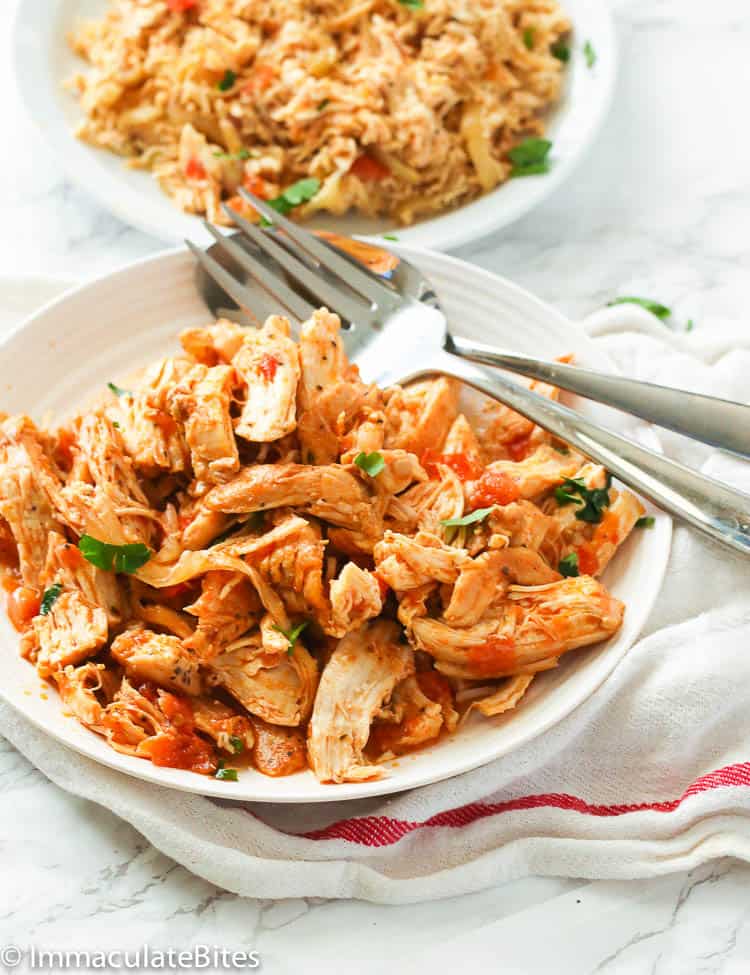 Well….What I do first BEFORE boiling the chicken is generously seasoning the chicken meat and searing them for about 2-3 minutes each side.
Yes, yes! This is where most people fail to do. They would just normally season the chicken, cover it in liquid and boil. But I do mine differently. I want a flavorful chicken meat right before boiling it. Salt and pepper are actually ok, but if you love some big bold flavors in your chicken, please don't hesitate to use my trusted and go-to homemade Creole Seasoning. Searing the chicken also cuts back the boiling time while retaining its moisture.
How Long To Boil The Chicken
Now that you've seared your chicken, you can then add the extra spices like tomatoes, onions, garlic and chicken broth. Bring it to a boil on medium-high heat and reduce it to low with the lid on so it won't dry out easily. Your cooking time depends on the size of your chicken meat and whether they have bones or not.
For boneless skinless chicken breasts (cut in halves), cook it for about 20-25 minutes.
For bone-in, skin-on chicken breasts: cook about 30 minutes.
Read more: how to make half boiled egg omelette | Family Cuisine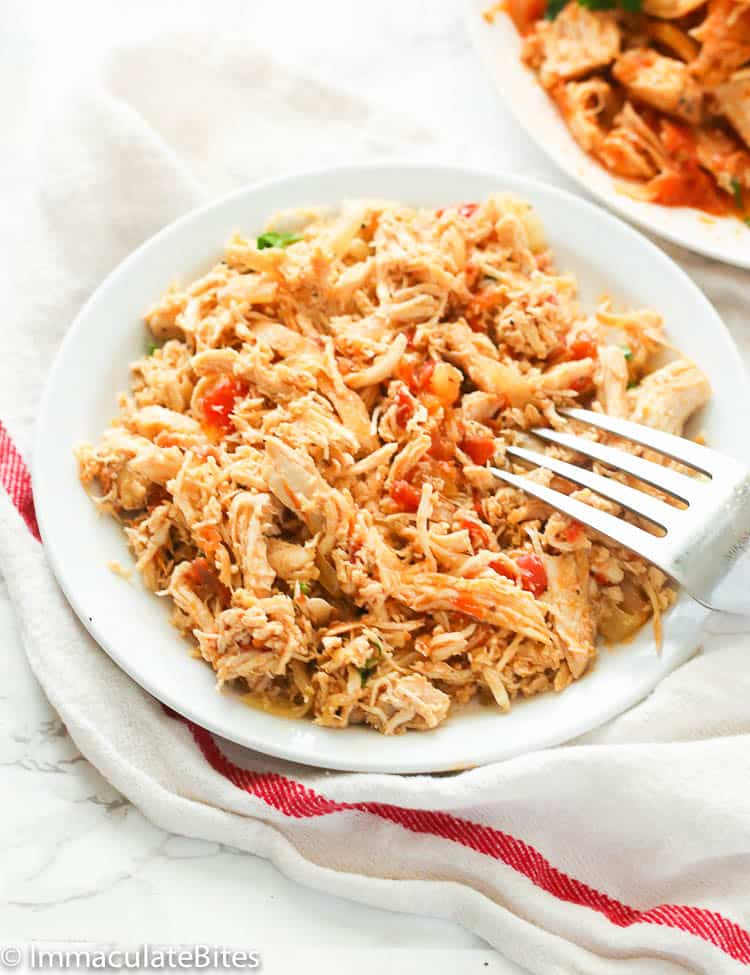 How To Shred Chicken
When it comes to how to shred chicken, you actually have two options – either by hand or a stand mixer (which is what I'd usually do to save time when shredding a big batch).
To Shred Chicken By Hand:
Transfer the boiled chicken to a bowl
Allow it to cool until easy to handle
Then shred the chicken using two forks. Use one fork to hold the chicken and the other one to pull apart the meat. If you're using skin-on chicken, pull off the skin with your fingers and discard.
To Shred Chicken With A Stand Mixer:
Remove the chicken from its extra sauce or liquid.
Place the chicken in the mixing bowl while they're still warm. Snap the stand mixer's flat beater attachment and turn the mixer on at about setting 2 for speed for 30 seconds to a minute. Keep an eye on it as it shreds quickly.
Mix it up a bit and pour the sauce from the skillet onto the mixing bowl and stir until fully combined.
Can I Use A Blender To Shred Chicken?
If you don't have a stand mixer, don't worry, you can use your blender to shred chicken in seconds. Just place the boneless chicken breast in the blender and press pulse until it's all shredded to your liking. Then you can add the sauce into the blender and pulse a few more times to coat the shredded chicken with the sauce.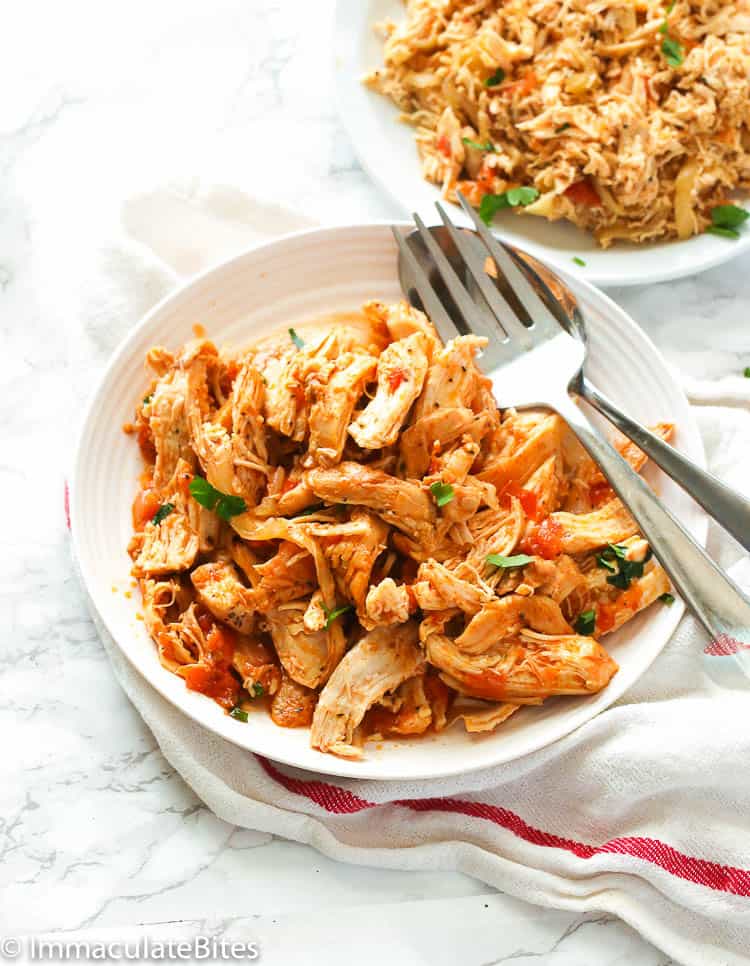 How To Store Shredded Chicken
Now that you have a tasty, juicy and tender shredded chicken, you can now store them in the fridge or in the freezer.
Cool the shredded chicken completely and transfer in an airtight container. Cover and place it in the fridge for up to 3 days or freeze them up for up to 3 months.
As for the extra sauce, transfer them in a storage container and place in the fridge for for 2 days or freeze them up for up to 2 months. Alternately, you can also store them in an ice cube tray and freeze. This extra sauce comes handy to moisten the chicken when reheating it.
When ready to serve, remove the shredded chicken from the fridge and reheat in the microwave for 2 minutes or 3-4 minutes for frozen. Or heat up a skillet on a stove with a bit of oil and reheat shredded chicken with the extra sauce.
Read more: how many boiled eggs to make eight egg salad sandwiches
Easy Recipes Using Shredded Chicken
I'm crazy over this shredded chicken recipe here that I can't imagine not having it in my fridge. I could make a long list for you on ways to serve it, but here are some of my favorite ways to use shredded chicken:
I usually love them as stuffings for my chicken tacos or Chicken Quesadilla
They also make a great additions to salads like this Cajun Chicken Avocado Salad recipe. This saves me time. Now I can just slice up the ingredients and toss in the shredded chicken.
Instead of dicing up chicken for stews or soups like this White Bean Chicken Chili or Brunswick Stew, I just toss in this shredded chicken to add protein in my dish.
Or make a quick slider anytime using shredded chicken on Brioche Buns or Hawaiian Rolls.
Heck I could even pair this delicious and freezer-friendly chicken with my Mexican Rice. Oh, they make such a lovely pairing for dinner! 🙂
That's not all! In the coming days, I'll be sharing a wonderful recipe using this shredded chicken here which would be great for summer picnics and parties. Stay tune! 😉
Enjoy!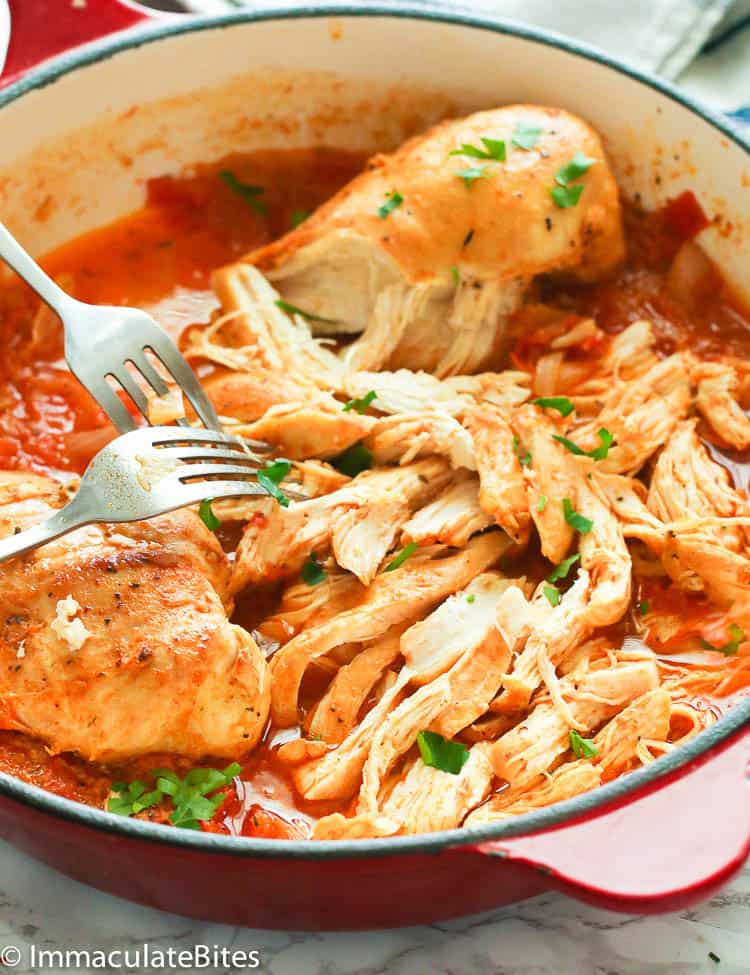 Read more: how many boiled eggs to make eight egg salad sandwiches
How to Make Shredded Chicken
Read more: how to cook boiled wheat in an intant pot | Family Cuisine
Pat dry chicken breast with a paper towel and season generously on both sides with salt, pepper and Creole seasoning.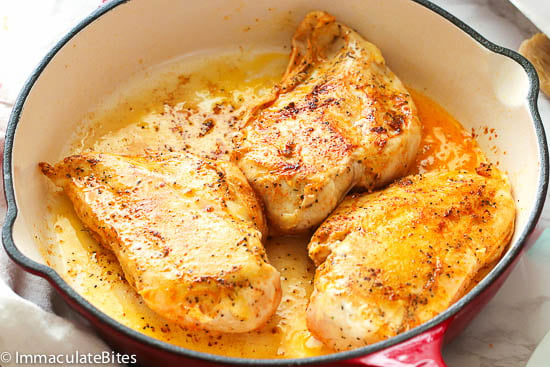 Heat olive oil in a large skillet on medium high heat and carefully add your chicken to the skillet using tongs. Sear chicken on both sides for about 2 to 3 minutes each.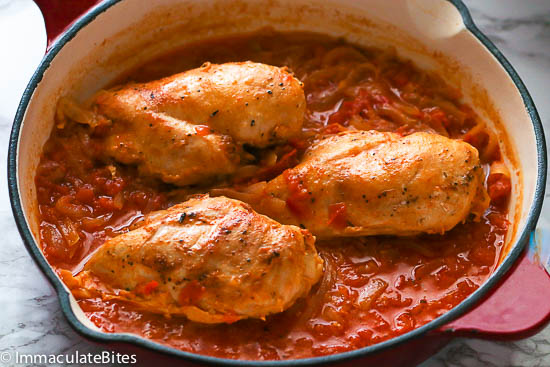 Next, add in onions, garlic, tomatoes and chicken broth. Then bring it to a boil, reduce the heat to low, and cover the skillet with a lid. Cook for 20 to 25 minutes depending on the thickness of the chicken breast. Alternatively, you could also use chicken thighs if you prefer. Since thighs are usually smaller and thinner, the cooking time will be about 15 minutes.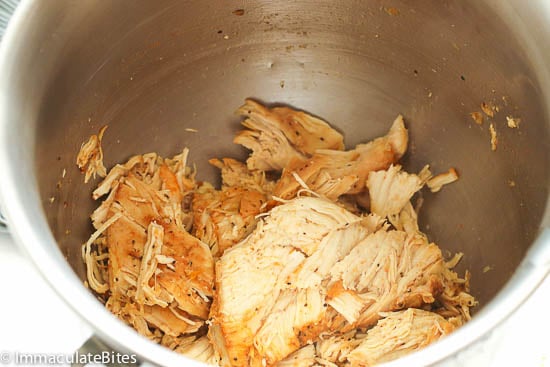 Lastly, turn the heat off, and use two forks or a stand mixer to shred the chicken.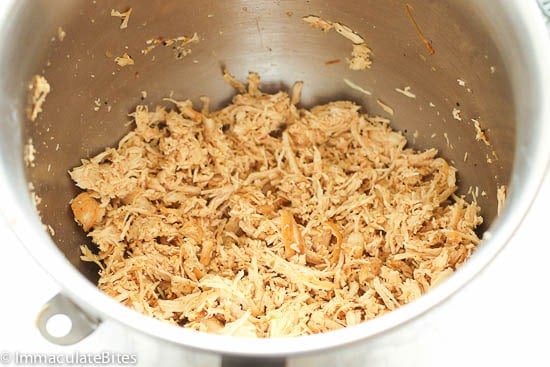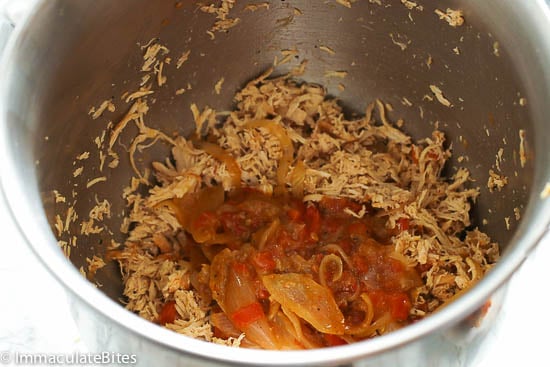 If you want a little moisture in the mixture, add the extra sauce from the skillet into the mixing bowl. Use the shredded chicken for your favorite recipes or put in a storage container and freeze for future use.
Watch How To Make It
Read more: how many boiled eggs to make eight egg salad sandwiches
Read more: how many boiled eggs to make eight egg salad sandwiches