This Jamaican cornmeal dumplings recipe is quick, easy using 4 ingredients. Dumplings are a great carbohydrate enriched addition for soup and stews.
Reading: how to make boiled dumplings with cornmeal
Just like any other culture out there dumplings play a crucial role for many Caribbean islands. The good news for you is that they aren't overly complex to make and only require a small amount of ingredients. It is simply a case of making a dough ball and then shaping it and then boiling it alone or as part of a cuisine.
What is a dumpling
A dumpling is a ball of dough made primarily from flour, water and baking powder (although this is optional for some) that is either boiled or fried. In the Jamaican cultural there are a few variations of dumpling.
Fried dumpling (this can be sweet or savoury) (known as johnny cakes)
Boiled dumpling – cassava, green banana, cornmeal or a Plain Flour Dumpling
Fried dumplings can be eaten alone as an appetizer or used to accompany a recipe i.e Saltfish and callaloo or the Jamaican national dish Ackee and saltfish . Boiled dumpling are more dense in texture, for that reason they aren't generally eaten by themselves.
If you are making a stew i.e chicken, stew peas you want to may include them, alternatively, soup is a more popular choice for their addition .i.e mutton soup, manish water, Chicken Soup etc…
Today I'm going to be showing you a basic tutorial of how to boil some wheat free, no gluten cornmeal dumplings. This will give you an idea of what they are and how to use them accordingly.
Read more: how to deep fry boiled eggs | Family Cuisine
Ingredients you will need
Gluten free flour (I recommend Bob Red Mills 1 to 1 flour)
Cornmeal (fine)
Himalayan pink salt
Water
How to make Jamaican cornmeal dumplings
Fill ½ of a large pot with water, sprinkle in ¼ tsp of pink salt and bring it to a boil then reduce the heat to medium (picture 1).
Grab a medium sized bowl and place the flour, pink salt and cornmeal (picture 2)
Mix all 3 ingredients together so the cornmeal is blended in with the flour.
Slowly pour in the water, a bit at a time, and use your hands to mix the flour to make a big ball of dough. The dough should be pliable, not too sticky and not too stuff/flour based. Add more water (1tbsp at time or flour 1tbsp at a time if needed) (picture 3-5).
Once you have formed a huge dough ball, break off a piece of the dough and use both hands to form into a ball about the size of a golf ball (picture 6).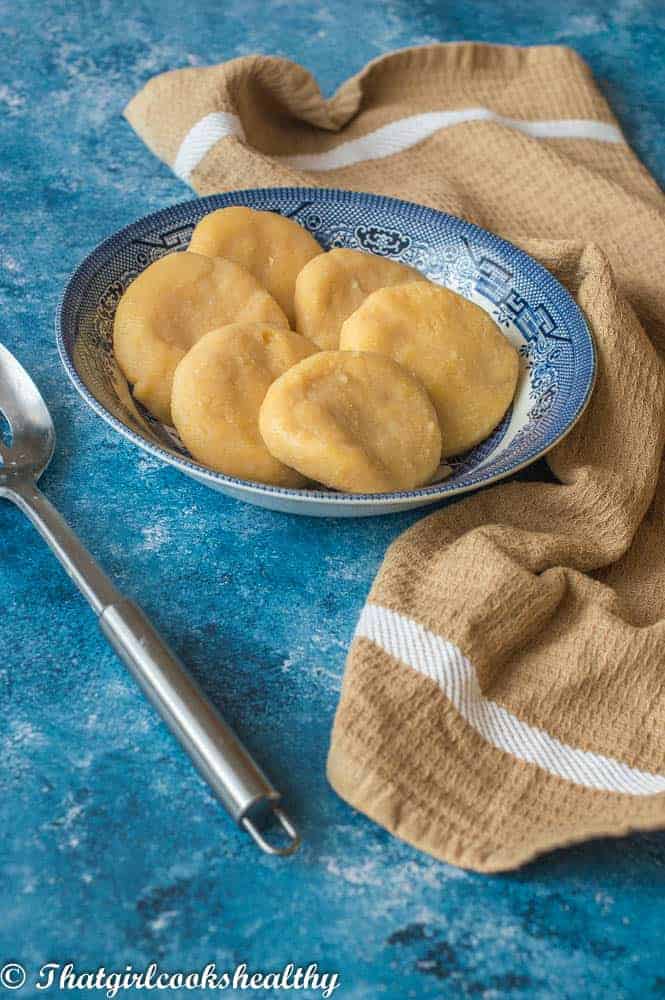 Flatten the ball to about ½" thick disc into one hand and use your thumb to make a dip in the middle (picture 7-8).
Carefully lower the dumpling into the pot (use a slotted spoon if you aren't feeling confident) and then repeat the same process (picture 9).
Once all of the dumplings have been added use a wooden or silicon spoon to give the pot a stir. This will stop them from sticking (picture 10-11).
Bring the pot to a boil then reduce the heat to medium and simmer for 15-20 minutes.
Once the dumpling have cooked use a slotted spoon to remove them (picture 12).
Notes and tips
Make sure your finger nails aren't excessively long has this can inhibit making satisfactory dumpling.
Use a fine texture type of cornmeal as this takes a lot quicker to cook then coarse cornmeal.
Make sure the water is pre-boiled and continued to boil throughout the preparation
If the dough is too sticky you can save it by adding a small amount of flour at a time. Alternatively, dry dough can be leveled out with a splash of water
DO NOT use cornstarch this is NOT the same as cornmeal. Cornstarch is a thicken and doesn't serve the same purpose as cornmeal.
This recipe makes roughly 6-8 dumplings, depending on the size
Frequently asked questions
I am Caribbean, but not gluten free. Can I still make this recipe?
Yes, follow the steps accordingly but use regular flour instead
I am making the dumpling for soup, when do I make them?
Add them when you are boiling/simmering your soup. Keep in mind that the dumpling alone will take around 15 minutes to cook.
Read more: how to get shell off a fresh hard boiled egg
Can I use just cornmeal without flour to make this recipe?
No. I have tried making flourless dumpling with cornmeal alone and it doesn't work because you need something else to bind it together which is why a ratio of 50/50 works best.
Why do you only recommend fine cornmeal and not coarse?
Coarse cornmeal takes longer to cook so you will run the risk of having a dumpling with hard grain/grainy texture if undercooked. I grew up using fine cornmeal so recommend to follow suit by using the same texture.
Where can I buy cornmeal?
Online, try to purchase organic is possible. Caribbean supermarkets sell it but they aren't usually organic.
Caribbean recipes you may want to serve dumpling with
Caribbean curried butter beans
Jamaican ox tail stew
Escovitch fish
Jamaican steamed cabbage
Jamaican steamed fish
Gungo peas soup
**Don't forget to comment below and star rate if you have tried my recipes. Let's be friends and engage on Facebook and Instagram I also like to pin on Pinterest, where you can find more amazing recipes.**
Read more: how to pipe boiled icing youtube | Family Cuisine