Colorful Deviled Eggs – Beautifully colored hard boiled eggs with a creamy 5-ingredient filling the entire family will love!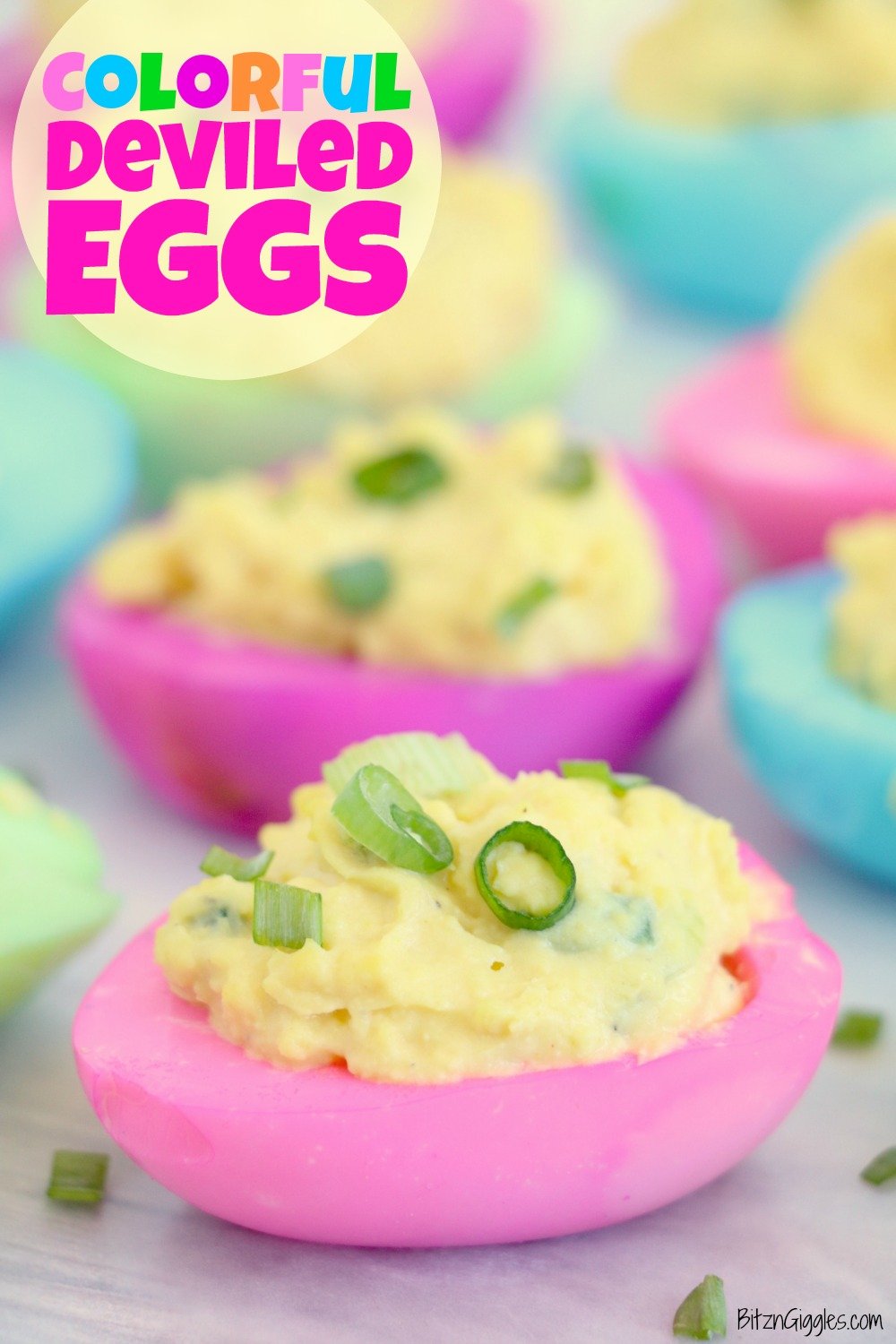 Reading: how to make boiled eggs pink
This post may include affiliate links. Please see my disclosure.
The mood this week has been a somber one. We all know there's a light at the end of the COVID-19 tunnel, we're just not sure when we'll see it.
The sooner we all comply with the social distancing to help flatten the curve, the sooner we can put this horrible global emergency behind us and get back on track with our normal lives.
I REALLY miss my parents, sisters, nieces, nephews, cousins, etc. I haven't seen them in weeks. This isn't a charade. It's real.
We can all do our part to protect the ones we love and have a positive effect on the rest of the United States. So, for now, stay home, organize your closets, read a book that's been sitting on your night stand untouched, spend time with your kids, cook up a storm and continue to keep the faith that we'll get through these unprecedented times.
Enough with the "heavy" talk. Let's get into making something fun. Today, I'm showing you how to take deviled eggs up a notch with COLOR! I'll be making these for Easter, but the ideas for these eggs are endless!
Make them pink and blue for a baby shower, make them red and green for Christmas or make them orange and black for Halloween!
HOW TO MAKE COLORFUL DEVILED EGGS
To make these colorful deviled eggs, you'll need:
Eggs
Miracle Whip
Yellow mustard
Salt
Pepper
Green onions
Food coloring
Muffin pan
The first thing we need to do is hard boil the eggs. The instructions I'm sharing today will walk you through how to do that using your oven.
Start by putting an egg into each of the muffin tins and place in the oven at 325º Fahrenheit for 30 minutes.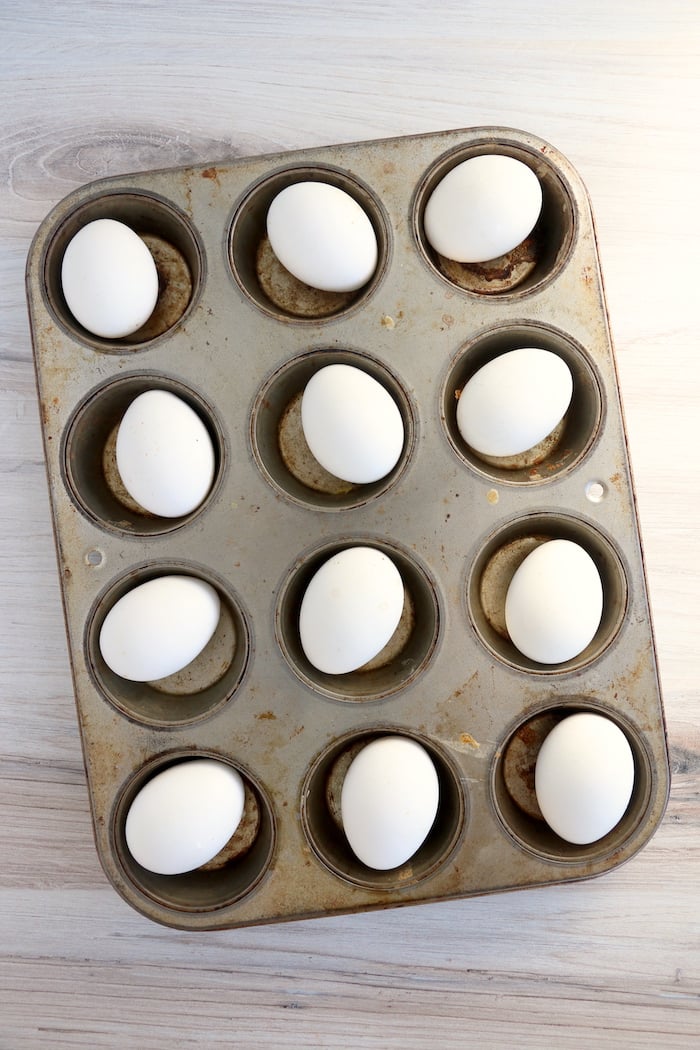 Use a tongs to transfer eggs from the muffin pan to an ice bath.
Read more: Recipe for homemade beef stew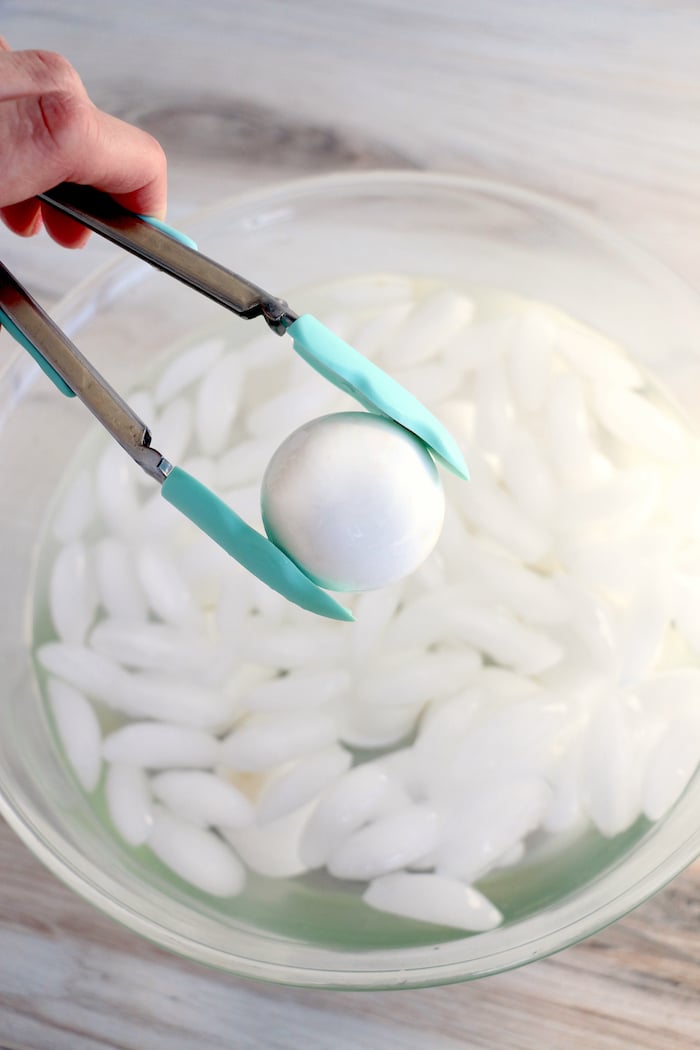 When the eggs have cooled, peel them and cut them lengthwise.

If you're not sold on using your oven to hard boil eggs (even though it works GREAT), you do have other options.
WHAT ARE OTHER WAYS TO HARD BOIL EGGS?
There are a few alternative methods I use to hard boil eggs outside of putting them in the oven!
Boil on the stove

Place large eggs in a single layer in a saucepan.
Cover eggs with about an inch of water.
Cover the pan and bring to a boil.
Immediately remove from heat and let stand, covered for 15 minutes.
Drain and rinse with cold water until completely cool.

Use your Instant Pot

Pressure cook for 8 minutes, quick release and place in ice water bath for 5 minutes.

Use your Air Fryer

Follow the instructions, here.
Remove the yolks from the eggs and transfer them to a medium mixing bowl. Use a fork to mash them up.
Add the Miracle Whip, mustard, salt, pepper and green onions to the bowl with the mashed egg yolks.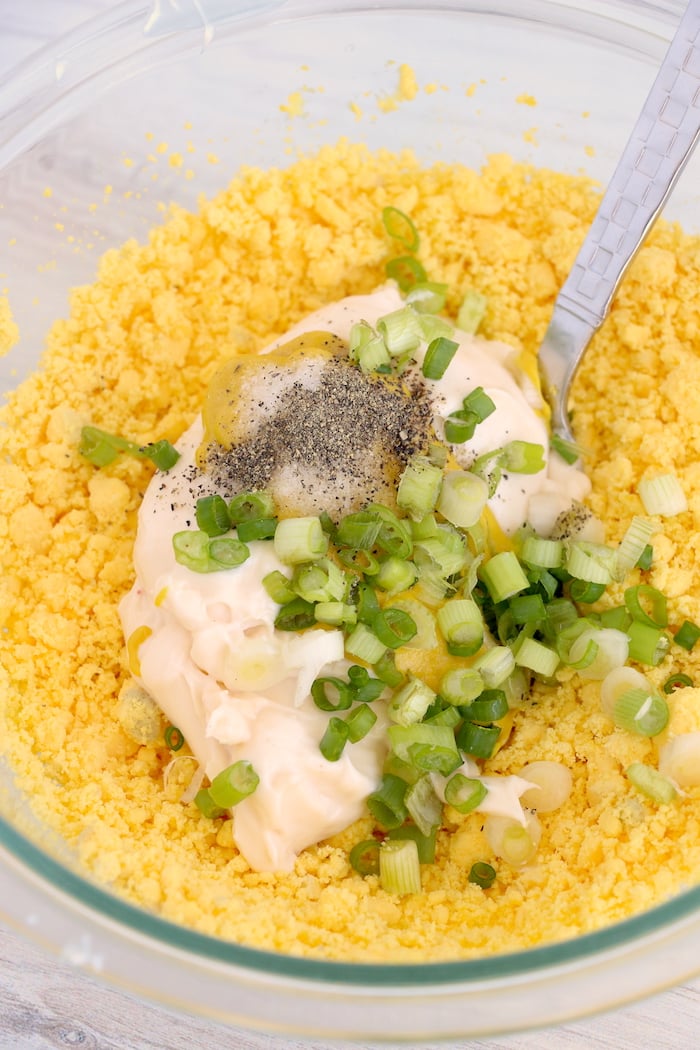 Now, set the filling aside while we dye the egg halves.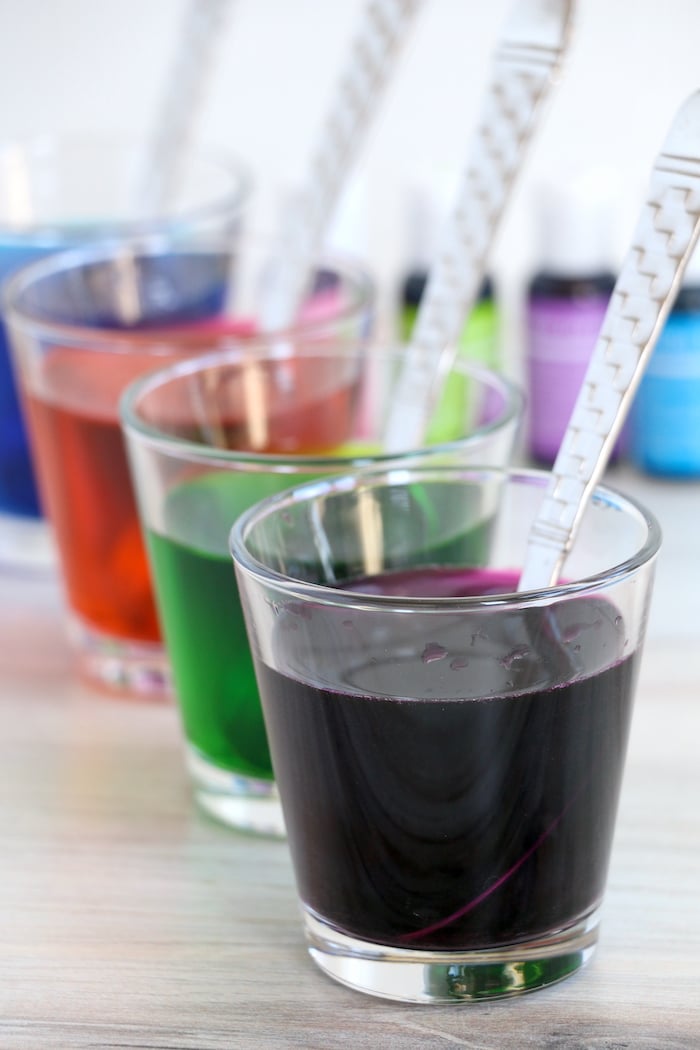 HOW TO DYE THE EGGS
To dye the egg halves, put 1/4 cup water and three drops of food coloring into 4 small glasses.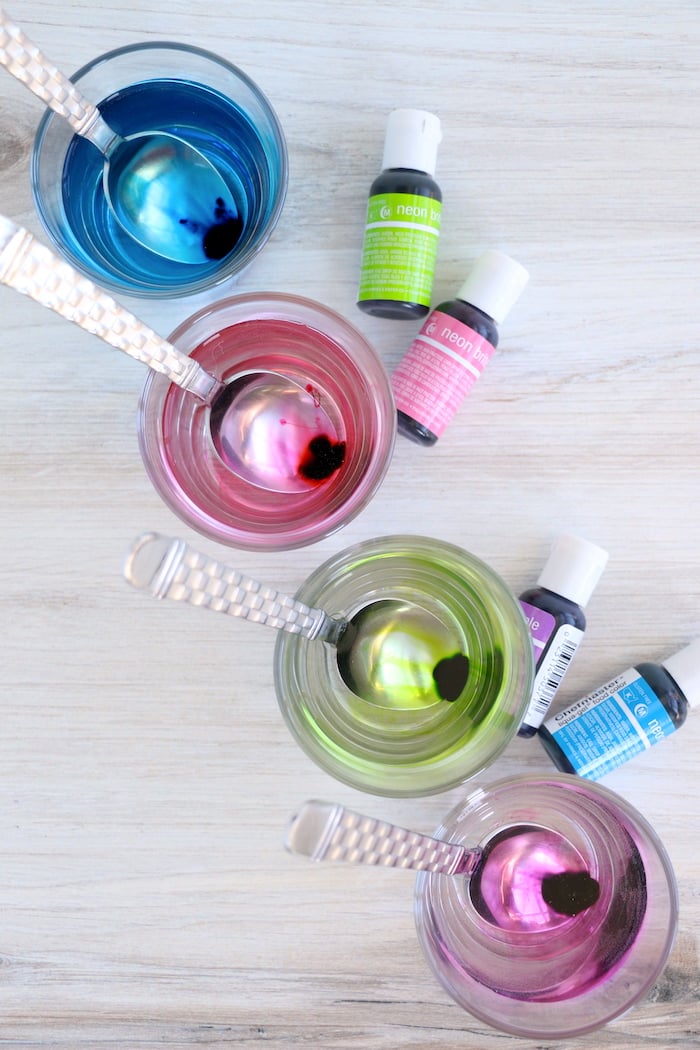 2. Stir until colors are mixed well. Add egg halves to each cup and allow them to sit for 3 minutes.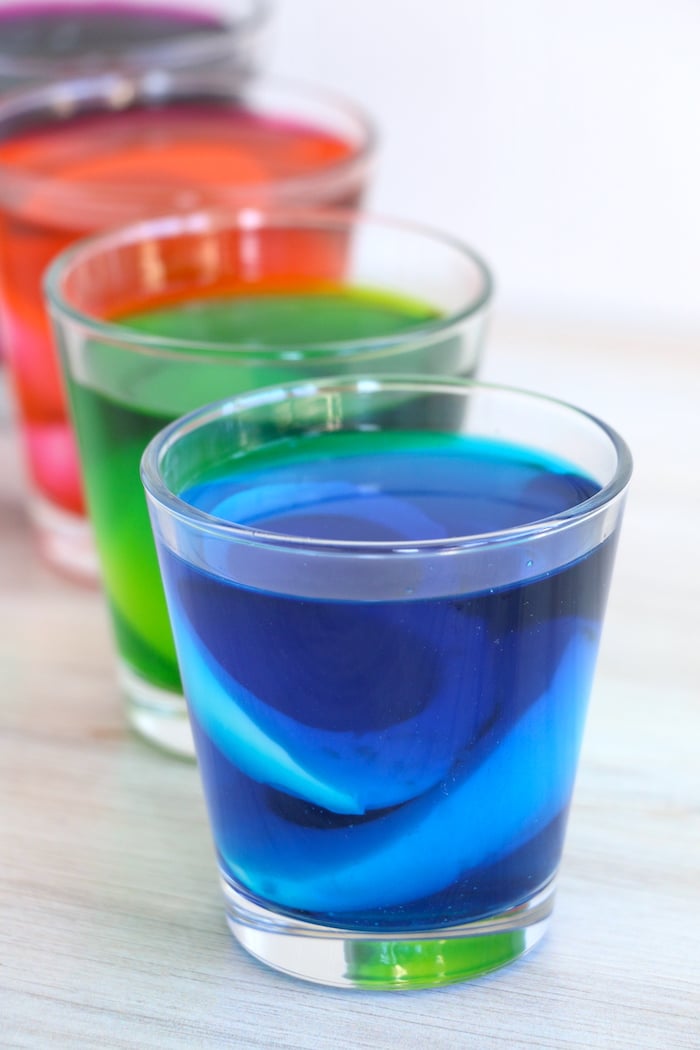 3. Carefully remove them and place them on a paper towel, allowing the excess dye to run off.
Read more: How to Boil Sweet Potatoes (Kamote) | Family Cuisine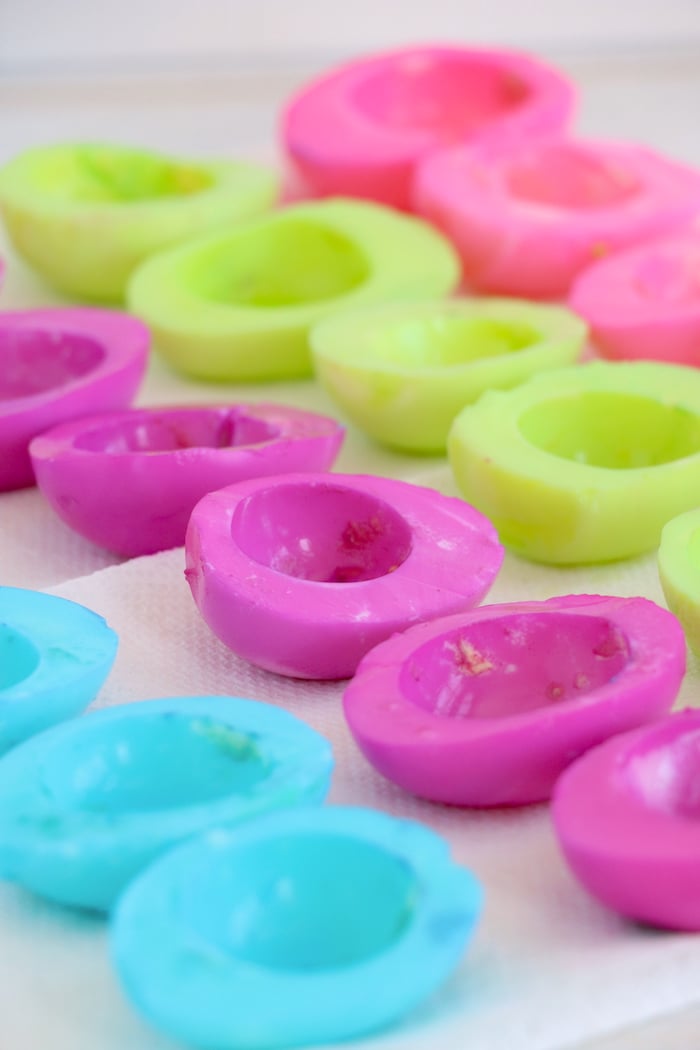 Now, place a small scoop of the yolk mixture into each egg white and garnish with some additional chopped green onions.
Chill until ready to serve. I love using these platters for serving my deviled eggs!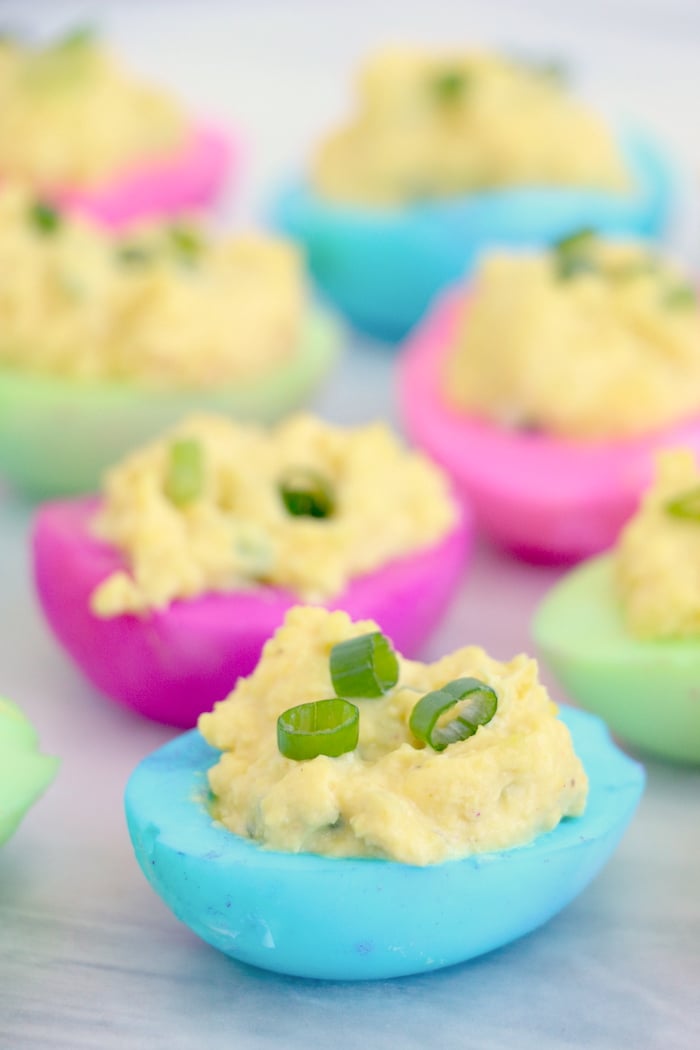 WHERE DID THE TERM "DEVILED" EGGS COME FROM?
"Deviled" as a culinary term goes back to the 17th century where it was used to describe zesty or spicy food. Over the years, in addition to eggs, people have deviled ham, shrimp, crab, salmon, chicken and cocktails!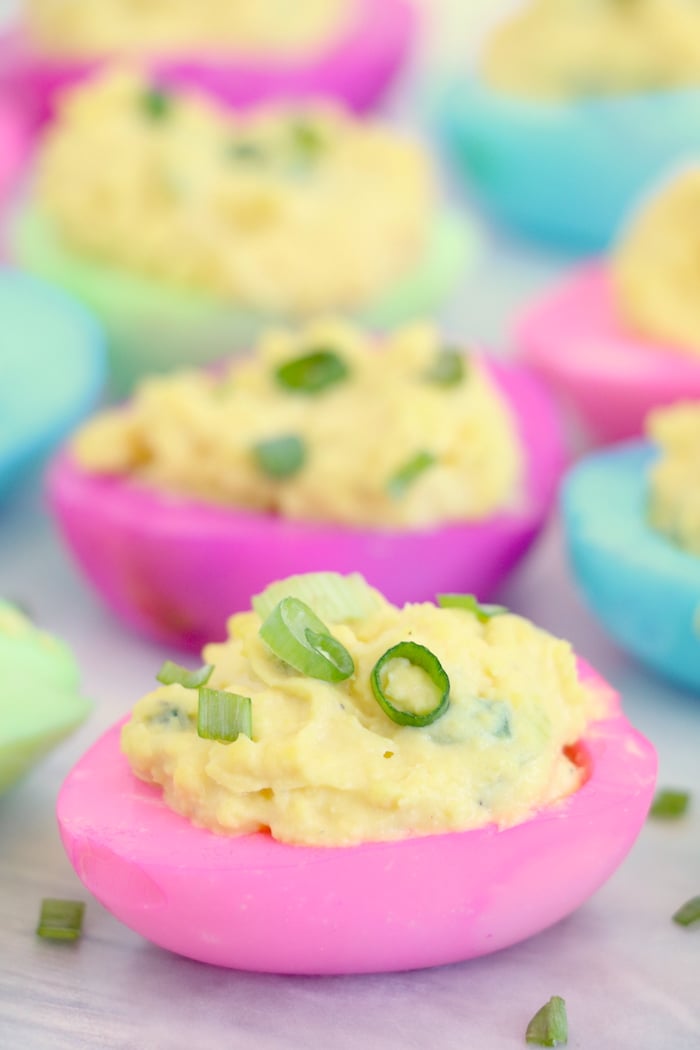 WHY IS THERE A BROWN SPOT ON SOME OF THE EGGS?
Once and awhile, little brown spots appear where the egg sits on the muffin tin. If you're making egg salad, it's really not a big deal.
But if you want to avoid the brown spot with deviled eggs, try placing a little piece of aluminum foil in the bottom of each of the muffin tins and put the egg on top of that.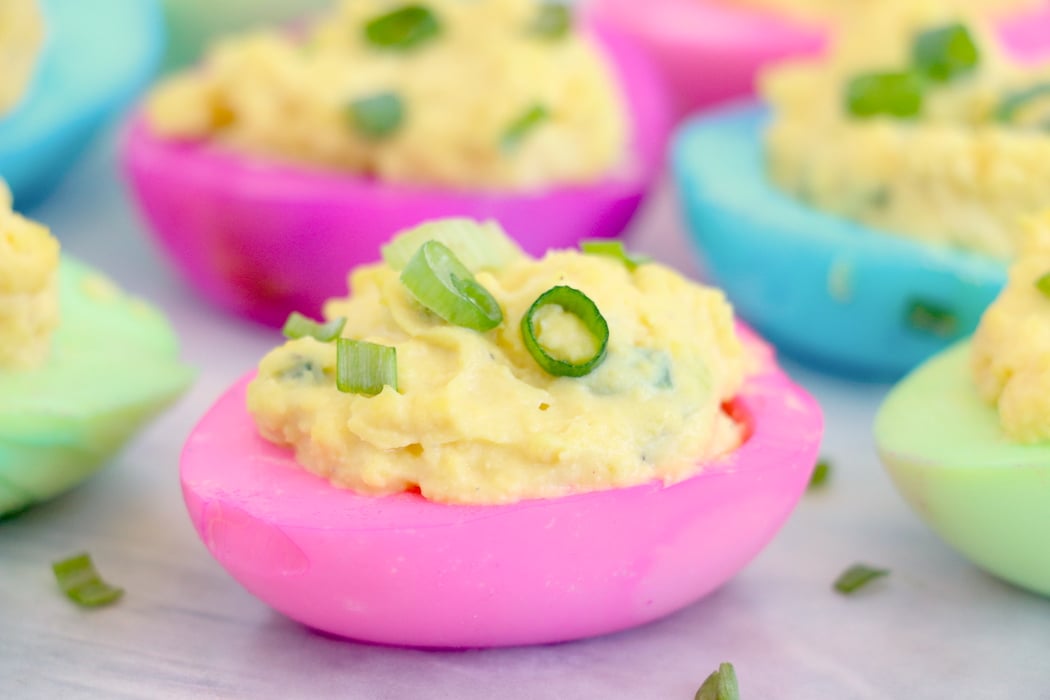 WHAT TOPPINGS CAN YOU PUT ON DEVILED EGGS?
Oh gosh, there's lots of options! I usually just top mine with just a little sprinkle of smoked paprika. But, you could use small pieces of radishes, chopped fresh chives, bacon, blue cheese, cilantro or even smoked shaved salmon.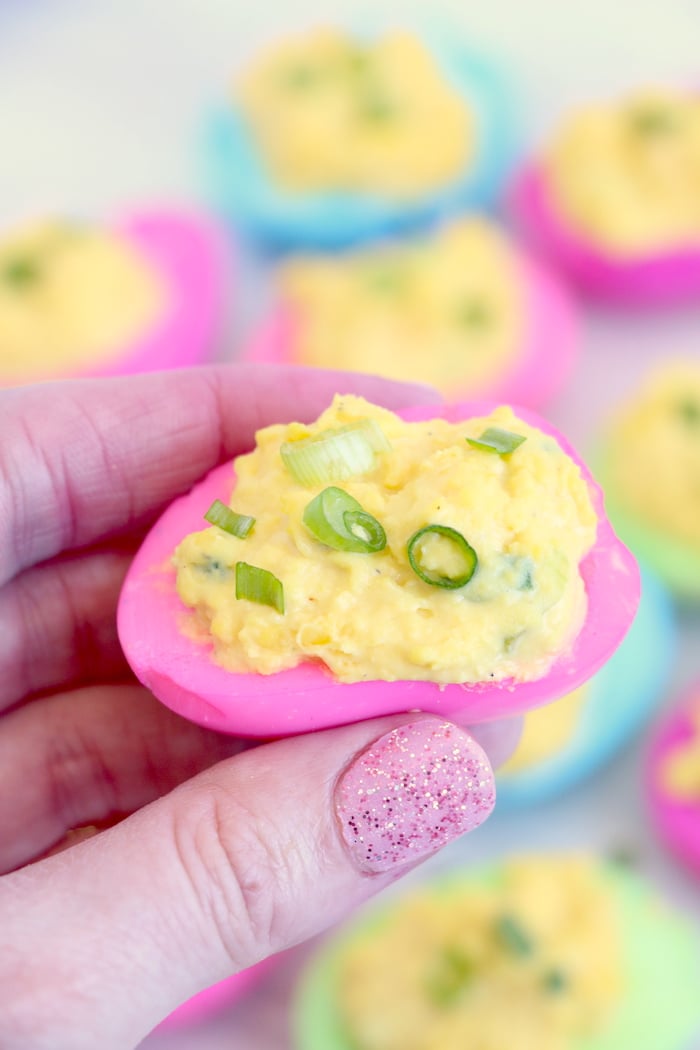 CAN YOU PREPARE DEVILED EGGS IN ADVANCE?
You can prepare the egg white halves and filling mixture up to 3 days in advance. Refrigerate them separately in sealed containers until you are ready to assemble and serve.
Chilled deviled eggs should be consumed within two days of preparation. If you want to shake things up a bit, you can always chop the eggs up to make a deviled egg salad!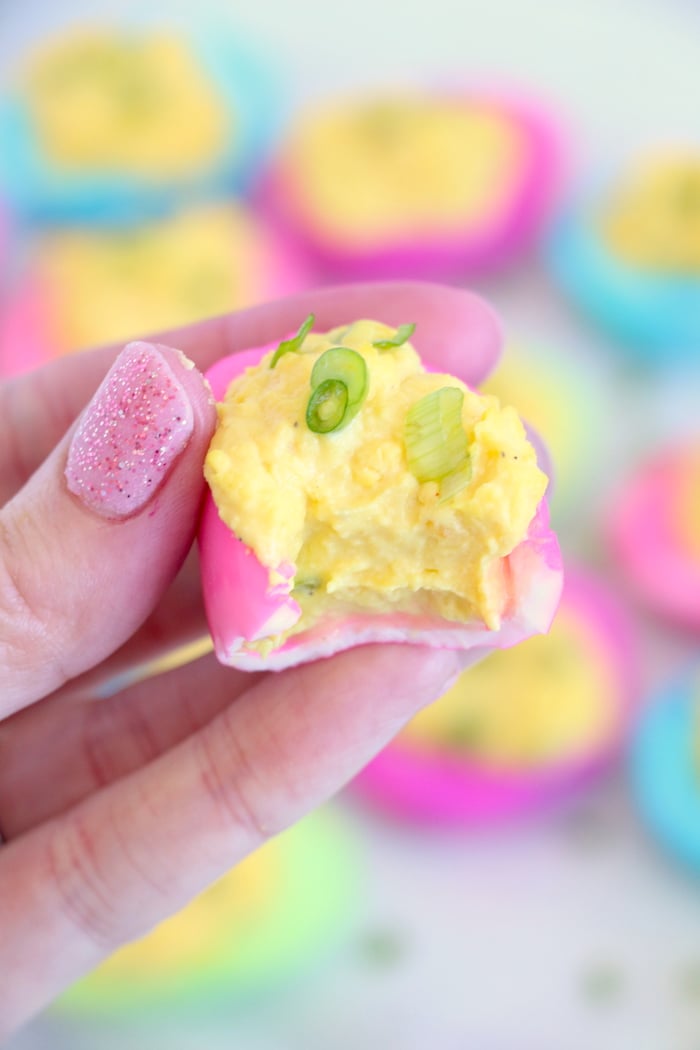 READY FOR MORE EASTER FUN?
Easter Trifle Dessert
Cool Whip Easter Eggs
Cotton Candy Popcorn
Drizzled Candy Bark
Peeps Cake With Marshmallow Frosting
Cadbury Creme Egg Dip
Sweet Bunny Bites
Crystal Eggs
Easter Egg Bath Bombs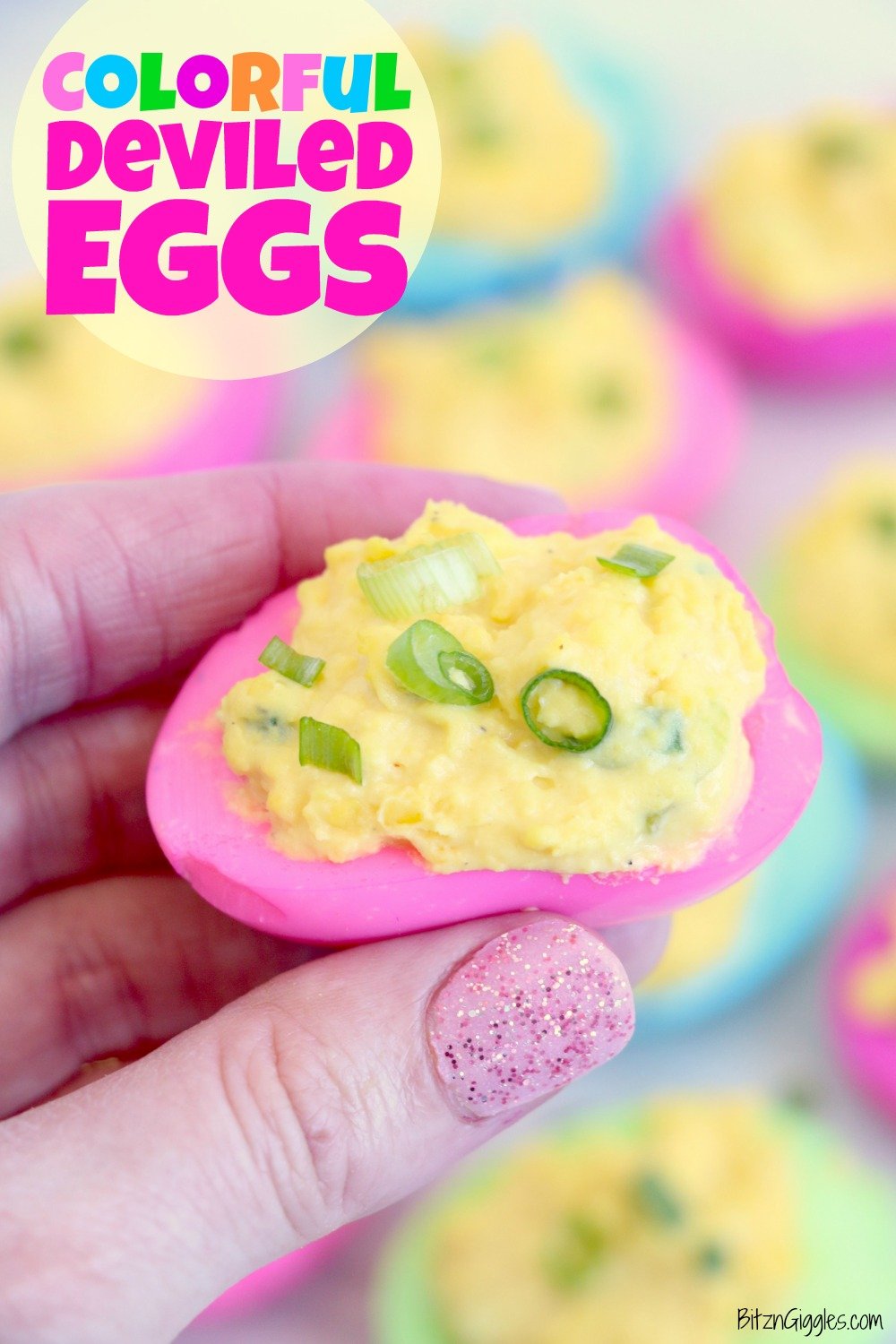 Read more: how to lose 20 pounds in 1 week boiled eggs