Seriously, this soft pretzels recipe is easier than you think! It creates the most delicious soft and chewy pretzels with that golden brown color and iconic flavor. A lot of people are intimidated at the thought of making homemade pretzels because the shaping of them seems super complicated but trust me it's not. Follow my step by step photos below and you'll see how easy it really is.
Soft pretzels are boiled first in a baking soda water bath which is a super important step and the key to achieving that delicious chewy texture, dark golden color, and that pretzel flavor that everyone loves so much. So, for that authentic flavor don't skip that step.
I've got all the tips you need in the recipe below plus some delicious flavor variations for you to try as well!
What you need to make this recipe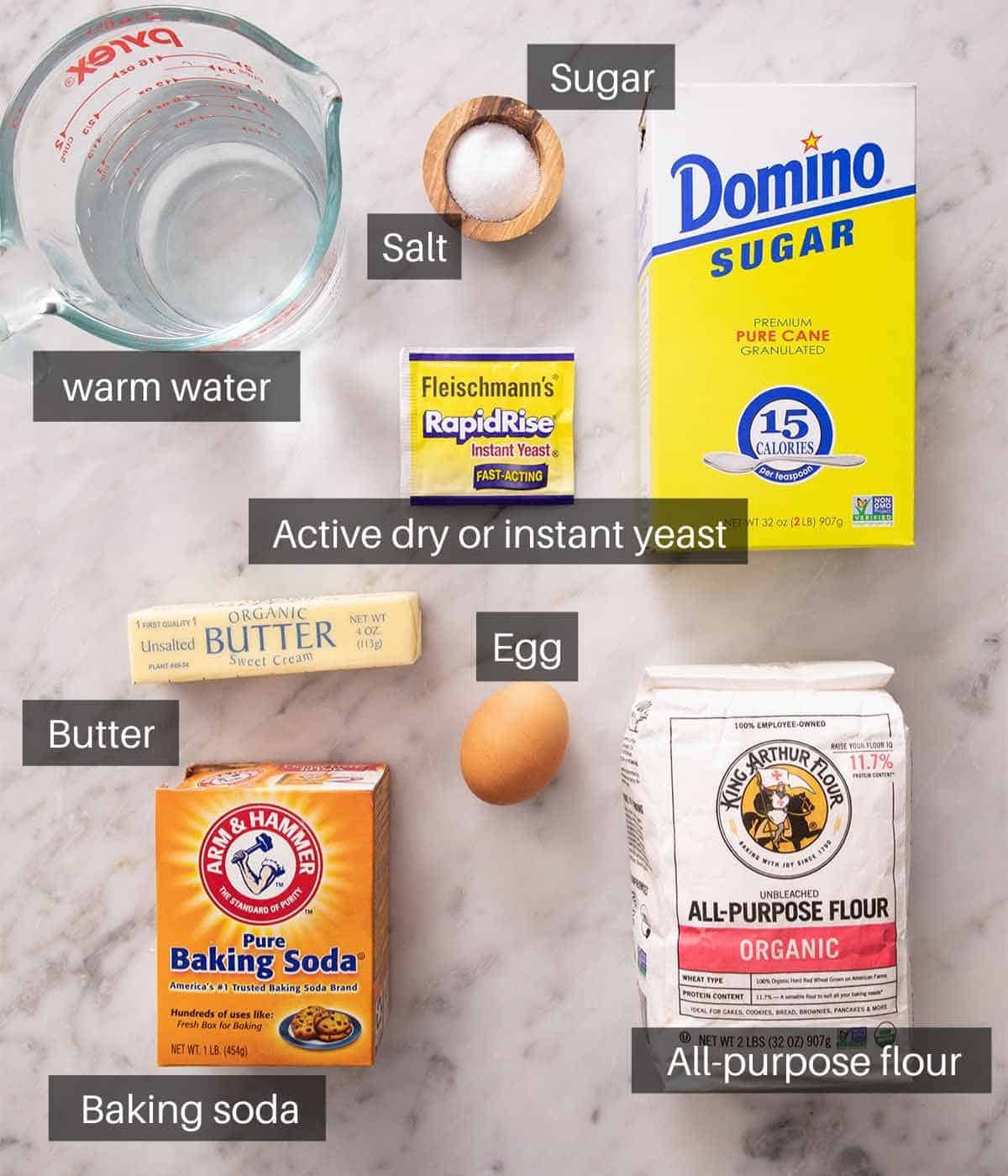 Water – warm water is important for speeding up the proving process but it must be warm and not hot or it'll stop the dough from rising altogether.
Yeast – you can use active dry or instant yeast for this, both work great.
Butter – melted butter gives richness and a softness to the dough and it also makes the pretzels extra delicious!
Also read: Best easy beef stew recipe
Sugar – I use regular white granulated sugar but you can also use brown sugar, it will give your soft pretzels a slightly caramelized flavor.
Egg – beaten egg is used to brush the pretzels before baking, it adds extra color and gives them a shiny exterior.
How to make Soft Pretzels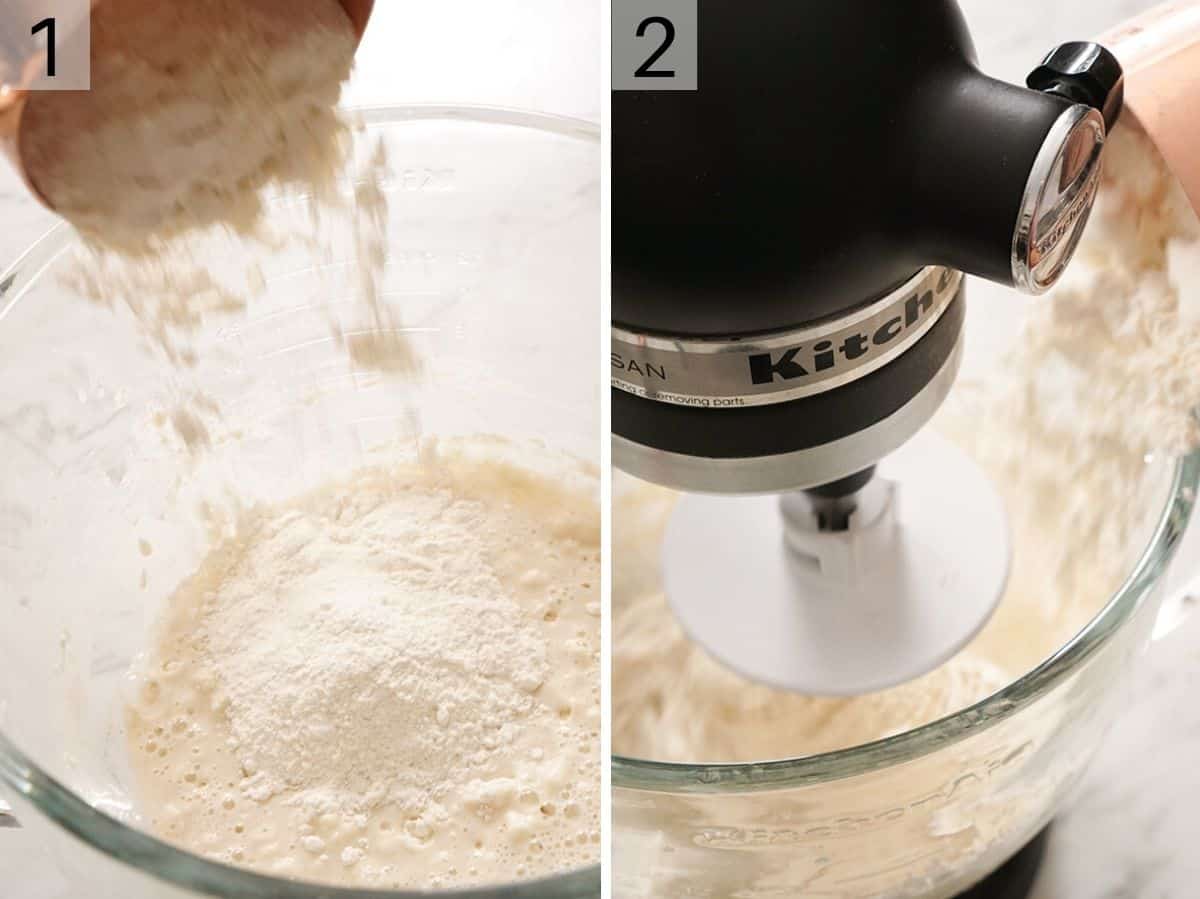 1. Combine the water, sugar, and yeast and let it bubble for a few minutes. Add the butter, salt, and 2 cups of flour whilst using a wooden spoon to mix everything together.
2. Using a dough hook attachment knead the dough whilst adding the rest of the flour gradually. The dough should bounce back when pressed with your finger. Once ready knead on a lightly floured work surface for a few minutes more. Important note – See my tips section below on how to do the windowpane test if you are unsure whether your dough has been kneaded enough or not.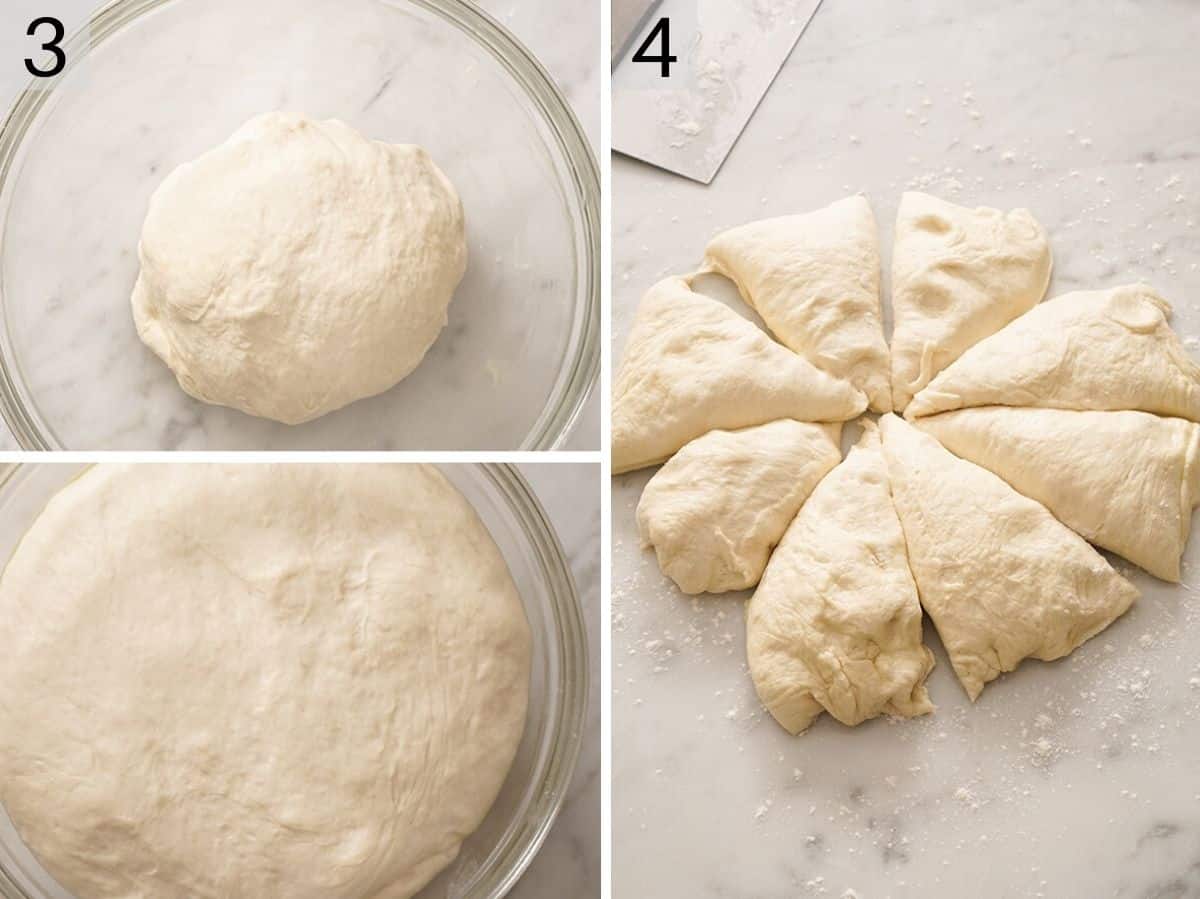 3. Let the dough rise until doubled in size.
4. Divide the dough into 8 even-sized pieces and roll each one into ropes around 20-24 inch in size.
Also read: The top 16 crock pot stew meat chili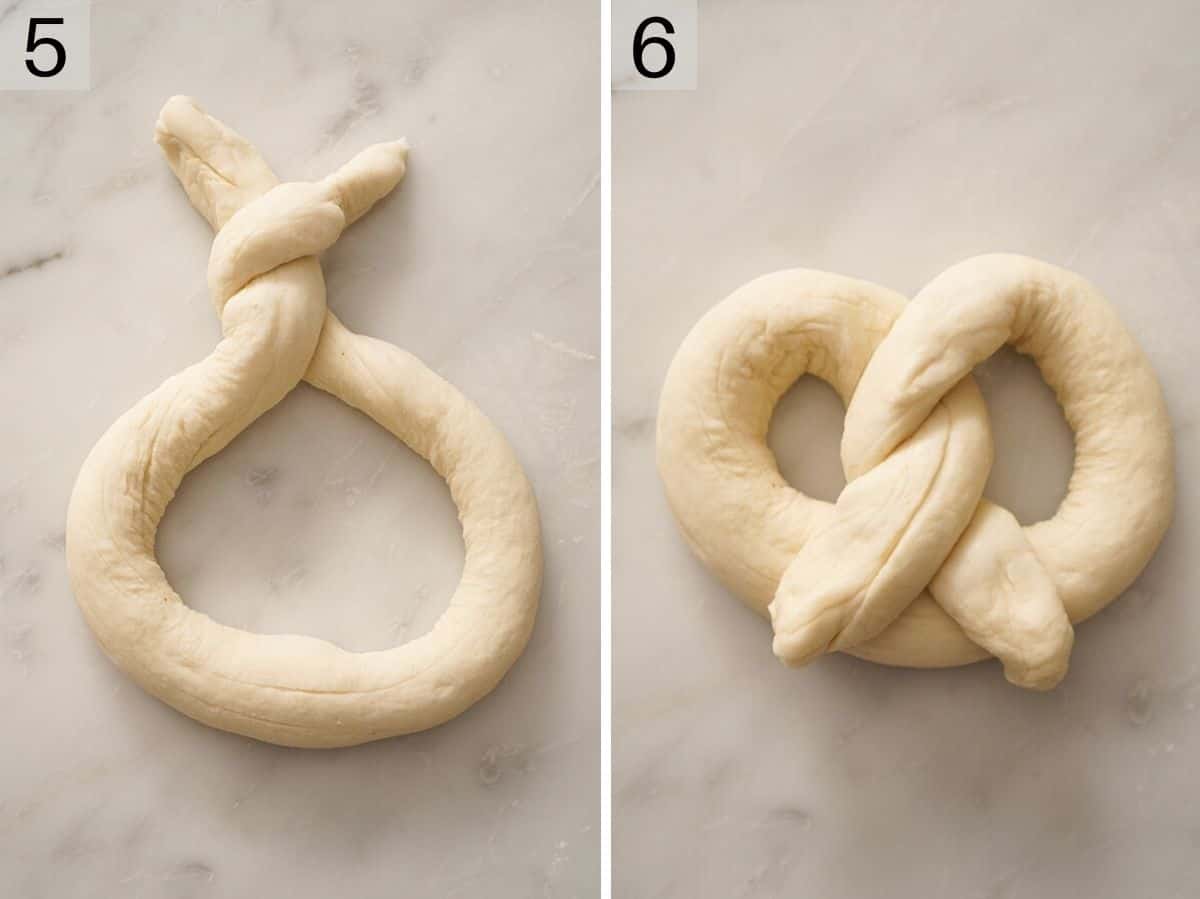 5. Create a U with each rope twisting the ends together at the top.
6. Loop the ends back down to create a classic pretzel shape.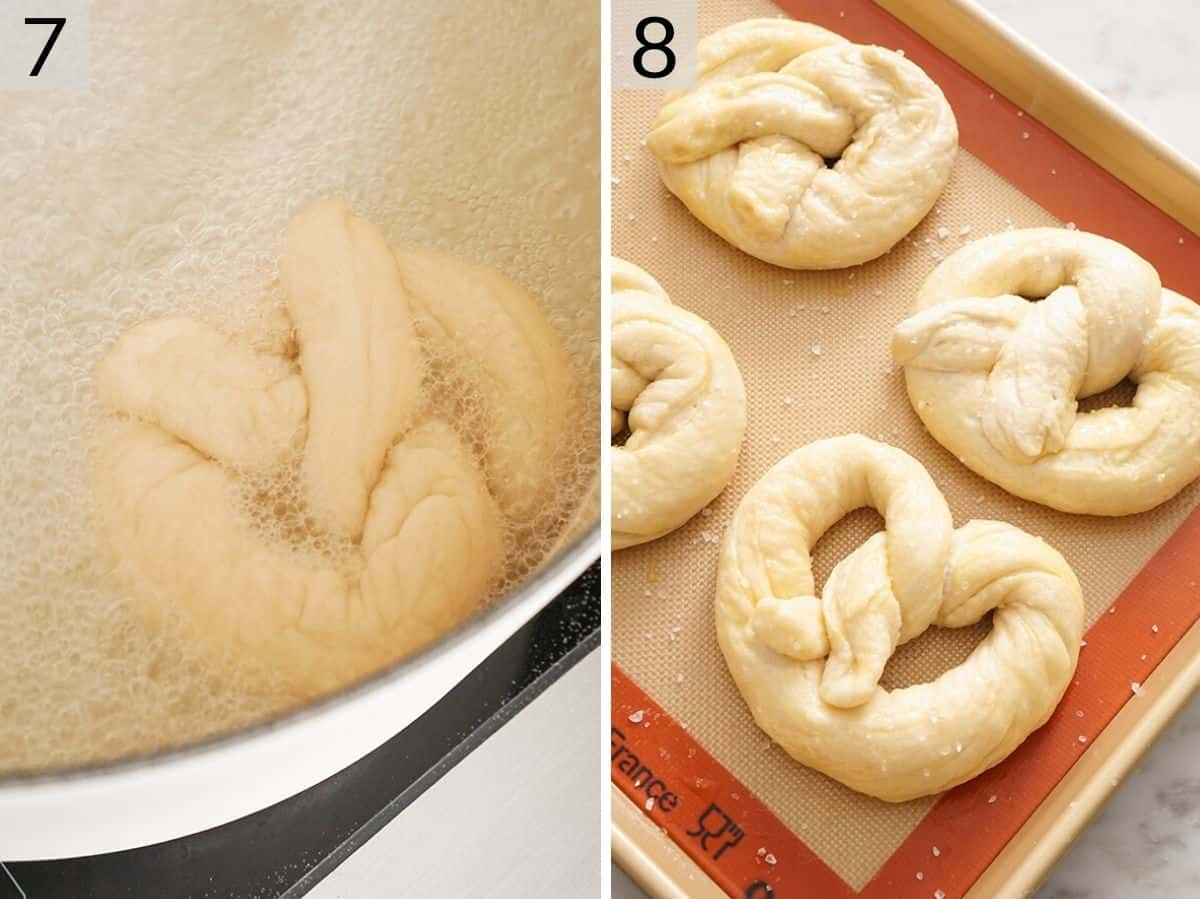 7. Boil the pretzels in batches in boiling water with baking soda for 30 seconds each.
8. Remove to a lined baking sheet and brush with beaten egg and sprinkle with salt. Bake until golden brown and cooked through.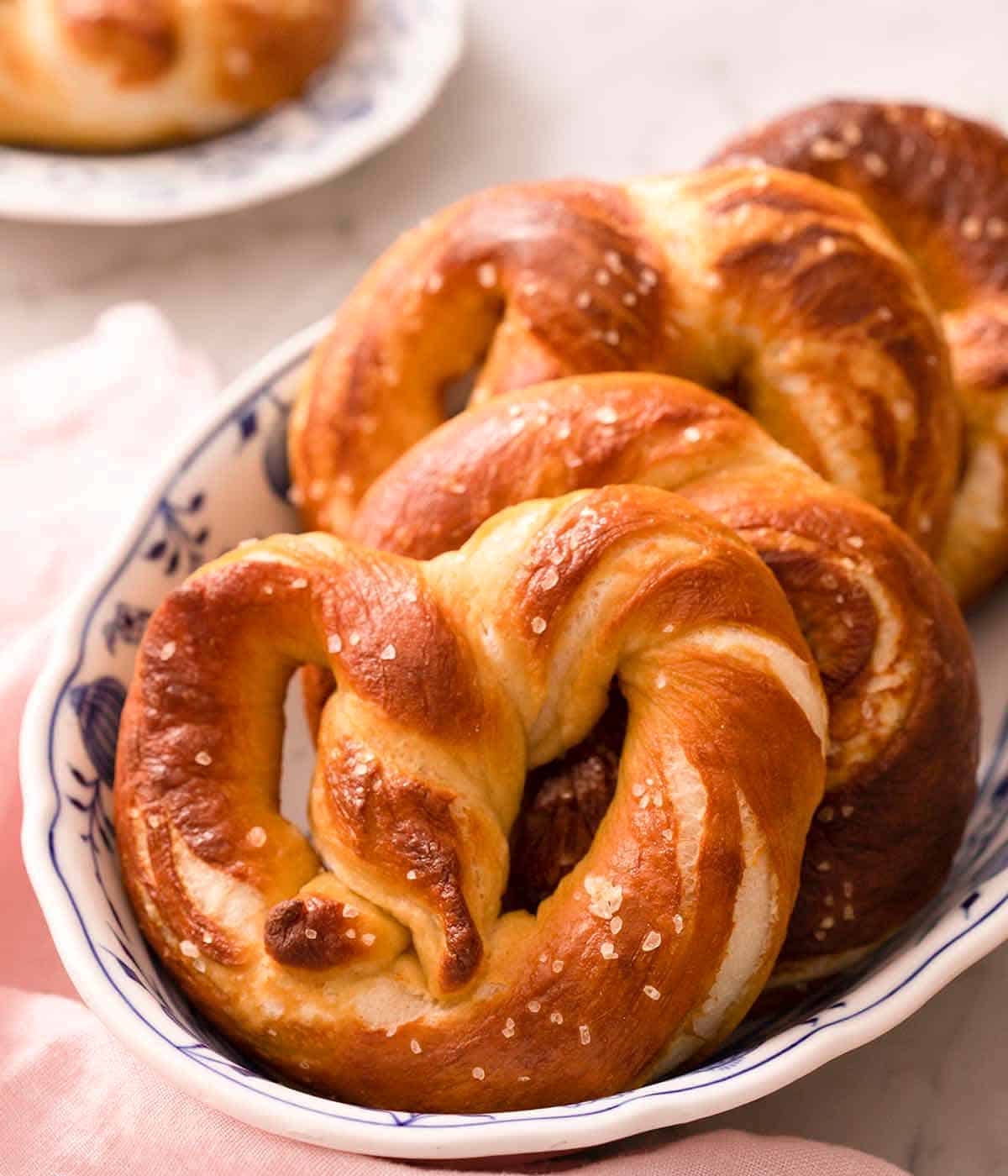 Pro tips for making this recipe
Instead of shaping these into traditional pretzel shapes, you can cut them into small pieces to make soft pretzel bites!
Use warm water to help activate the yeast, the dough will also prove much quicker this way. Make sure your water is warm and not hot though or it'll do the opposite!
Let the dough prove in a warm place, again make sure it's not too hot or in direct sunlight.
For that Auntie Annie's flavor, I recommend brushing melted butter on the pretzels before and after baking.
To reheat your soft pretzels and serve them warm you can reheat them in a hot oven for a few minutes or pop them into a microwave.
Do the windowpane test – a great way to know if your dough is kneaded enough is to do the windowpane test, here's how you do it. Remove a small piece of dough about the size of a golf ball and gently stretch it to create a thin membrane-like pane or windowpane, it should be thin enough to see light through it. If the dough breaks it means the gluten hasn't developed properly and you need to knead it for a little longer.
When it comes to baking recipes I always recommend weighing the flour with a kitchen scale because it's the only way to ensure accurate results every time but if you are using cups, fluff the flour in a bowl or container with a fork before spooning it into the cups. This way you have far less chance of overpacking the cup.
Since this makes 12 pretzels you'll need to boil them in batches.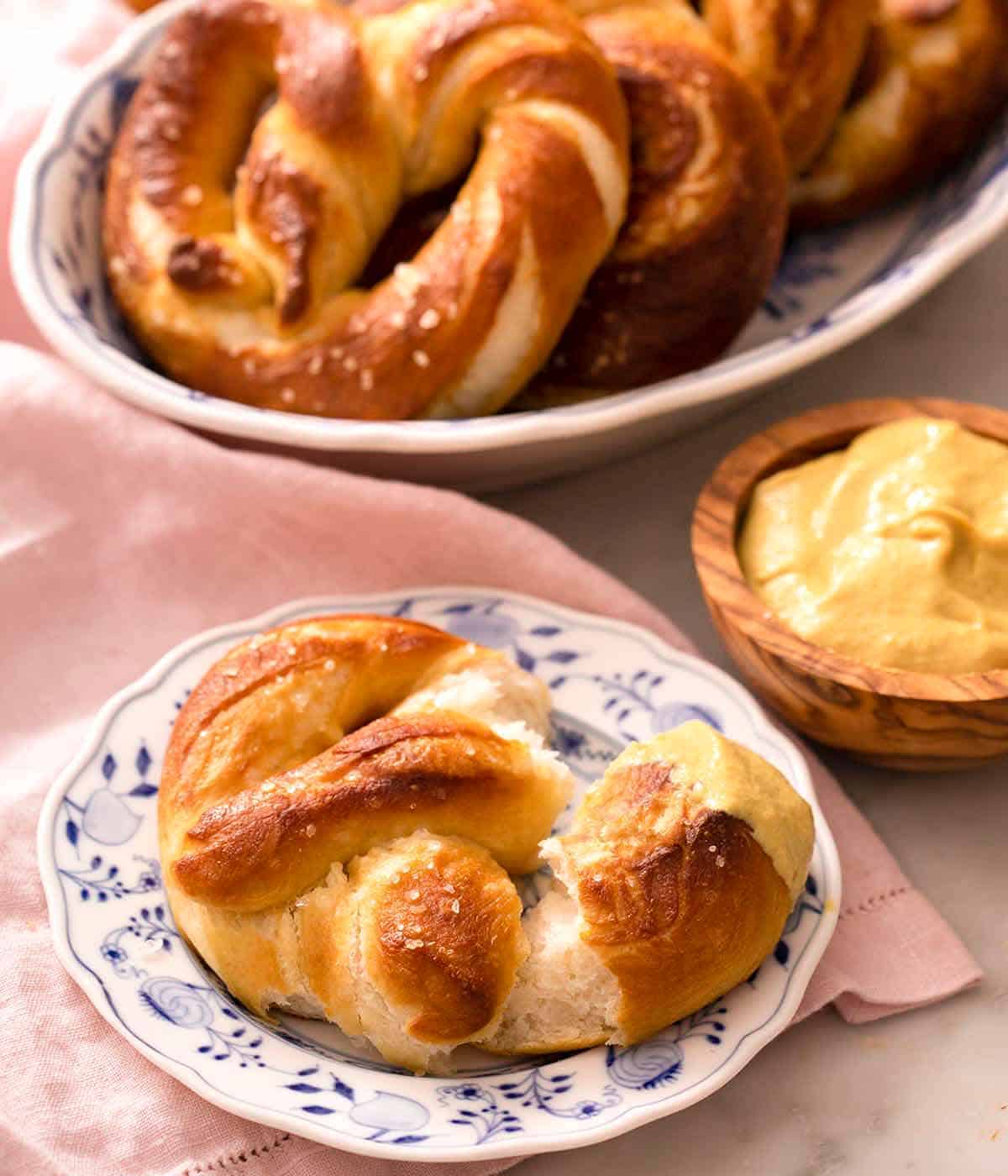 Frequently Asked Questions
What can I serve them with?
Also read: Irish stew recipe in slow cooker
Soft pretzels are such a delicious snack and can be served with all sorts of dips and condiments such as mustard, ketchup, Buffalo Chicken Dip, Artichoke Dip, or nacho cheese dip. They pretty much go with anything so choose your favorite and go with it!
What gives them their soft texture and flavor?
Baking soda is the key ingredient that gives soft pretzels their iconic flavor, when heated it reacts with the dough darkening the color and creating a chewy texture.
Do I have to boil the pretzels first?
Yes, it's a crucial step for making the best soft pretzel recipe so don't skip it, you only need to boil them for 30 seconds.
What other flavor variations can I make?
Cinnamon sugar – instead of sprinkling coarse salt on top and brushing with egg you can brush the pretzels with butter and sprinkle over some cinnamon sugar, simply mix a little cinnamon with brown or white sugar.
Cheese – you can add some grated cheese such as cheddar or parmesan into the dough so it's distributed throughout the pretzels and then sprinkle some on top before baking too.
Can I make these in advance?
Yes, you can prepare the pretzel dough and store it in the fridge up to 1 day in advance or freeze it for up to 3 months. You can also prepare the baked pretzels in advance and they'll keep well for up to 3-4 days in a sealed container.
Can they be frozen?
You can freeze the raw pretzel dough or cooked and baked pretzels for up to 3 months. Once frozen thaw them completely before serving, you can also warm them up in a hot oven once thawed.
If you've tried this Soft Pretzel Recipe then don't forget to leave a rating and let me know how you got on in the comments below, I love hearing from you!