Fish stew, to some, might not sound all that enticing. I'm confident that this recipe will change their mind, because it so delicious! Moqueca is a Brazilian fish stew made with various kinds of seafood, coconut milk, tomatoes, onions, garlic, fresh cilantro and palm oil (sometimes referred to as dendê oil). While I didn't use palm oil, we loved coconut-lime and spicy flavor of this dinner- served with rice. It's not difficult to make and looks impressive enough to serve to dinner guests.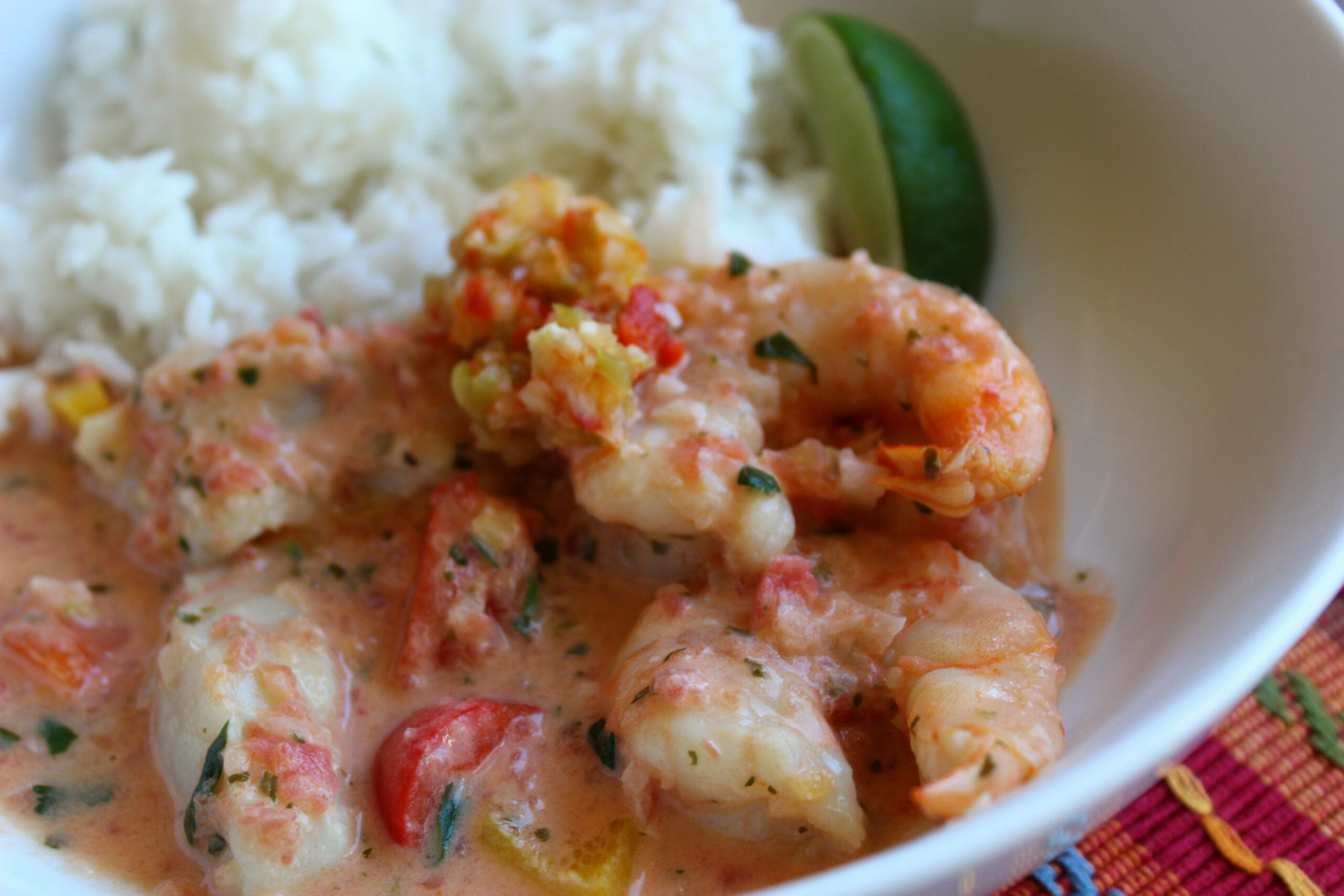 This is my first post for the New Year 2020! I've been baking and cooking a lot, but work is sapping my time and energy to share the dinners I've been making. I'm just a few more months away from retirement, and that's when I plan to give my blog the full-time attention it deserves. Yes, I still enjoy sharing my recipes with my readers. Thank you for sticking with me!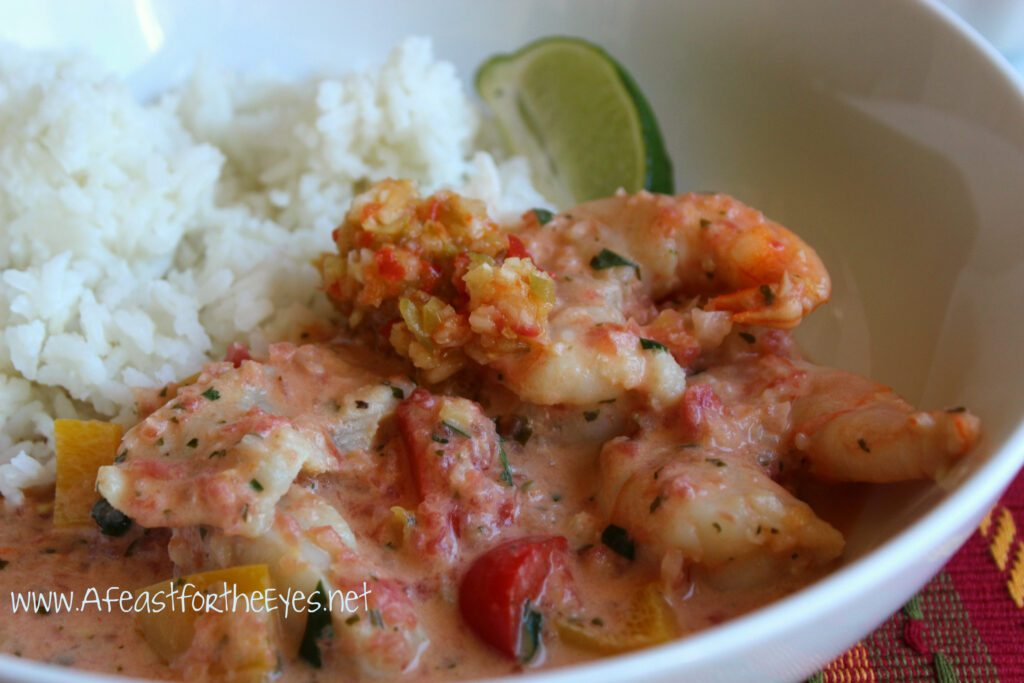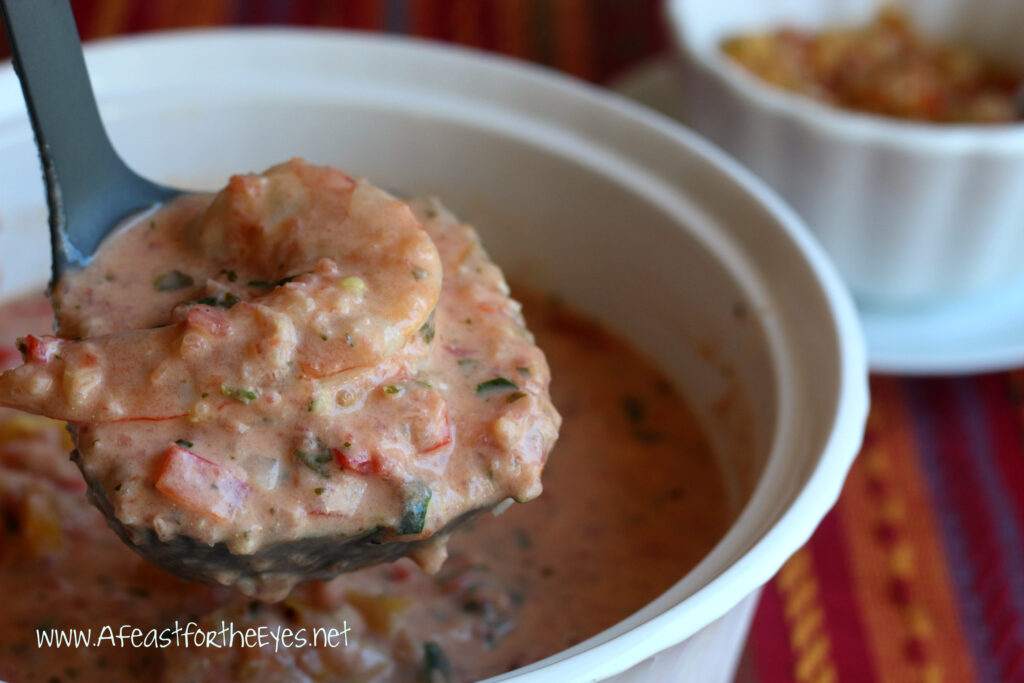 During my winter break, from our school district, I promised myself I would reorganize our upright freezer. I found bins where I could sort out my frozen meats and seafood by category. I found a bag of unopened large shrimp and some cod fillets. I had bookmarked a recipe for Brazilian Shrimp and Fish Stew aaaaand- bingo! Spoiler alert: Not only was this recipe so full of flavor, with just the right balance of spice- it was actually not difficult to make.
Let me show you how:
The shrimp was already deveined, so I simply removed the shells (including the tail). Toss shrimp and cod with garlic, ½ teaspoon salt, and ¼ teaspoon pepper in bowl. Set aside.
Process onion, canned whole tomatoes and their juice, and ¼ cup cilantro in food processor until finely chopped and mixture has texture of pureed salsa, about 30 seconds.
Most recipes, for this stew, I researched used green bell peppers. For some reason, those give my digestive system a little "attitude"- as in it tends to say "hello" after I eat them. Red, yellow or orange bell peppers don't have that effect so that's what I used- and it worked!
So, other than chopping some onion and cilantro, the last of the prep work are the bell peppers. Well, except for one more vital component to this recipe- and this one you don't want to skip. Trust me, I almost did.
You'll need hot cherry peppers. Pickled hot cherry peppers are usually sold jarred, next to the pickles or jarred roasted red peppers at the supermarket. Score! I found them. I tasted one, and I really hesitated. Um, yeah, my sensitive to "heat" was on full alert. Whoa, they packed a bite! My husband likes spice, so I forged on. SPOILER ALERT: The heat tamed down a lot, and I found this condiment really made the whole dish work.
Using a food processor, I finely chopped the hot cherry peppers, some onion, olive oil, a pinch of sugar and salt and pepper. Done and done.
I heated up some avocado oil and cooked the bell peppers until softened. Then, I added in the tomato-onion sauce and cooked until slightly thickened.
Coconut milk and lime juice is added, and brought to boiling and bubbly. Once that happens, the shrimp and cod is added and gently submerged into the cooking liquid. Turn off the heat, cover with a lid, and allow the fish and shrimp to cook for about 15 minutes. (There's nothing worse that overcooked shrimp because it turns rubbery.) By letting it cook, off heat, the shrimp was perfectly cooked.
Right before serving, I added two tablespoons of the pepper sauce and some chopped cilantro (we love that herb).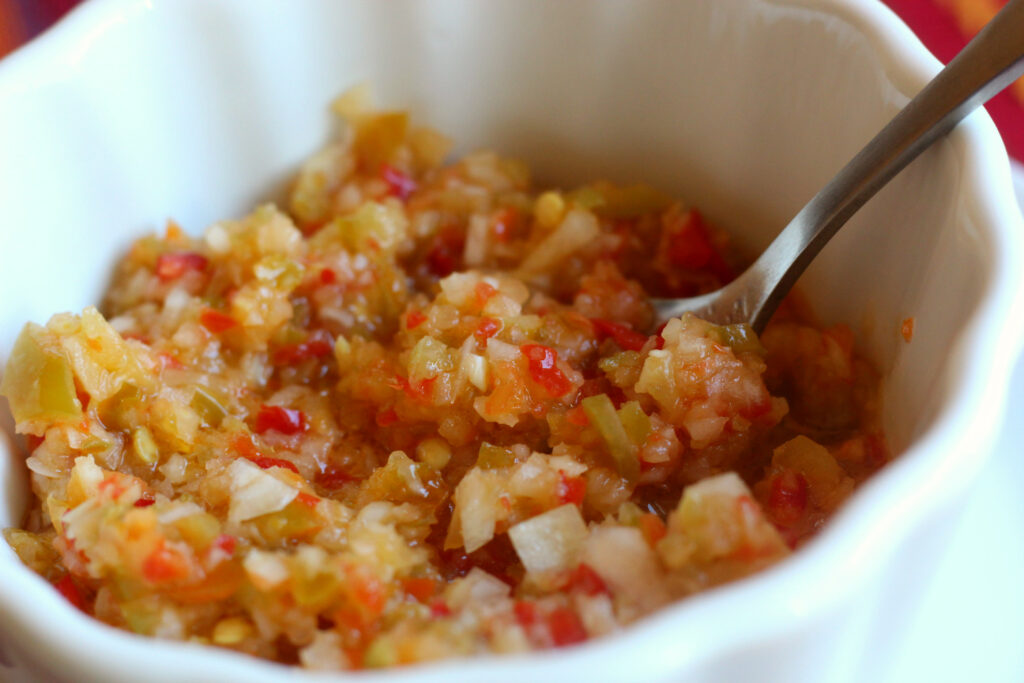 I served this with rice and the remaining pepper sauce on the side.
TASTING NOTES: Coconut milk, cilantro and lime are one of my Holy Trinities of cooking! My husband isn't crazy about shrimp (or so he says). We both ate a spoonful and there was silence. Wow! We both loved it. This dish is loaded with flavor! The heat of the hot cherry peppers was spot on. There was a hint of coconut milk and lime. The shrimp was tender and the cod was mild. Does this reheat? Yes! I was concerned that reheating leftovers would turn the fish rubbery- but it did not. I would definitely serve this dish to company- especially Pescaterians. Without the rice, it's even gluten-free!
Through this article, we hope to help you understand Brazilian shrimp and fish stew
Detail: 🔗