Here are the hottest how to make brown butter sauce for ravioli topics edited and compiled by Family Cuisine
What do you do for self care? I think most people avoid cooking themselves a good meal as part of their self care routine because it sounds like a lot of work, but recipes like these Ravioli with Sage Brown Butter Sauce are an incredibly fast and easy way to do something special for yourself. It's an elegant restaurant-quality meal, without the huge bill at the end. 😉 So turn off that phone, light a candle, pour yourself a glass of white wine, sit down to this fancy-pants ravioli, and just enjoy the moment. 💆‍♀️
And since this makes two servings, it also makes a great date night meal. 😉
Ravioli with Sage Brown Butter Sauce, Spinach, and Walnuts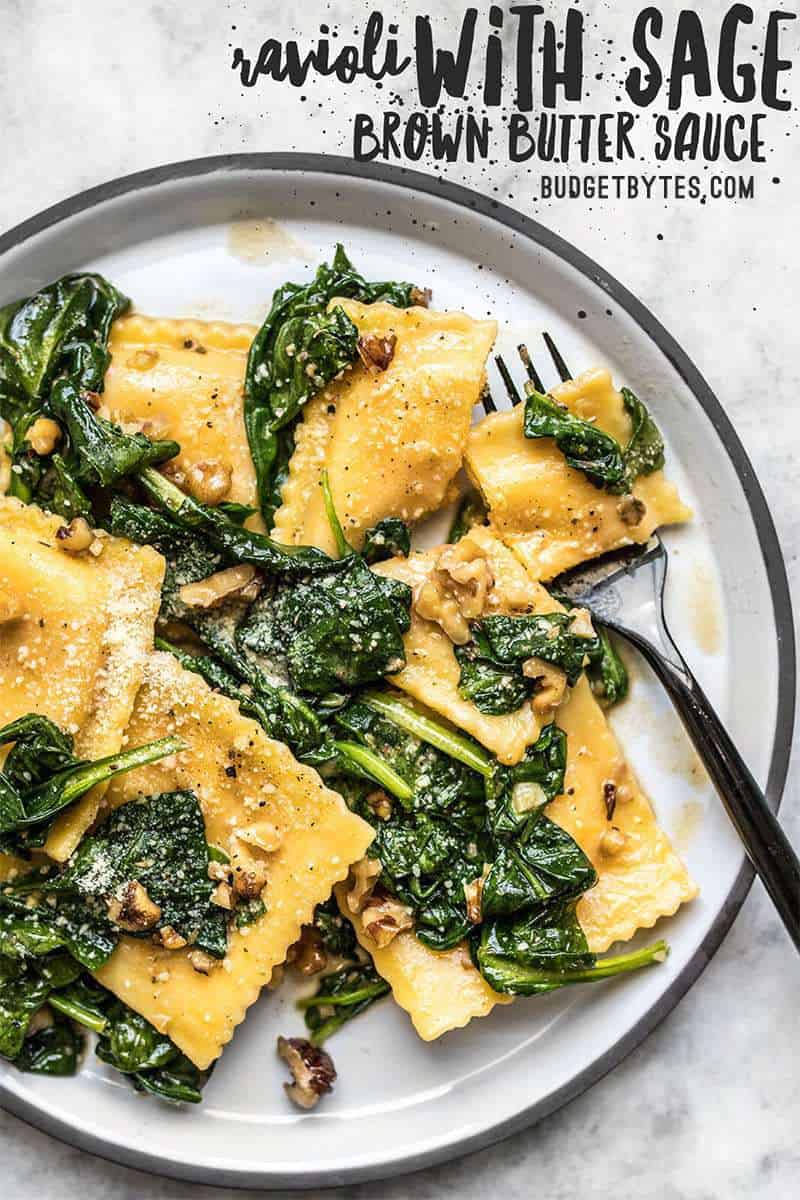 What's Up with Brown Butter?
It's pretty much the best thing ever in the entire universe. Brown butter is what happens when you cook butter long enough to make the butter solids get all toasty and delicious, but not so long that they burn. You can use brown butter in baked goods, sauces, and just about anything to give your recipe a nutty-sweet flavor. For more information about this liquid gold, check out my tutorial on How to Make Brown Butter.
Ravioli Alternatives
I used an awesome butternut squash ravioli (from Aldi) for this recipe, but you could use any regular cheese ravioli, or even something like gnocchi. Squash or pumpkin flavors go especially well with the brown butter and walnuts, but if you can't get your hands on that, regular cheese flavors are also great.
Scroll down for the step by step photos!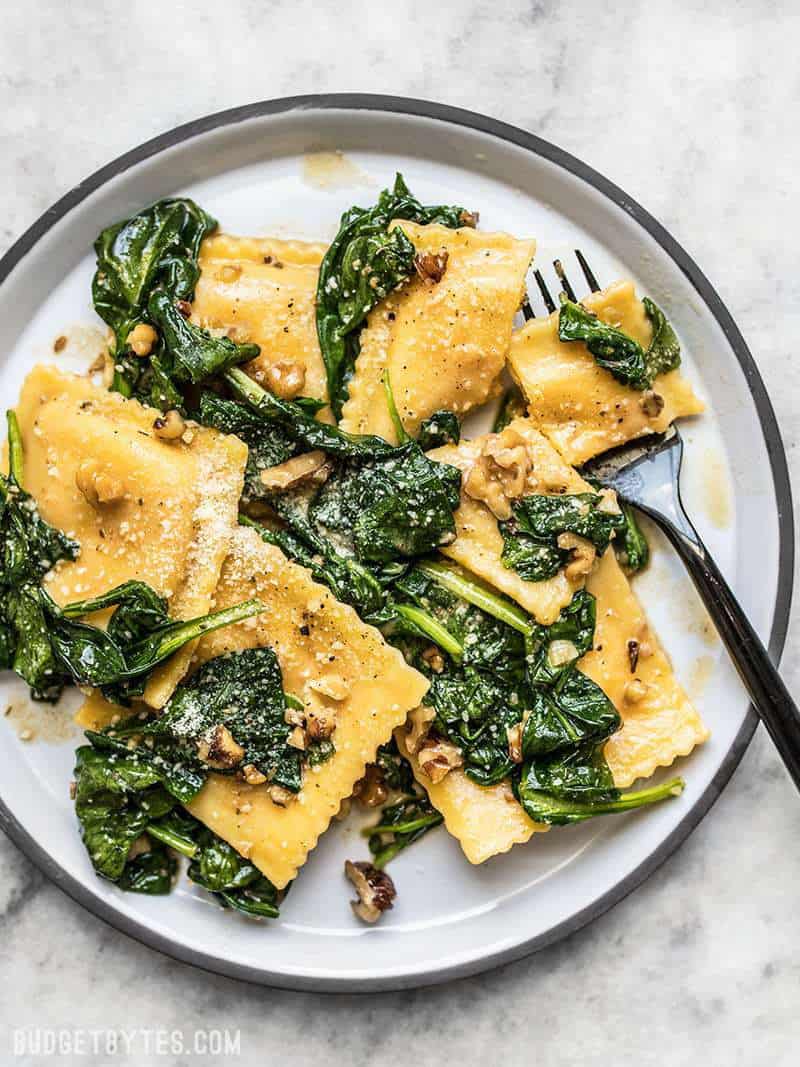 How to Make Ravioli with Brown Butter Sauce – Step by Step Photos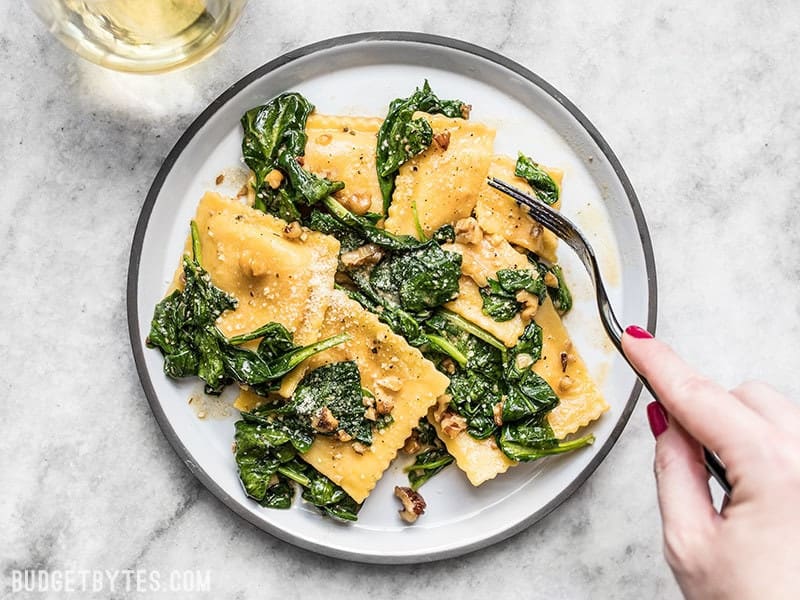 This is the ravioli I used, which is a seasonal product from Aldi. As mentioned above, you can use regular cheese ravioli, or even gnocchi for this dish. 9 oz. is kind of a weird package size, but you could use anywhere from 8-10 oz. of ravioli or gnocchi for this amount of sage brown butter sauce. Start boiling a pot of water for the ravioli first. Once boiling, add the ravioli and cook according to the package directions (only about 3 minutes for this fresh ravioli). Reserve 1/4 cup of the cooking water, then drain the ravioli in a colander.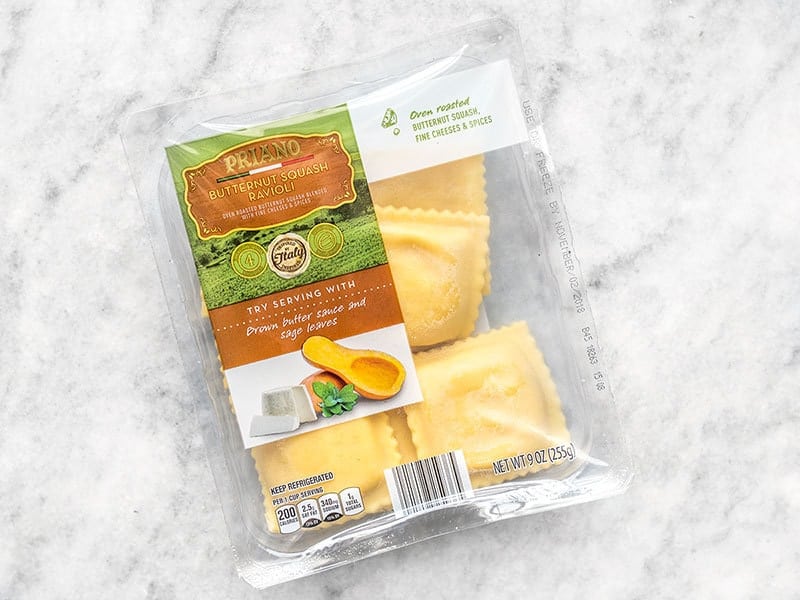 While waiting for the water to boil and the ravioli to cook, you can prepare the rest of the dish. Prep the ingredients for the sage brown butter sauce before you begin melting the butter because the sauce cooks quickly, so you don't want to be double-tasking. Mince a clove of garlic, and chop 1/4 cup walnuts.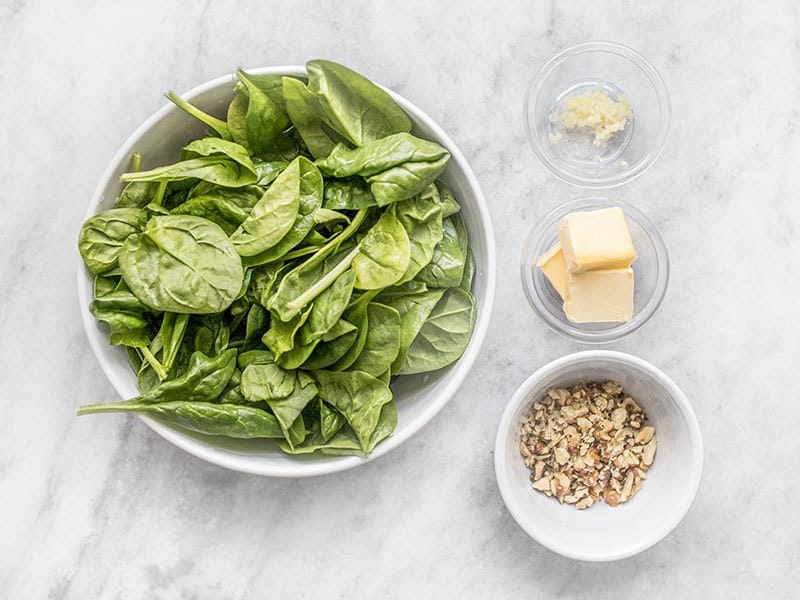 First add 4 Tbsp butter to a large skillet and melt it over medium-low heat. Wait for the butter to begin sizzling and for it to get a bit foamy on top (about 2-3 minutes), then add the chopped walnuts and minced garlic.
Continue to stir and cook the butter, walnuts, and garlic over medium-low until the sediment turns a deep golden brown like in the photo above (about 3-5 minutes). Remove the skillet from the heat (it will continue browning with the residual heat of the skillet, so it's important to take it off the burner to slow this down).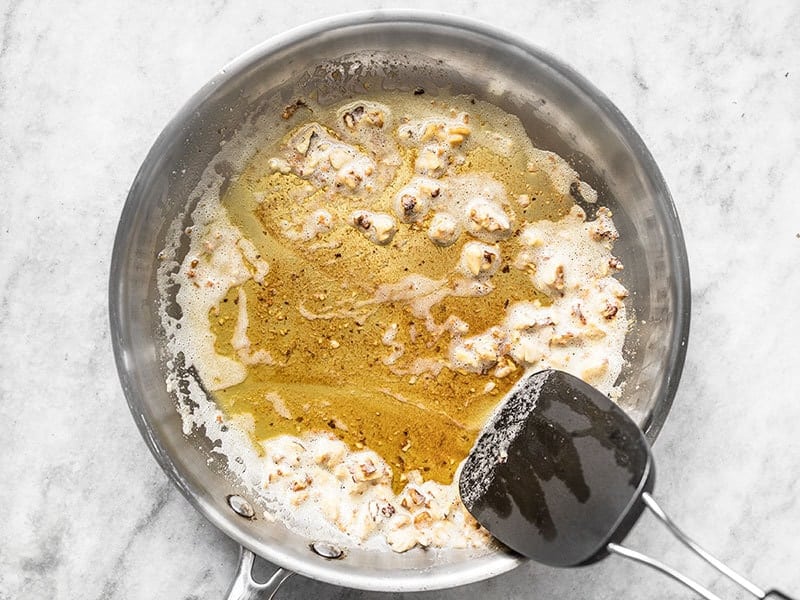 Finally, stir in 1/2 tsp dried sage.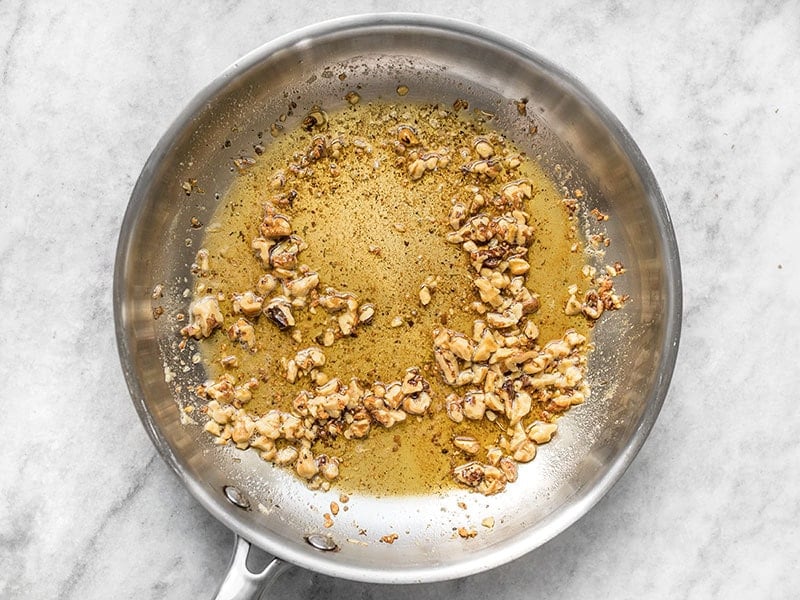 I should have gotten two separate photos here, so sorry. First add the 1/4 lb. spinach and the reserved 1/4 cup cooking water to the skillet, return the skillet to low heat, and stir until the spinach is wilted (about 2 minutes). Taste the spinach and add a pinch or two of salt, if needed. Finally, add the ravioli and toss to coat in the sage brown butter sauce.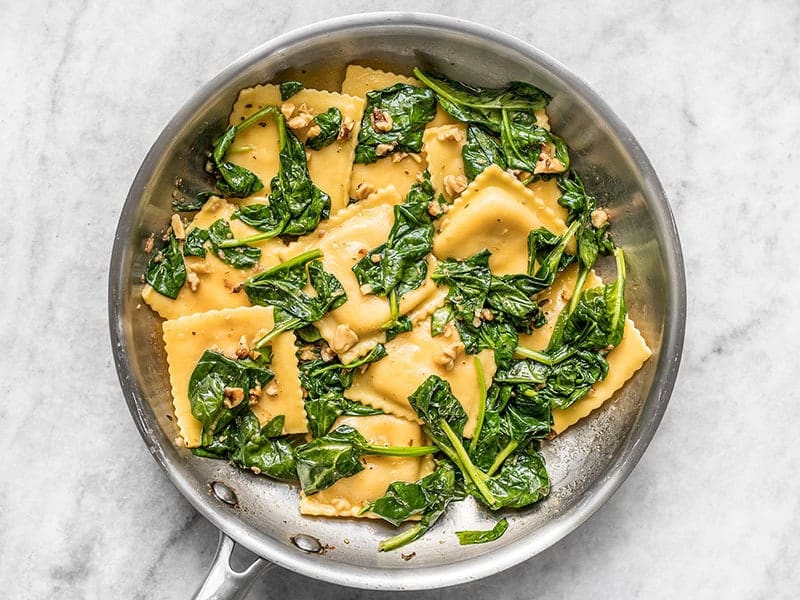 Sprinkle a little bit of grated Parmesan and freshly cracked pepper over top just before serving.