Here I'll show you how to make a Classic Carbonara that's creamy, but doesn't use cream. With a few simple ingredients this makes the perfect weeknight dinner!
In most regions of Italy, a traditional carbonara means zero cream. It is however quite simple to make a 'creamy' carbonara without using any cream. Follow me…
Reading: how to make carbonara sauce without cream
What you'll need to make Spaghetti Carbonara
I've tried to keep this as traditional as possible, whilst making realistic subs that you'll get at the supermarket. You'll only need 7 ingredients plus pasta water (which helps create the sauce).
Carbonara No Cream Ingredients
Pecorino Romano – Can sub parmesan if that's what you have.
Egg Yolks – Adds richness and helps create the sauce.
Spaghetti – Most traditional, but other long cut pasta would work.
Black Pepper – Cracked black pepper (not the powdered stuff).
Garlic – This isn't so authentic, but adds a nicely gently background flavour.
Pancetta – Most traditional to use guanciale, but easiest to find pancetta, which is the closest sub. If you don't have pancetta then bacon works too.
Whole Eggs – Helps create the sauce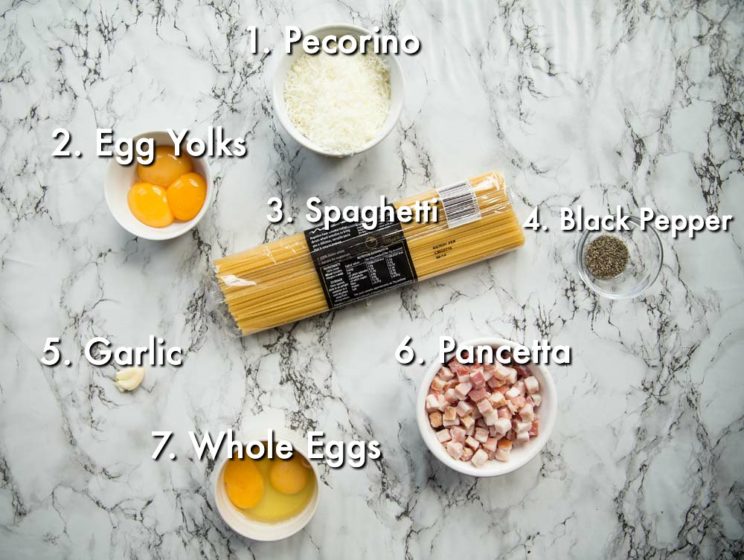 How to make Spaghetti Carbonara without Cream
There's a few key steps to making a creamy carbonara without cream, but let's start right at the beginning. The first thing you want to do is create your egg mixture. This, alongside the starchy pasta water, will create a smooth and glossy sauce for the spaghetti.
How to make an Egg Mix for Carbonara (quick summary)
Add whole eggs and egg yolks to a bowl.
Beat with a fork until completely smooth.
Add cheese and black pepper.
Beat again until fully blended.
Read more: Garlic Butter Shrimp | Family Cuisine
From there, just make sure you keep the bowl away from direct heat, just so the eggs don't begin to cook.
Alrighty, we've got the egg mix, let's talk spaghetti.
It's essential that you only cook the spaghetti until it's al dente. You'll be tossing the spaghetti in the pan quite a bit and if it's too soft it will just break into lots of small strands. Which essentially means not fork twizzling 🙁
Egg mix done, spaghetti boiling away, let's head to the pan.
How to make Spaghetti Carbonara without Cream (quick summary)
Add pancetta to pan with clove of garlic and fry until crispy.
Remove garlic and turn heat off.
Add spaghetti.
Toss with a splash of starchy pasta water.
Pour in egg mixture.
Toss until glossy, slightly creamy and fully blended.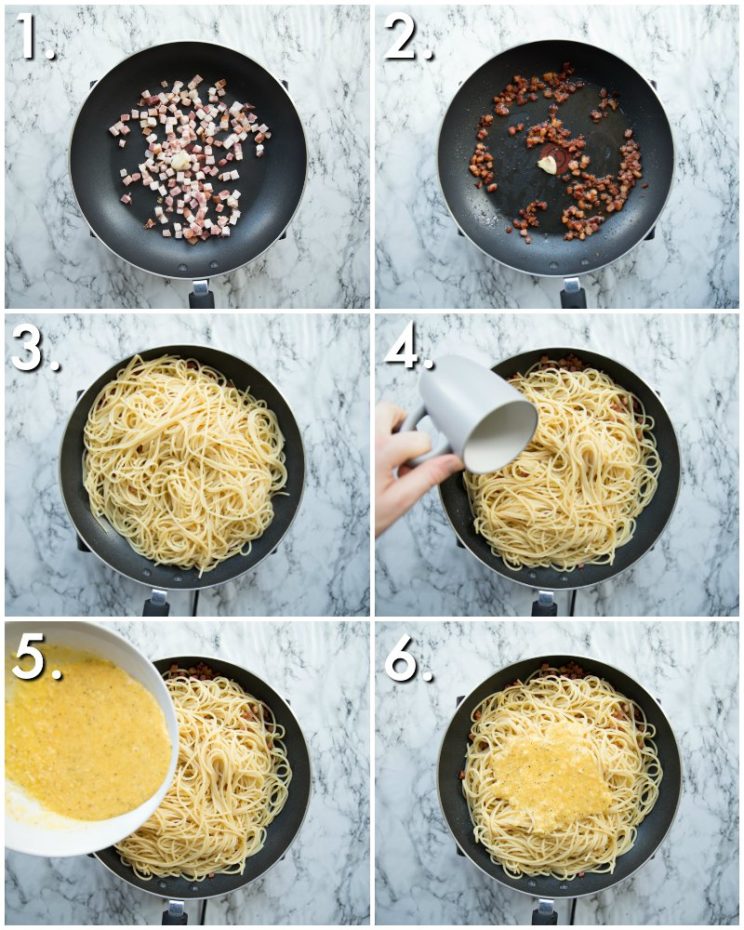 Creamy Carbonara without Cream
Read more: how to make tzatziki sauce without cucumber | Family Cuisine
From there you'll end up with a glossy, yet ever-so-slightly creamy sauce. At points it might start drying up, in this case just add another splash of starchy pasta water to thin out again.
I recommend serving up right away and with plenty of extra cheese on top.
Hey, whilst you're here why not check out my other recipes?
Quick Pasta Recipes
Roasted Red Pepper Pesto Pasta
Cream Cheese Pasta
Penne Alfredo with Bacon and Sun Dried Tomato
Salmon Pasta in a Creamy Dill Sauce
All Pasta Recipes
Alrighty, let's tuck into this classic carbonara recipe shall we?!
How to make Spaghetti Carbonara Without Cream (Full Recipe & Video)
If you loved this Spaghetti Carbonara recipe be sure to pin it for later! Already made it or got a question? Give me a shout in the comments and pick up your free ecookbook along the way!
Read more: how to cook beef broccoli in oyster sauce | Family Cuisine