Here I'll not only show you how to make the easiest blue cheese sauce in the world, but I'll also give you some tips for the perfect steak to go along side!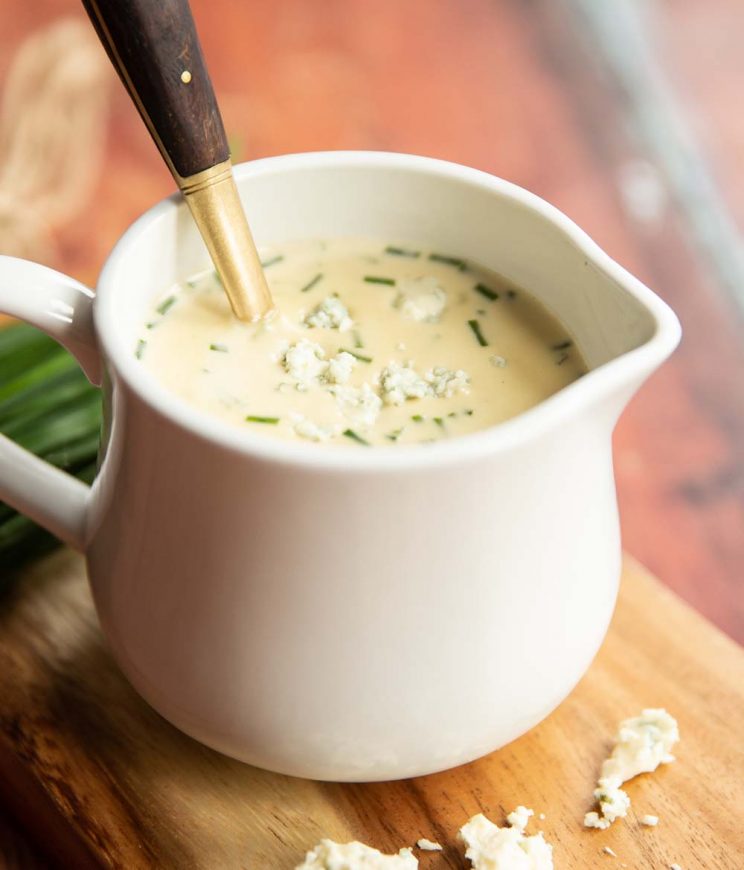 Reading: how to make cheese sauce for steak
Steak and Blue Cheese Sauce
Steak and blue cheese sauce is an absolute marriage made in heaven, and we're here today to celebrate that marriage in all its glory. We'll get into the sauce itself in a sec, but first we'll just quickly discuss the steak. Because after all, what's a delicious steak sauce if it's doused over a bland rubbery steak?
Tips for the perfect steak
Pat Dry – I know it sounds a bit extra, but patting the steaks dry with a paper towel will help take away any unnecessary moisture. This in turn helps create that gorgeous caramelized crust you're looking for, without the risk of excess moisture causing it to steam.
Room Temp – Taking your steak out the fridge 30mins before needed is absolutely crucial. Frying steak straight from the fridge will cause it to seize up and go chewy.
Seasoning – Salt and pepper is all you need, just make sure you don't hold back.
Hot hot hot! – Make sure your pan is absolutely smoking hot (literally). This will ensure you get a gorgeous crust on the steak without the inside overcooking.
Baste – Basting the steaks in butter ensures they stay nice and juicy. It also adds a rich flavour.
Rest – Important to rest the steak after its fried so it can retain its moisture. Don't slice into it straight away or all the juices will poor out.
And these tips are for all cuts and sizes of steak! Here I go for a Sirloin, but you can use any cut you like!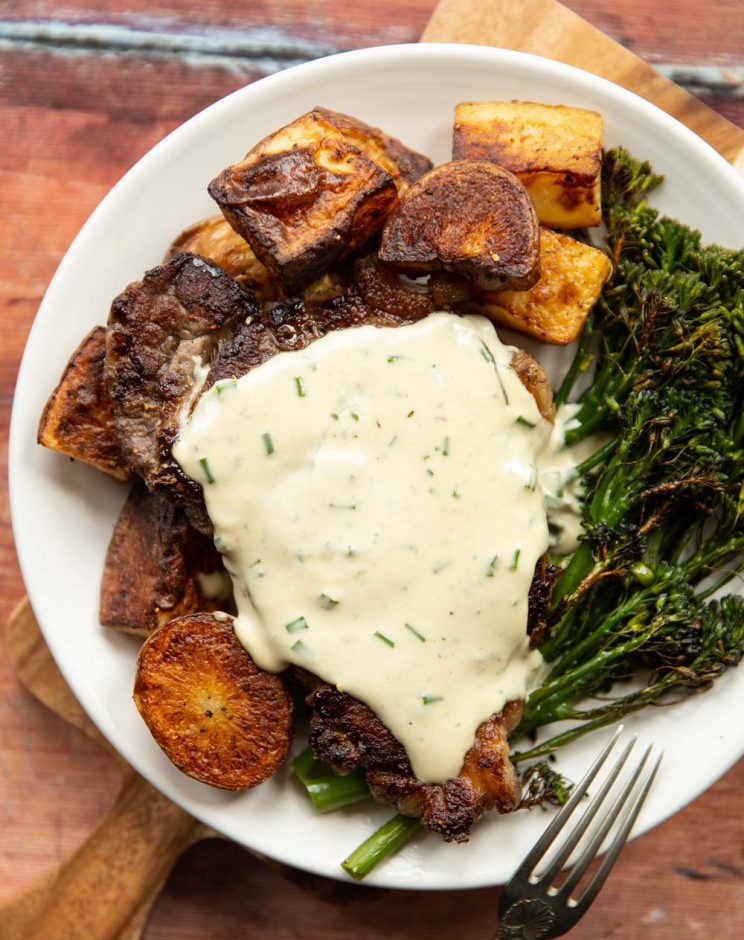 Blue Cheese Sauce for Steak
As you baste the sauce you'll want to plonk in some rosemary, thyme and garlic to infuse the butter. Once you remove the steaks, leave the steak juices and infused butter in the pan. This will create the flavour base for your sauce.
Blue Cheese Sauce Ingredients
Read more: Schezwan sauce | Family Cuisine
For the sauce, alongside the pan juices, you only need 4 ingredients:
Beef Stock – Enhances the beefy flavours from the steak. This is also great to scrape off any flavour stuck to the pan after you've fried the steaks.
Cream – The bulk of the sauce. Ensure it's double/heavy cream and make sure it's at room temp (or you run the risk of it curdling).
Blue Cheese – I like using St.Agur, but you can use any variety you like.
Chives – Chives and blue cheese go together beautifully. They also add a nice fresh burst of flavour!
I usually keep the herbs and garlic in right up until adding in the cheese and chives, just so they infuse the sauce as much as possible.
Process shots: season and oil steaks (photo 1), add to smoking hot pan (photo 2), flip and add herbs, garlic and butter (photo 3), remove steak (photo 4), pour in stock and cream (photo 5), stir in blue cheese and chives (photo 6).
Can I make this sauce without the steak?
The steak juices do add a huge amount of flavour to this sauce, so I highly recommend making it with the steak. Failing that you can really use the leftovers from most things you've just fried. Burgers, mushrooms, chicken etc all leave great flavour in the pan that can be used. If you're going completely from scratch just start from melting the butter.
Can I make this ahead of time?
You can make the sauce, allow it to cool and tightly store in the fridge. I recommend reheating on the stove over a low heat, stirring as you go to ensure it doesn't split. Add a splash of milk or stock to loosen up the sauce if needed.
What to serve with this?
Potato – Roasted Baby Potatoes, Crispy Smashed Potatoes, Mini Hasselback Potatoes and Potato Dauphinoise all work great!
Veg – Broccoli Tenderstem, Garlic Green Beans and Parmesan Roasted Cauliflower are my go-tos.
Read more: how to make sticky toffee sauce | Family Cuisine
And there we have it! All my top tips for the best blue cheese sauce and the perfect steak to go alongside.
If you're after more sauce to make with steak check out my Creamy Peppercorn Sauce and Creamy Mushroom Sauce!
For more blue cheese recipes check out my Homemade Blue Cheese Dip and Buffalo Chicken Meatballs Stuffed with Blue Cheese!
Alrighty, let's tuck into the full recipe for this steak blue cheese sauce shall we?!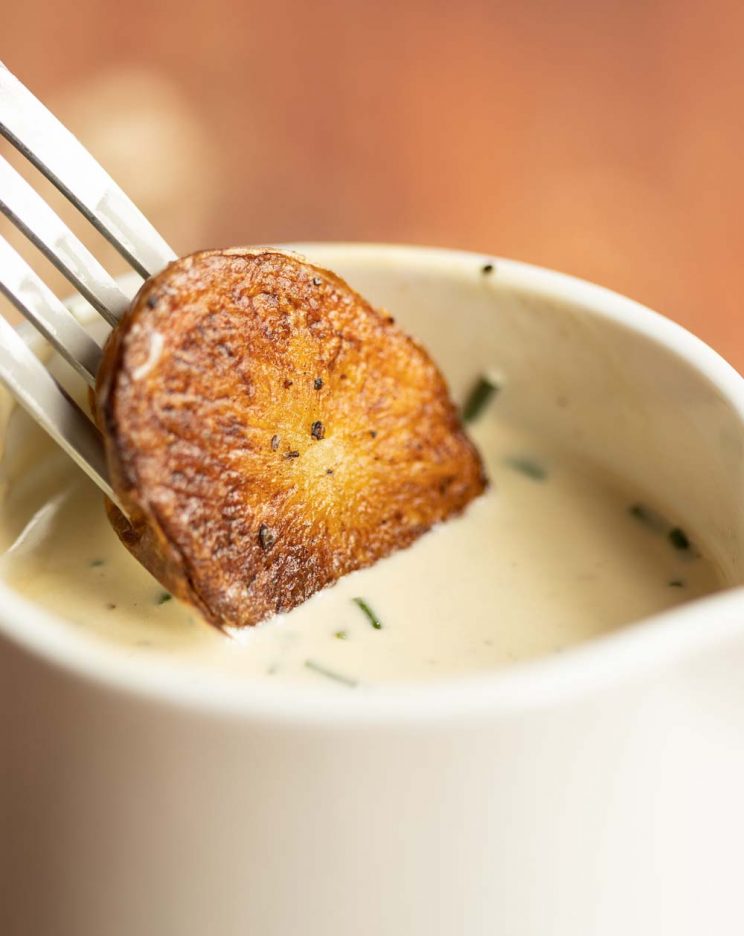 How to make Blue Cheese Sauce for Steak (Full Recipe & Video)
If you loved this Blue Cheese Sauce Recipe then be sure to Pin it for later! Already made it or got a question? Give me a shout in the comments and pick up your free ecookbook along the way!
Read more: how to make honey garlic sauce without soy sauce | Family Cuisine