It's time to take a trip up to the Northeast with this Authentic Philly cheesesteak smothered in caramelized onions and served up in a toasted bun and topped off with a delicious homemade cheese sauce. This seriously may be the best sandwich of all time.
The cheesesteak is a super classic American dish that originated in Philadelphia, Pennsylvania in the 1930s by a man named Pat Olivieri. The creator was originally a hot dog vendor and decided to throw some meat on the grill one day and add it to a bun.
This sandwich attracted all sorts of customers, including cab drivers, and the word spread fast about this tasty steak sandwich. Pat's is now one of the original and most famous cheesesteak restaurants in Philly.
It's super simple to make consisting of only sliced ribeye that's cooked with caramelized onions and served up on a bun with cheese. Right along with my Roast Beef Sandwich and Jibarito sandwich, this ones' at the top of my favorites list.
Also read: how to make pasta with readymade pasta sauce | Family Cuisine
It's an awesome sandwich to serve to a crowd during a sporting event or it's amazing when just eating it for lunch. You pick.
Philly Cheesesteak Cheese
Shredded Cheddar – Buy a ½ pound block of extra sharp cheddar from the cheese department and grate it up.
Shredded American Cheese – You can ask for a chunk from the deli department it grates perfectly. American cheese has sodium citrate in it which will help keep the sauce smooth.
Cornstarch – I use this to ensure my sauce is thick for spreading.
Garlic Powder – I like to use the coarser ground garlic granules.
Dry Ground Mustard – This is going to add some great flavor to the sauce.
Sea Salt – You will use less sea salt, plus it's better for you and tastes better.
Evaporated Milk – A canned milk that is more flavorful and will help thicken the sauce.
What Kind of Steak to Use
The most traditional cut of meat to use in a Philly cheesesteak recipe is ribeye. It's a well-marbled cut of beef that, when sliced thin and cooked, chews very easily when eaten. If for some reason you are wanting a leaner cut of beef, then check out these options:
Filet Mignon
Top Sirloin
Strip Sirloin
Flank Steak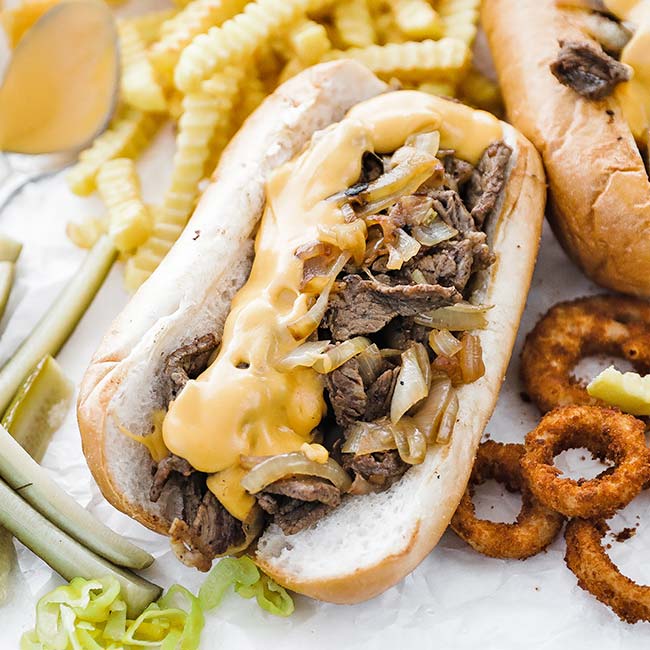 Does It Have to Have Onions
My personal opinion is that some caramelized onions need to be cooked in with the thinly sliced ribeye because it will greatly enhance the flavor of it. Caramelized onions are commonly served as an additional topping to the steak sandwich.
Cheesesteak Topping Options
Also read: how to make caramel sauce for coffee | Family Cuisine
Here are the most common toppings you can add to the top or cook into the sandwich:
Caramelized Onions
Cheese Sauce
Provolone
Pizza Sauce
Mushrooms
Peppers
Recipe Chef Notes + Tips
Make-Ahead: You can caramelize the onions and meat 2-3 hours ahead of serving. Simply keep them warm in a crockpot or in a pan over low heat. The meat is thin enough that it will stay tender.
How to Reheat the Steak: Add the desired amount of steak and onions to a small frying pan over low heat and cook until hot. You can also heat in a microwave-safe bowl until hot.
How to Reheat the Sauce: Add the desired amount to a small saucepan and heat over low heat while occasionally stirring until hot.
Also read: how to make cajun tartar sauce | Family Cuisine
How to Store: Keep the cooked meat and onions separate from the buns and sauce and cover in the refrigerator for up to 4 days. The sauce will keep for up to 5 days covered in the fridge.
How to Freeze: Keep the cooked meat and onions separate from the buns and sauce and cover in the freezer for up to 2 months. Thaw for 1 day in the refrigerator before reheating.
Tools Needed: You can use a flat top pan or a regular large frying pan. You will also need a metal spatula.
More Amazing Sandwich Recipes
Buffalo Chicken Meatball Sandwich
Smoked Salmon Tea Sandwich
Ribeye Steak Sandwich
Grilled Cheese
Chicken Club
Be sure to follow me on Facebook, Youtube, Instagram, and Pinterest and if you've had a chance to make this then definitely drop me a comment and a rating below!