Crispy buffalo chicken hot wings are easy to make at home. With our method, you can skip the oil and fryer and make amazing baked chicken wings that rival your favorite restaurants. Jump to the Crispy Baked Chicken Hot Wings Recipe or watch our quick, straight-forward video showing you how we make them.
Watch Us Make the Recipe
Making the Best Homemade Buffalo Chicken Wings
We love hot wings, but the last thing we want to do at home is to get out a deep fryer. That's why we're such big fans of this easy baked chicken wings recipe.
Our chicken wings recipe guarantees crispy and delicious wings. They are also perfect for serving a crowd. This simple recipe lets you make big batches of wings with little work from you.
Also read: how to make jerk seasoning sauce | Family Cuisine
Making chicken wings at home is so easy. Below we share how we make them, how long to bake wings so that they are crispy, as well as a simple restaurant-style buffalo sauce to coat them in. There's also a quick recipe for our favorite blue cheese dipping sauce.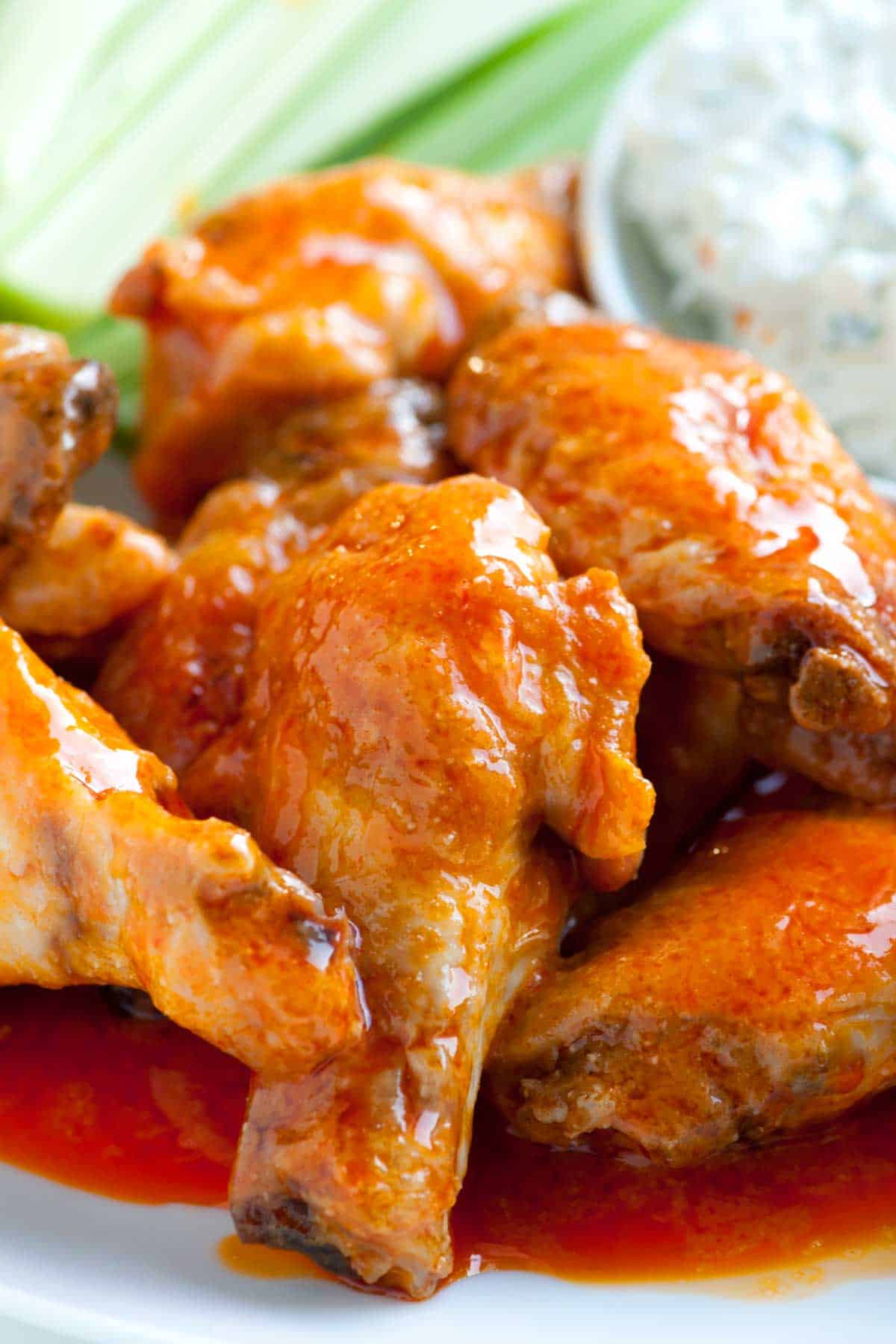 There are three things to keep in mind for making the best buffalo chicken wings:
It's up to you whether you separate the chicken wings. Some grocery stores sell them already separated into the drumstick and wingette. If the wings you buy are not, you can do it yourself. Or, leave them unseparated. The recipe will work both ways. Here's our tutorial for how to cut a chicken wing, if you want to see how to do it.
Instead of frying them, bake the chicken wings on a wire rack set inside a rimmed baking sheet. By cooking the chicken wings on a wire rack, fat drips away from the chicken wings while they bake and helps to make them extra crispy.
Bake the chicken wings at a high oven temperature — we choose 400º F. The wings bake for 35 to 45 minutes. (You can bake wings at an even higher temperature, but depending on your oven, you might find the oven smokes a little).
How to Make Restaurant-Style Buffalo Wing Sauce
While the wings bake, you can make the buffalo wing sauce. It's easy. Melt some butter in a saucepan and then stir in hot pepper sauce (we love Frank's hot sauce). When it's combined, season the sauce with garlic powder and salt.
Coat the crispy baked wings in the sauce and serve with celery as well as your favorite dipping sauce. We love dipping wings into a blue cheese dressing. You can see how we make it from scratch below!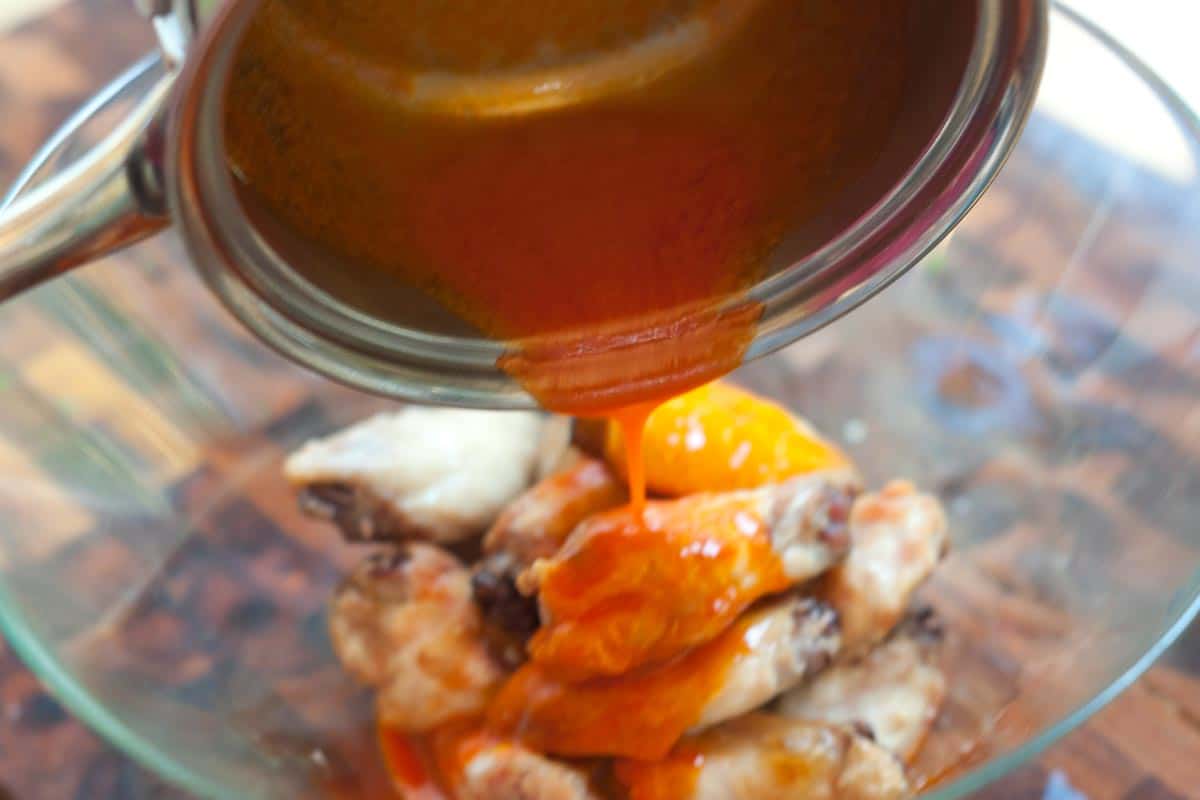 Five Minute Blue Cheese Dipping Sauce
Also read: how to thin a sauce that is too thick | Family Cuisine
When serving chicken wings, we love having a cool creamy sauce on the side. Blue cheese and Ranch are both popular, but we always go for blue cheese. Bonus, it's easy to make yourself.
To do it, add equal parts mayonnaise, and sour cream to a bowl then stir in lots of blue cheese, fresh parsley, and salt. The dressing is thick, creamy, and perfect with spicy buffalo chicken wings.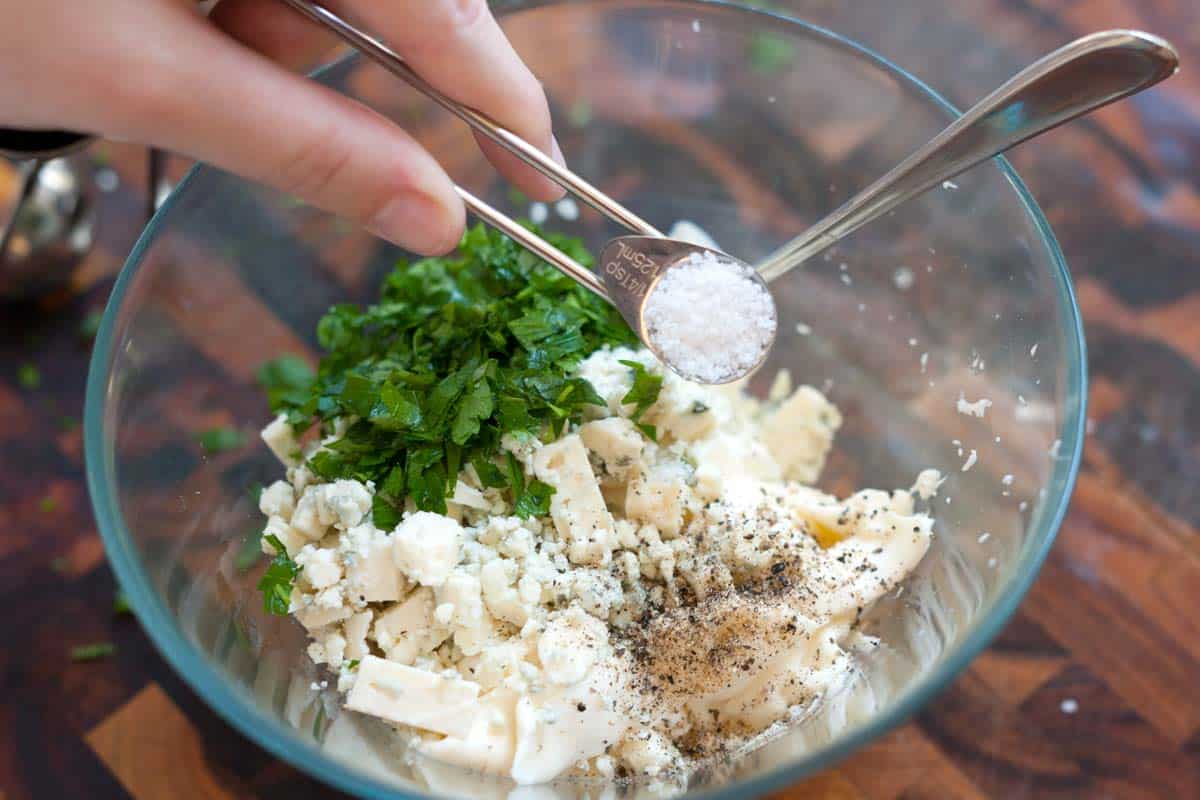 This makes a delicious salad dressing, too. Thin out the dip with a splash of milk or buttermilk, and then use over salad greens — here's our blue cheese salad dressing recipe, it's delicious!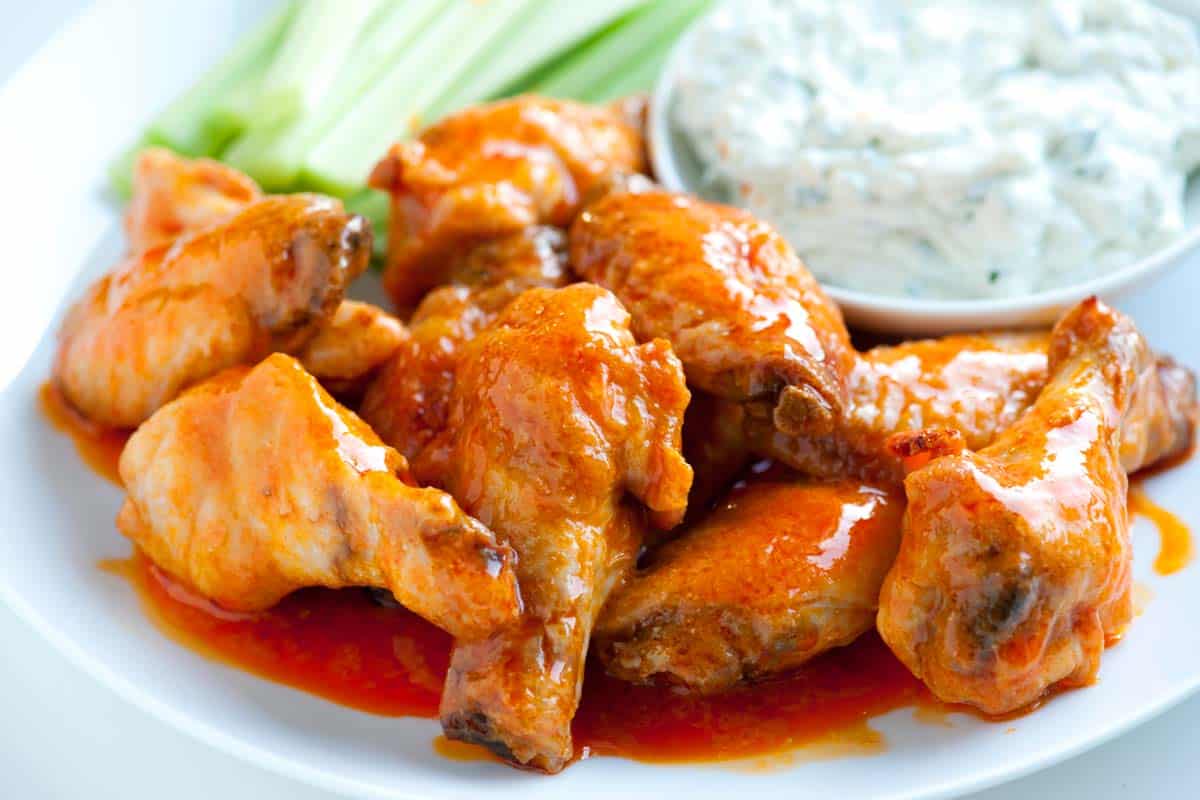 Also read: how to make garlic butter sauce for salmon | Family Cuisine
We love chicken wings around here, if you are the same, we highly recommend taking a look at these chicken wing recipes — they both use the same method for baking the wings. Instead of buffalo sauce, we toss these baked chicken wings with a sweet chili sauce. If you don't like wings to be spicy, try our homemade barbecue baked chicken wings. The sauce is made from scratch and so simple!
For another spin on chicken wings, try grilled wings! We have two versions on Inspired Taste: Our pho-inspired grilled chicken wings are packed with flavor thanks to ginger, garlic, and lime. We also love these lemon garlic grilled chicken wings served with parmesan cheese on top.
Here are more buffalo chicken inspired dishes:
Baked Buffalo Cauliflower Wings
Easy Buffalo Chicken Dip
Cheesy Buffalo Chicken Pizza Sticks
Buffalo Chicken Stuffed Shells
Recipe updated, originally posted December 2011. Since posting this in 2011, we have tweaked the recipe to be more clear and added a quick recipe video. – Adam and Joanne