Don't buy sweet and sour sauce in the jar, make your own! This Chinese red dipping sauce is great for wonton strips and egg rolls. You can also use it to make sweet and sour chicken, pork, and shrimp.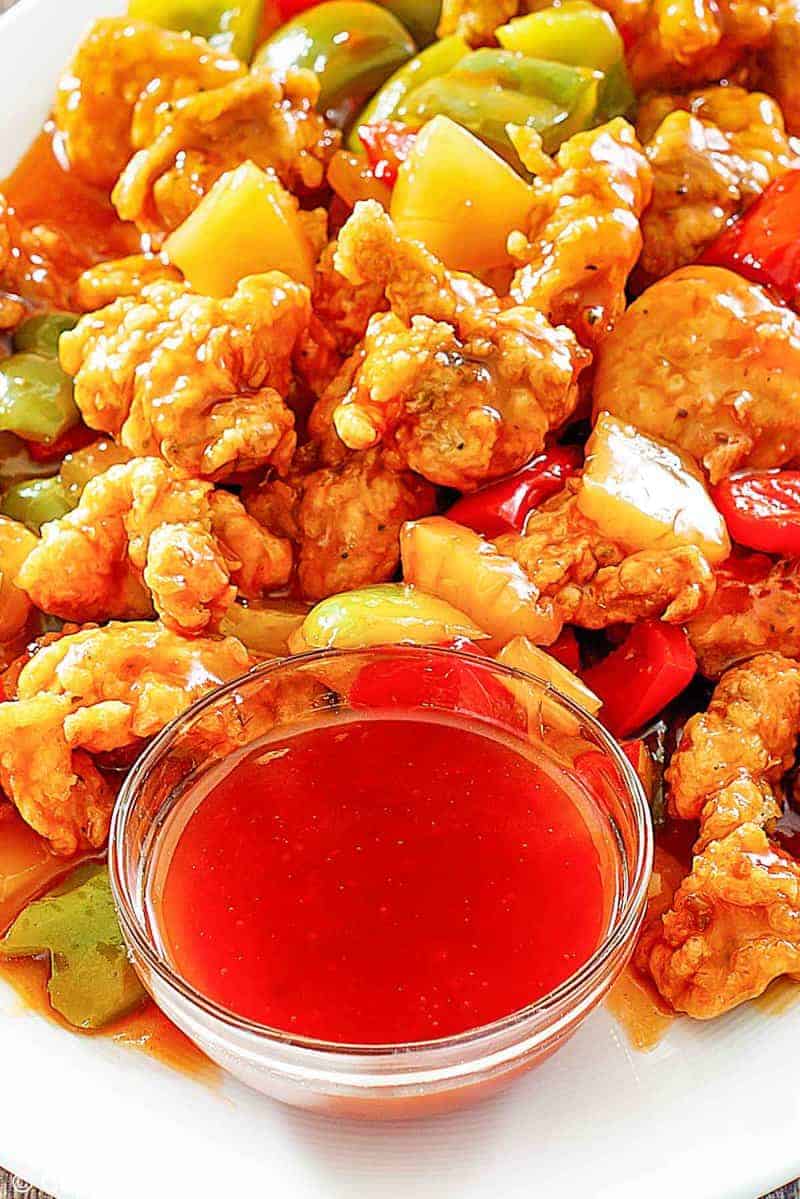 This post contains affiliate links. As an Amazon Associate, I earn from qualifying purchases.
Don't you hate it when you take out Chinese food, and they don't give you enough sweet and sour sauce? Well, now you can make your own and you will never have to run out.
Also read: how to make soy free soy sauce | Family Cuisine
Who doesn't love sweet and sour chicken or shrimp? These staple dishes show up on just about every Chinese restaurant in the US, but don't ask for them in China because you won't find them there. Believe it or not, Chinese sweet and sour sauce is as American as NYC-style pizza. While many authentic Chinese dishes have sweet and sour components, the bright red Chinese sauce we all know and love isn't in those recipes. But that doesn't mean it isn't tasty!
Many Chinese sweet and sour sauce recipes are floating around the internet, but the one below does a pretty great job at recreating the taste of the kind that comes in those little plastic packets. If you want to try your hand at cooking Chinese-American classic takeout dishes at home, skip the bottle of sweet and sour sauces packed with red dye and high fructose corn syrup, and whip up a batch on your own.
A Quick Look at the Ingredients for Sweet and Sour Sauce Recipe
Luckily, you probably already have most of the ingredients in this recipe in your pantry at home. The one exception may be MSG.
MSG or Monosodium Glutamate has gotten a pretty bad reputation, and lots of people get nervous using it for cooking. You shouldn't be. While some people can have adverse reactions after eating food with MSG, it is not as common as you may think. Of course, one of the benefits of making your own sauce is controlling the ingredients. So, don't skip trying this recipe if you are not into the whole MSG thing; leave it out. Add a couple of extra drops of Worcestershire sauce, and you may not even notice.
Also read: how to make homemade pasta sauce from canned tomatoes | Family Cuisine
Worcestershire sauce may be tough to say, but it is a powerhouse when it comes to umami. Umami is often considered the fifth category of taste, along with sweet, sour, salt, and bitter. That bottle of Worcestershire sauce on your shelf has everything from cured anchovies to fermented veggies inside, and it brings a lot of savory goodness to any recipe. Just be sure to measure it out carefully.
Ketchup isn't very Chinese (at least the tomato-based version), true, but remember that this style of sweet and sour sauce was born in the US, where ketchup is the third best selling condiment (after mayonnaise and salsa). To get the most flavor from this recipe, look for a ketchup that is not overly sweet. Remember, you will be adding plenty of sugar.
Tips for Making and Using Chinese Sweet and Sour Sauce
Don't expect your sauce to turn out bright red. The source of the color of the Chinese red sauce is a dye. There is just no getting around that fact. Sure, you can use more natural dyes such as grenadine, but a less vibrant color will not affect the taste.
Be careful while cooking. Keep control of the temperature of the sauce as it simmers. Not only can sugar burn easily, but it can give you a nasty burn if it gets on your skin. Also, avoid smelling the vinegar fumes, which can cause coughing fits.
Store covered in the fridge. The sweet and sour sauce will stay fresh for around a week in the fridge. Give it a good stir to combine before using.
Be the first to know what we are up to by friending us on Facebook!
.
What is sweet and sour sauce made of?
Also read: how to make chicken dipping sauce | Family Cuisine
Sweet and sour sauce is made with simple ingredients you may already have in your pantry. Here's a list of what you need:
White vinegar
Water
Sugar
Salt
MSG
Tabasco
Cornstarch
Worcestershire sauce
White Pepper
Ketchup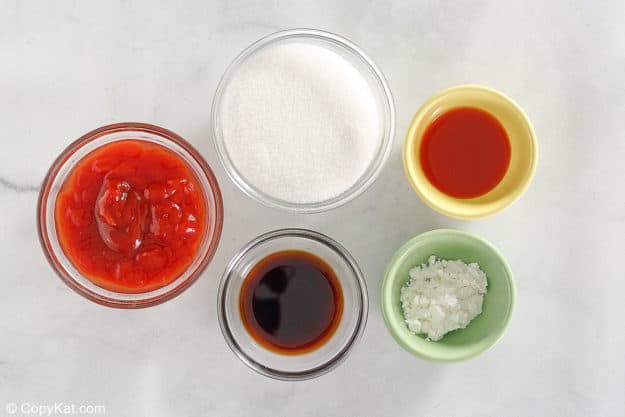 How do you make sweet and sour sauce from scratch?
It's easy to make sweet and sour sauce. Here are recipe steps:
In a medium saucepan, add white vinegar, water, sugar, salt, MSG, and Tabasco.
Cook over medium heat until heated through.
Mix cornstarch with water and add the mixture to the saucepan while stirring constantly.
Add Worcestershire sauce and a dash of white pepper. Stir to combine.
Cook until it is bubbly and thick.
Remove the pan from the stove and stir in the ketchup.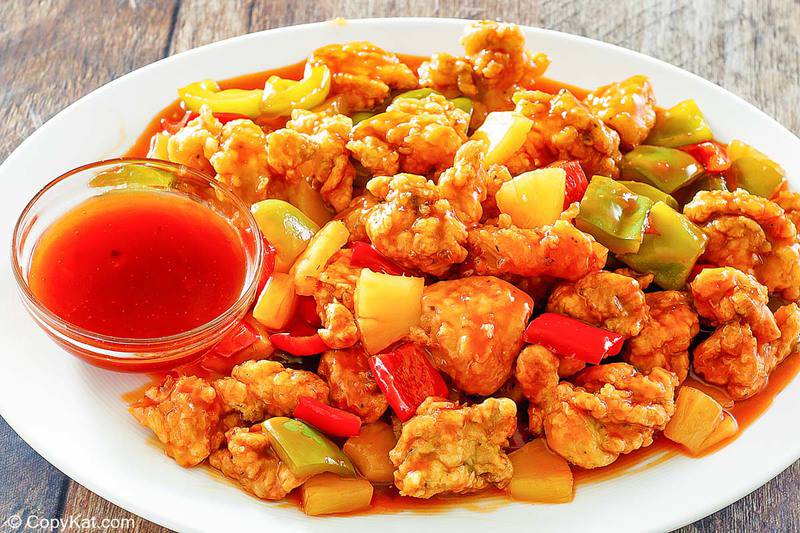 Love Chinese food? Try these easy recipes!
Chinese Hot Mustard
Chinese Spare Ribs
Chinese Sugar Donuts
Crabmeat Casserole
Egg Foo Young
Fried Wonton Strips
Honey Walnut Shrimp
Hunan Chicken
PF Chang's Lettuce Wraps Recipe
Sweet and Sour Chicken
For more great Chinese restaurant recipes check out The Thousand Recipe Chinese Cookbook by Gloria Bley Miller.
Popular Japanese Recipes
Hibachi Steak Recipe
Katsu Sauce Recipe
Terry Ho's Yum Yum Sauce
Be sure to check out more easy Chinese food recipes and the best restaurant copycat recipes here on CopyKat!