The Ultimate Guide to Making Spicy Chipotle Sauce
Introduction
Looking to add a burst of flavor to your dishes? This easy-to-make chipotle sauce recipe is here to change the game. With its creamy texture and robust chipotle flavor, this sauce is a game-changer. Whether as a dip for burritos, chips, or fries, or as a drizzle over nachos or salads, this versatile sauce is guaranteed to elevate your meals.
Why I Absolutely Love This Chipotle Sauce Recipe
Taste & Texture:
Experience the perfect balance of creaminess and spiciness, enhanced by the delightful smoky flavor that makes this sauce truly exceptional. Unlike other chipotle sauce recipes that prioritize creaminess over bold flavor, this recipe ensures you get the full, authentic chipotle experience.
Quick & Easy:
With just five minutes and a trusty blender, you'll have your chipotle sauce ready to go. Simply blend the ingredients until smooth, and voila!
Customizable:
Tailor the sauce to your preferences by adjusting the number of chipotle peppers, mayo, and sour cream. Whether you prefer it creamier or less spicy, you have full control.
Versatile and Exciting:
This sauce isn't just a condiment; it has the power to transform any ordinary meal into a culinary delight. Allow its bold flavors to jazz up your boring dishes and make them absolutely mouthwatering.
Ingredient Notes
Chipotle Peppers in Adobo Sauce: The star ingredient that's responsible for the sauce's smoky and spicy taste. Available in the international or Latin aisles of most American grocery stores.

Sour Cream: Mexican crema can be used as an alternative, but here we use sour cream. Greek yogurt also works well.

Mayonnaise: For a vegetarian option, go for vegan mayo.

Chili Powder: Note that this is not the Indian red chili powder. It is an American blend of various chilies and seasonings.
Adjusting the Spice Level
By varying the number of chipotle peppers in the sauce, you can adjust its spiciness to your preference:
Extremely Spicy: Follow the recipe as-is, using around 6-8 chipotle peppers in adobo sauce.

Spicy: Use 4-5 chipotle peppers.

Medium Spicy: Opt for 2-3 chipotle peppers.

Mild: A single chipotle pepper will provide a hint of spiciness and smoky flavor.
As the spice level decreases, the sauce turns lighter in color and becomes creamier.
How to Make Chipotle Sauce? (Step-by-Step Guide)
Gather all the ingredients and place them in a blender or food processor.

Blend until the mixture reaches a smooth consistency. It couldn't be simpler!

Adjust the consistency to your liking. If you prefer a drizzle-like dressing, add a little water. Be mindful not to dilute the flavors too much.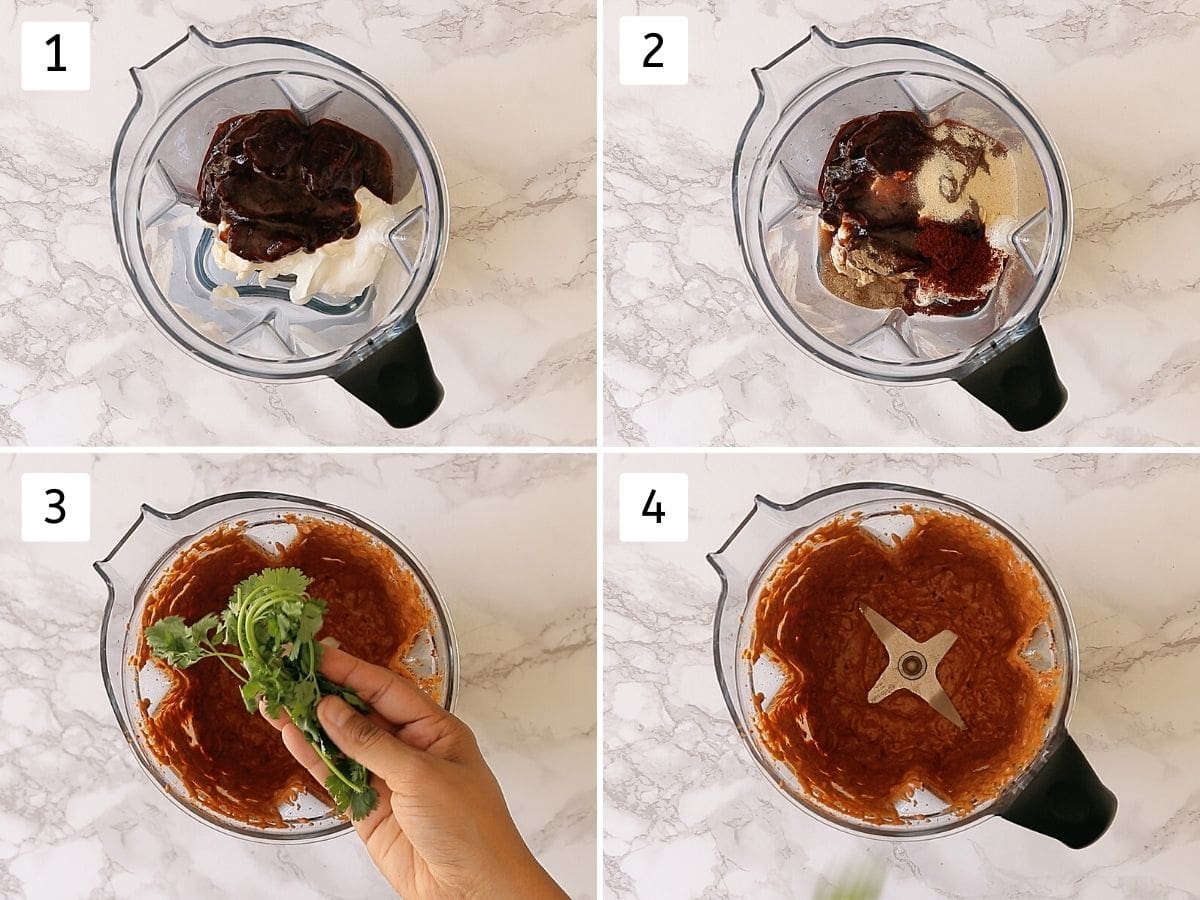 Storage
The sauce can be stored in an airtight container in the refrigerator for up to one week.

As the sauce sits, it may thicken. Simply adjust the consistency by adding a tablespoon or more of water.

Note that freezing this sauce is not recommended due to its mayo and sour cream content, which may cause it to curdle upon defrosting.
Serving Ideas
Enjoy this sauce with various tacos, such as potato tacos or paneer tacos, or try it as a dipping sauce for burritos, sweet potato fries, zucchini chips, or tortilla chips.

If you prefer a dressing-like consistency, drizzle it over nachos, burrito bowls, or salads.

For a thicker consistency, spread it on bread or buns to take your burgers and sandwiches to the next level.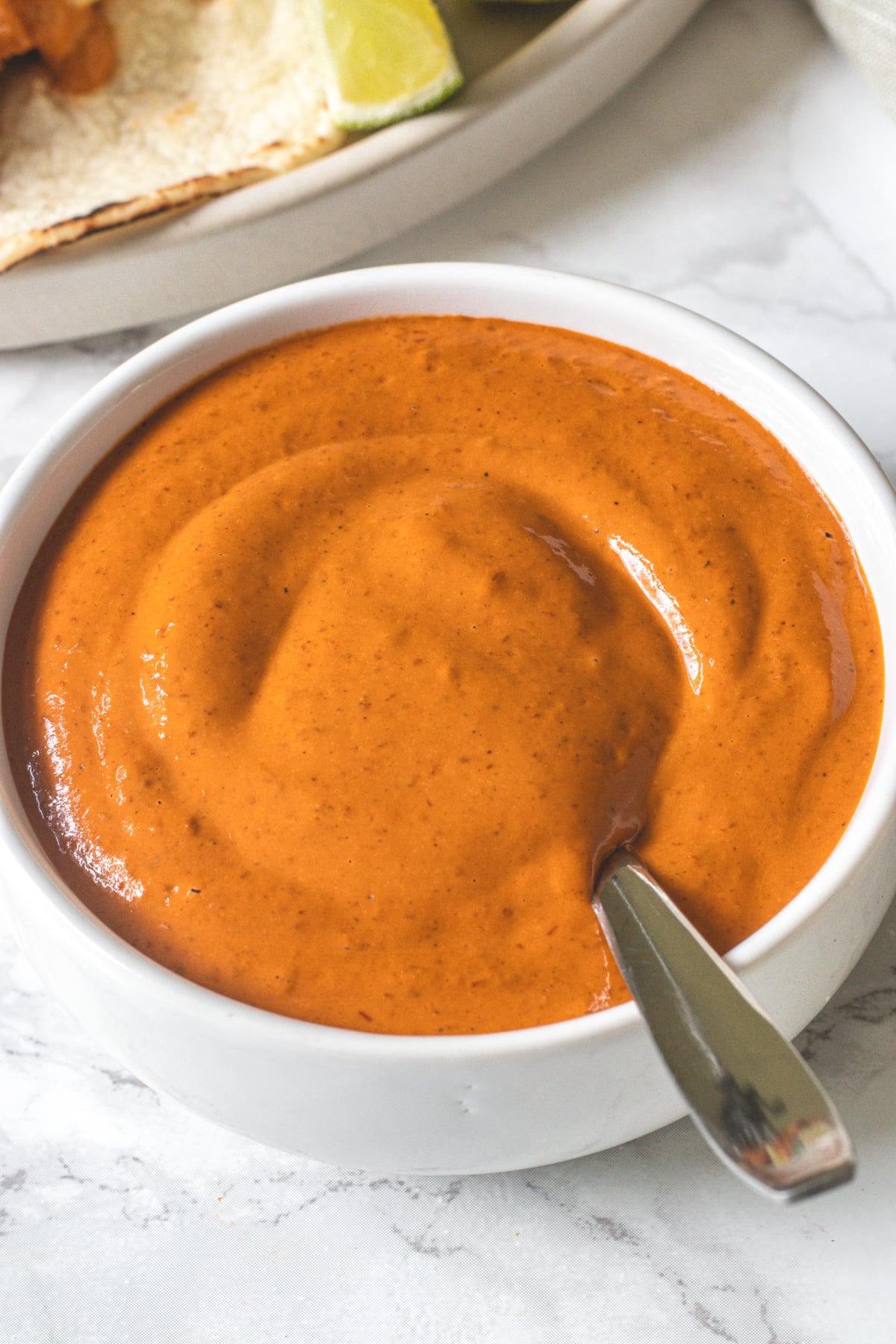 Remember, experimenting with this sauce is part of the fun. Feel free to get creative and discover new ways to incorporate it into your favorite dishes!
PS: Tried this recipe? Please leave a star rating in the recipe card below and/or a review in the comment section. Your feedback is greatly appreciated!
---
Check out Family Cuisine for more delicious recipes and culinary inspiration.