Here are the best how to make cordon bleu sauce topics edited and compiled by Family Cuisine
This chicken dish is everything you want and more: Tender chicken, ham, and swiss cheese rolled and lightly breaded, then baked to crispy perfection and topped with a rich dijon cream sauce! Ready in just 45 minutes!
Loving these easy chicken dinners? I have more you will love! Try my Sheet Pan Chicken, Potatoes and Green Beans, Mango Salsa Chicken, and Lemon Chicken in Dill Cream Sauce.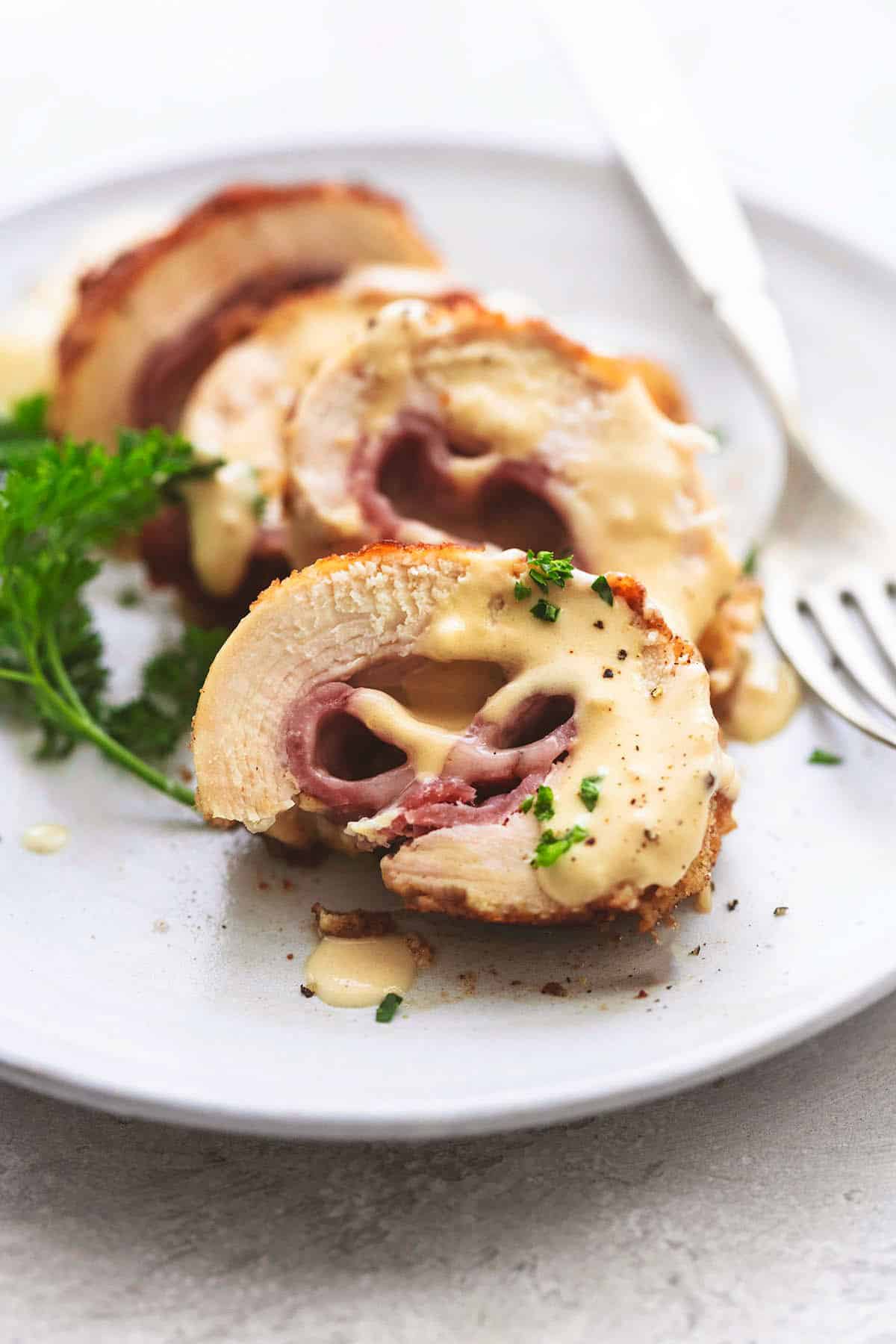 Did your mother make chicken cordon bleu? Mine did, my husband's mother did, and from what I hear so did most of their entire generation. That tried-and-true classic version included a couple of key elements including deep frying and a can of cream of chicken soup mixed with sour cream.
I felt this dish was in need of a revamp. Instead of deep frying, the chicken is baked in two steps for maximum deliciousness. The other thing that is different about this chicken cordon bleu is the sauce. This sauce has no "cream-of-some-soup" or sour cream, and yet it's still really rich and creamy with a hint of tangy dijon mustard. Try it my way, and I'm confident you'll never want to eat chicken cordon bleu the old way again!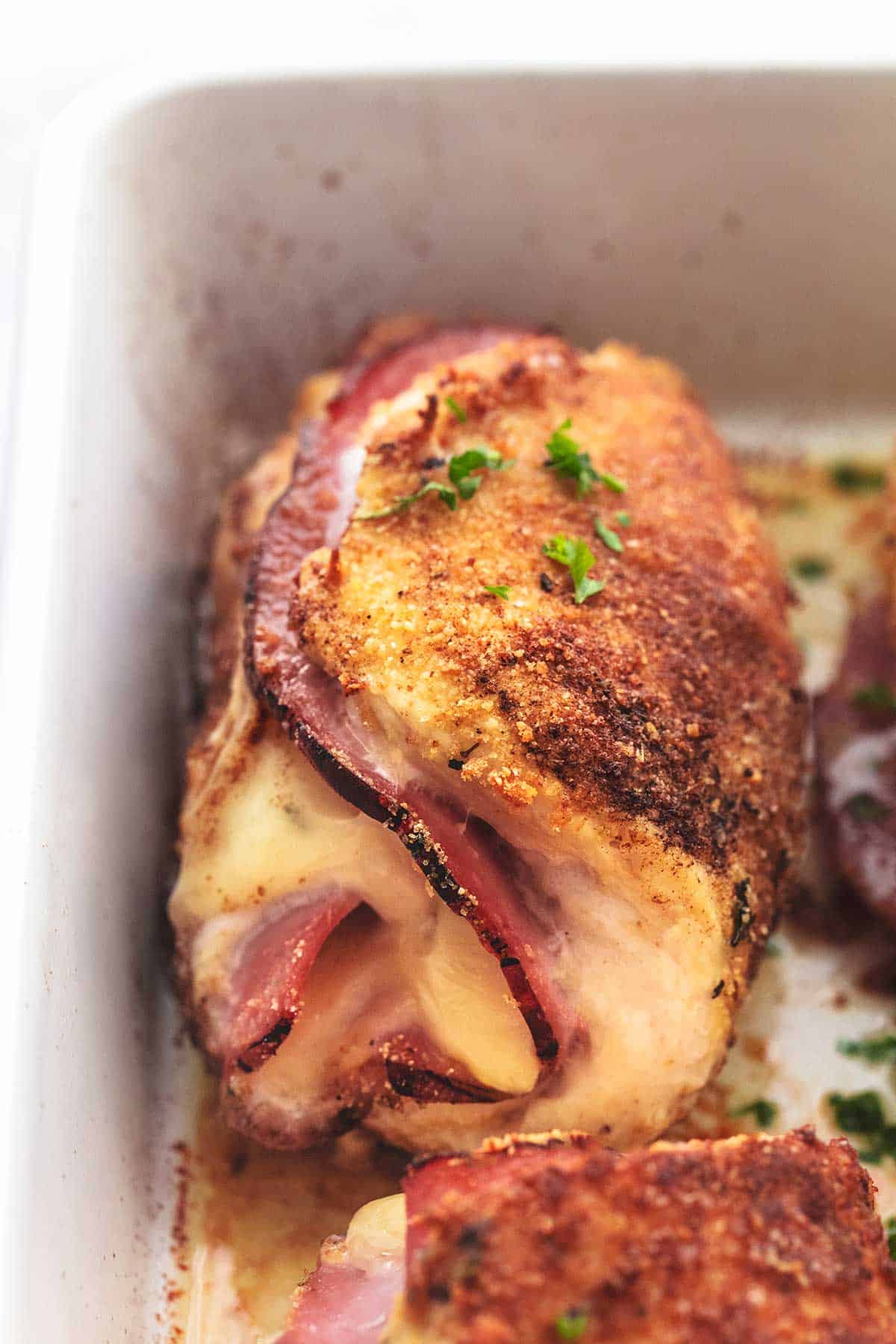 Why This Recipe Works
Chicken cordon bleu sauce — I'm telling you, this sauce is everything. I can't get enough of it and I promise you will feel the same. I use a version of this dijon cream sauce for this chicken and potatoes dish, and these juicy pork chops, and rave reviews are constantly pouring in.
Simple ingredients — Start with some chicken, add a slice of ham, some swiss cheese, and finish with a dip in some egg, seasonings, and some more cheese. It feels fancy but I promise it is so easy.
Browned and baked — First the chicken is browned in a skillet on the stove to give the chicken gorgeous color, deliciously crispy outside, and ensures the chicken doesn't dry out in the oven. Then you'll transfer to the oven to finish baking the rest of the way through.
Thin chicken breasts — I always pound out my chicken to ensure even cooking and also it's much easier to roll up the chicken this way. Having the ham and swiss all rolled up on the inside is key to perfect chicken cordon bleu every time.
Here's How You Make It
Making the chicken
Preheat the oven to 400 degrees and then lightly grease a casserole dish or another oven-safe dish.
Stir together breadcrumbs and parmesan in a wide, shallow bowl.
Whisk the eggs with the water in a second bowl.
Arrange the pounded chicken breasts out on a flat, clean surface. Top each chicken breast with a slice of ham and then a slice of swiss cheese. Roll each piece into a log starting with one of the longer sides and rolling toward the opposite side.
Dip the chicken bundles in the egg mixture, making sure to coat all sides, then carefully roll each bundle in breadcrumbs to coat.
Grease a large skillet (use a tablespoon of butter for a little extra flavor!) and brown the chicken bundles in the pan for 2-3 minutes on each side.
Transfer the skillet to your preheated oven (for oven safe skillet – if you don't have one simply transfer the chicken to a greased casserole dish).
Bake in preheated oven for 20-25 minutes until chicken is cooked through and cheese is melty.
Preparing the Sauce
Now, while the chicken bakes, you can turn your attention toward the sauce. In a medium saucepan, melt the butter over medium heat.
When the butter is melted, stir in the flour until the mixture clumps together, then gradually whisk in the milk, working out the lumps as you stir.
Next, add the dijon mustard, garlic powder, parmesan cheese, and salt and pepper to taste.
Finally, when chicken bundles are fully cooked, cut them into 1-inch sections, drizzle with the sauce, and serve.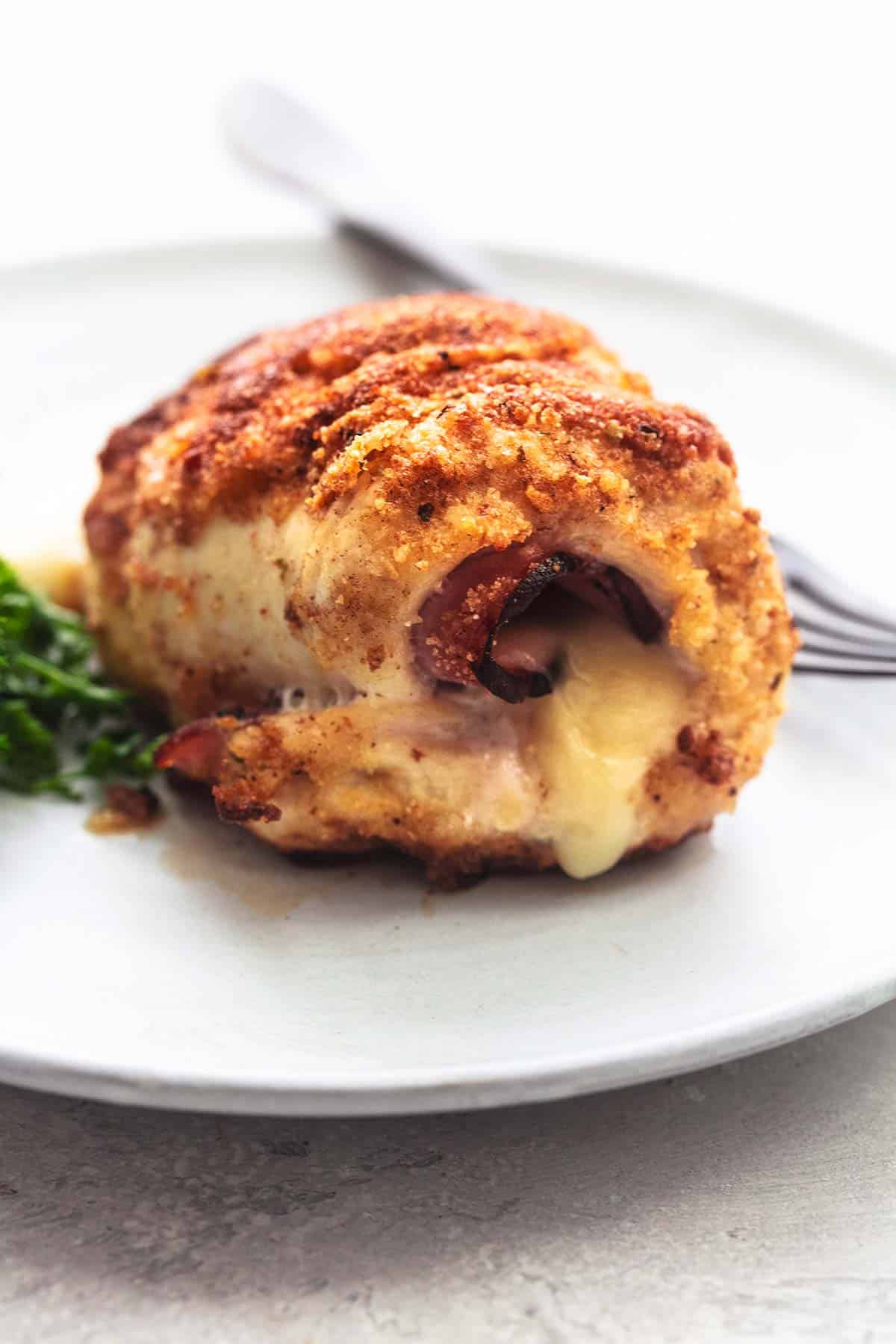 Expert Tips
Don't cut the chicken into sections until it's fully cooked or you run the risk of really drying the chicken out. Trust me, you want them to bake in their bundles first before cutting to allow for maximum juiciness and flavor.
This chicken cordon bleu recipe doesn't need a can of cream of chicken soup or sour cream because you're making your own sauce and trust me, it is way better than anything you can make with a cream of soup can.
If there's any of this chicken left, it will keep in the fridge for up to three days. I recommend reheating in the microwave till just heated through. This dish is best eaten fresh or reheated out of the fridge, but you could make ahead and freeze (minus the outside breading) for up to 3 months.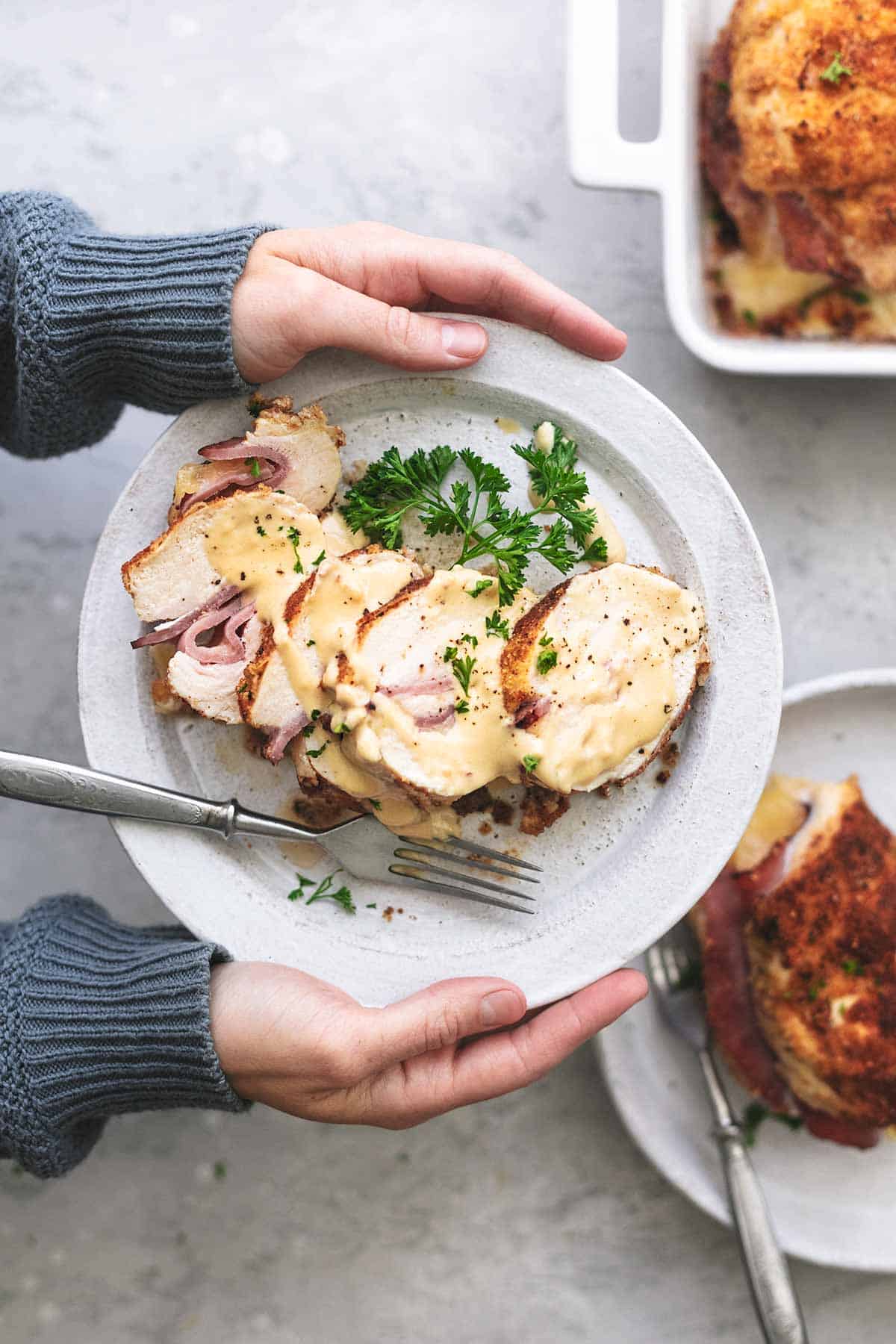 Try These Popular Recipes Next
Chicken and Potatoes with Dijon Cream Sauce
Pork Chops in Dijon Cream Sauce
Baked Garlic Parmesan Potato Wedges
Best Simple Tossed Green Salad
Did you make this Chicken Cordon Bleu with Dijon Cream Sauce recipe? EXCELLENT! Please rate the recipe below!