Creamy, garlicky and so delicious! This white sauce pasta is the ultimate weeknight dinner for the whole family. It's a quick one-pot meal that tastes amazing and is very easy to make. The pasta is soaked in with a homemade creamy white sauce that's infused with herbs and spices.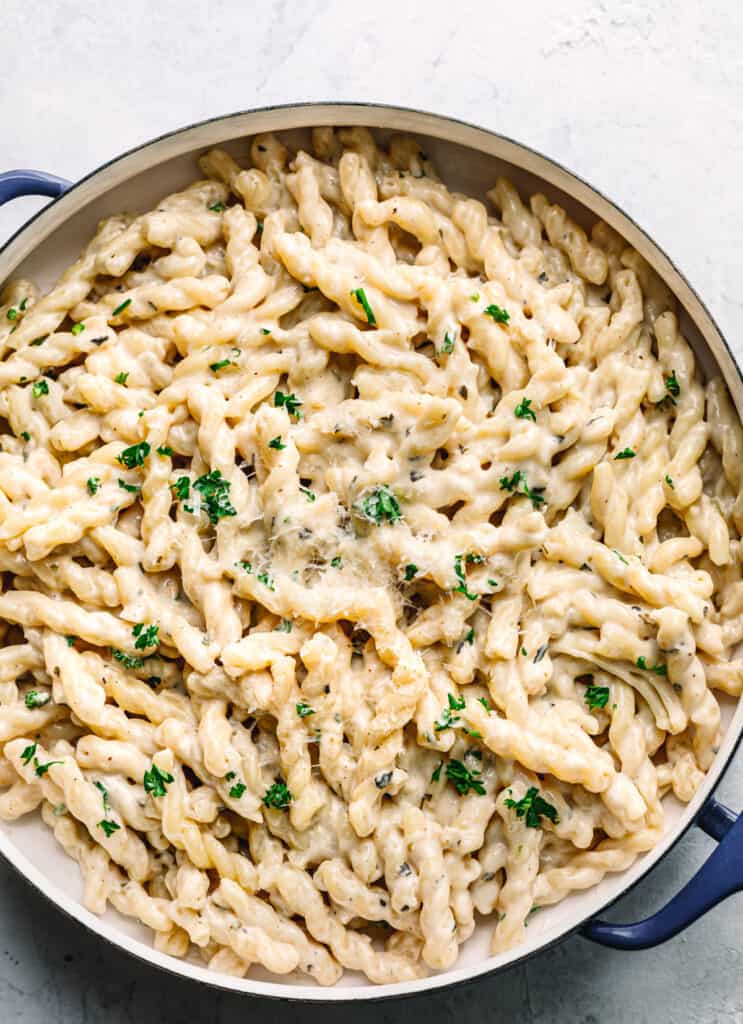 If you are looking for easy pasta recipes for dinner then this recipe is for you. This creamy garlic white sauce pasta is perfect for any occasion. The pasta dish is made from scratch and cooked in one pot.
Reading: how to make creamy white sauce pasta
There is no reason to purchase a jar of store-bought pasta sauce! This homemade white sauce tastes better and is freshly made with a taste that is cheesy, garlicky, and creamy.
Jump to:
White Sauce Pasta Ingredients:
Homemade Creamy Garlic White Sauce for Pasta:
How to Make Creamy Garlic Pasta:
White Sauce Pasta
Read more: how to make chinese broccoli and garlic sauce | Family Cuisine
The pasta has the perfect amount of white cream sauce. It tastes good by itself or with toppings of your choice. For that reason, feel free to add some protein or vegetables to accompany this dish, such as peas, chicken, ham, bacon, sausages, shrimp or other seafood.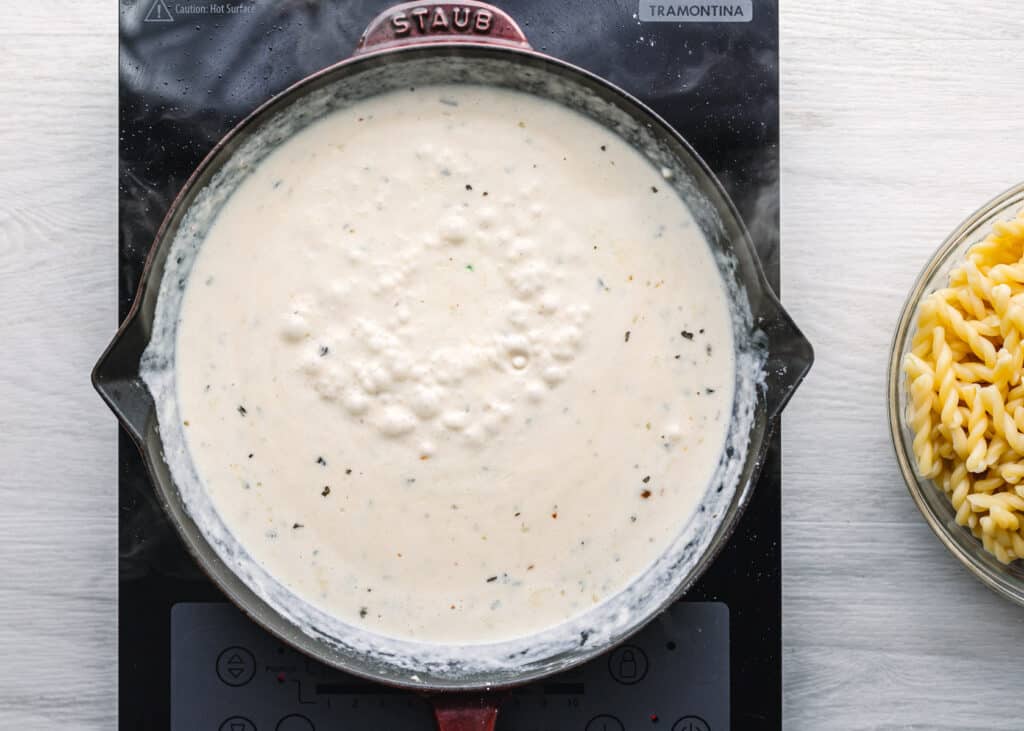 White Sauce Pasta Ingredients:
This quick and easy pasta recipe is made with just a handful of ingredients; pasta, garlic, butter, all-purpose flour, heavy cream, basil, Italian seasoning, nutmeg, salt, and parmesan cheese.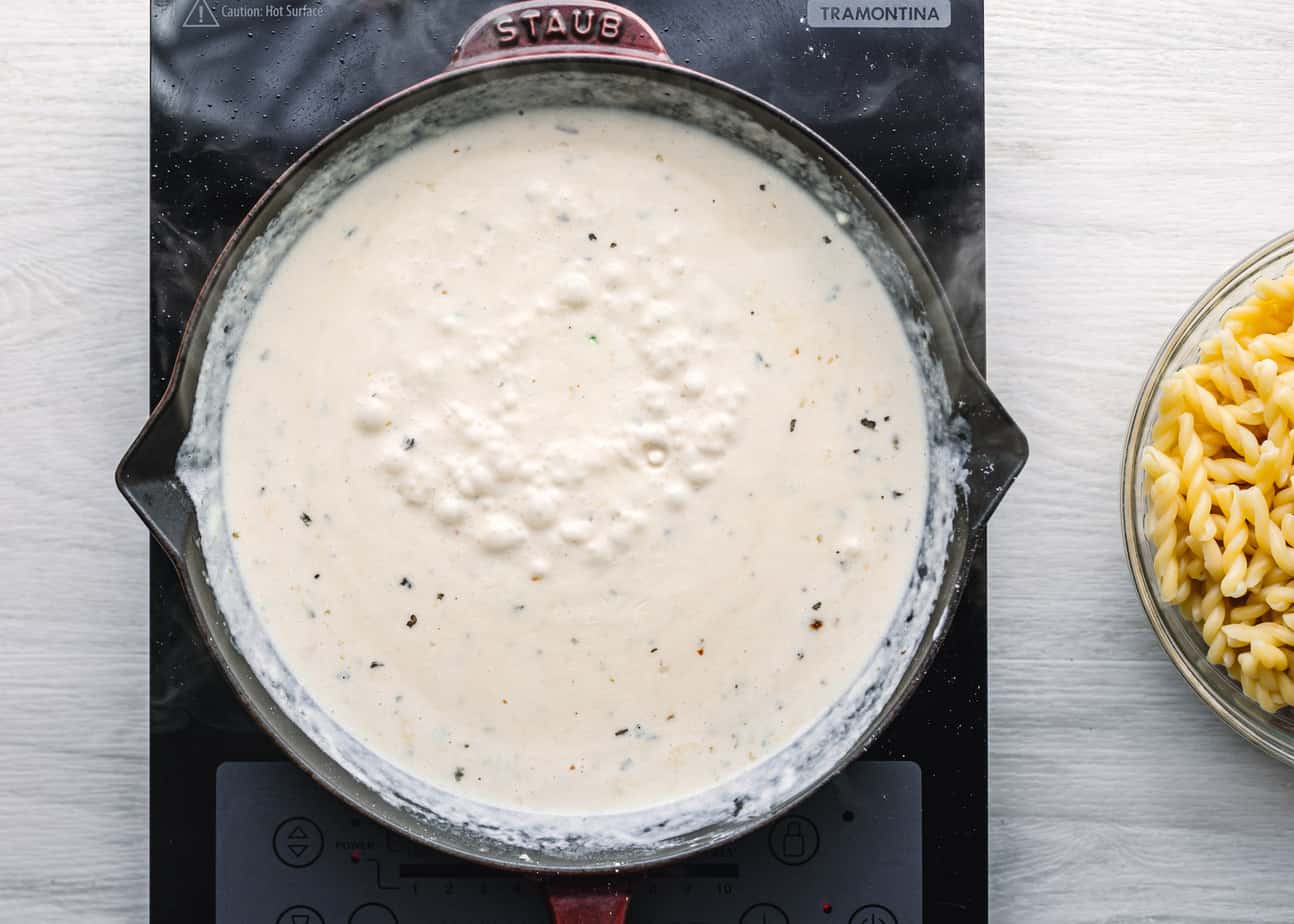 In this recipe, I used spiral pasta, Gemelli as the main ingredient. However, any type of pasta like spaghetti, fettuccine, penne, linguini, rigatoni or farfalle will also work great.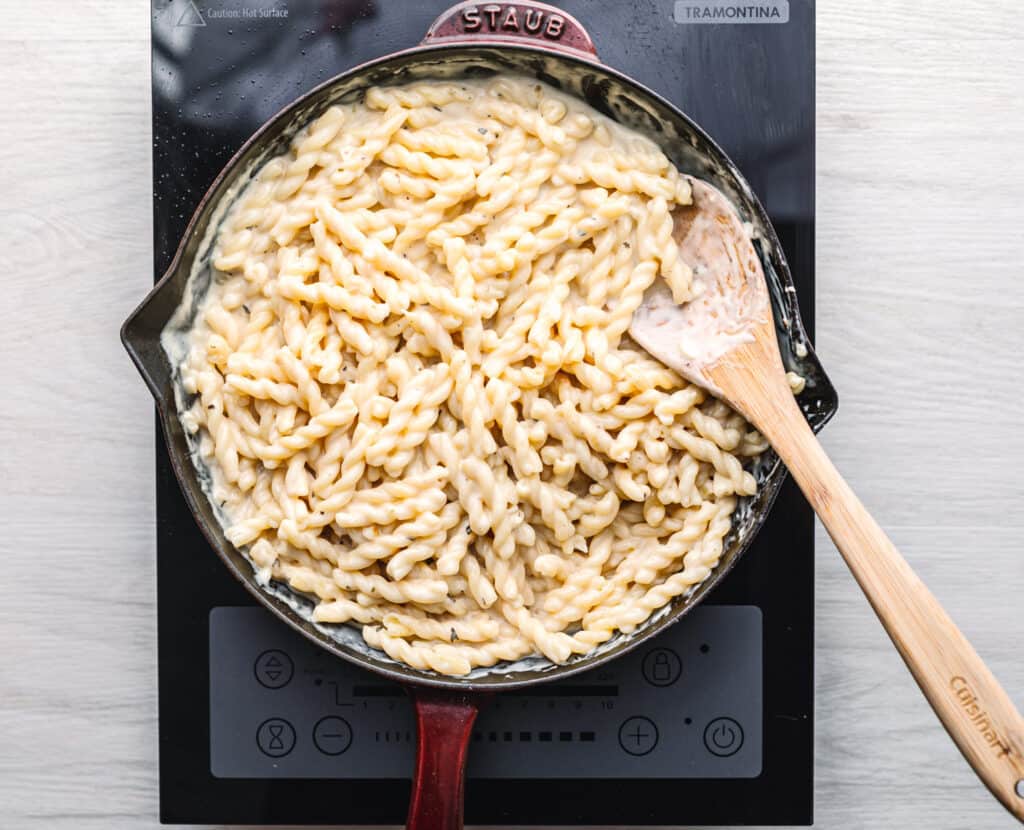 Check Out More Pasta Recipes:
EASY CANNED CLAM PASTA
EASY SQUID PASTA WITH MARINARA SAUCE
CAJUN CHICKEN ALFREDO PASTA
INSTANT POT PENNE PASTA
BRATWURST PASTA RECIPE (IN A BUTTERY BEER SAUCE)
ONE-POT PENNE PASTA
CANNED TUNA PASTA – WITH RECIPE VIDEO 🎥
Homemade Creamy Garlic White Sauce for Pasta:
This creamy garlic sauce is a white sauce variety that is quite similar to Bechamel and Alfredo sauce.
It's a homemade sauce made of butter, flour, chicken broth, heavy cream and seasoned with fresh garlic, dried basil, dried Italian seasoning, a pinch of nutmeg, cayenne pepper and salt. The pasta tastes delicious with or without parmesan cheese.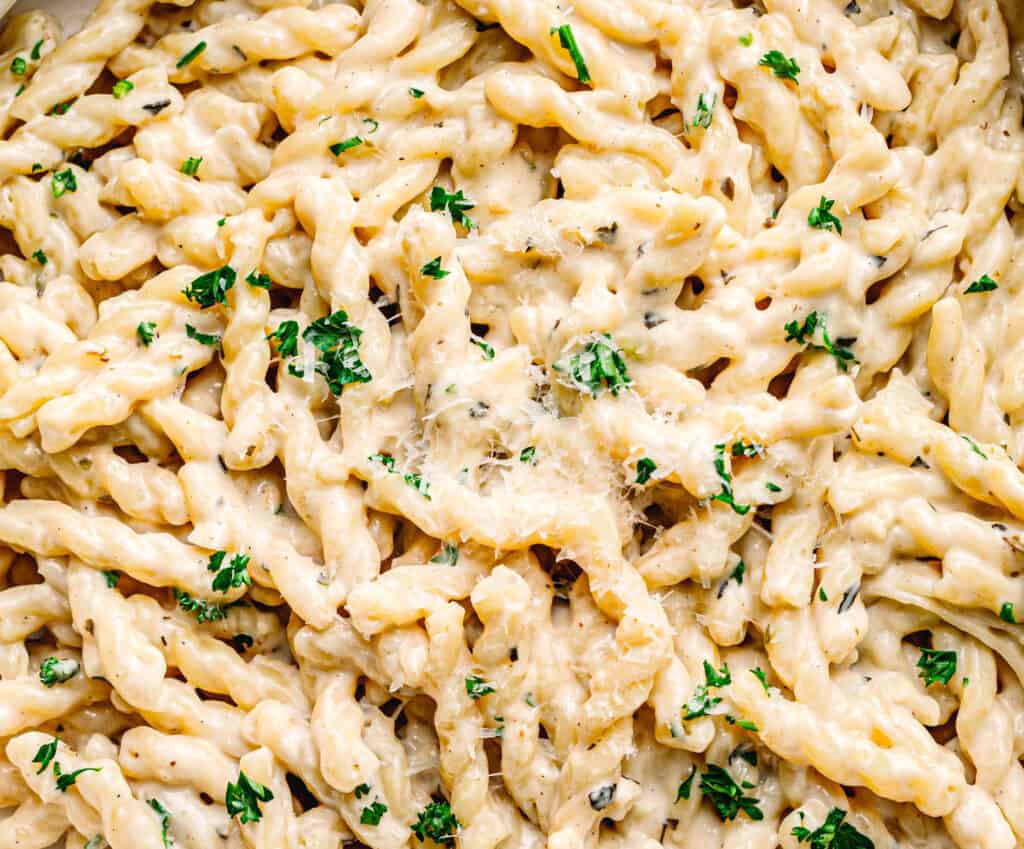 Read more: how to make plum sauce for crispy duck | Family Cuisine
Heavy Cream: You may substitute an equal amount of heavy cream for half-and-half or whole milk with extra butter. Heavy creams contain more fat than half-and-half-creams and also more resistant to curdling, so they are a better choice in soups and sauces.
If you are going to use milk or half n half, be sure to cook over medium-low heat to prevent curdling.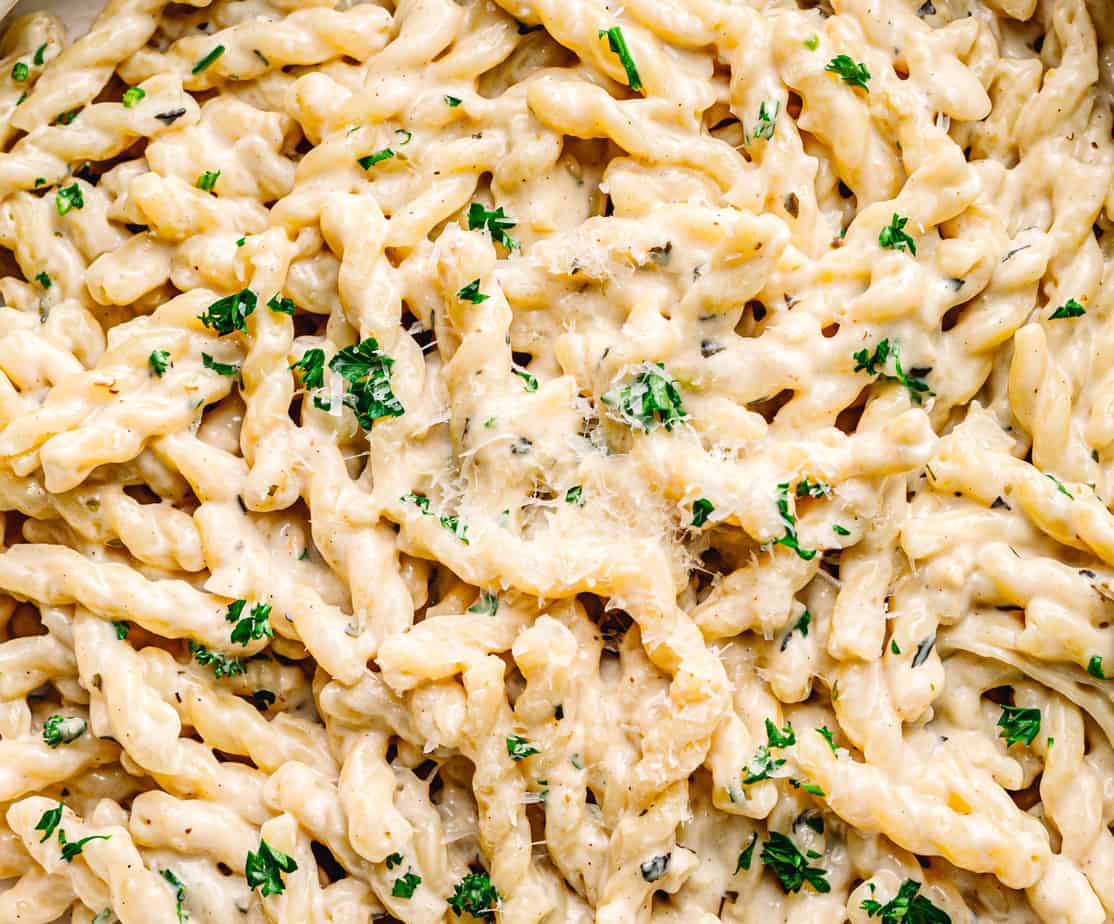 Check Out Asian Noodles Recipes:
TAINAN NOODLES (4-INGREDIENTS ASIAN NOODLES)
SPICY SICHUAN NOODLES
SINGAPORE NOODLES (XING ZHOU MI FEN)
SWEET POTATO NOODLES (KOREAN JAPCHAE)
SESAME NOODLES (MA JIANG MIAN)
SPICY THAI NOODLES – QUICK AND TASTY!
MINCED PORK NOODLES WITH HOISIN SAUCE
How to Make Creamy Garlic Pasta:
The cooking process of this creamy garlic pasta is pretty quick and easy. Here's how I make this pasta dish:
First, I cooked the pasta until al dente according to the product instructions.
Second, I cooked the sauce base. This process should take less than 10 minutes.
Third, I added the cooked pasta, parmesan cheese into the pan and stirred to combine. Then serve and enjoy.
You can keep leftover pasta in the fridge for 2-3 days or store in the freezer for 2-3 months.
I hope you'll enjoy this recipe. Don't forget to come back to review and share this recipe 🙂