These sweet, tangy, and addictingly crunchy bread and butter pickles are surprisingly easy to make, and super delicious!
So, am I the only one who has never had bread and butter pickles as a kid? To be honest, I had never even heard othem until 2014 when I grew a cucumber that was short and little and my husband said 'you should make bread and butter pickles,' I naturally rolled my eyes and thought he was crazy (love you babe) and thought I just had grown an odd cucumber.
Reading: how to make crispy bread and butter pickles
Then we took a trip to Louisville and were served bread and butter pickles (see here for pictures from our trip). I had some, and I was hooked! I needed more of these pickles in my life.
So when I spotted some pickling cucumbers at the farmers market I got some and set out to making them, and holy pickle, they were absolutely delicious! What I love about this pickle recipe is that it's a refrigerator pickling – quick pickling recipe!
Ingredients for making bread and butter pickles:
Pickler cucumbers-pickler cucumbers are smaller than traditional cucumbers, they mature earlier and don't have seeds. I have also used seedless cucumbers for this recipe with success when picklers aren't in season.
White onion-this onion uses white onions, I like to use Vidalia onions for this – it's a slightly sweeter onion.
Sugar-bread and butter pickles are typically sweeter than dill pickles. While there is sugar in this recipe, if you like a truly sweet bread and butter pickle, I would recommend adding a little extra sugar, there's a note in the reicpe!
Dill-fresh dill is great when it's in season, but you could also use dried dill if you don't have fresh dill
Turmeric- a little bit of turmeric in this recipe gives it a nice yellowy color typically found in bread and butter pickles.
After you have all your ingredients gathered, you cut all the cucumbers:
Then you cut the onion and add that to the cucumbers:
Read more: Beer Pickles – Two Ways | Family Cuisine
Then you add some salt and put these bad boys in the freezer for a half hour (this step will give them their crunchiness, and no one likes a limp pickle, so don't skip this step!)
While the cucumbers are in the freezer, make the pickling liquid:
Then when the pickles are done in the freezer, drain the liquid off and then pour the pickles into the hot liquid:
Then ladle the cucumbers and onions into jars: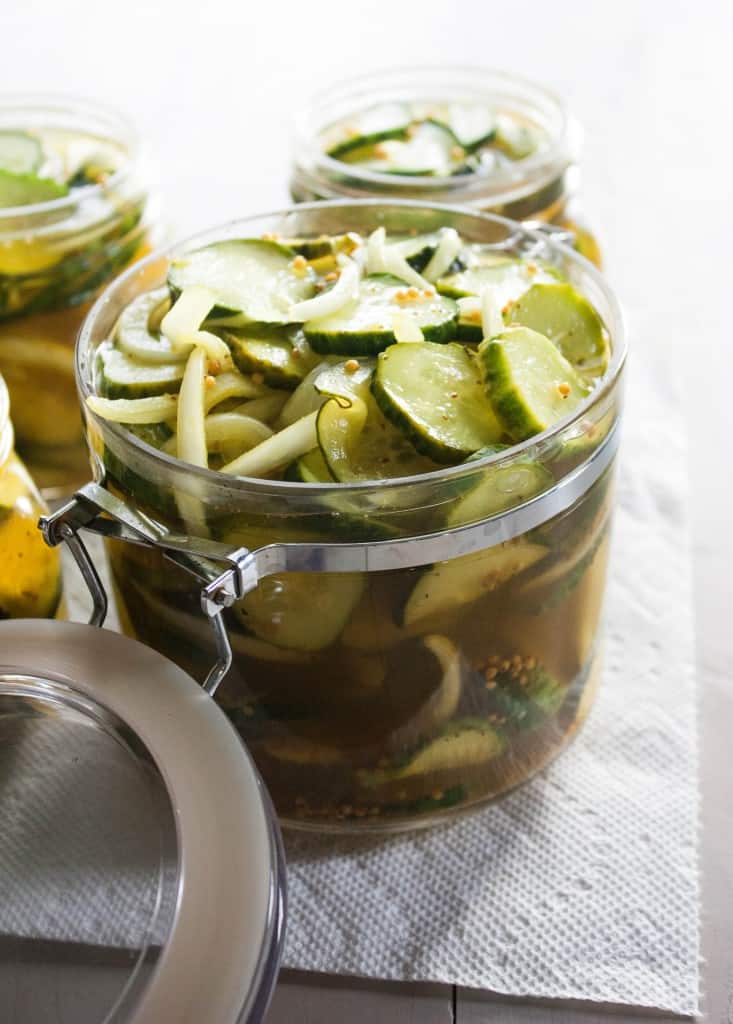 Refrigerate overnight, then in the morning, vioa you have yourself bread and butter pickles (and notice the color change!)
Read more: how to make homemade pickles like claussen | Family Cuisine
I could just eat an entire container right now!
These pickles have the perfect sweet & tangy flavor finished by the perfect crunch! They are sweet but not cloyingly sweet like sometimes bread and butter pickles can be. If you like them really sweet, I would recommend adding a little extra sugar!
I was curious as to why they were called 'bread and butter pickles' and found out that they used to be served on bread and butter during the depression era because they were so cheap and easy to make.
So after reading that, I tried some of these pickles on a piece of bread with some butter….um yeah, so freakin' good! I'll be that weird person having pickle sandwiches for lunch from now on lol.
And of course I couldn't finish this post without saying that I should have listened to my husband last year because I feel like I have been missing out all along!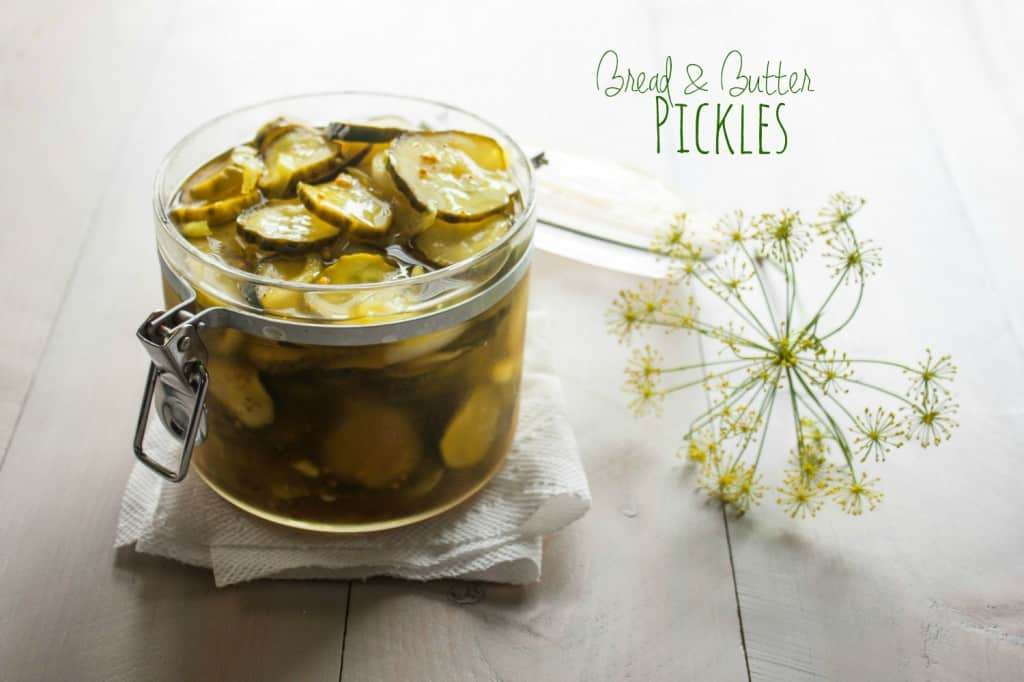 I hope you enjoy these pickles as much as I do!
If you're looking for some other quick pickling recipes you might enjoy:
Quick pickled Asian vegetables
Quick pickled eggs
Tuna salad with pickled celery
Read more: make bread and butter pickles with less sugar | Family Cuisine