If you don't like potatoes then you may be a serial killer. Okay, that may be a tad dramatic, but you know what I mean. Potatoes are the bomb and there are so many different ways you can use them which is what I love. For this recipe, I made Crispy Potatoes which are so crunchy on the outside, and fluffy on the inside. It has taken me years to try and figure this out, and I finally found the trick to really nailing that perfect potato consistency.
My secret weapon for nailing that consistency? Boiling and baking soda. More on that below but DO NOT skip these steps. I promise you that you'll thank me later. Whip these bad boys up for a holiday dinner, or if you're in the UK, your typical Sunday roast. This recipe has gotten Andrew's seal of approval so it's definitely a tribute to the UK, but with a FoodByMaria twist with the flavor and herbs.
Why you'll love these Crispy Roasted Potatoes:
Gourmet: They make you feel gourmet AF, they're so fancy but not
Addictive: Highly addictive so you will become an expert at making them very quickly
Crisp (but Soft): These crispy potatoes are both crispy & soft – double the trouble!
Potatoes: Made with potatoes and like I said, who doesn't love potatoes?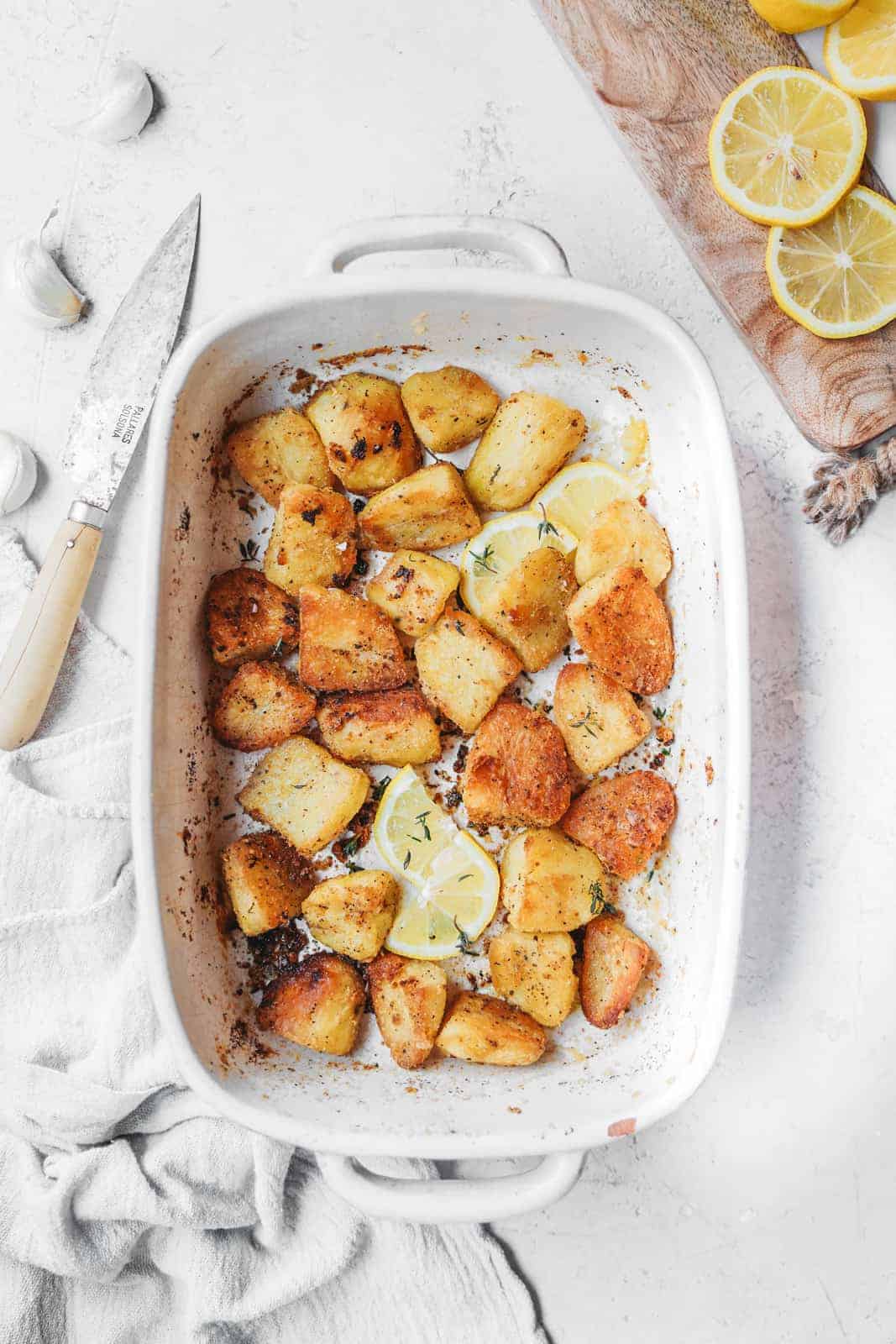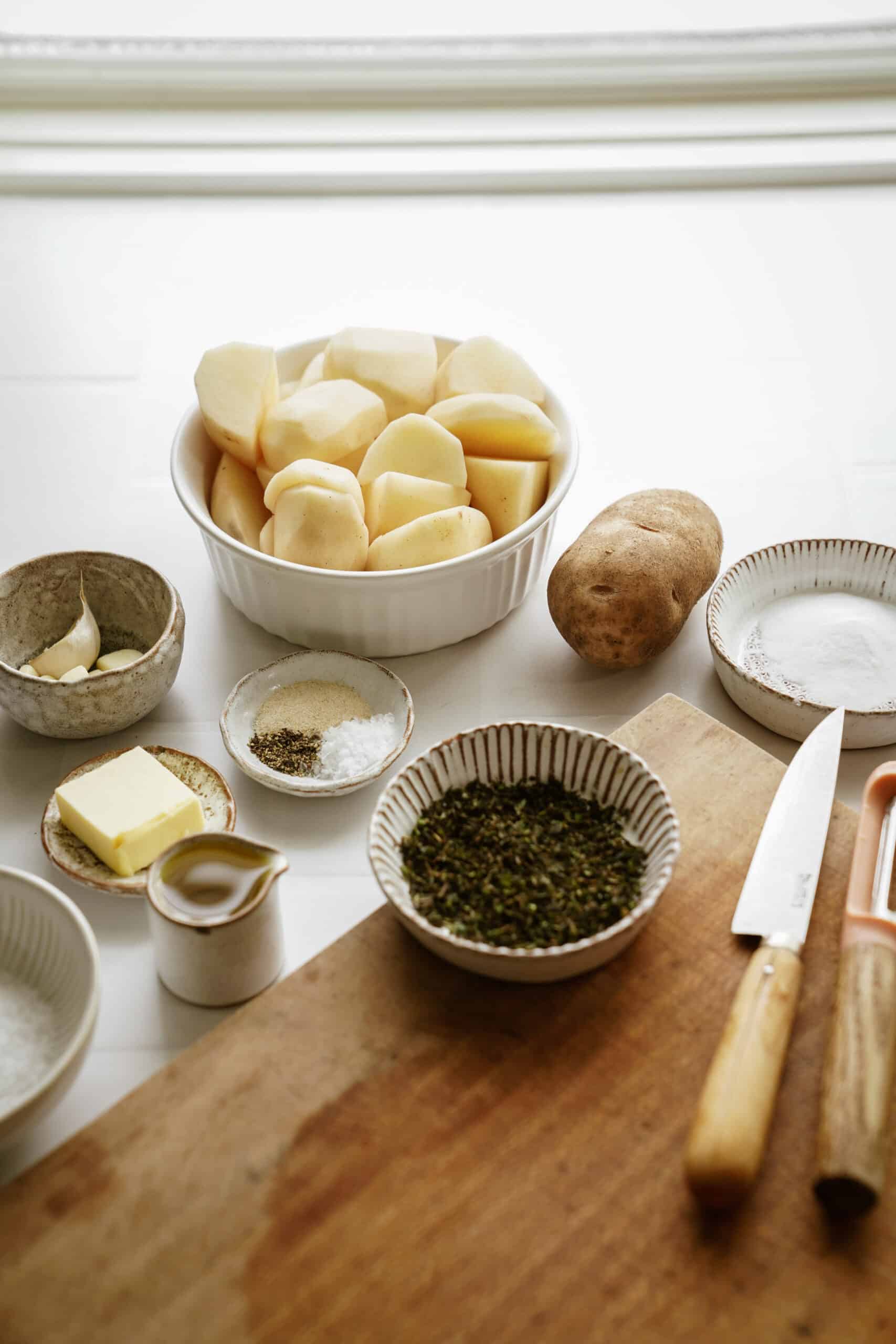 Ingredient Notes:
Potatoes: I like to use russet or baby potatoes for this roasted potatoes recipe as I feel I get the best flavor and consistency of the crispy but soft consistency I love.
Baking Soda: Do not skip the step of boiling your potatoes with baking soda. Baking soda will help your potatoes get crispy in the oven. This is the trick!
Thyme: I used fresh thyme for these crispy potatoes but you can also use dried thyme or swap out the thyme for a different herb like rosemary.
How to make crispy roasted potatoes:
1. Bring a large pot to a boil to boil your potatoes first.
2. In your pot, you'll want to add salt and baking soda and then parboil them for 10 minutes. This is the step I mentioned before that you don't want to miss because it helps give you the perfect consistency.
3. While your potatoes are cooking, preheat your oven and line 1-2 baking sheets with parchment paper.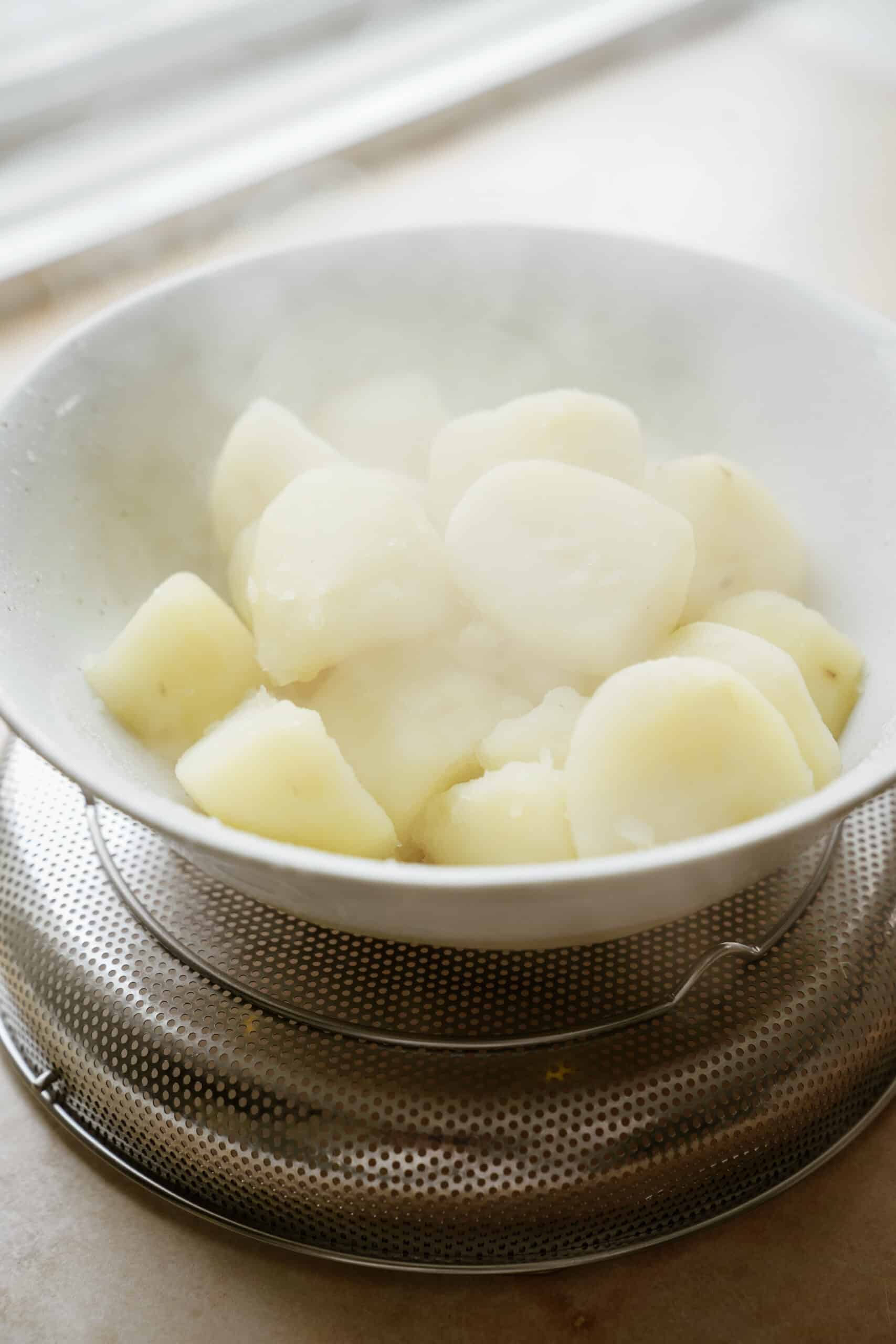 4. When your potatoes are done, remove them from the water and add them into a large bowl where you'll then throw in your spices such as: salt & pepper, onion powder, oil, garlic, and/or butter.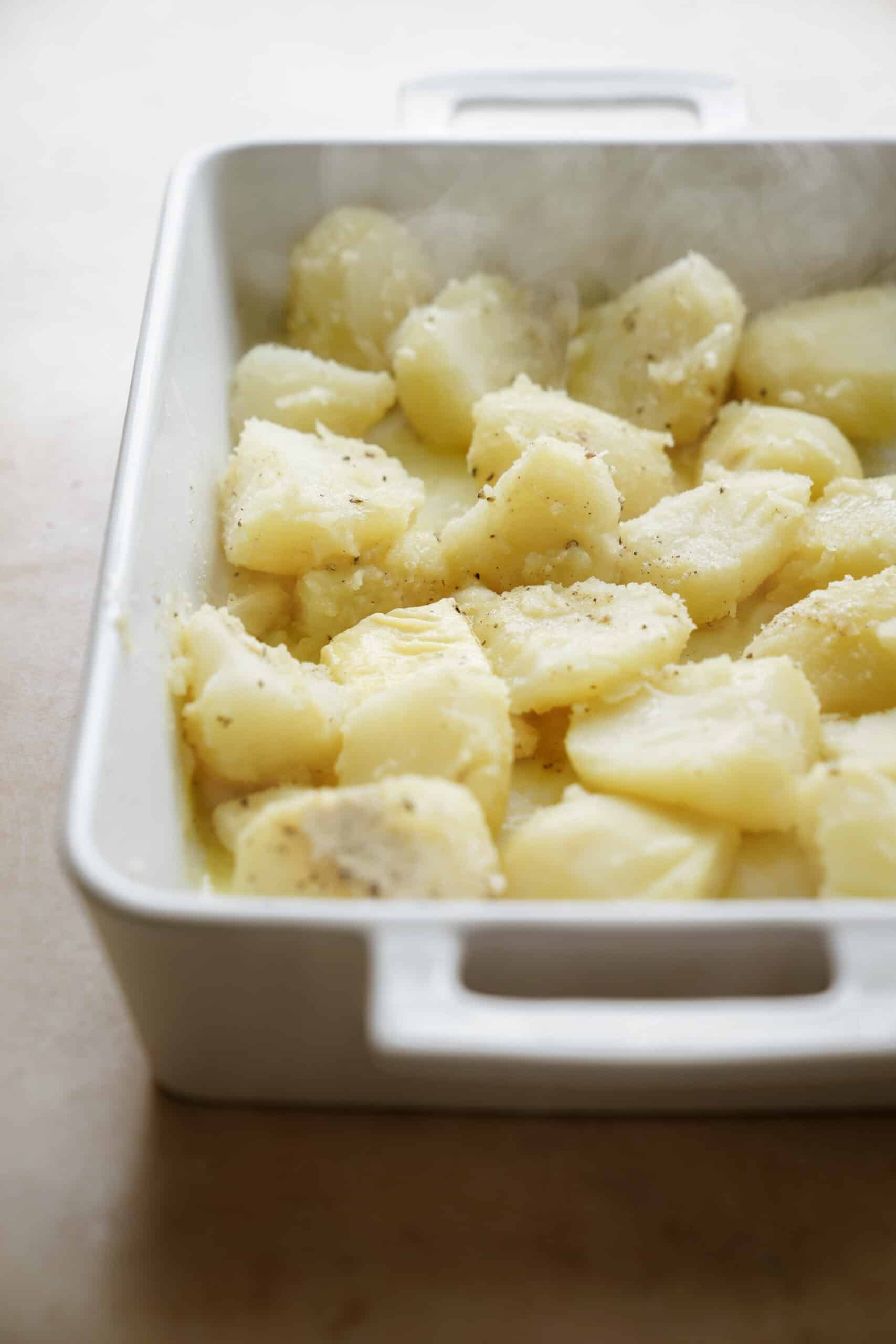 5. Once you stir together everything in your bowl, put the potatoes on your baking sheet and make sure there's some breathing room next to each potato and they're facing cut-side down before you roast potatoes in the oven for 50 minutes. You'll want to remove them at the 30-minute mark to flip them and distribute the thyme evenly on them before cooking for the last 20 minutes until golden brown to perfection.
Expert Tips & FAQ:
Cooking: One way to nail the consistency of these is to not over boil your potatoes. Leave them even a bit al dente. They will crisp up in the oven and you'll get the perfect consistency with a crunch on the outside and softness on the inside.
Why baking soda? It sounds weird but it works. The baking soda makes the water alkaline which helps breakdown the surface of the potatoes and really helps get that crispiness you want once you add them to the oven.
Serving: Make your favorite dipping sauce, eat them on their own, serve them as a side dish, eat them with brunch, the opportunities are endless.
Other recipes you'll love:
Easy Vegan Deviled Potatoes
Vegan Poke Bowl with Spicy Ginger Tuna
Vegan Buffalo Cauliflower Pizza
Plant-Based Meatballs with Cranberry Sauce
Mini Vegan Sausage Rolls
For more eBooks:
If you want more deliciousness at the click of your finger, be sure to check out FoodByMaria's Newest Mini Cookbooks. Limited time offer of 3 for $20USD.
For more Greek Recipes:
For more amazing recipes:
For more information please see the list of How do you get crispy roast potatoes
Detail: 🔗