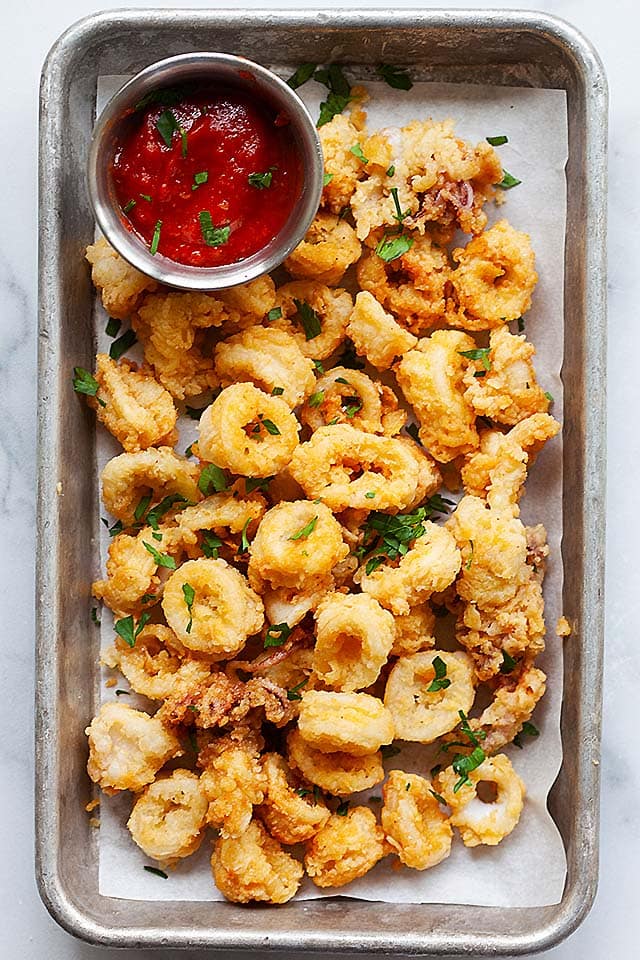 Fried Calamari Recipe
Fried calamari is one of the most popular appetizers served in restaurants, especially Italian restaurants.
Crispy fried calamari is absolutely delicious and my homemade recipe is so easy to make.
The calamari is deep fried, extra crispy with a secret coating. It's served with a simple tomato sauce as the dipping sauce.
This is the best fried calamari recipe ever!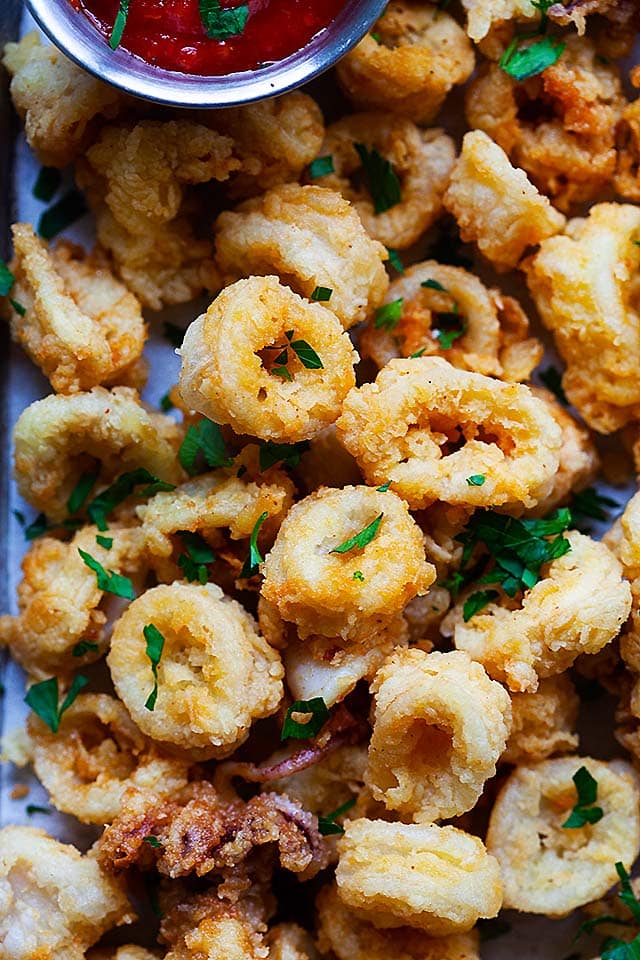 Also read: Zucchini Noodles | Family Cuisine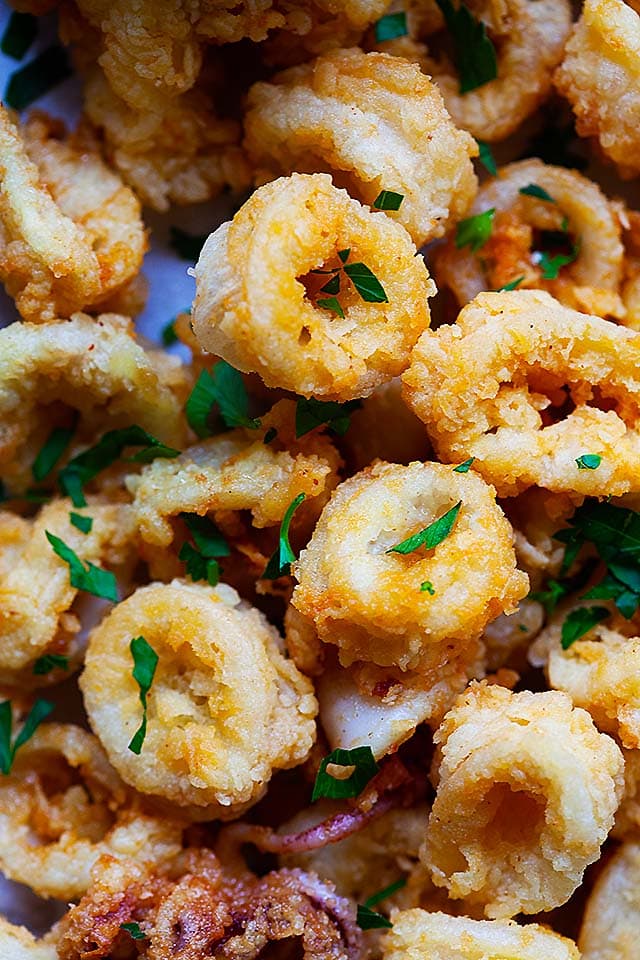 How to Make Fried Calamari?
This recipe is very easy to make and calls for only a few ingredients:
Cleaned squid with tentacles
Egg
All-purpose flour
Cornstarch
Salt and cayenne pepper
The squid has extra crispy coating and tender inside. There is no need for buttermilk.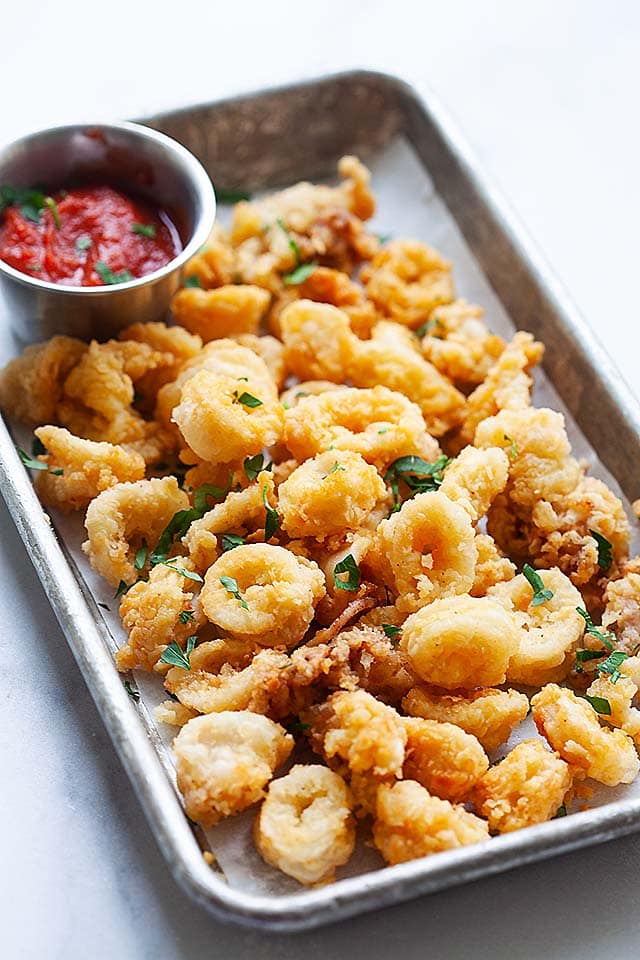 Cook's Tips
For the best results, please follow the tips and techniques below:
For even coating on the squid, use a strainer to shake off the excess flour.
Drain the excess oil on the fried calamari on paper towels before serving.
If you don't have simple tomato sauce at home, you can use tomato based pasta sauce as the dipping sauce.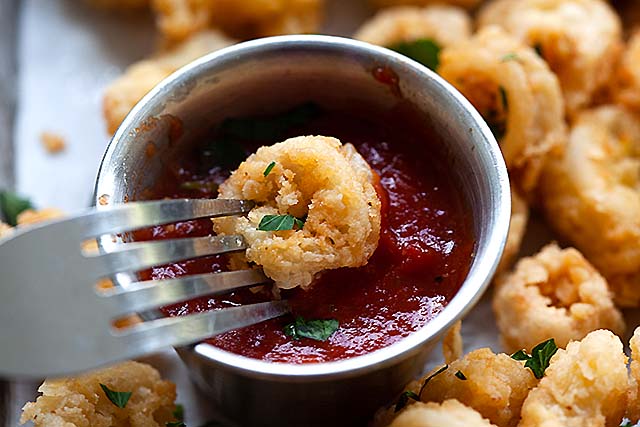 Frequently Asked Questions
Is Calamari the Same as Squid?
Also read: how to cut onions for stir fry | Family Cuisine
Calamari is the Italian word for squid. In the United States, fried calamari is basically fried squid.
It's made of squid and its tentacles, battered or coated with a flour mixture and then deep fried.
What is the Best Coating for Fried Calamari?
For extra crispy fried squid, coat the calamari rings and tentacles with a mixture of all purpose flour and cornstarch.
The ratio of all purpose flour and cornstarch is 2:1. Another secret ingredient is egg.
Add a beaten egg to the squid before coating with the flour and cornstarch mixture. Make sure the coating is even.
Shake off the excess coating before deep frying and you will have the best and crispiest fried squid.
Can I Pay Fry Instead of Deep Fry?
Also read: Chicken Stir Fry | Family Cuisine
For the best results, I don't recommend pan frying. However, you can shallow fry the squid and get the same results.
All you have to do is add some oil to a skillet, 1 inch high from the bottom of the skillet. Shallow fry the squid until golden brown.
You can also use an air fryer for this recipe.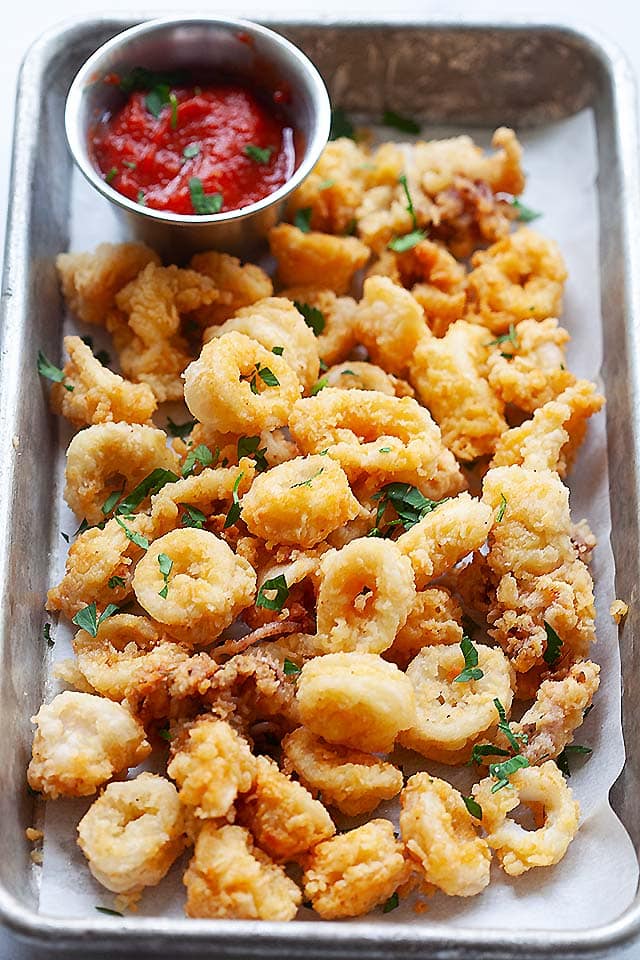 How Many Calories Per Serving?
This recipe is only 303 calories per serving.
What to Serve with this Recipe?
Serve this dish with other Italian dishes. For a multi-course Italian meal at home, I recommend the following recipes.
How to Fry Calamari?
Please refer to the recipe card below for detailed step-by-step method on how to make calamari like a pro.