This recipe is for Chinese fried rice, not to toot my own horn, but this Chinese fried rice is amazing! It's so delicious and makes a bunch, best of all its so easy to make and the recipe is highly customizable.
Reading: how to make egg fried rice in rice cooker
How to Make This Chinese Fried Rice Recipe
Here's what you'll need:
2 cups uncooked white rice
2 cups diced cooked meat, use at least two different meats (bacon, ham, chicken, sausage, or whatever sounds good to you)
1 cup minced carrots
1/4 cup soy sauce
1 teaspoon fresh grated ginger or 1/4 teaspoon ground ginger (powder)
2 teaspoons fresh minced garlic
4-6 green onions (divided – the whites are diced and cook with the rice, green tops diced and are added later with the scrambled eggs and frozen peas) or 1/2 small onion diced
1-3/4 cups chicken broth
1 teaspoon oil (I use either olive oil or canola oil)
1 teaspoon sesame seed oil
2-4 eggs – scrambled
1/2 cup of frozen peas
This recipe was made in my Zorjirushi 5 1/2 cup rice cooker. The recipe really fills up my rice cooker, so if you have a smaller rice cooker, you should think about reducing the recipe or it may not end up fitting in your rice cooker.
Rinse the Starch Off the Rice
The first step is to rinse the starch off the rice. This is what two cups of rice looks like with a little water added to it, see how milky the water looks? You don't want this. I rinsed and drained the rice four times. Be sure to swish the rice around in the water with your fingers.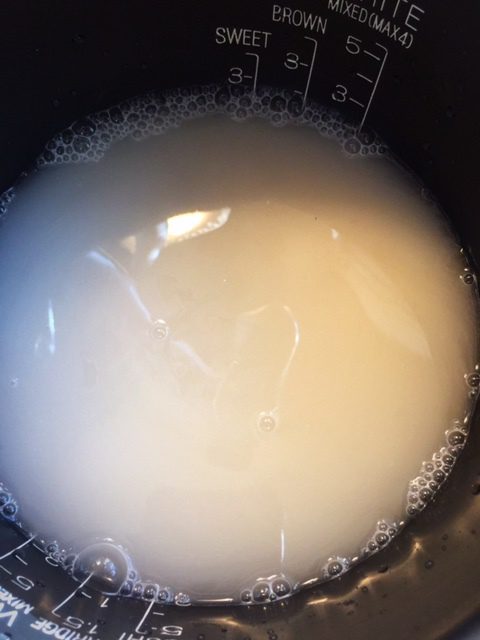 Here's the rinsed off two cups of white rice sitting in the rice cooker pot and ready to go.
Read more: how to make saganaki fried cheese | Family Cuisine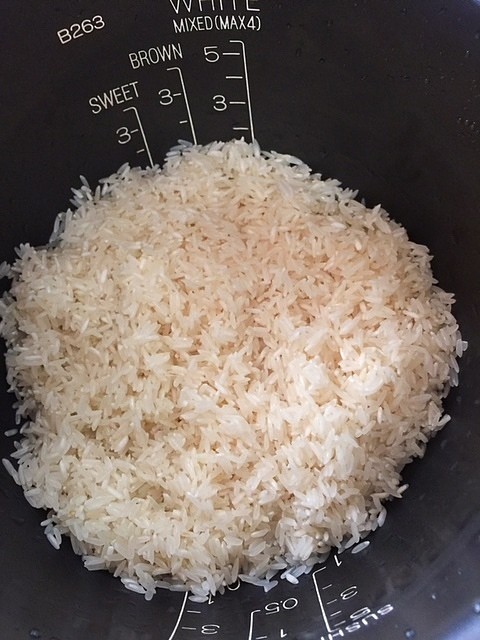 This recipe calls for two cups of cooked diced meat. My favorites are crumbled bacon and diced ham. Other options would be cooked diced chicken or sausage crumbles. Mix and match meats or use your favorites. Cook your meats and dice them. I bought a little spiral ham so I diced up about a cup of that, and I fried some diced bacon ends.
In a bowl combine the meats (my bowl was too small to add in the bacon) with the carrots, whites of green onion or diced red onion, soy sauce, ginger, garlic, chicken broth, vegetable oil, and sesame seed oil.
Pour the contents of the bowl on top of rice (I topped this with the bacon). DO NOT STIR. Close the rice cooker. Rice cookers are all different, mine has an option for "Mixed" this is what I chose and then hit the start cooking button.
Read more: Fried Ravioli | Family Cuisine
When rice is done cooking, scramble a few eggs in a skillet. Fold these cooked eggs into the rice along with the green onion tops and the frozen beans. Your rice cooker should be on "warm", close the lid and let the rice cooker warm up the frozen peas about 10 minutes or so.
I served this Chinese fried rice recipe with Thai Asparagus Chicken and Thai Cucumber Salad. My son loves topping his rice with Mae Ploy Sweet Chili Sauce.
Disclosure: This post contains Amazon affiliate links.
If you like this recipe, please be sure to check out the Rice Cooker Cajun Red Beans and Rice Pilaf recipe.
Read more: how to make paleo stir fry | Family Cuisine