Get your morning or afternoon pick-me-up with this delicious energy smoothie! The perfect, nutrient-dense breakfast or on-the-go snack. And you only need five ingredients to whip up this kale and pineapple energy smoothie recipe. Learn how I turn this kale pineapple smoothie into meal prep smoothie packs for mom, and smoothie pops for toddlers.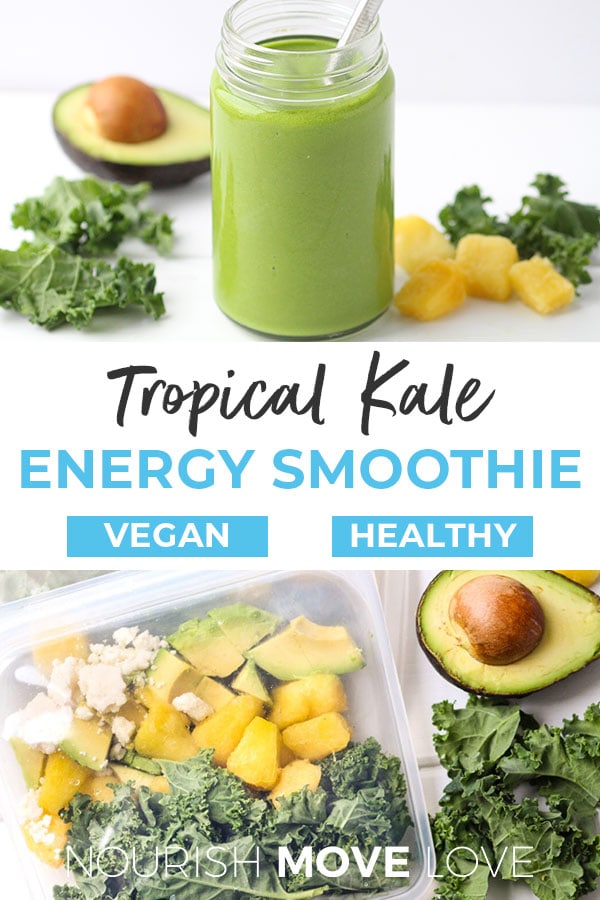 This post was previously seen on Nourish Move Love. I've updated this post because I slightly edited the energy smoothie recipe to make it even more delicious. I also wanted to include how I turn this kale pineapple smoothie recipe into meal prep smoothie packs for me and how to make this a toddler-friendly recipe in the form of smoothie pops.
Reading: how to make energy smoothies
Jump to Energy Smoothie Recipe
Jump to Meal Prep Packs + Smoothie Pops
When people ask for nutrition advice one of my number one suggestions is 'strive for veggies at every meal.'
The push back is always "even breakfast? How do you eat veggies for breakfast?!"
So I did an entire segment on Twin Cities Live on eating healthy breakfasts with a serving of vegetables.
How to eat vegetables for breakfast:
Some of my favorite ways to get a serving of vegetables at breakfast include:
Veggie-Packed, Make-Ahead Egg Sandwiches + Breakfast Sandwiches and Egg Bakes.
Meal Prep Spinach Banana Pancakes, hands down, a family favorite in my house.
Green Smoothies like this simple green energy smoothie recipe.
Yes, eating a cup of raw kale for breakfast isn't something I'll jump out of bed for.
But this slightly sweet, refreshing and energizing kale pineapple smoothie — that will get me out of bed!

Why is this called an Energy Smoothie?
It's tempting to reach for a cup of coffee first thing in the morning as your energy source. Or grab a second, or third, cup of coffee when that 3 PM afternoon slump hits!
Read more: The 10 Best Drinks In Copper Cups & Mugs | Family Cuisine
But a cup of coffee can take more than 6 hours to wear off, which means that afternoon cup of coffee could be impacting your sleep patterns (Medium).
As a mom of two, I've been looking for ways to naturally boost, and sustain, my energy levels.
Enter healthy fats and fiber. This green smoothie recipe contains naturally energy boosting ingredients, like:
Leafy Greens: provides an excellent source of iron — which helps fight fatigue (Healthline).
Avocado: healthy fats, which help maintain energy levels.
Coconut Oil or Coconut Butter: coconut contains medium-chain triglycerides (MCTs) which provide a quick energy source for the body (LiveStrong).
Energy Smoothie Recipe: Kale Pineapple Smoothie
Blend up this energy boosting smoothie with five simple ingredients:
Kale
Pineapple
Coconut oil or coconut butter
Avocado
And water, coconut water or a liquid base of choice
Add all five ingredients to a high speed blender and blend until smooth.
*Per the recipe card above, this is the coconut butter I love adding to this smoothie.
I've also make this green smoothie using frozen mango instead of pineapple and it's equally as delicious!
How to customize your energy smoothie with these green smoothie add-in's:
Need an extra energy boost? Add a teaspoon of matcha green tea. Matcha is packed with powerful antioxidants — and contains around the same amount of caffeine as a cup of coffee without some of the jittery side-effects (Women's Health).
How about extra protein? If you're looking for this green smoothie to sustain you for longer, or if you're strength training and need an extra protein boost, you can:

Add 1/2 cup plain, full-fat Greek yogurt.
Use almond milk or milk of choice as your liquid base instead of water or coconut water.
Add protein powder, chia seeds or peanut butter.

Need to sweeten things up for your pallet or kids? I personally love this smoothie as is, but if you're new to green smoothies or worried it might be 'too green' for your toddler or kids, you can always add extra pineapple and banana to sweeten things up.
Worried about tasting the kale? You can always start with a more mild-tasting leafy green, like spinach.
How To Make Meal Prep Smoothie Packs: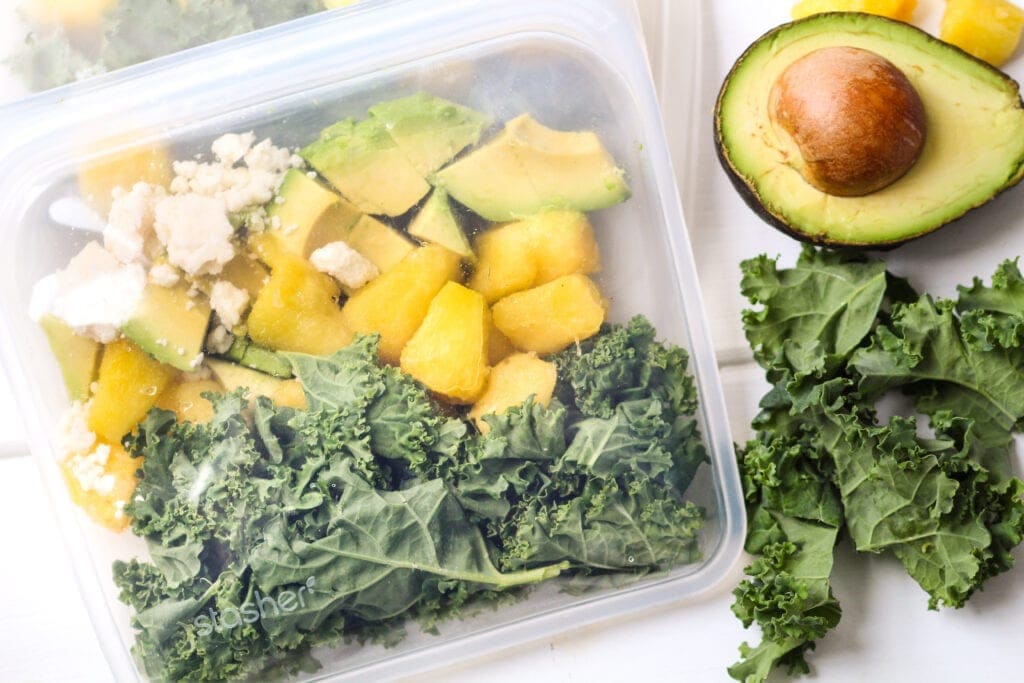 You guys know I'm a huge fan of meal prep to make life easier, especially when it comes to getting out the door in the morning.
Read more: How to make tea from camellia sinensis
Enter make-ahead, meal prep smoothie packs!
All you have to do is grab your pre-prepped smoothie pack from the freezer, dump it into your blender, add your liquid base and blend!
Here's how I personally make meal prep smoothie packs for this kale pineapple smoothie recipe:
Reusable Food Storage Bags. I personally love using these stasher reusable silicon food bags that are freezer-friendly (as well as microwave and dishwasher friendly too). But you can always use whatever sandwich-sized or quart-sized, ziplock freezer bags you have on hand.
Ingredients. Add the pineapple, I use already frozen pineapple but you could use fresh too, kale, and avocado to your smoothie pack. DO NOT add coconut oil or water/coconut water liquid base. You'll add the liquid when you're actually making the smoothie. This is why I personally love using coconut butter instead of coconut oil for this kale pineapple smoothie because you can add the coconut butter to the smoothie pack pack eliminating one more step when you actually make the smoothie.
Storage + How to Blend. Seal your smoothie pack and add it to your freezer. When you're ready to actually make the smoothie all you have to do is — grab your pre-prepped smoothie pack from the freezer, dump it into your blender, add your liquid base and add any additional powders or oils you didn't include in the smoothie pack, and blend!
I also love making meal prep smoothie packs with this Spinach + Berry Breakfast Smoothie Recipe.
How To Make Toddler-Friendly Meal Prep Smoothie Pops + DIY Popsicles: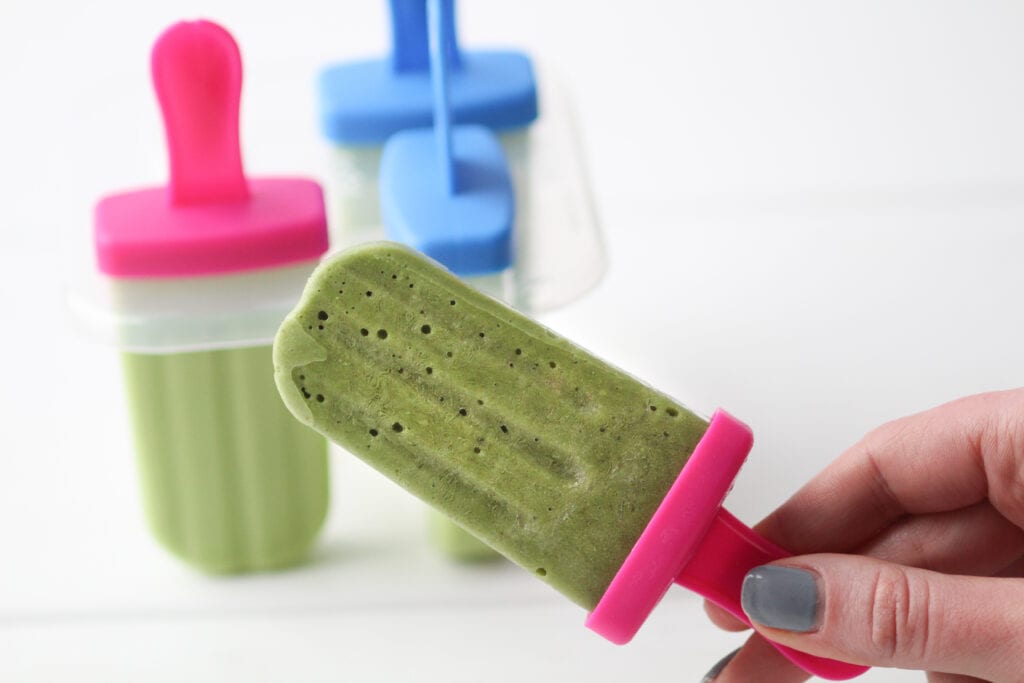 My son LOVES popsicles and freezies! So these DIY popsicles and smoothie pops are an easy 'substitute' with benefits like:
An easy way to get my kids to eat kale for breakfasts and snacks.
An easy-to-make meal prep recipe that I can make in bulk and freeze.
These kid-friendly meal prep smoothie pops are super simple to make. Here's how I personally make them using this kale pineapple smoothie recipe:
Popsicle Molds. I personally have this super affordable popsicle mold set, under $13 on Amazon. I love that you can remove each popsicle mold individually.
Ingredients. I make the smoothie per the ingredient list above (frozen pineapple, kale, coconut butter, avocado, and coconut water), but I also add 1/2-1 cup plain, full fat Greek yogurt to thicken up the smoothie recipe. You can also sweeten things up by adding more pineapple or 1/2-1 banana. One serving of this smoothie plus the Greek yogurt usually makes 4-6 DIY popsicles for me.
Storage. Pour the green smoothie directly into the popsicle molds, add the popsicle stick and store in the freezer. The nice thing about this popsicle mold set is that you can remove one popsicle at a time, run it under a little warm water and wiggle the popsicle out to serve. Our smoothie pops never last more than 2 weeks in the freezer, but I'd imagine they are good for up to 30 days in the freezer.
I also use my DIY popsicle molds for this Coconut Mango Smoothie Popsicle Recipe.
Pin This Energy Smoothie: Kale Pineapple Smoothie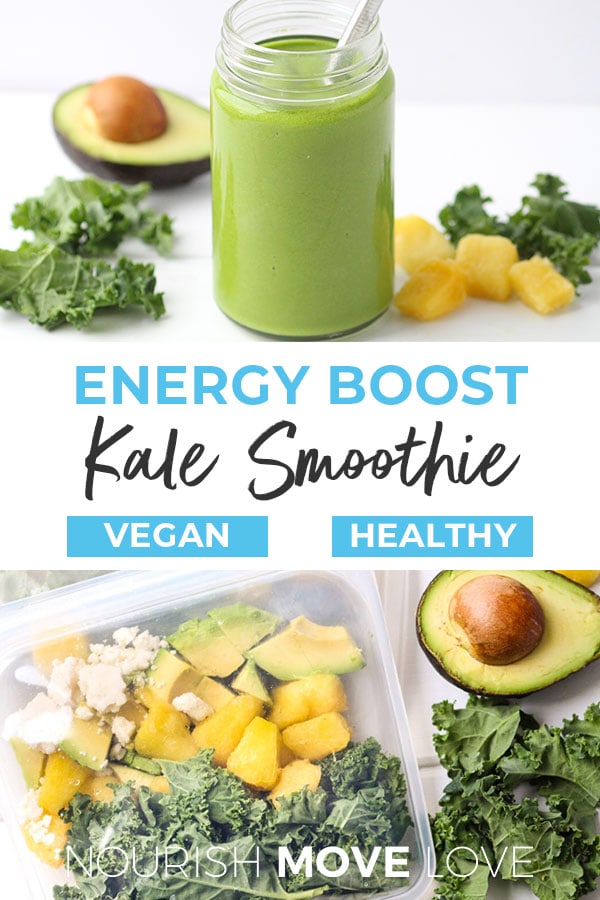 This post does include affiliate links and I do earn a small commission on products purchased using these links. All words and opinions are my own. Thank you for supporting Nourish Move Love.
Read more: How to get tea in let's go eevee