Jamaican Escovitch Pickle Sauce or otherwise called Hot Pepper Pickle, is a spicy and tangy sauce with vegetables and herbs that is served mostly over fried fish.
It is very popular around Easter time back in the days, but now you can go to any popular street corner restaurant and get you some on your fried fish or even some fried pork.
Reading: how to make escovitch sauce
This Escoveitch Pickle Recipe is very spicy so if you can't handle spice, then this is not for you.
It's a beautiful mixture of flavors that gives a tangy, spicy and sweet taste.
What is a Escovitch Fish?
Escovitch Fish is a Jamaican style dish that is prepared by frying a well seasoned fish garnished with vegetables and herbs in a peppery vinegar dressing.
This dish is enjoyed all year round but mostly served around Easter Holiday.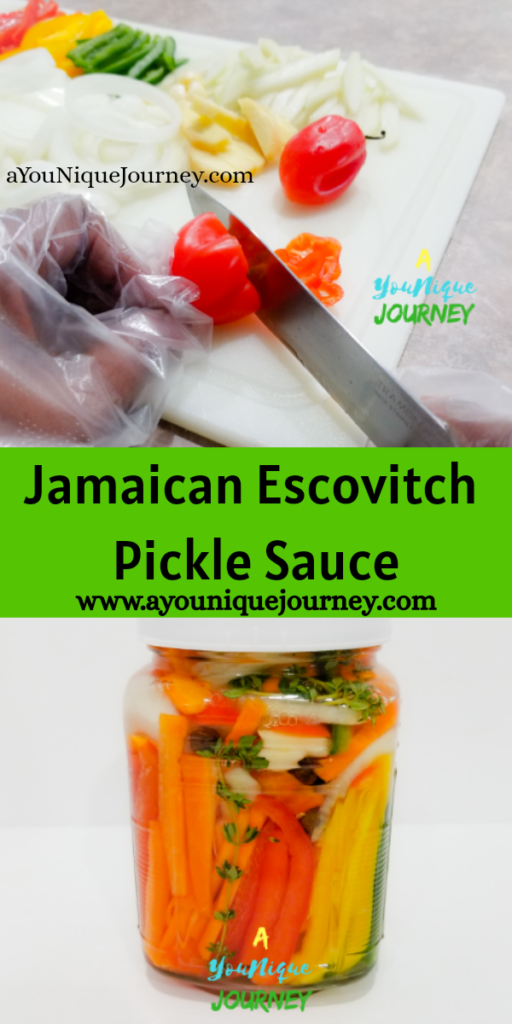 Cooked or Uncooked Escovitch Pickle Sauce
How you choose to prepare this sauce, cooked or uncooked is your choice. I have done it both ways and it gives the same results.
The only thing that is different is that if you are going to eat it right away, I will suggest to add the vegetables and herbs to the hot liquid and let it cook for a few minutes.
In the case where you are going to reserve for later, then pour the warm liquid over the uncooked vegetables and herbs. With this way, you can keep in for months.
Read more: how to make homemade jerk sauce | Family Cuisine
Before publishing this post, I had done this recipe with 2 jars for about a month and a half now. The vegetables like the carrots and onions are still crunchy.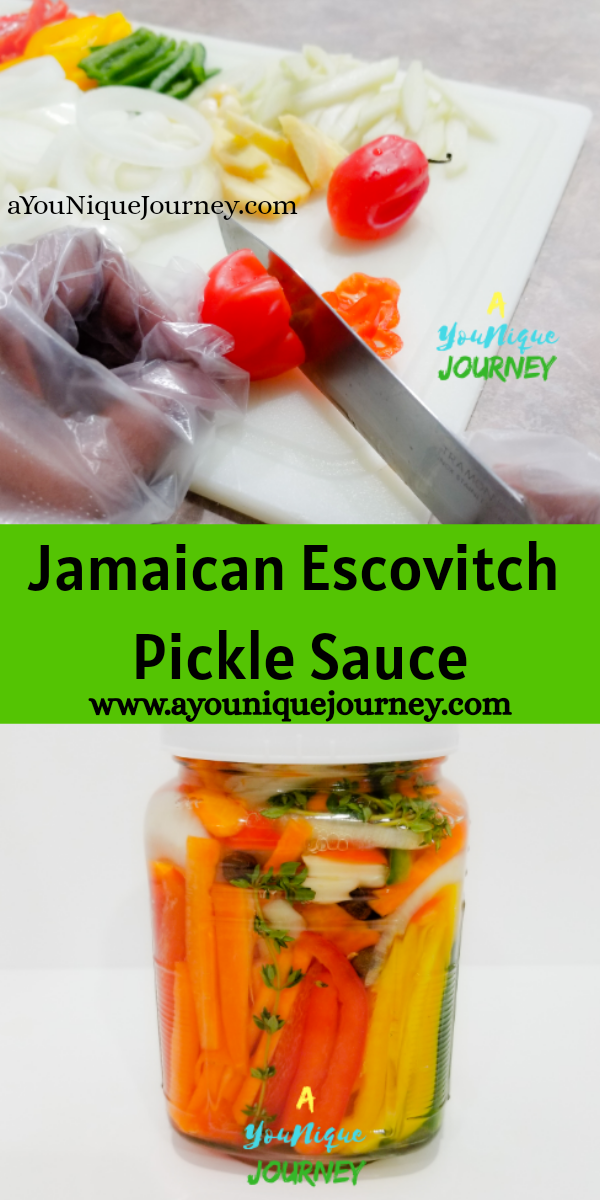 The Main Ingredients in the Jamaican Escovitch Pickle
Scotch Bonnet Pepper: this adds a lot of spice. Let me repeat, a lot of spice. Especially because the seeds are also included too. Now if you can't stand too much spicy heat, please add the amount you can handle. Please not that if you aren't able to get some of these peppers, then the Habanero Pepper is a great substitute.
White Onion: adds that sharp, sweet, pungent flavor to this sauce. After sitting in the vinegar mixture for a few days, it is so delicious. You will be eating a lot of the onions. Please note that I have seen others used Red Onions as a substitute.
Carrots: adds some sweetness and crispness with some added color to the sauce.
Pimento Seeds: adds a lot of fragrance and flavor to any dish. It is mostly used as a seasoning on Jerk Chicken and Pork and also in soups too.
White Vinegar: adds that tangy savory flavor to the pickled vegetables and also preserved it for a very long time.
Those are the main ingredients for this pickled vegetable recipe. However, to mix things up and add some other flavors, I have added some other ingredients to it. These includes: Bell Peppers (Red, Green and Yellow), Fresh Ginger, Garlic, Thyme and Chocho (Chayote). You can choose to leave them out or add them, it's your choice.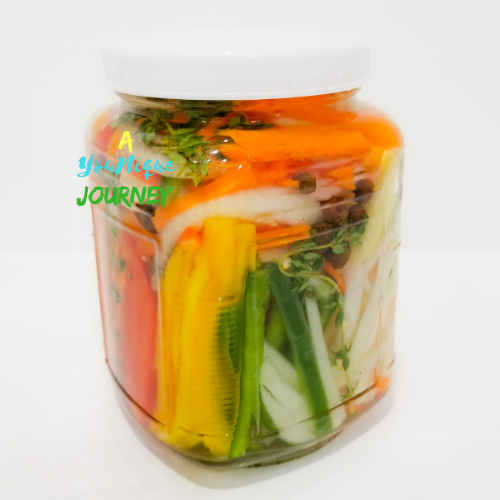 How to store Jamaican Escovitch Pickle Sauce
The way I store this recipe is right on my kitchen counter. However, you can store it in your refrigerator, if you want to.
One thing I will recommend is not to put it in a jar that has a metal lid. The first batch I did, the lid was rusting. Honestly, I am not sure if it's the vinegar mixture that causes it. But something causes it to rust.
Read more: how to bake drumsticks in the oven with bbq sauce
So I found some glass jar with plastic lid and so far it's not showing any rust. Please use a jar with plastic lid.
How to make Jamaican Escovitch Pickle Sauce
Firstly, gather all your ingredients together.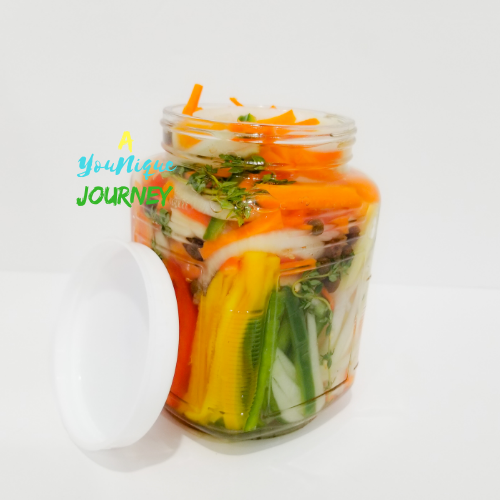 Secondly, add the vinegar, sugar and salt in a medium saucepan and warm until sugar dissolves.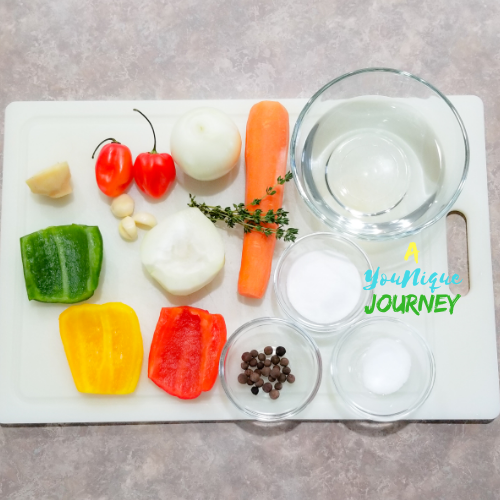 Thirdly, julienne the carrot, chayote and bell peppers (red, yellow and green). Slice the onion into rings. Cut the cloves garlic into halves. For the ginger, roughly slice it.
Fourthly, slice the peppers with the seeds with gloves on. Again, please put on a pair of gloves to slice the peppers, to prevent skin burn. Discard the gloves after slicing the peppers.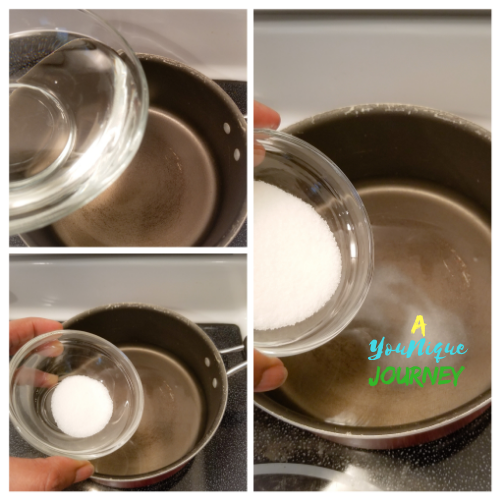 Finally, with another pair of gloves on, add all the vegetables, herbs and spices to the jar and then pour the vinegar mixture over them. Let it cool before putting on the lid.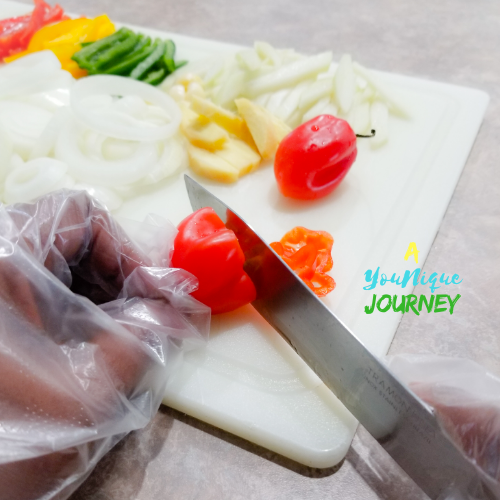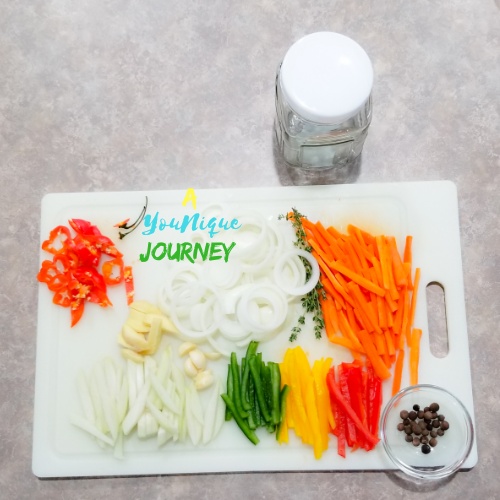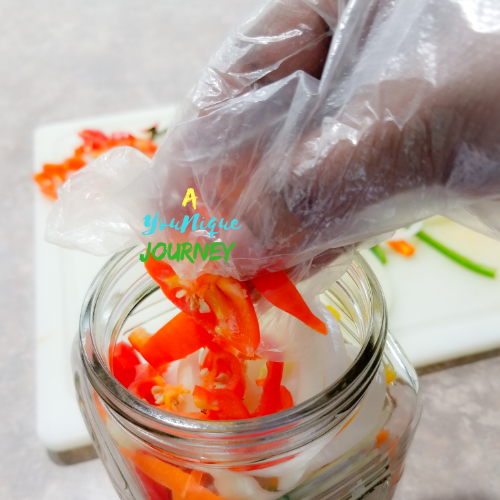 Jamaican Escovitch Pickle Sauce Recipe
Ingredients
1 medium Carrot, washed, peeled and julienned
1 small White Onion, wash and sliced in rings
1/3 of each color Bell Peppers (red, green & yellow), washed and julienned
2 Scotch Bonnet Peppers or Habanero Peppers, washed and sliced with seeds
1 Tablespoon Pimento Seeds
1/2 Chocho (Chayote), washed, peeled and julienned
2 sprig of fresh Thyme, washed (optional)
2 to 3 cloves Garlic, washed and cut in halves (optional)
1 inch Ginger, washed and sliced (optional)
1 Teaspoon Salt
3 to 4 Tablespoon Granulated Sugar
1 1/4 cups of White Vinegar
Instructions
In a medium sauce pan, add the white vinegar, salt and granulated sugar and warm over medium low heat. Do not boil. Once the sugar is dissolved, remove from the heat. Set aside.
Julienne the carrot, chayote and bell peppers (red, yellow and green). Slice the onion into rings. Cut the cloves garlic into halves. For the ginger, roughly slice it.
When you are going to slice the peppers, please put on a pair of gloves. Discard the gloves after cutting the peppers.
With another pair of gloves on, add all the cut vegetables, herbs and spices into a Mason Jar. Push down all the ingredients, so they all fit into the Mason Jar.
Pour the lukewarm vinegar mixture over all the vegetables, herbs and spices in the jar. Allow to cool (if it is still warm) and then place the lid on the Mason Jar.
Notes
Do not let the vinegar mixture boils up, only warm for the sugar to dissolve.
If using a glass jar, make sure it has a plastic lid and not a metal lid as the usual mason jar.
Store on the kitchen counter or in the refrigerator.
After pouring the warm vinegar, allow to cool before covering it with the lid.
Please put on gloves when cutting the peppers and add the items to the jar. This helps prevent skin burn.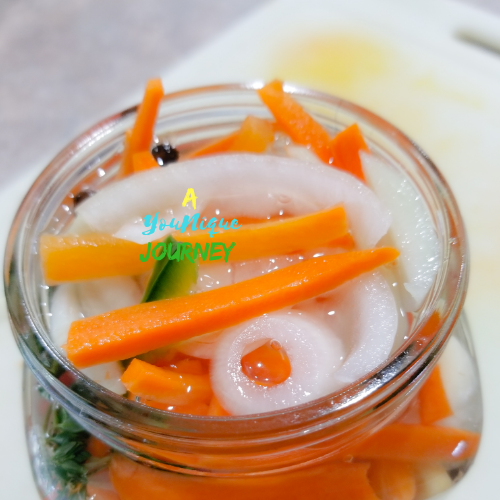 Please let me know what you think about this Jamaican Escovitch Pickle Sauce in the comment section below.
Thanks for stopping by and please come back again.
Blessing and Love, as you carry on, on your YouNique Journey!