If you love ordering home fries at your favorite breakfast place you'll find this fried breakfast potatoes recipes to be just as good as the diner, if not better!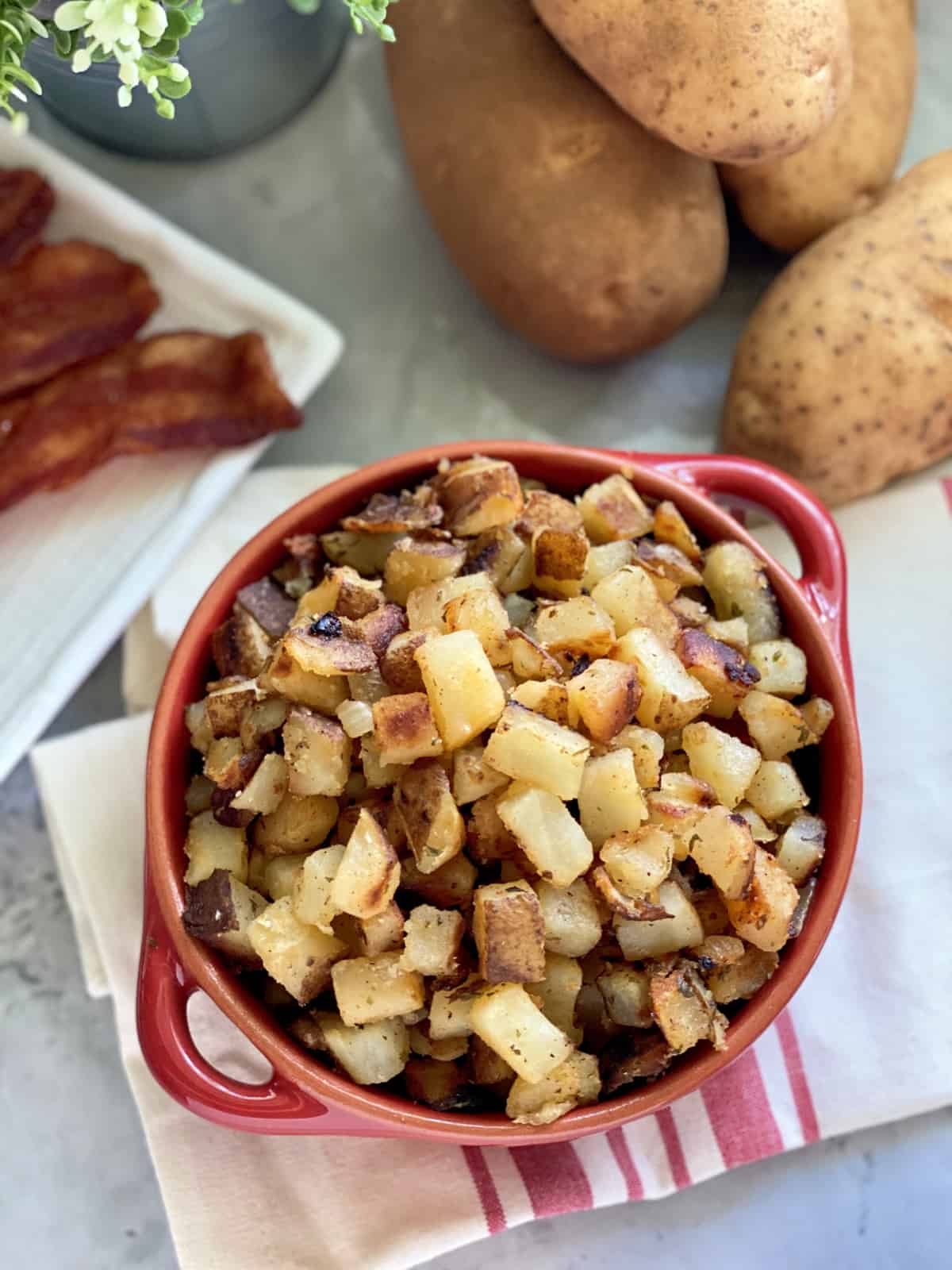 I love potatoes of all kind, but one of my favorite versions is the breakfast potato. Nothing better then waking up and enjoying a plate full of Fried Breakfast Potatoes. Growing up, my mother made them almost every weekend, and now I find myself doing the same. It isn't breakfast unless there are potatoes on the plate. Potatoes are inexpensive and a perfect side dish to compliment bacon, eggs, and even sausage. Although my husband loves this recipe he also often request for my bacon and onion breakfast potatoes or my southern style breakfast potatoes.
Reading: how to make fried breakfast potatoes
Ingredients
Russet Potatoes – These are the potatoes I always have on hand. However, white and red potatoes work too. Just make sure you don't over boil the potatoes or else they will be too mushy to fry and make crispy.
Butter – I like to use unsalted but salted works too. I always only use 100% real butter in all my recipes. I can not tell you how the taste will turn out with other butter alternatives.
Onion – A little onion goes a long way.
Seasonings – I love to use a combination of season salt, black pepper, paprika, and dried parsley.
Directions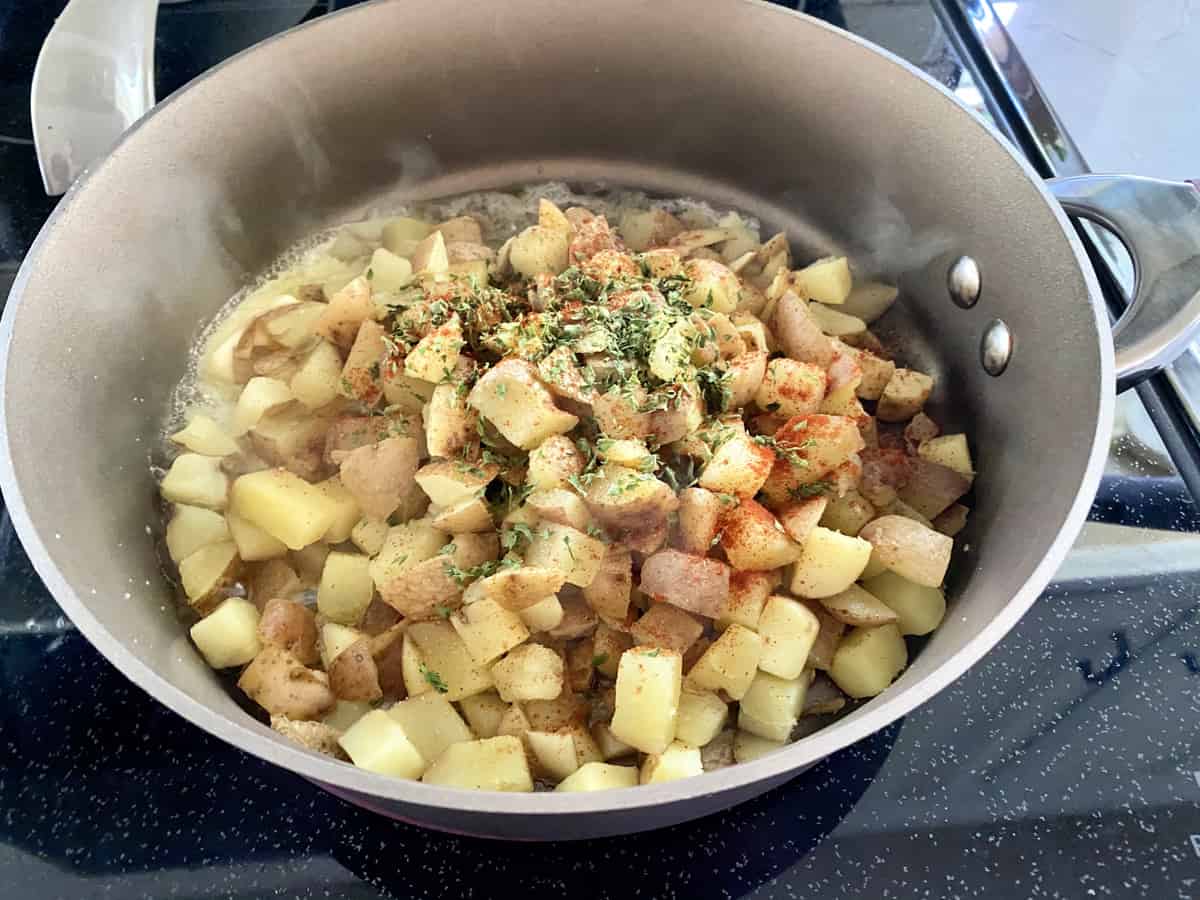 Wash and cut potatoes into cubes. Place in a pot of water with one tablespoon of salt. Bring the water up to a boil (on high heat) then reduce to a simmer (on medium-low heat). Cook for 15-20 minutes until cooked until just tender.
Drain potatoes in a colander and rinse potatoes with cool water for 5 seconds.
Heat a frying pan on medium heat with 2 tablespoons butter. Place the drained potatoes into the melted butter. Begin to fry the potatoes.
Dice the onion and place on top of the potatoes.
Season the potatoes and onions with season salt, black pepper, paprika, and black pepper. Let the potatoes cook on medium heat for a few minutes. Mix and flip potatoes to allow to crisp on all sides. This might need to be done multiple times throughout a 15 minute time span. If potatoes or onions start to burn reduce the heat to medium-low.
Cook until your preferred crispness, serve immediately.
FAQs
Tips & Tricks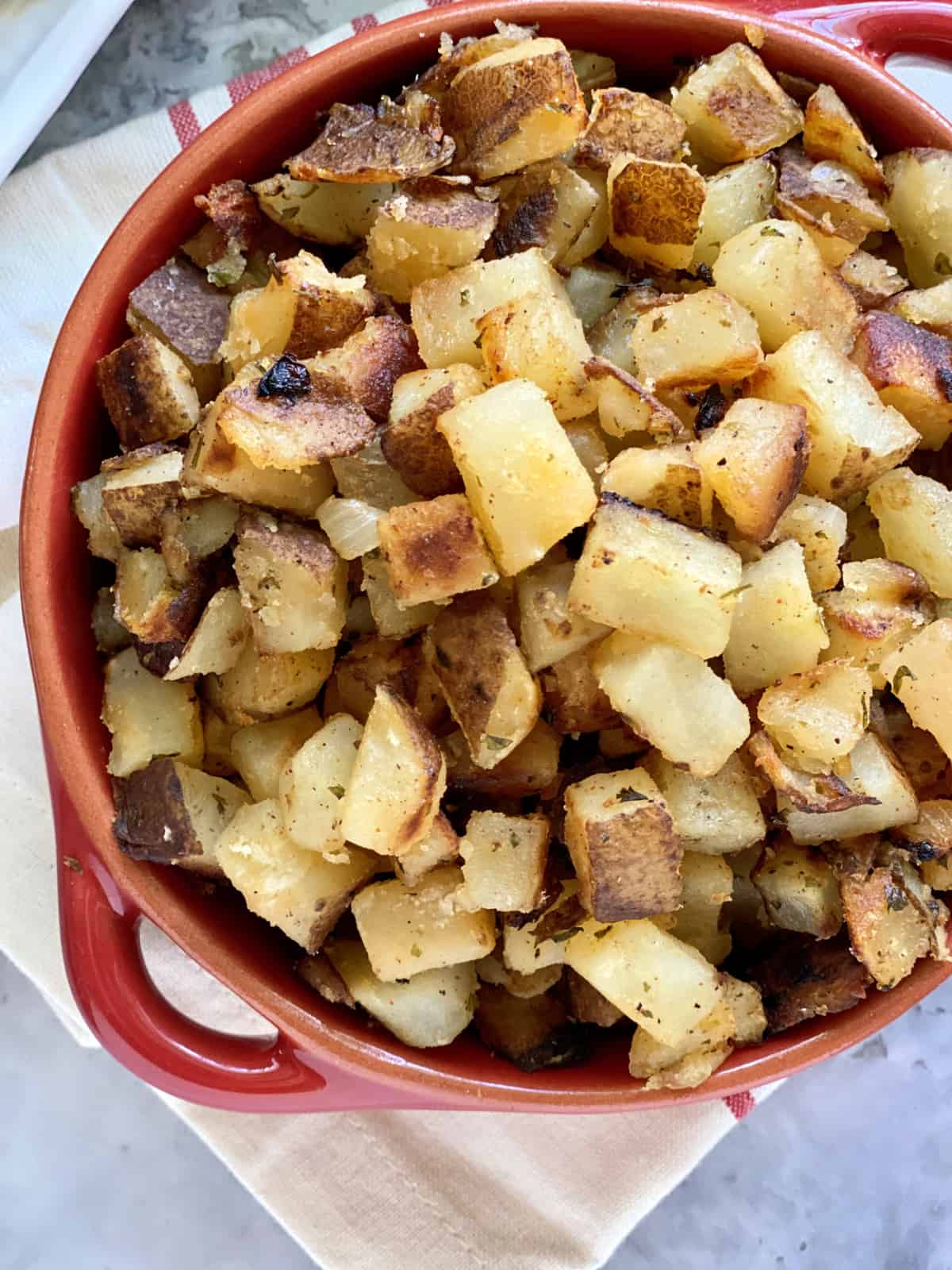 Read more: how to make the best chicken stir fry | Family Cuisine
Here are a few of my favorite tips and tricks I've found helpful when making breakfast potatoes.
Peel – If you prefer a smoother breakfast potato you'll want to peel the potatoes before boiling.
Even size – To ensure that all potatoes cook evenly you'll want to cut them to even size. This means you could dice, quarter, slice, or even cube the potatoes. Whichever style you choose you need to commit to that throughout all your cuts.
Boiling – You will want to boil the potatoes prior to frying. Depending on your stove top and the amount of potatoes you make will depend if you need only 15 or 20 minutes to boil. You want the potatoes to be just barely fork tender as they will continue to cook and brown in the frying pan.
Vegetables – I like to add both onions and bell pepper to my pan fried breakfast potatoes. I find that in order to not burn them, I'll add them on top of the potatoes a few minutes after the potatoes have started to fry. This method is key to having cooked but not burnt vegetables.
Reheat – To reheat leftover breakfast potatoes you can microwave them until warm or reheat in a frying pan until crispy and hot.
Breakfast Recipes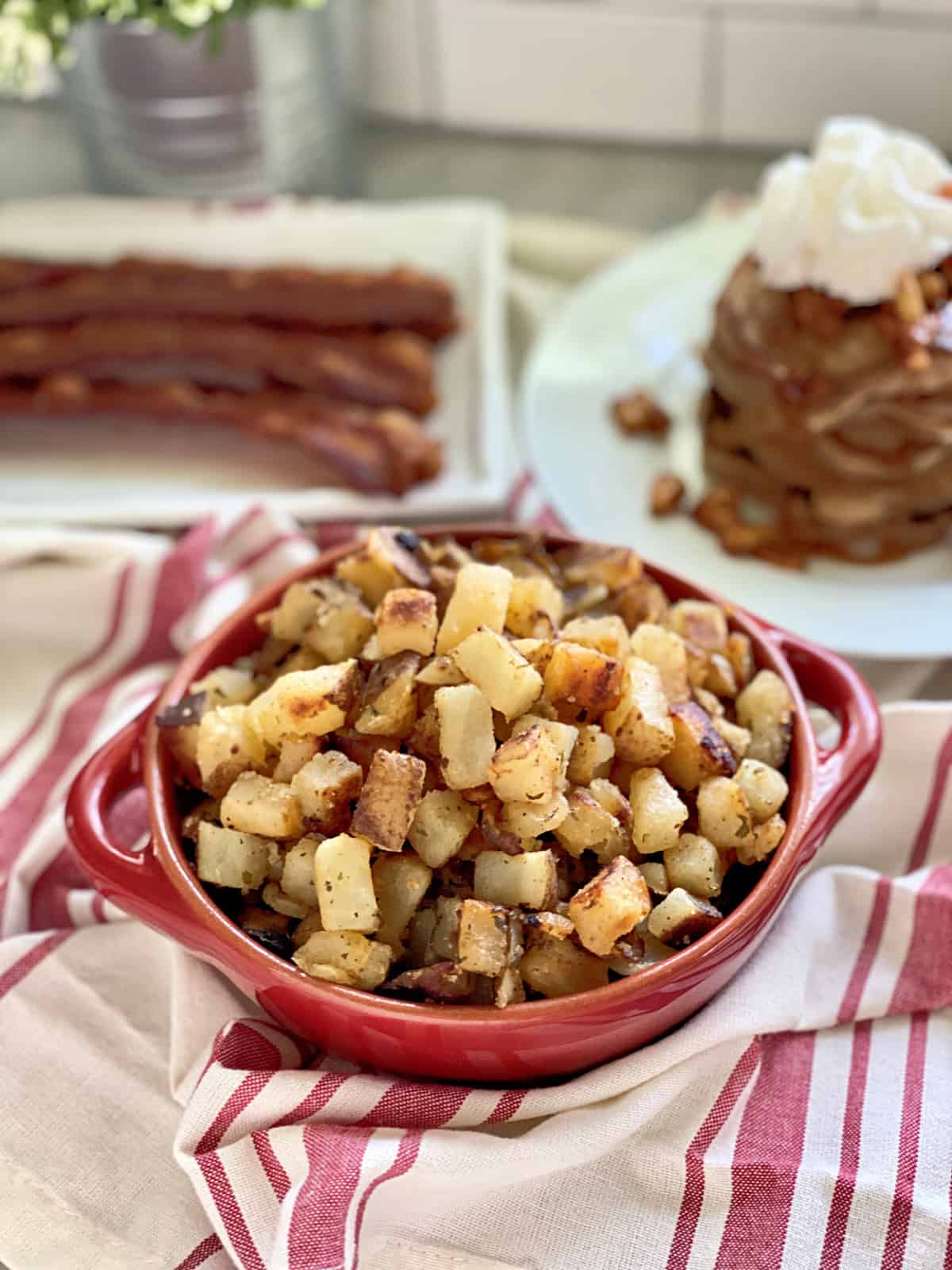 If you love breakfast as much as we do here are a wide variety of recipes that will compliment my breakfast potatoes recipe.
Kielbasa Breakfast Skillet with Eggs
How to Bake Bacon in the Oven
Easy Sausage Gravy
Buttermilk Biscuits
White Breakfast Gravy for Biscuits
Buttermilk Pancakes
Instant Pot Hard Boiled Eggs
Baked French Toast Casserole
Read more: how to deep fry an oreo | Family Cuisine
If you make my breakfast fried potatoes, I would be honored and love for you to take the time to leave a star rating and comment! I spend hours developing and testing these recipes, and always love to hear feedback and user experience!
Don't forget to FOLLOW ME on Facebook, Pinterest, and Instagram, and subscribe to my email list! This recipe is available as a Google Web Story.
Read more: how to make stir fry noodles with beef and vegetables