Crispy olive oil fried brussels sprouts with caramelized onions and garlic! Finish with a sprinkle of freshly grated Parmesan cheese and toasted pine nuts. Be sure to grab all my tips below.
These pan fried brussel sprouts are best served immediately. They make a great side next to anything, especially hearty roasts like spatchcock chicken or even slow-cooker leg of lamb. Take things up a notch more with a drizzle of homemade tahini sauce!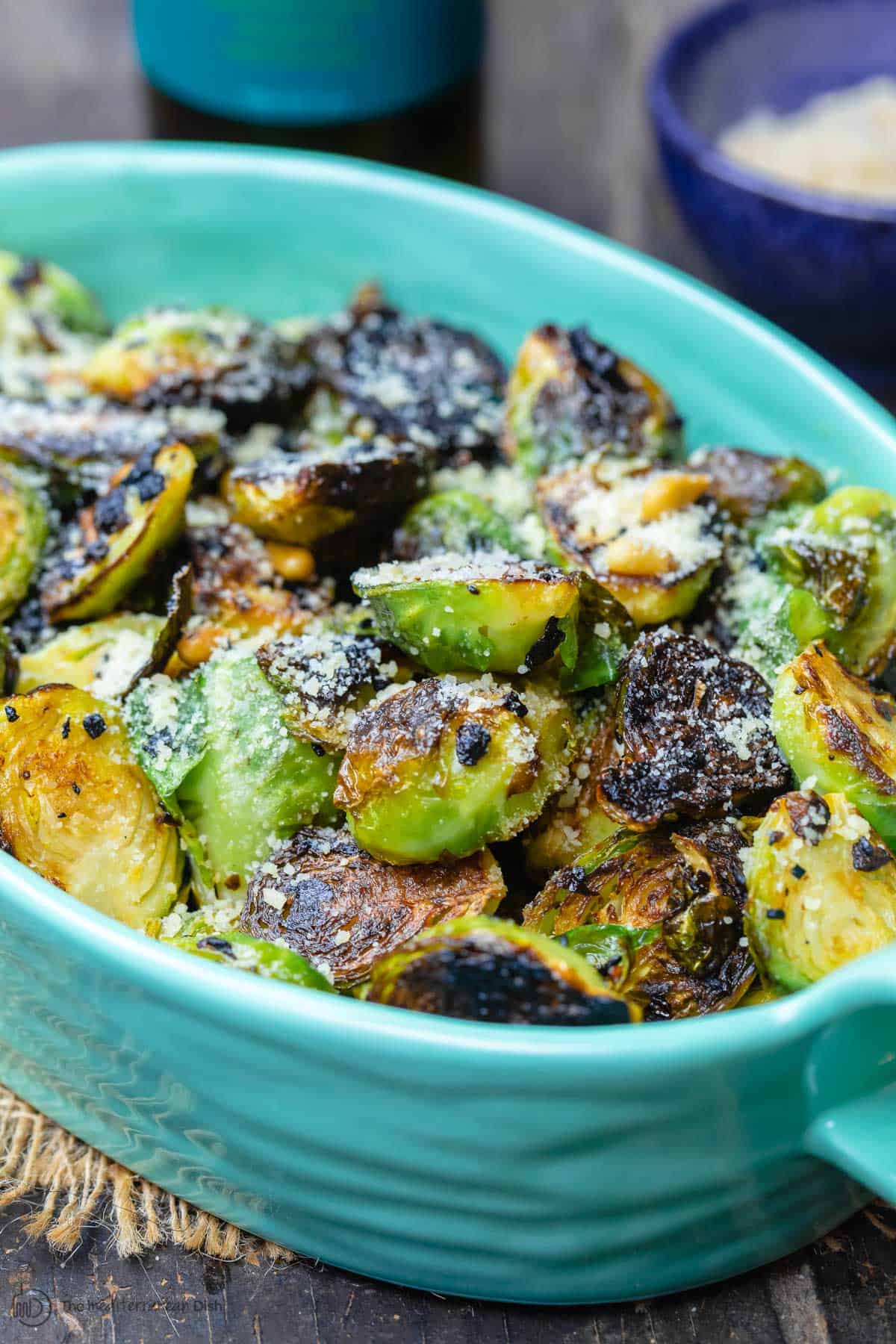 In the past few years, fried brussels sprouts became all the rage, taking over Instagram and making frequent appearances on different trendy restaurant menus. And for good reason!
Fried brussels sprouts are absolutely delicious. A far more exciting and compelling option than weirdly bitter steamed brussels sprouts, don't you think?
Today's brussels spourts recipe is quite simple. It comes together quickly and makes a great side next to almost anything!
Also read: how to cook zucchini in pasta stir fry | Family Cuisine
So, the gist of this fried brussels sprouts recipe: crispy olive oil friend brussels sprouts with garlic and perfectly caramelized red onions. I love finishing this dish with a sprinkle of freshly grated Parmesan cheese and a handful of toasted pine nuts.
And, whether you avoid deep frying for health reasons or for convenience, pan fried brussels sprouts are a great option and they can still be crispy and to-die-for addictive. (I have a few important tips for you below.)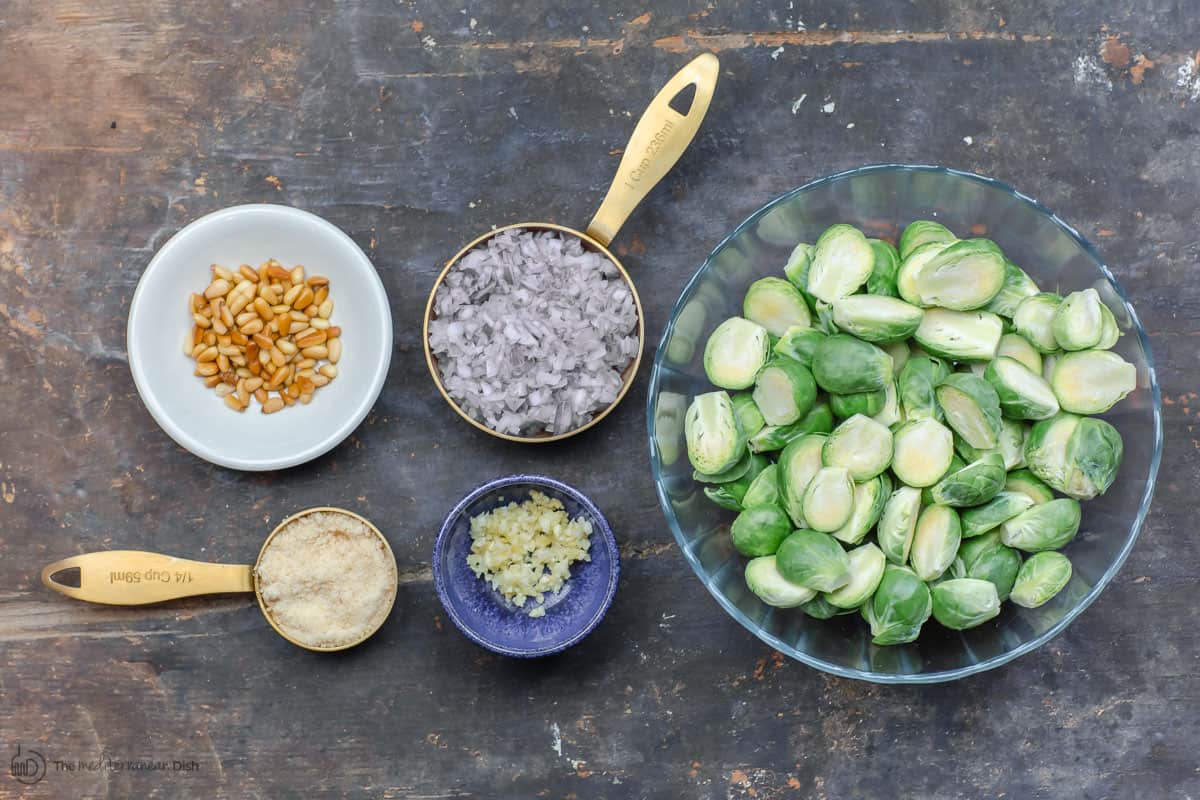 How to Make this Fried Brussels Sprouts Recipe
Tips for Best Pan Fried Brussels Sprouts
Pan fried brussels sprouts are easy to make, but I have just a few tips to ensure best results:
1. Cut brussel sprouts in halves or quarters. The best part about fried brussels sprouts are those charred, crispy edges. Cutting them in halves-or even quarters depending on their size-exposes more flat surface area for more charred goodness.
2. Use high enough heat and do not crowd the pan. Again, since the goal is to get some great crispy edges, higher heat (at least medium or medium-high is what I go for) helps. Arrange the brussels sprouts flat-side down first and do not crowd the pan.
Also read: how to make osaka fried rice | Family Cuisine
3. Do not disturb the brussels sprouts while frying. Don't be stirring, flipping or turning them over too often or too quickly. I cook mine flat-side down for a good 5 minutes, and once they char and crisp up nicely on the one side, I turn them over.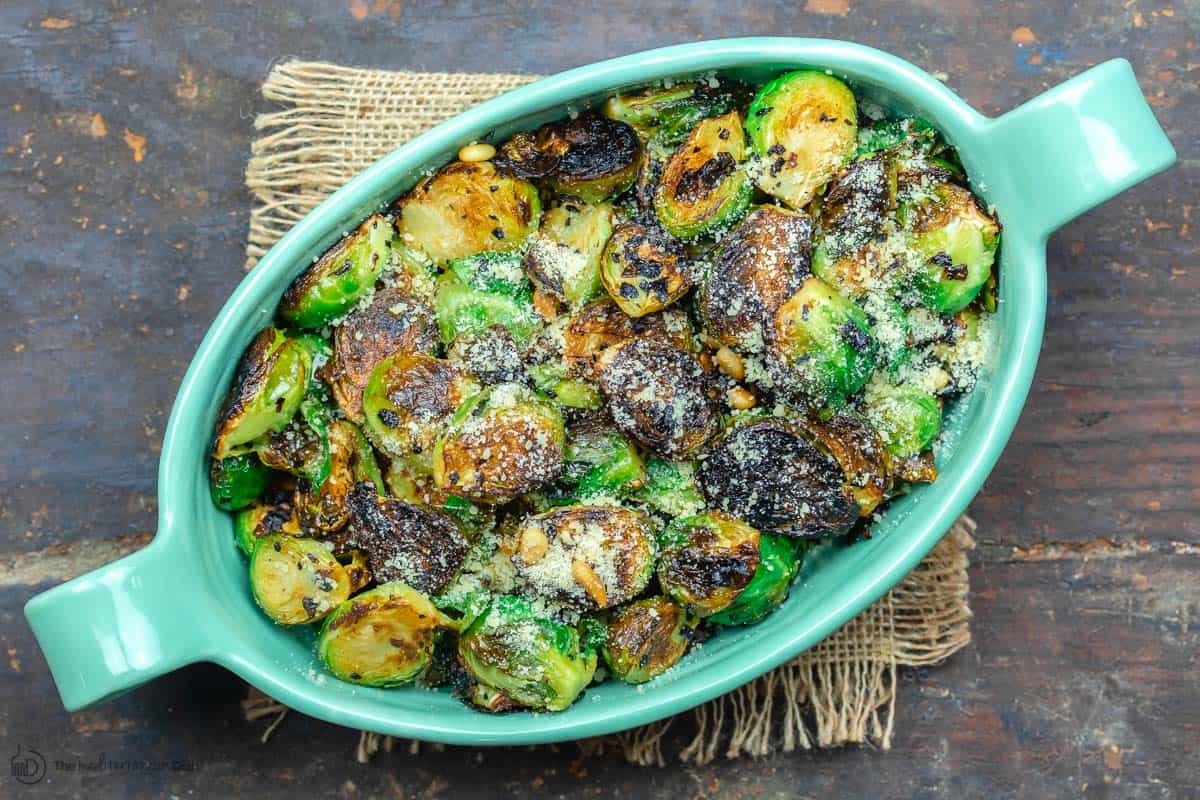 Can you use olive oil for frying?
Many fried brussels sprouts recipes call for butter or even bacon. My go-to cooking fat is almost always extra virgin olive oil. I used Private Reserve Greek EVOO in this recipe.
When I shared my fried eggplant recipe, we talked a bit more about what healthy oils to use for frying.
We're not talking about a deep-frying situation here, so you won't be using too much olive oil. And your oil should be heated to around 375 degrees F or so (Quality, low-acidity extra virgin olive oil should have a smoke point like 405 degrees F or higher.)
But let me repeat here again, if you are new to using olive oil in this way, it is perfectly fine to use something like sunflower oil or avocado oil.
Also read: How to make fried zucchini in air fryer | Family Cuisine
Safety tip: use a mesh splatter screen when doing any pan-frying where oil might splatter. It's also a good way to keep your stove-top clean.
These burssels sprouts make a great side, but you can also turn them into a vegetarian main by serving over quick-cooked polenta or plain orzo.
More Side Dish Recipes to Try:
Fall Rotini Pasta Salad with Brussles Sprouts
Quick Roasted Tomatoes with Thyme and Feta
Italian Roasted Vegetables
NEVER MISS A RECIPE! JOIN MY FREE E-MAIL LIST HERE.
SHOP OUR ONLINE STORE FOR QUALITY OLIVE OILS, ALL-NATURAL SPICES AND MORE!
Print
*This post first appeared on The Mediterranean Dish in March, 2016 and has been recently update with new information and media for our readers' benefit. Enjoy!