Mixed Berry Smoothie Recipe This post may contain affiliate links. Please read my disclosure.
A simple berry smoothie that's healthy, creamy, and has no added sugar! Naturally sweetened and full of antioxidants, this smoothie is the perfect breakfast, snack, or dessert!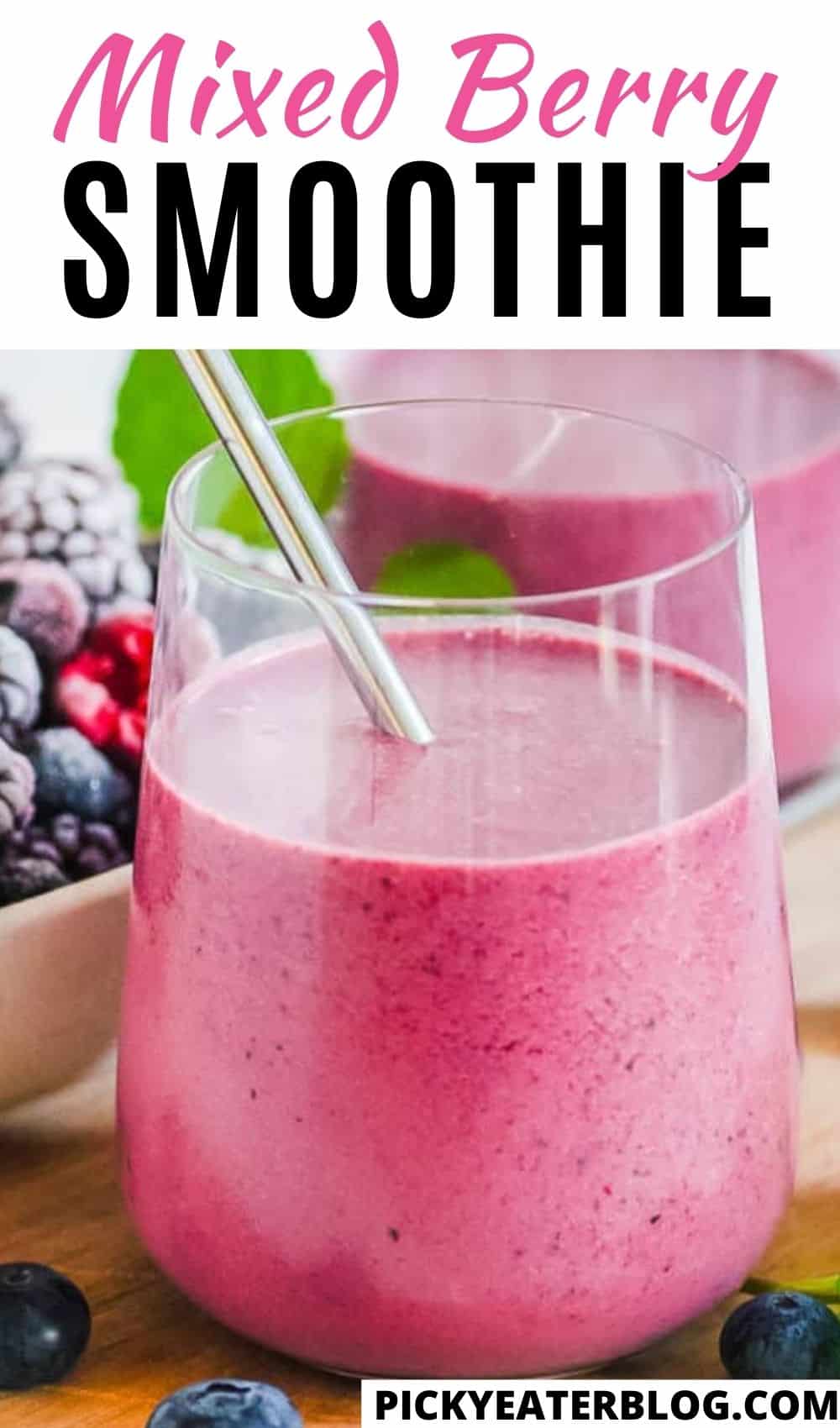 I love whole fruit juices and smoothies. I also love that smoothies made with fruit don't really need any additional / added sugar – because fruit is already so naturally sweet!
Reading: how to make frozen berry smoothies
Smoothies are also an easy way to get your daily servings of fruits and vegetables – it's like a little mini-meal when made correctly. And this healthy mixed berry smoothie is no exception! It's one of those easy smoothies that's super customizable and totally satisfying too!
Latest Recipe Video!
Most smoothies that you'd get at a restaurant have tons of unhealthy sugary additives (like frozen yogurt or fruit juice – orange juice and apple juice being the most common) – which you really don't need to make smoothies taste good! I like making smoothies at home, because then I can control the sugar.
The great thing about this recipe is: the entire preparation time is 5 minutes, but you end up with a delicious and super healthy smoothie which is a great option for breakfast or or a healthy snack. Hope you enjoy this delicious, cool, nutritious berry shake!
Why This Recipe Works
Quick and Easy
A few simple ingredients
5 minutes
A healthy and nutritious snack
Full of antioxidants
No added sugar
Low in calorie
Heart healthy
How to Make a Simple Berry Smoothie
Ingredients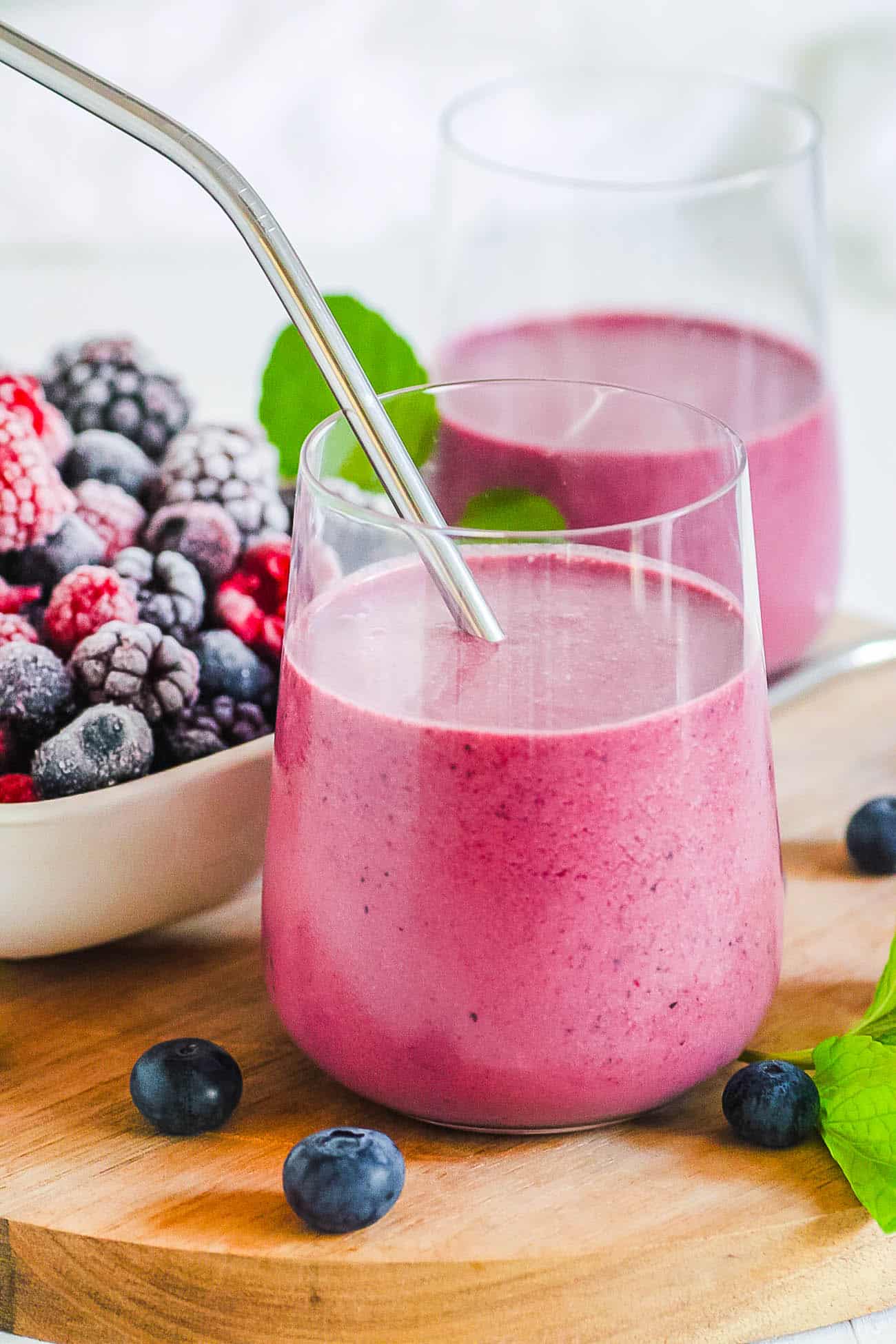 Frozen Berries: I used a Mixed Berry medley that had Blueberries, Blackberries, Strawberries, and Raspberries, but you can use your favorite berries – frozen Strawberries, frozen Blueberries, etc. – pretty much any combination of berries that you like. You can also use fresh berries, but then you will need to add ice cubes.
Read more: Best Smoothies on the Upper West Side
Milk: You can use any kind of milk you like! If you use a plant based milk, make sure it's unsweetened – and has only 0-1g sugar and 100 calories for 1 cup. For a creamier smoothie with more protein, use 1 cup soy milk. You can also use almond milk, regular low fat organic milk, or another dairy-free milk alternative.
Equipment
All you need is a blender (or a hand blender).
Instructions
Dump & Blend! Add the milk to a blender, then add the frozen berries. Puree until smooth and creamy. You can also use a hand blender if you have one at home.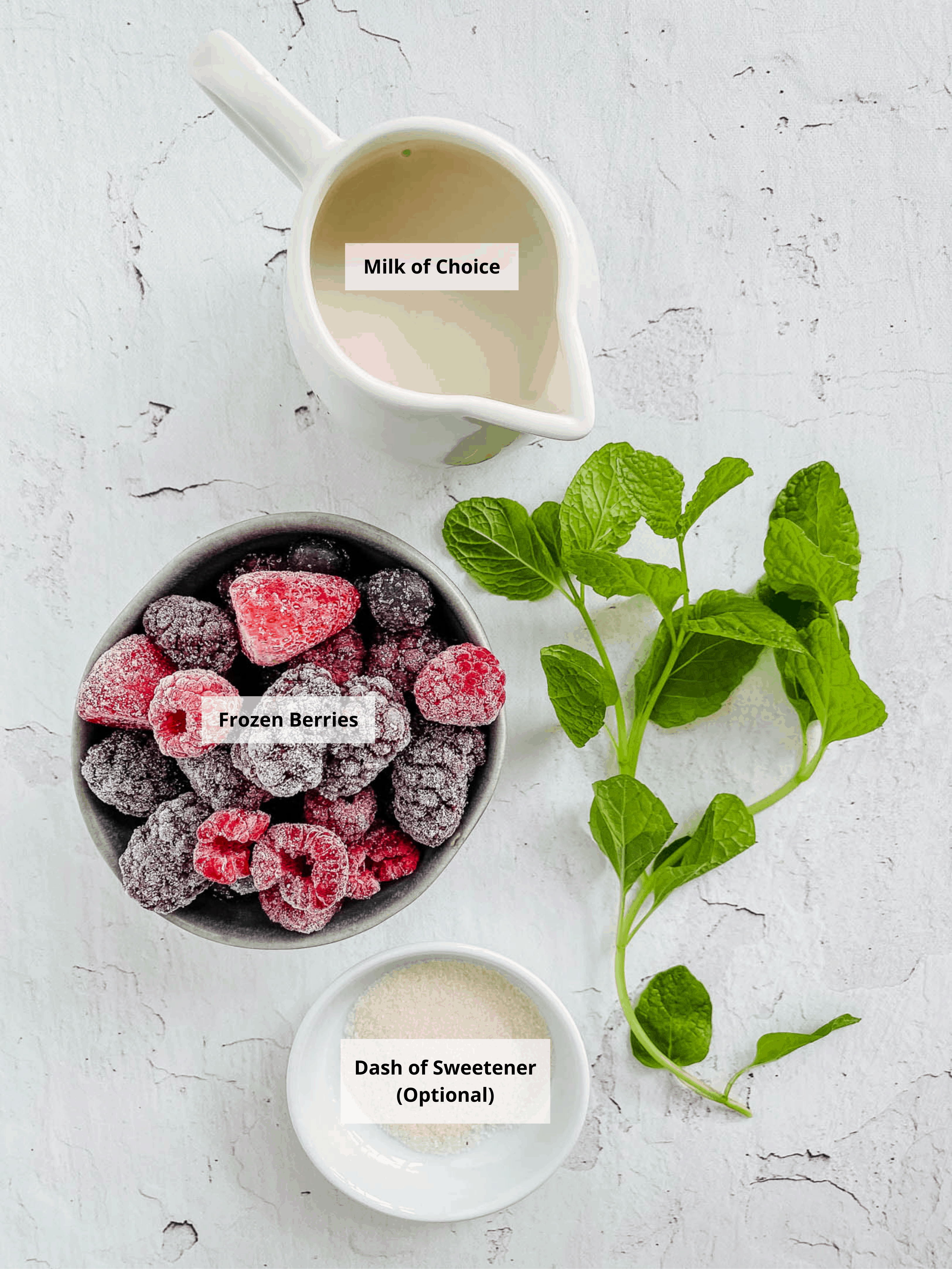 Serve: Add agave to taste to taste (optional). Blend a few more seconds to combine. Pour into a tall glass and garnish with fresh herbs or fresh berries.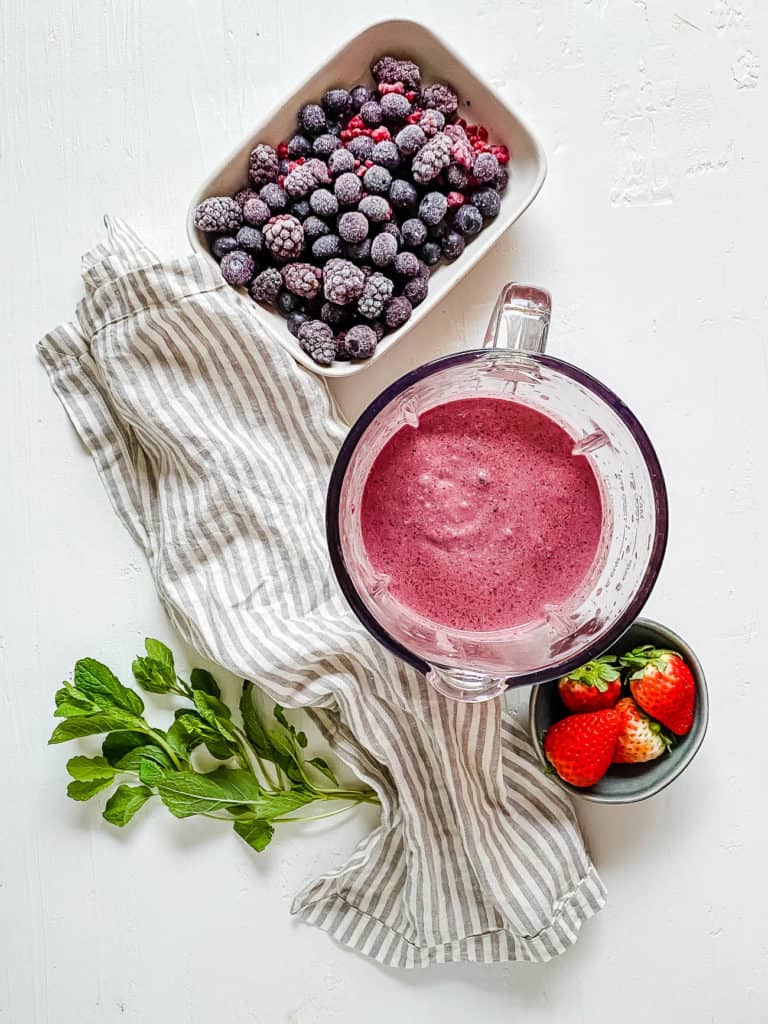 Note: If you don't like Soy Milk, you can use 1 cup unsweetened vanilla almond milk (40 calories for 1 cup), or even regular 1% organic milk (100 calories for 1 cup). Using regular organic 1% milk makes this drink even sweeter and tastes just like a milkshake!
Recipe FAQs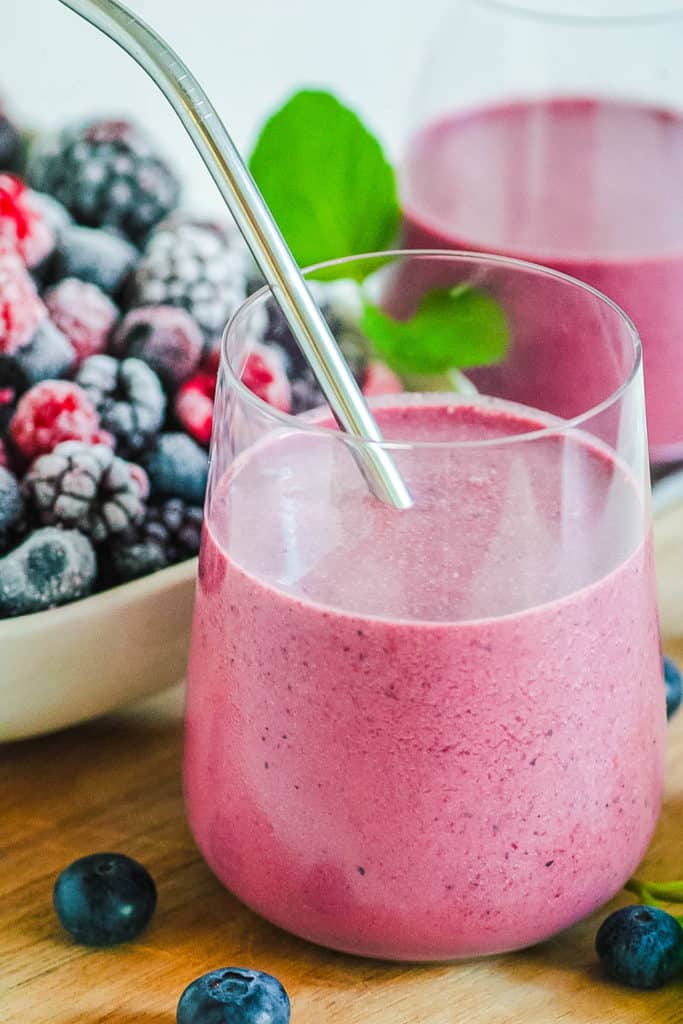 Variations and Substitutions
Use Fresh Berries: Instead of using a frozen berry medley use a combination of your favorite fresh berries (or fresh + frozen mixed). For the highest antioxidant boost use fresh raspberries, blueberries, and blackberries. You will also need to add a half cup of ice to achieve a thick cold texture.
Read more: The Best Oster Blender by Value for Money? This One
Use Different Type of Plant-Milk: There are so many varieties of plant-milk on the market today. From soy, rice, almond, cashew, coconut, and oat milk. Use your milk of choice, just keep in mind the nutritional information will change depending on the milk you use. There will also be a slightly different flavor depending on the milk you choose, for example coconut milk will have a mild coconut flavor. When choosing your plant-milk, just be sure to choose one that has no added sugar.
Add a Boost of Protein: If you really want to amp up the protein, add a scoop of your favorite protein powder. I like a simple pea protein powder. For extra protein, you can also add 1/2 cup (or more) of plain Greek yogurt.
More Sweetness: This berry smoothie is naturally sweet, but has a bit more of a tart flavor. If you prefer a sweetened flavor add ripe bananas, vanilla extract, or a dash of agave or maple syrup.
Healthy Fats: Feel free to add your favorite nut butters or seeds like almond butter, peanut butter, hemp seeds, chia seeds, or flax seeds. You'll get both healthy fats and added protein!
Extra Greens: To get your serving of veggies and fruits for the day, feel free to add fresh spinach or baby kale to this berry smoothie. The greens are a great way to get some extra fiber too!
Expert Tips
Use a frozen berry mix for ease of use, and also to create a thick and cold texture.
Choose your favorite berry combination. Blueberries, blackberries, and raspberries have the highest antioxidants.
Use a no sugar added plant-milk.
For added protein, add a scoop of your favorite sugar free protein powder.
Add the milk first, followed by the frozen fruit. This helps to keep the fruit from getting stuck on the bottom of the blender. Feel free to add more milk as needed – you want enough liquid so that your smoothie is easy to drink but not too thick or thin.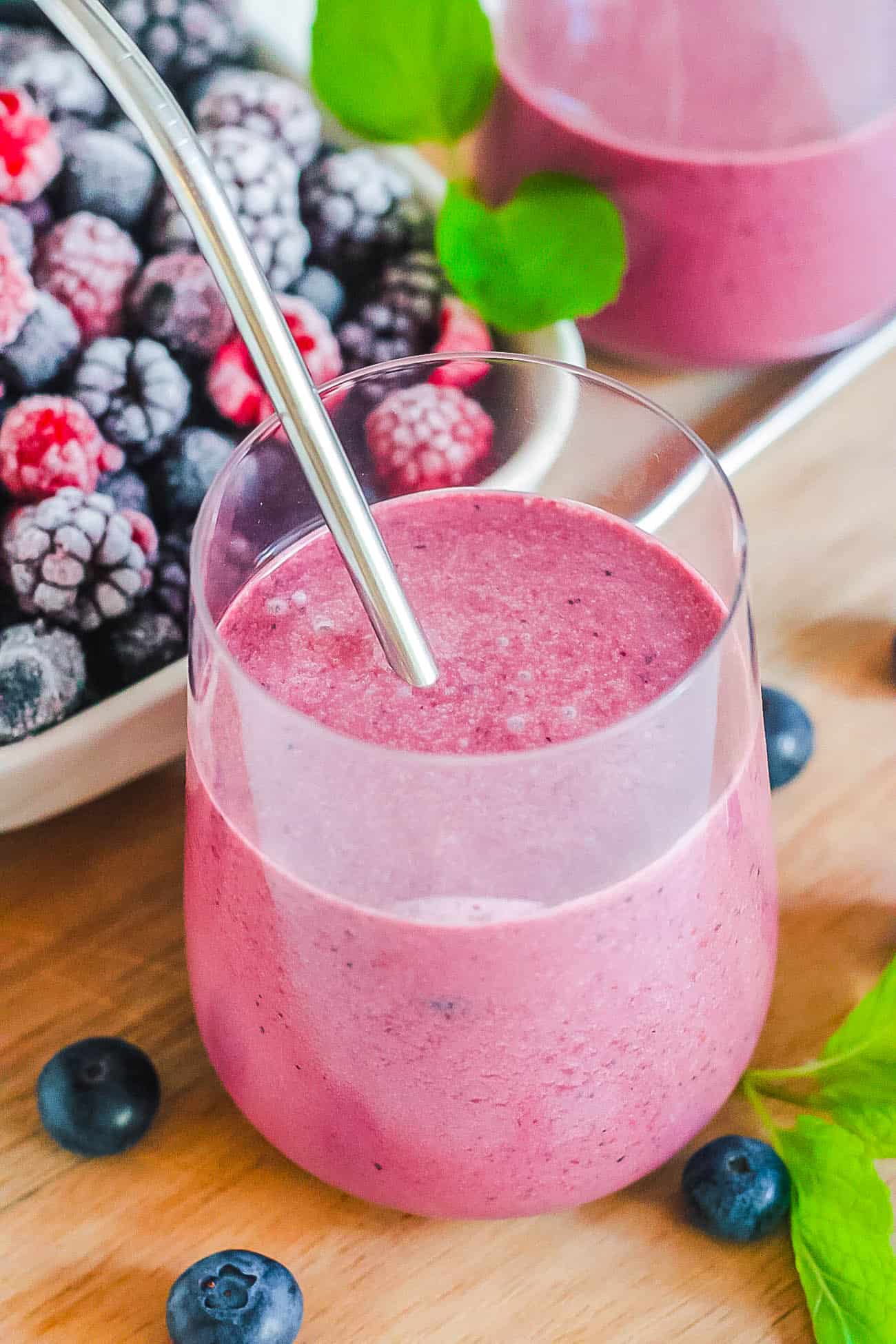 More Healthy Smoothies!
Spinach Ginger Smoothie with Nutmeg
Banana Peach Smoothie
Fruit and Veggie Smoothie
Spinach Banana Smoothie with Peanut Butter
Blueberry Banana Blast Smoothie
21 Easy Recipes for Breakfast
If you have tried this Berry Smoothie Recipe or any other recipe on my blog, then please rate it and let me know how it turned out in the comments below! You can also FOLLOW ME on FACEBOOK, TWITTER, INSTAGRAM, and PINTEREST to see more delicious, healthy, family friendly food!
Read more: How to make matcha tea taste good