If you've never had Filipino Garlic Fried Rice, then you are missing out. Garlic elevates this simple fried rice recipe, giving it a robust flavor that makes it a great side dish, no matter what meal you eat it for!
What Is Filipino Garlic Fried Rice?
Garlic fried rice is a favorite side dish in the Philippines. And what's not to love?
Reading: how to make garlic fried rice
It's simple to make (you don't have to worry about all the add ins of Chinese fried rice or Thai fried rice) and the garlic elevates the flavor of the rice making this easy dish so much more than a plain rice side dish.
How Do You Make Garlic Fried Rice?
Making garlic fried rice is incredibly easy. It only really involves two steps.
Make your garlic oil
Fry the rice
First, you need to make your garlic oil for frying the rice. A by-product of making this garlic oil is a nice set of fried garlic, which acts a a wonderful garnish for the rice (and any leftovers are great on salads, potatoes, or anything really).
In a wok or skillet, you heat your oil and add the minced garlic. You then stir fry the garlic until it turns a light golden color.
You need to watch the garlic carefully during this step, because it can turn from barely tan to dark brown quite quickly.
After you remove your fried garlic from your pan, it's time to add the cooked rice.
The key to good fried rice is cooking the rice undisturbed. So, once you stir your rice to get it coated in the tasty garlic oil, leave it alone for 3-5 minutes, so that it starts to develop a nice crust.
Read more: how to cook potatoes stir fry | Family Cuisine
You'll do this a couple more times, until your rice is cooked.
Then you add your fried garlic back in, along with salt and pepper to taste.
It's so simple, but such a great way to elevate your rice!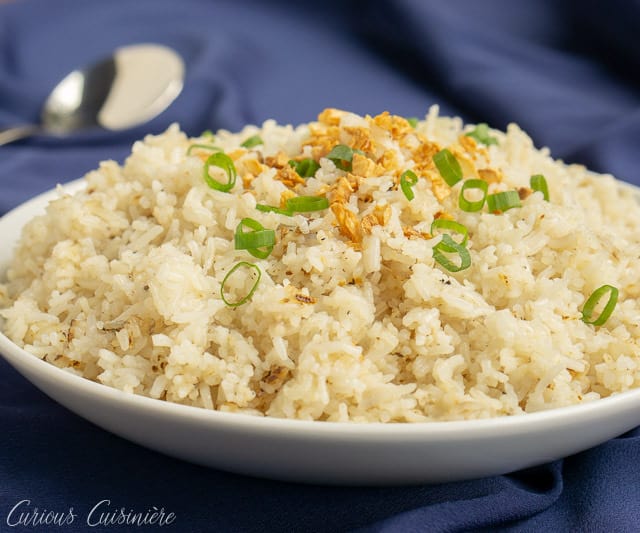 Our Filipino Garlic Fried Rice Recipe
What we discovered is that the best rice to use when making fried rice is leftover rice. Cooked rice that is a couple days old is the perfect candidate for turning into delicious fried rice.
You know how rice gets kind of hard in the refrigerator after a day or two. It's hard to revive it into the tender, fluffy goodness that it was straight out of the pan.
Rice gets hard because it loses moisture in the refrigerator. However, when you make fried rice, it is important that you have very dry rice. If your rice is too sticky, it will just clump and get gummy in the oil.
When cooked rice is dry, the grains separate more easily and get nicely coated with the oil. You don't get a clumpy, greasy mess, you just get tasty fried rice!
How To Serve Filipino Garlic Rice
Filipino garlic fried rice is typically served for breakfast with Filipino omelettes and banana ketchup.
Read more: how to make fried tilapia fillets | Family Cuisine
If you don't want to make the omelettes, you can also simply serve your fried rice topped with fried eggs.
Just thinking about a runny-yolk egg over this garlic-y goodness is enough to send us to the kitchen to make another batch!
If you're not big on the idea of rice (or garlic) for breakfast, this dish makes a great lunch or light dinner.
Some people will add vegetables (like peas) and meat (like cooked chicken or pork) to the garlic fried rice to make it more of a meal in itself.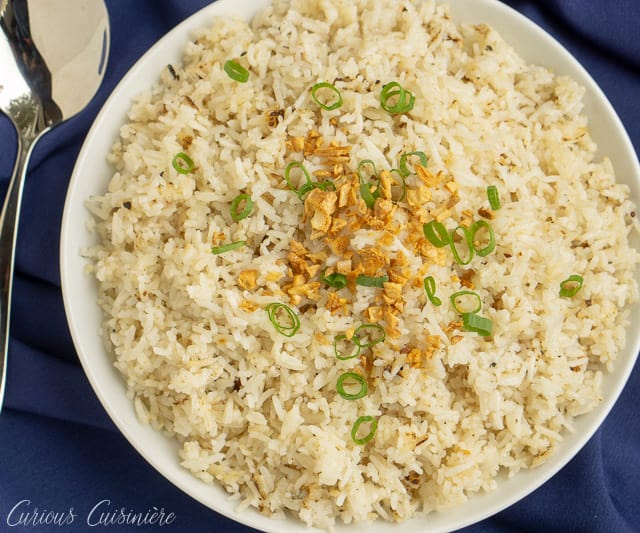 Whatever way you eat it, you need to give this garlic rice recipe a try!
Love it? Share it!