Sharing is caring!
No Thanksgiving or Christmas dinner is complete without some homemade gravy! Learn how to make gravy from drippings, for an easy way to add a rich flavor to everyone's plate.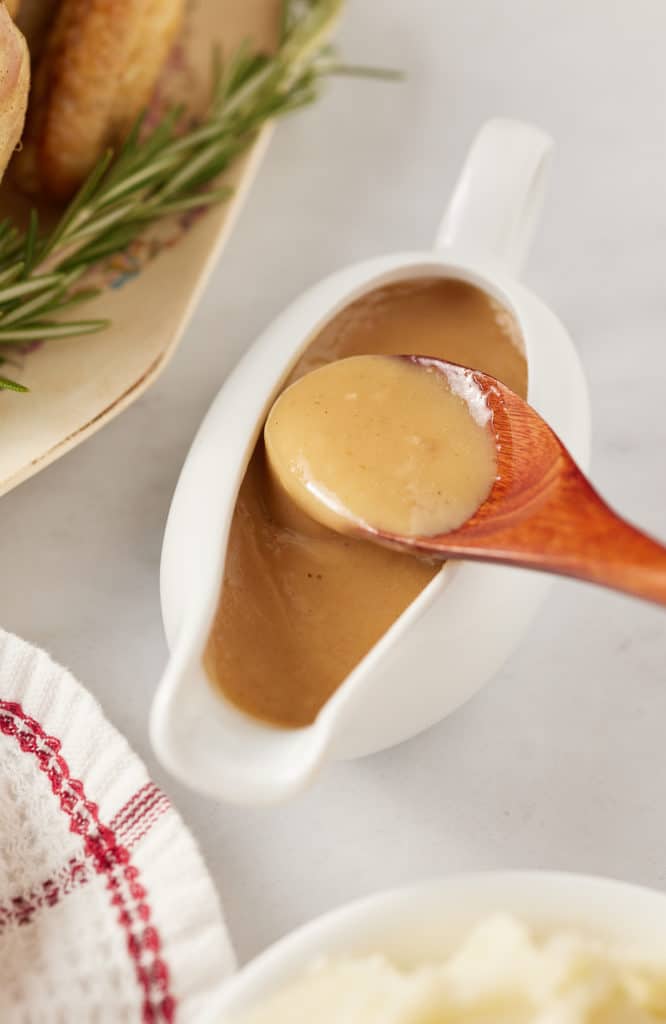 This post contains affiliate links, please read my full disclaimer here.
Full Recipe Ingredients/Instructions are available in the recipe card at the bottom of the post. You can find important tips/tricks in theblog post.
Gravy is the sauce that brings your dinner together and is a must-make for Thanksgiving and the holidays. Gravy can seem intimidating, but don't make that stop you from stirring some up before dinner.
Made with turkey or chicken drippings from your main course, this homemade gravy is thick, rich, and full of flavor. Made from scratch on the stovetop, it's easy to make while your turkey is resting before serving on the table.
Be sure to try my Easy Recipe for Gravy without Drippings, for those times you don't have any drippings.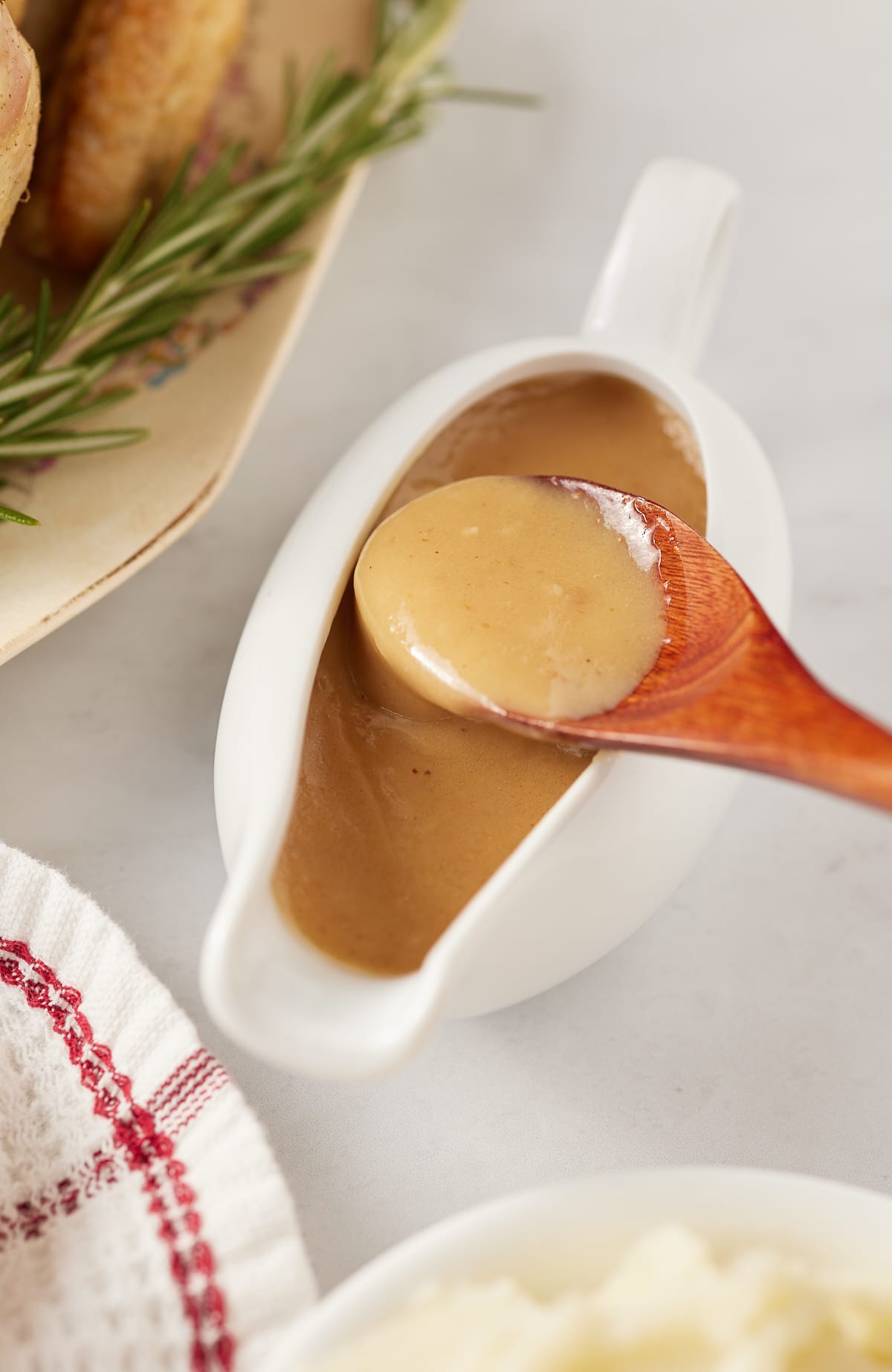 How to make gravy from drippings
After roasting your chicken or turkey, remove the meat from the roasting pan or baking dish and set aside. You'll notice some liquid, fat, and brown bits stuck to the bottom. This is flavor, do not toss it out. Make sure you've got about 2 Tablespoons of liquid in the roasting pan.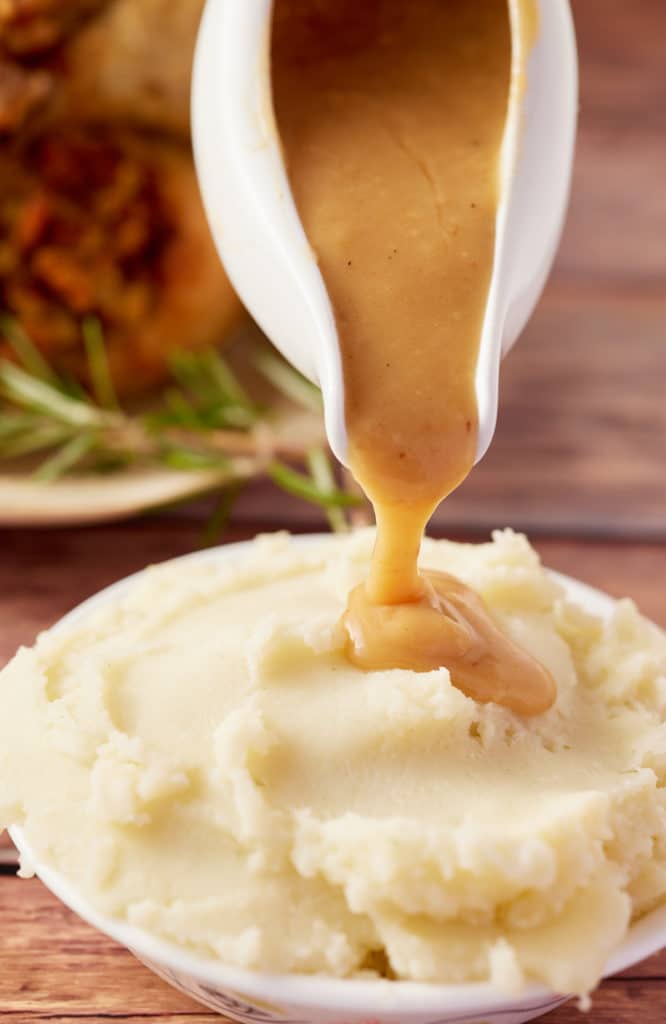 Place the roasting pan on the stove over medium heat and add butter.
Melt the butter and use a wooden spoon or whisk to melt the butter and lift some of the drippings.
Sprinkle flour in the roasting pan and stir until the flour is incorporated. Continue stirring for about 1-2 minutes.
Slowly stir in the broth and continue stirring. Allow the broth to come to a simmer and simmer for about 15-20 minutes.
Season with salt and pepper to taste.
Remove from the stove and strain the gravy through a fine mesh strainer for a smooth gravy.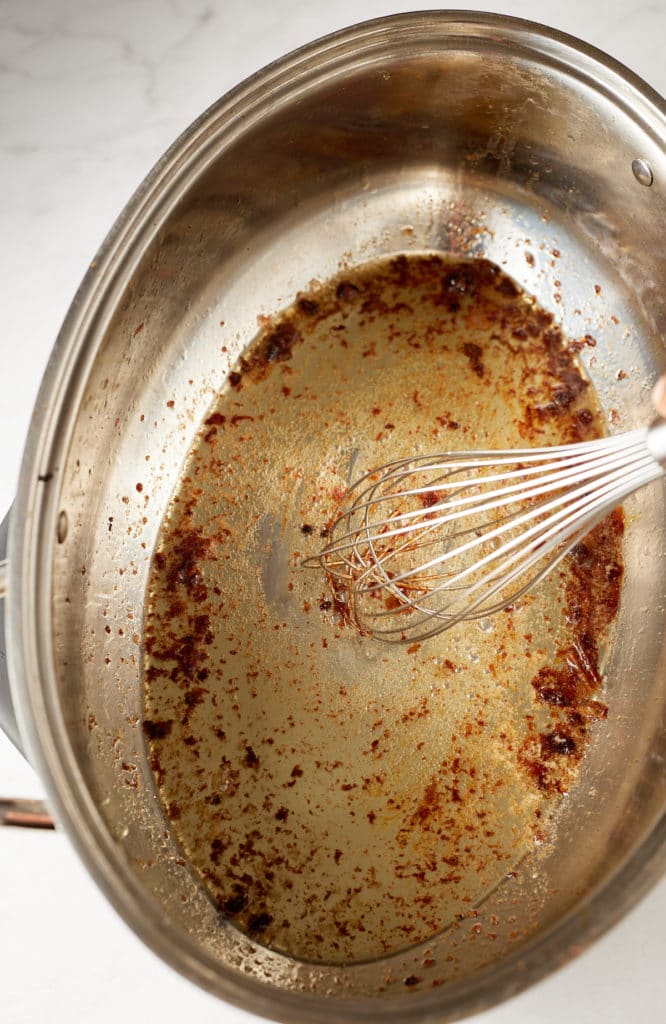 How long does it keep?
If you have any leftovers, this gravy will keep well in the fridge for up to 4 days. You can reheat it gently on the stovetop to serve, adding in a little water if needed. You can also freeze it for up to 4 months and defrost it in the fridge before reheating.
Can you use any kinds of dripping?
Yes! This gravy recipe works well with any meat drippings. Turkey, chicken, beef, lamb, and pork all work well. Dripping gravy works so well to pull your whole dinner together and the drippings add a wonderful rich flavor.
What else can you add to the gravy?
This is a basic dripping gravy recipe and it's delicious in its simplicity, though you can make it your own easily. You can brown some diced onion in the drippings before making the rest of the gravy, or add in some garlic. You can stir in some dijon mustard or Worcestershire sauce for a tangier flavor if you prefer. Herbs are also a welcome addition.
Can I make this gravy without a roasting pan?
Yes! If you roasting your chicken or turkey in a baking dish that cannot be placed on the stovetop, just transfer the drippings and bits stuck to the pan into a large stovetop skillet before following the remainder of the instructions.
Can I make gravy without flour?
Yes! If you want to keep your gravy gluten-free, you can thicken it with cornstarch instead of flour. To thicken the gravy with cornstarch, you'll omit the flour and stir the broth into the melted butter and drippings over medium heat. Allow the broth to simmer for about 5-10 minutes. In a separate bowl, create a slurry by whisking together 2 Tablespoons cornstarch and 1/4 cup water. Pour the slurry into the simmering liquid while whisking to combine. Allow it to simmer for an additional 1-2 minutes before removing from heat.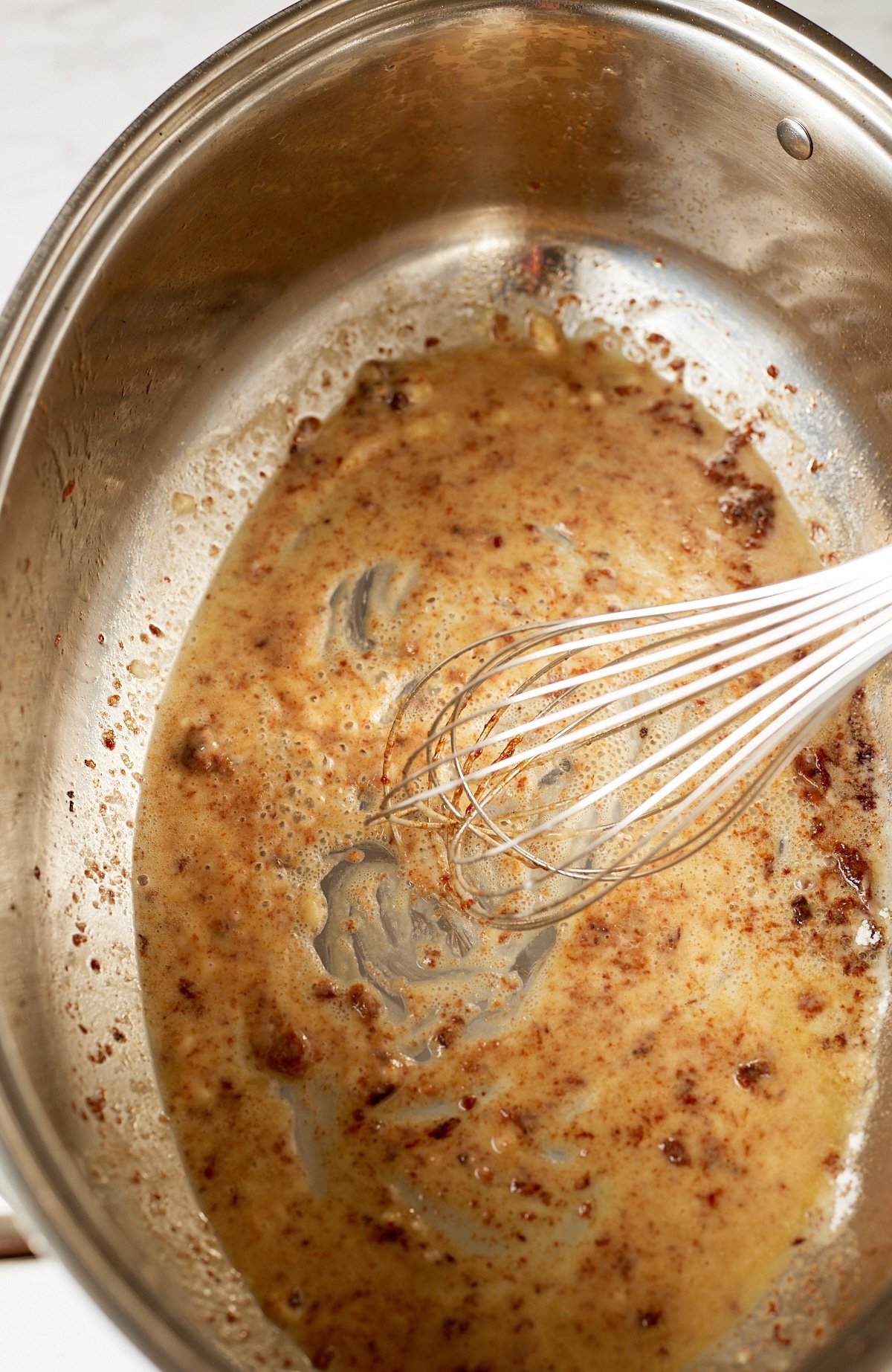 Recipe Notes and Tips
I'll occasionally add fresh or dried herbs to the gravy, such as rosemary, basil leaves, and thyme. If adding herbs, add them once your gravy begins to simmer. Make sure to drain the gravy when it's done cooking.
Your gravy may be a little salty depending on the broth you use. Add a squeeze of lemon juice to fix a salty gravy.
Add only 2 cups of broth for a thicker gravy and 3 cups for thinner gravy.
This recipe is based off of 2 Tablespoons of drippings, which is the amount common for 5 lb chickens. If you happen to have more drippings, add more flour and liquid to accommodate the increase. For example, if you end up with 6 Tablespoons of drippings, add 6 Tablespoons of flour and 3-4 cups of broth.
More Thanksgiving Recipes
Seasoned Air Fryer Turkey Wings
Honey Whole Wheat Dinner Rolls
Cranberry Sauce
Homemade Pumpkin Pie
Southern Sweet Potato Pie
Sharing is caring!
Please see more list about How do i make gravy from roast drippings
Detail: 🔗