This simple recipe for perfect pot roast in the slow cooker is my go-to recipe for Sunday dinners. And that gravy! Oh my, it is a game-changer.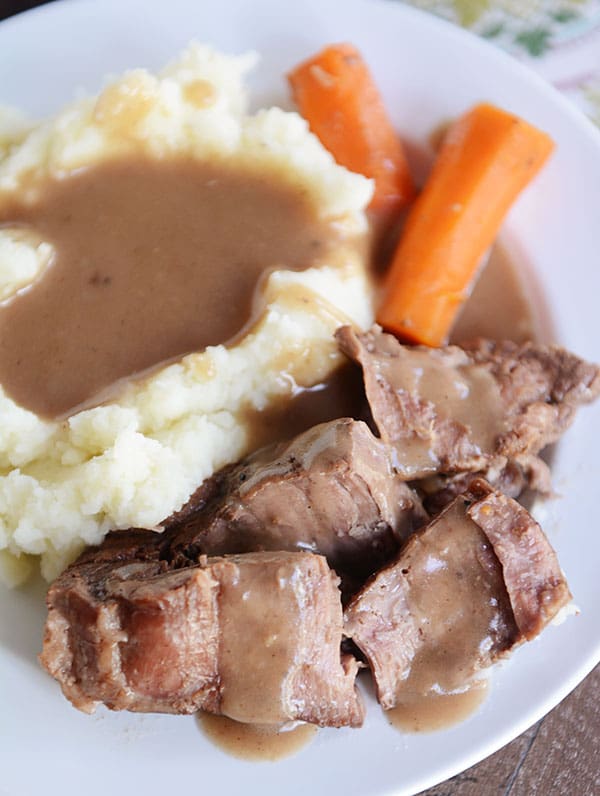 Ok, so technically I probably shouldn't be calling this "pot roast" since it's a no-fuss slow cooker recipe, but old habits are hard to break, especially since I've been calling slow cooker roast dinner "pot roast" for almost four decades now.
Reading: how to make gravy out of pot roast juice
I grew up eating pot roast, mashed potatoes, and gravy almost every Sunday. The only exceptions were when my dad was out of town and we'd eat caramel popcorn instead, and that one time when my mom decided to change things up and make pork chops.
We all freaked out (spoiled kids that we were) and declared that pork chops were not allowed on pot roast Sundays.
Now that I'm a real, live grown-up with a family of my own, we don't eat pot roast every Sunday like I did growing up.
It's not for a lack of good feelings. We love it! But I simply have too many recipes to make before I die, and I can't dedicate 52 of my yearly meals to the same thing.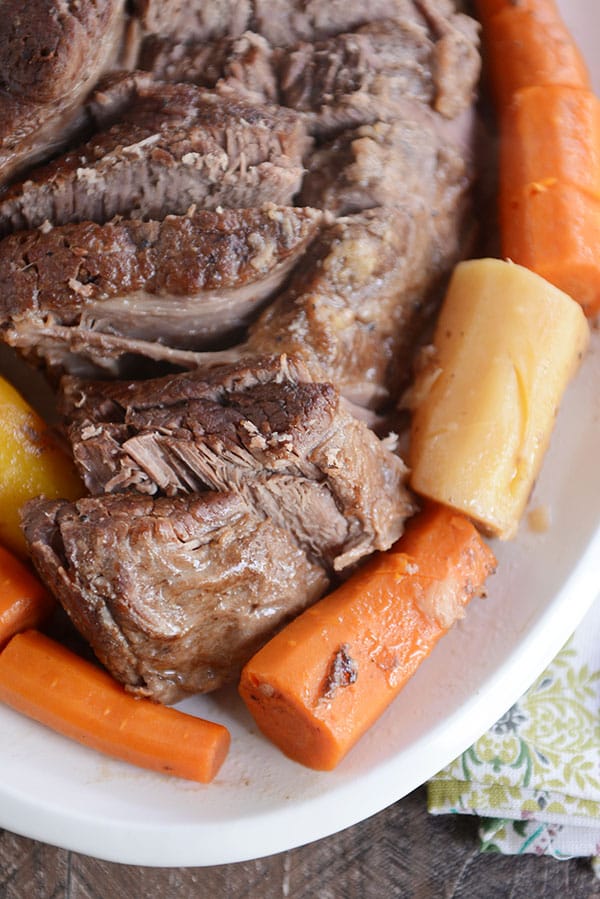 Last year, after raising our own meat for the first time and experiencing the flavorful, deliciousness, I fell in love with pot roast all over again.
We've been eating it more frequently. It's definitely in my kids' top 10 requested meals, although I'm good at redirecting those recipe requests thanks to the aforementioned recipe conundrum I face every day of my life.
Read more: how do you make orange juice
After taking a few notes from my mom's tried-and-true recipe along with a few changes of my own, I can definitely say this is our go-to perfect pot roast recipe.
It's simple thanks to the almighty slow cooker; the only way I make it, in fact! I've made it once or twice in my cast iron Dutch oven and it was dry and not great, so I stick with the slow cooker for pot roast. Always and forever.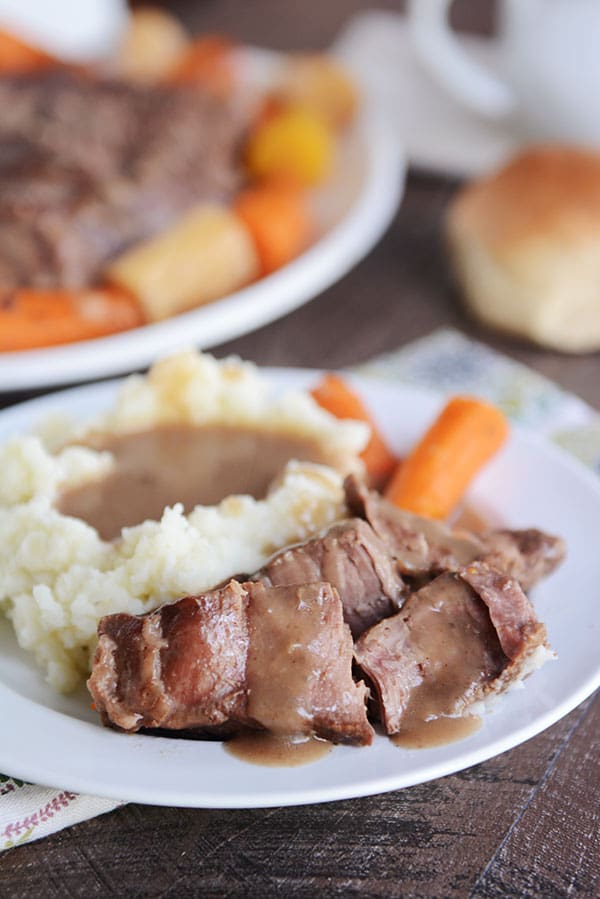 I know many of you (myself included at times) do a little eye rolling at having to brown meat before it heads to the slow cooker, but I highly encourage you to just grin and bear it for this recipe.
That quick step adds tons of flavor – both to the meat and to the juices that follow the roast into the crockpot. You want the perfect pot roast, right?
Can I confess that as much as I love the tender, fall-apart pieces of beef, hands-down, my favorite part of a good pot roast is the carrots.
I can't get enough of them! In fact, my family fights over them. The flavor is out-of-this-world delicious.
The only recipe that's ever come close is the roasted carrots recipe I included in my eCookbook. But still, you can't beat pot roast carrots.
And that gravy, oh the gravy, it gives the carrots a run for their money. Honest to goodness, that ridiculously silky and flavorful gravy might be the best gravy in the history of ever thanks to the low and slow simmer action and the quick and simple way it's made once the roast is done cooking.
Read more: How to make cinnamon tea with powder
I've made pot roast gravy a lot of different ways, but nothing beats this gravy. Nothing.
A quick note about type of meat: I've made this slow cooker perfect pot roast with many different types of roast, and chuck roast wins every time.
Rump roast can work in a pinch, but try for chuck roast if you can. Bonus: it's usually one of the cheaper types of beef.
And there you go! Perfect pot roast. If anything, make it to experience the deliciousness of the carrots and gravy, and really, the meat is pretty spectacular, too.
Of course, what's pot roast without mashed potatoes? If you need a stellar mashed potato recipe, here's my favorite Roasted Garlic and Parmesan Mashed Potatoes. Omit the parm if you aren't feeling it with the pot roast. Of course, I am always feeling the Parmesan love.

Lion House Dinner Rolls or French Bread Rolls Roasted Garlic Mashed Potatoes My Favorite Spinach Salad
One Year Ago: Video Tip: How to Make Perfect Pie Crust Two Years Ago: Easy 10-Minute Caramel Sauce Three Years Ago: Green Lentil Soup with Curried Brown Butter
Recipe Source: from Mel's Kitchen Cafe (thanks to my friend Amy W. for long ago giving me the tip about allspice – yum!)