Last updated on February 13th, 2021 at 09:05 pm
Start Valentine's Day sunny side up (or over easy) with one of these six romantic heart-shaped egg recipes.
1) Heart Shaped Fried Egg
Reading: how to make heart shaped fried eggs
For this easy morning smile maker, you'll need a heart-shaped cookie cutter, a frying pan, an egg and some cooking spray or butter.
Spray the pan, and the inside of the cookie cutter, with cooking spray or grease with butter.
Place the frying pan on a stove burner set to medium heat. Place the cookie cutter in the center of the pan. Crack the egg into the cookie cutter and wait for the egg to set.
Don't worry about any egg white which might spread beyond the cookie cutter. You can easily pry it away.
Read more: how to cook brown rice for stir fry | Family Cuisine
If you want the eggs over easy, or cooked hard, remove the egg from the cookie cutter and flip the egg over to finish cooking as you like it.
2. Heart-Shaped Eggs and Toast
The very simple version of this is to make a slice of toast while you're frying the egg in a heart-shaped cookie cutter, as above. Use the same-size cookie cutter to cut an opening in the center of the toast. Once your egg is cooked, slip it into the made-to-size heart shape. Or you can make two eggs and slide the other one onto the heart-shape toasted cut-out.
Martha Stewart has a cute variation of the heart-shaped fried egg; in her version, you fry the egg inside the cookie cutter while it is set inside a piece of toast.
3. Heart Shaped Baked Eggs.
You'll need a heart-shaped muffin tin for the perfect heart shaped baked egg, but other than that, it's easy.
Just use a good spritz of cooking spray or grease each section well. Crack an egg into each one, season with salt and pepper, then place in a 350 degree oven for 14 to 17 minutes or until the eggs set just the way you like them.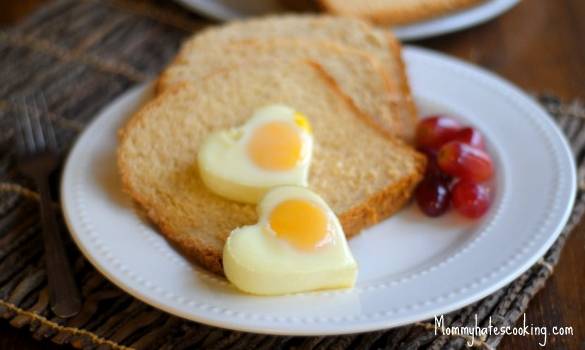 Read more: how to make teriyaki noodle stir fry | Family Cuisine
4. Heart Shaped Boiled Eggs (How-to Video)
Fresh, boiled eggs can become heart-shaped with a little help from the corner of a milk carton, a chop stick and two rubber bands.
5. Bacon, Egg and Heart-Shaped Toast Cups.
Jaymee Sire shows how to make these enticing bacon, egg and toast cups baked in heart-shaped muffin cups to tasty perfection.
6. Heart Shape Mini Omeletes.
These little egg omeletes, with grated cheese and bacon bits, were cooked in heart-shaped pancake molds in a frying pan. I imagine that cookie-cutters would work in a pinch.
So there you have it. Even if you forgot a Valentine's Day card, you probably have all you need in the fridge to say "I Love You" with eggs.