This hibachi steak with fried rice and hibachi veggies tastes just like your favorite Japanese restaurant! Made with authentic ingredients and served with a side of ginger sauce, this restaurant-style recipe is the perfect way to get your fix of Asian food in the comfort of your home. The secret ingredient makes this recipe the very best (Hint: it's high-quality butter!).
This post is sponsored by Danish Creamery, but all thoughts and opinions are my own.
Reading: how to make hibachi steak and fried rice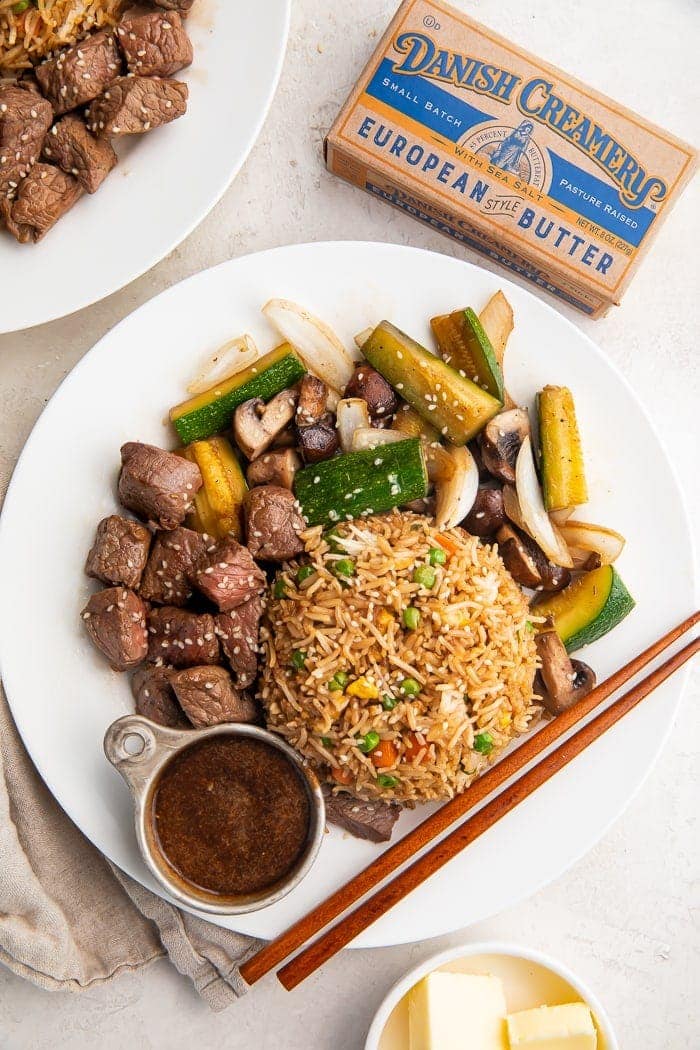 Read more: how to make stir fry yakisoba | Family Cuisine
You'll love this recipe if you love our Hibachi Chicken with Fried Rice and Vegetables!
What Makes This Hibachi Steak So Good
Cooked in creamy butter, this hibachi steak is rich and delicious. I absolutely love how Danish Creamery's butter with a touch of sea salt elevates this recipe to a whole new level of flavor.
This delicious recipe makes it surprisingly simple to have restaurant-quality hibachi at home! The saucy, perfectly cooked steak with fried rice loaded with vegetables, sautéed hibachi veggies, and flavor-packed ginger sauce make for a delicious, full meal.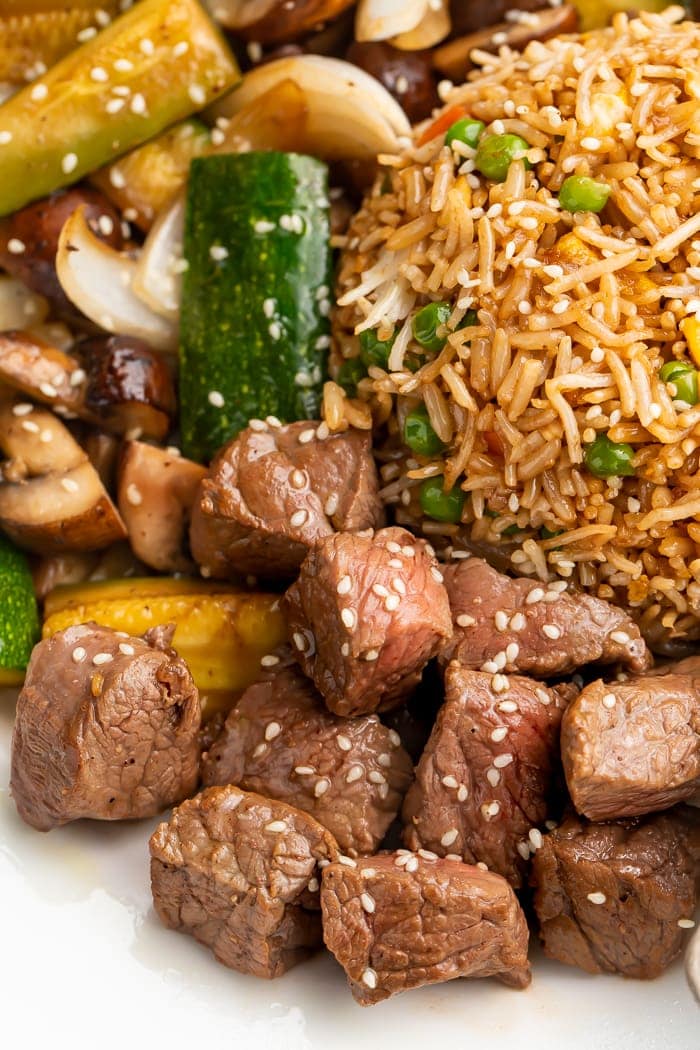 How To Make This Recipe
The full recipe & ingredients list are below, but here you'll find a quick overview for making this recipe perfectly, along with useful tips and info!
Make the ginger sauce by blending together all the ingredients until smooth. Pop it in the fridge until you're ready to serve!
To make the fried rice, sauté the onion and frozen veggies until soft, then push them to the side of your pan. Crack the eggs into the skillet and scramble them. Add the cooked rice and butter, then mix in the veggies and soy sauce. Pack the fried rice firmly into bowls to keep it hot.
In the same skillet, you used for the rice, cook the steak until it's browned on every side. (Check out the top tips for how to perfectly cook your steak!) Only stir the steak a few times so it will get nice and brown.
Make the veggies at the same time in a separate skillet. Sauté until they're tender.
Serve with the ginger sauce for dipping.
Top Tips For Making
The amount of time you cook your steak depends on how rare or well-done you like it. For medium-rare, cook for about 2 minutes, or until just browned. For medium, cook for 3 minutes or until a piece of steak pressed on with spoon has some resistance. For well done, 4-5 minutes or until the steak feels firm.
For the best fried rice ever, use leftover rice that you made ahead of time. To get even more restaurant-quality rice, buy some that's been pre-cooked from the grocery store.
We used white rice for this recipe, but you can use any precooked rice you'd like, including brown or cauliflower rice.
Why This Recipe is Perfect with Danish Creamery
For 125 years, Danish Creamery has been making delicious, high-quality butter from the same whole, real ingredients. Danish Creamery's original butter with a touch of sea salt is perfect for making your hibachi steak rich, creamy, and full of flavor.
Read more: how to cook sliced teriyaki pork for stir fry | Family Cuisine
Danish Creamery's butter comes from pasture-raised cows from family farms, which makes me feel great about eating it. Not to mention, their butter is also growth hormone-free! It's a delicious way to feel good about where my food comes from.
Danish Creamery is available nationwide!
More Delicious Asian Recipes
Egg Roll in a Bowl with Creamy Chili Sauce (Whole30, Low Carb, Keto, Paleo)
Egg Roll in a Bowl Meal Prep (Whole30, Paleo, Keto)
Whole30 Sesame Chicken
Best Ever Tom Kha Gai Soup (Thai Coconut Chicken Soup, Whole30, Paleo)
Healthy Lettuce Wraps – PF Changs Recipe (Whole30, Paleo)
Paleo Chinese Chicken Salad (Whole30)
Szechuan Chicken
Breakfast Egg Roll in a Bowl (Whole30, Paleo)
Hey – you've made it this far, and now we're best friends! If you make this recipe, I'd love for you to give it a star rating ★ below. Make sure you follow me on Instagram, Pinterest, and Facebook, too!