Delicious Homemade Fry Bread—aka "Navajo Tacos" or "Indian Bread"—pillows of dough, fried until crispy on the outside and soft on the inside. Make it a meal by adding sweet or savory toppings!
Fry Bread is one of those novelties that I don't make very frequently, but when I do, it's a real treat! I don't love fried foods (they make such a mess of the kitchen) but it's worth it for certain things, like homemade donuts, funnel cake, or this fry bread.
Reading: how to make indian fry bread videos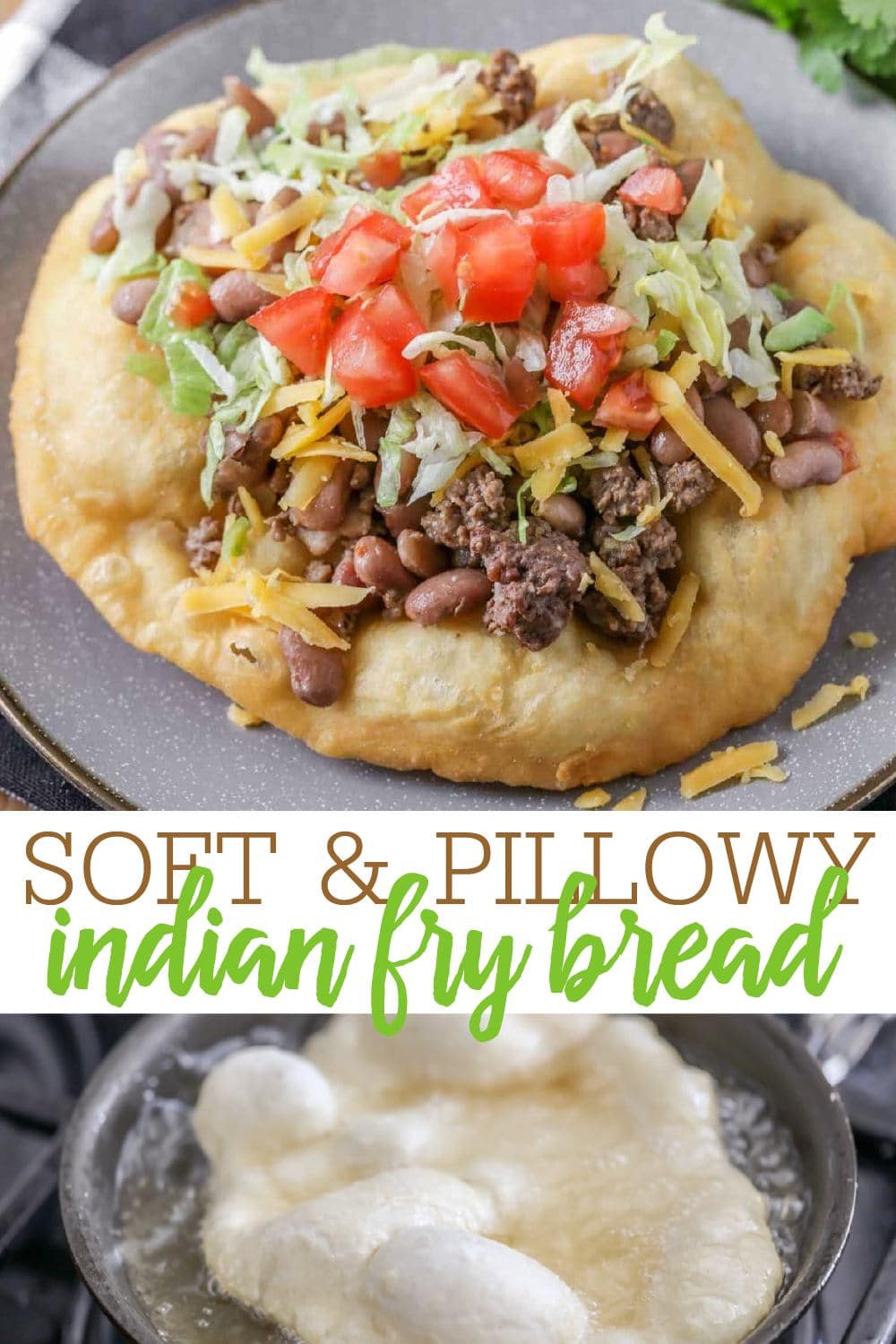 What is Indian Fry Bread/Navajo fry bread?
Have you ever had Indian Fry Bread before? It's also known as a "Navajo Taco," but we typically just call it "Fry Bread." We've also called them "Pop Overs" too – lots of names for lots of goodness!
If you haven't had these before, I highly recommend giving them a try. They are amazing!! The recipe I'm sharing today is one we've used since I can remember. My mom has been making them ever since I was little, and I'm pretty sure it was a recipe that Grandma Luna had taught her decades earlier.
Everyone in my family eats them a bit different. We usually serve them up with hamburger and beans and let everyone add their own toppings like tomatoes, lettuce, sour cream, cheese and olives.
Others in my family pour honey over them and a few also like to add powdered sugar and just eat it as is.
Are elephant ears the same as fry bread? Though similar, there is a difference. Fry breads are thick, about 6-8 inches in diameter and topped with anything from powdered sugar to beef tacos. Whereas elephant ears are thin, bubbly, about 10-16 inches in diameter and traditionally only topped with cinnamon and sugar.
Read more: how to stir fry broccoli without burning it | Family Cuisine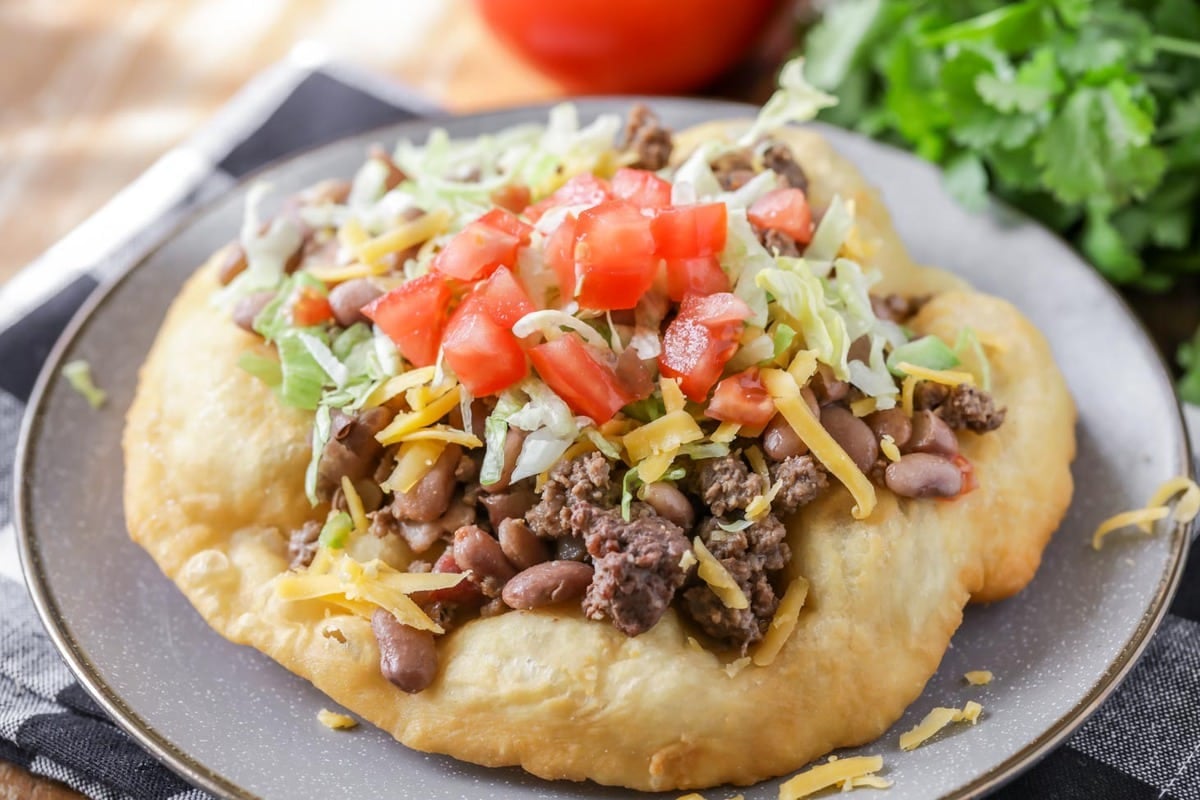 How to Make Fried Bread
This recipe for Indian fry bread only requires FOUR ingredients! And chances are you probably already have all of these on hand.
Flour
Salt
Baking Powder
Water (warm)
MAKING DOUGH BALLS. All you have to do is combine the dry ingredients and add the warm water.
Mix with your hands until it forms a dough – it should NOT be too sticky. Let the dough sit for 5 minutes. Break off the dough into golf ball sized balls (or even a little bit bigger if you like bigger fry bread).
ROLL OUT& FRY. Roll the dough balls into ½-inch thick circles that are about 6 inches in diameter, and fry each piece in a sauce pan. Make sure the oil is 1-2 inches high in the pan.
Fry until dough is golden and poofs up, and then fry on the other side keeping it in the oil. Set on a paper towel to drain oil.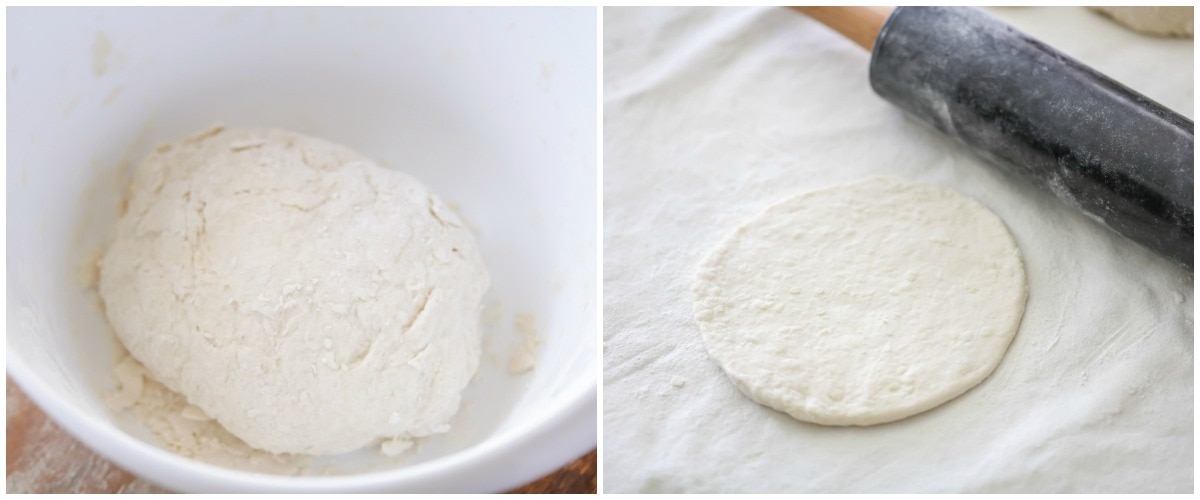 ToppinGs + Tips
TOPPINGS. If you want to eat it like a Navajo Taco and pile meat, beans, and other toppings on, check out the recipe card below for instructions on making the toppings! Some of our favorite toppings include:
meat & beans
sour cream
salsa
guacamole
cheese
lettuce and tomatoes
Read more: how to make stir fry in a wok with chicken
And if you want to keep things simple, you can enjoy it like many of those in my family and, just add powdered sugar to it. 😉
To help your bread to remain flat, instead of curling up on the edges to form a bowl shape, tear a small slit in the center of each piece right before frying.
Make sure your oil stays at a consistent temperature. If the temp is too low the bread will be tough. If it's too hot the outside will burn before the inside cooks through.
Keep the fried bread warm in the oven set at 200°F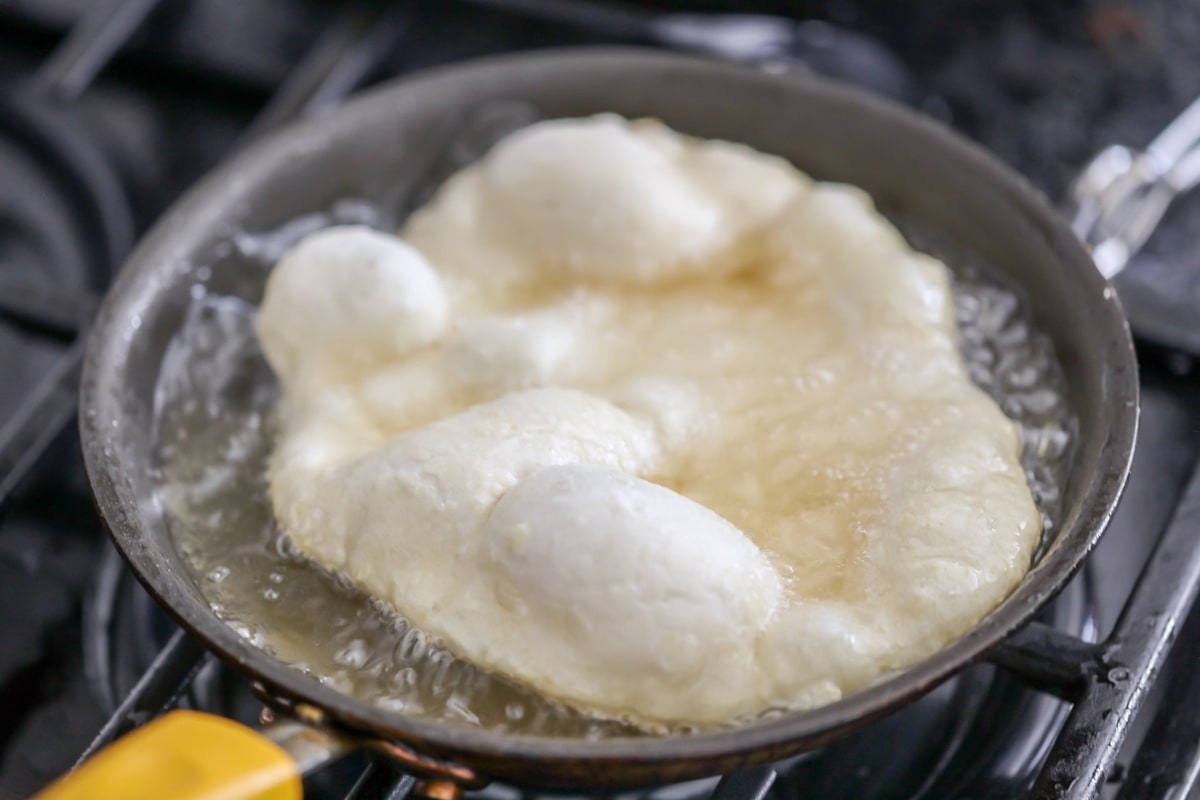 STORING & FREEZING
Here are our top tips for storing fry bread:
Counter top at room temperature: Wrap the bread loosely in plastic wrap or an unsealed ziplock bag. Store for 1-2 days.
Freezer: Once the bread has cooled pat each piece with a paper towel to remove any excess oil or water. Wrap each piece with plastic and store in an airtight freezer safe container. Freeze for 3-4 months.
To reheat fry bread: heat the oven to 350 degrees F. Wrap each piece of fry bread in aluminum foil and bake until heated through, about 15 minutes. If you're in a hurry you can throw it in the microwave.
As always, anything fried is best served fresh, so keep than in mind. 😉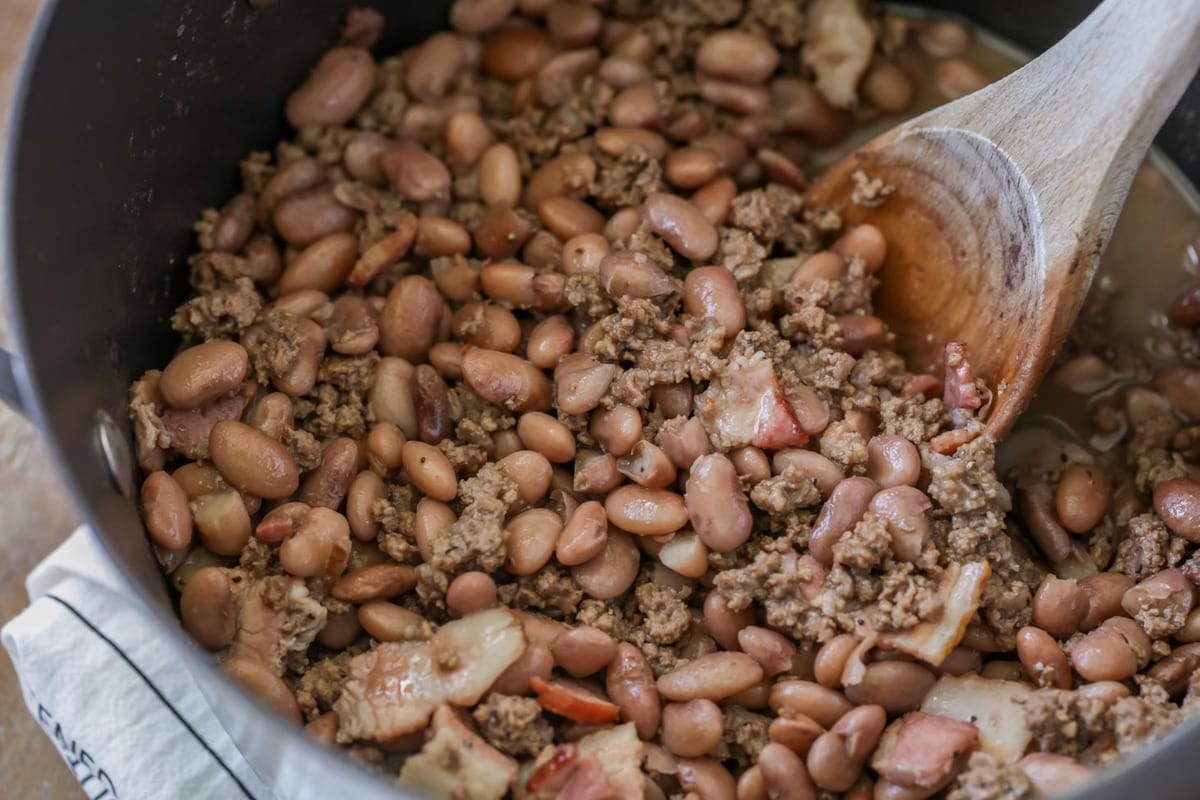 MAKING ahead of time
Fry bread is one of those foods that are best freshly made, so we don't recommend making them ahead of time. However, you can mix up the dough and store in the fridge or freezer until it's time to fry.
Dough in the fridge: Cover bowl with plastic wrap or transfer dough to a ziplock bag. Store for 1-2 days. Some bakers even recommend chilling the dough for a few hours before frying.
Dough in the freezer: Fry bread dough freezes well. Once your dough has been mixed portion it into 3 inch balls and flash freeze. To flash freeze line a baking sheet with parchment or wax paper. Place dough balls ½ inch apart. Freeze for 3-5 hours. Once they've begun to freeze, place each ball into a separate plastic baggie, then place all the balls into an airtight freezer safe container. Label and store for up to 1 familycuisine.net you're ready to fry, remove the desired number of balls. Leave each ball in the baggie and thaw in the fridge overnight. About 30 minutes before fry time, remove the dough from the baggie and let the dough come to room temperature. Fry according to recipe directions.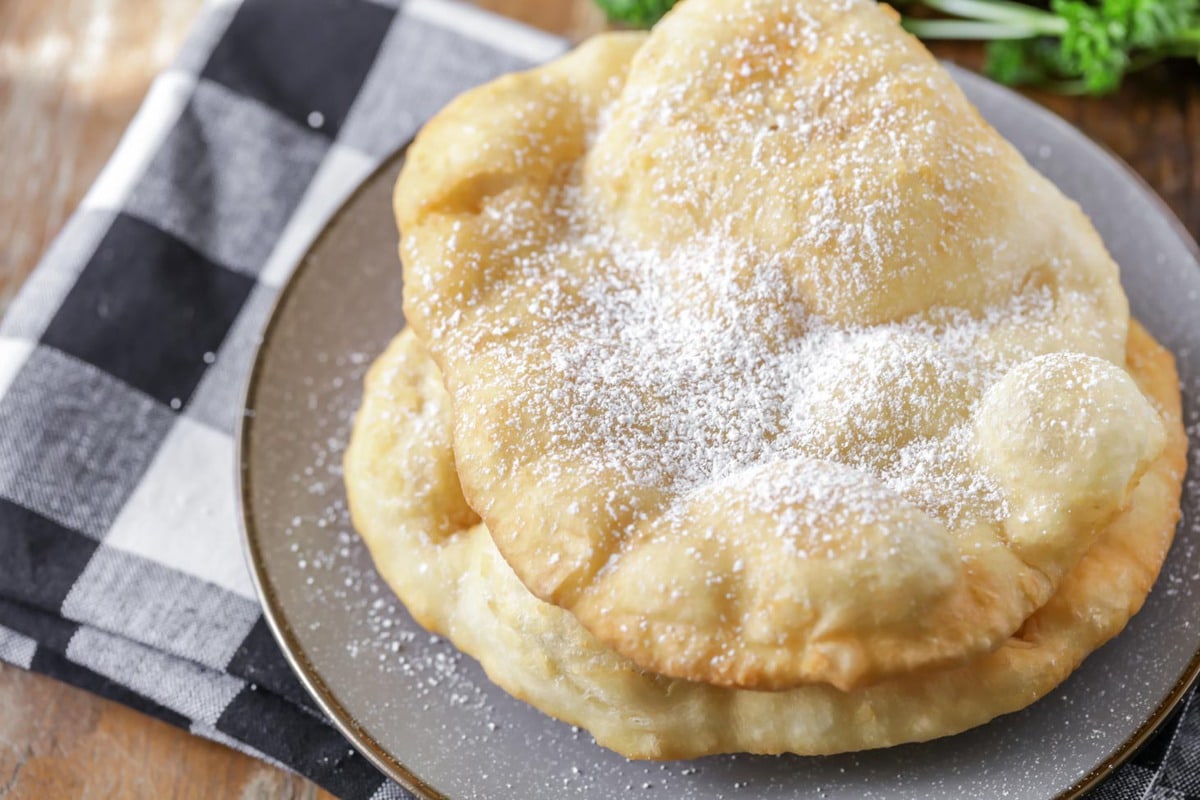 Personally, I like adding all the hearty ingredients like hamburger and beans and pile that baby up high with all the fixings. Top it off with some salsa, and it's like heaven on a plate! Add some tomatoes and avocados too and you'll definitely be in heaven!
Read more: how to season shrimp for stir fry | Family Cuisine
For more recipes, check out:
Homemade Flour Tortillas
Taco Quiche
Cream Cheese and Chicken Taquitos
Green Chile Chicken Enchiladas
Mexican Lasagna