Super easy Jungle Juice is a great way to take care of drinks at a big party. Not only is it easy, but it's also a cheap cocktail. Whether it's for the neighborhood cookout, Super Bowl party, or some "me time", this delicious drink with chunks of fruit floating in rum, vodka, triple sec, real fruit juice, and soda is a winner.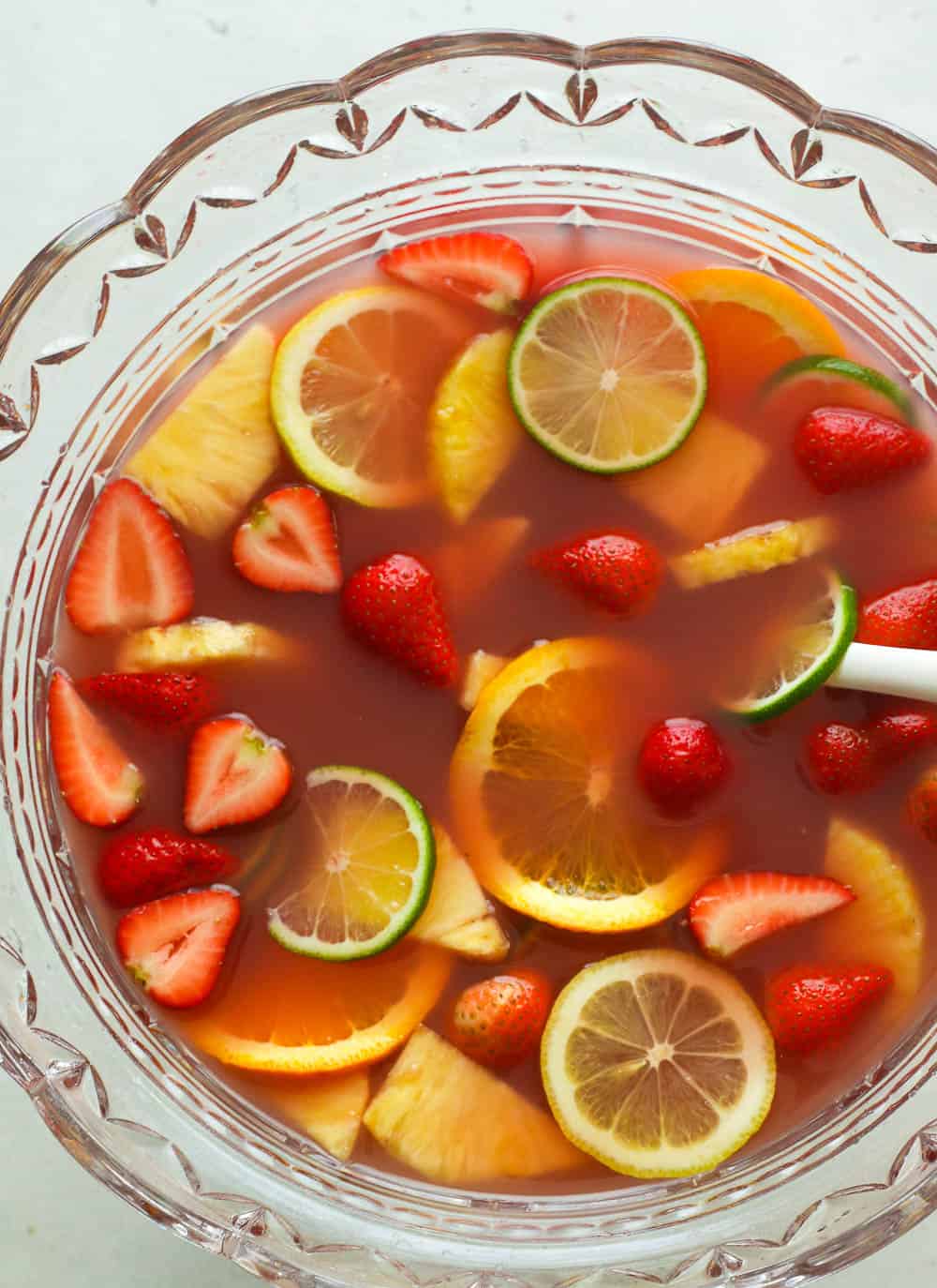 The drink called Jungle Juice sounded like it could be dangerous. Then, when I found out what it is, there's no doubt in my mind that it is scary stuff.
I don't mind a boozy drink once in a while (especially this coming Labor Day 😉). However, there is so much alcohol in this baby that I wouldn't even think about serving at a family affair. I do believe that the sole purpose of this drink is to get drunk.
I never did find a single-serving for this recipe. This will make gallons, well, 1 ½ gallon, to be exact. That's enough for a serious party. Please make sure to drink responsibly.
Where did Jungle Juice Come From?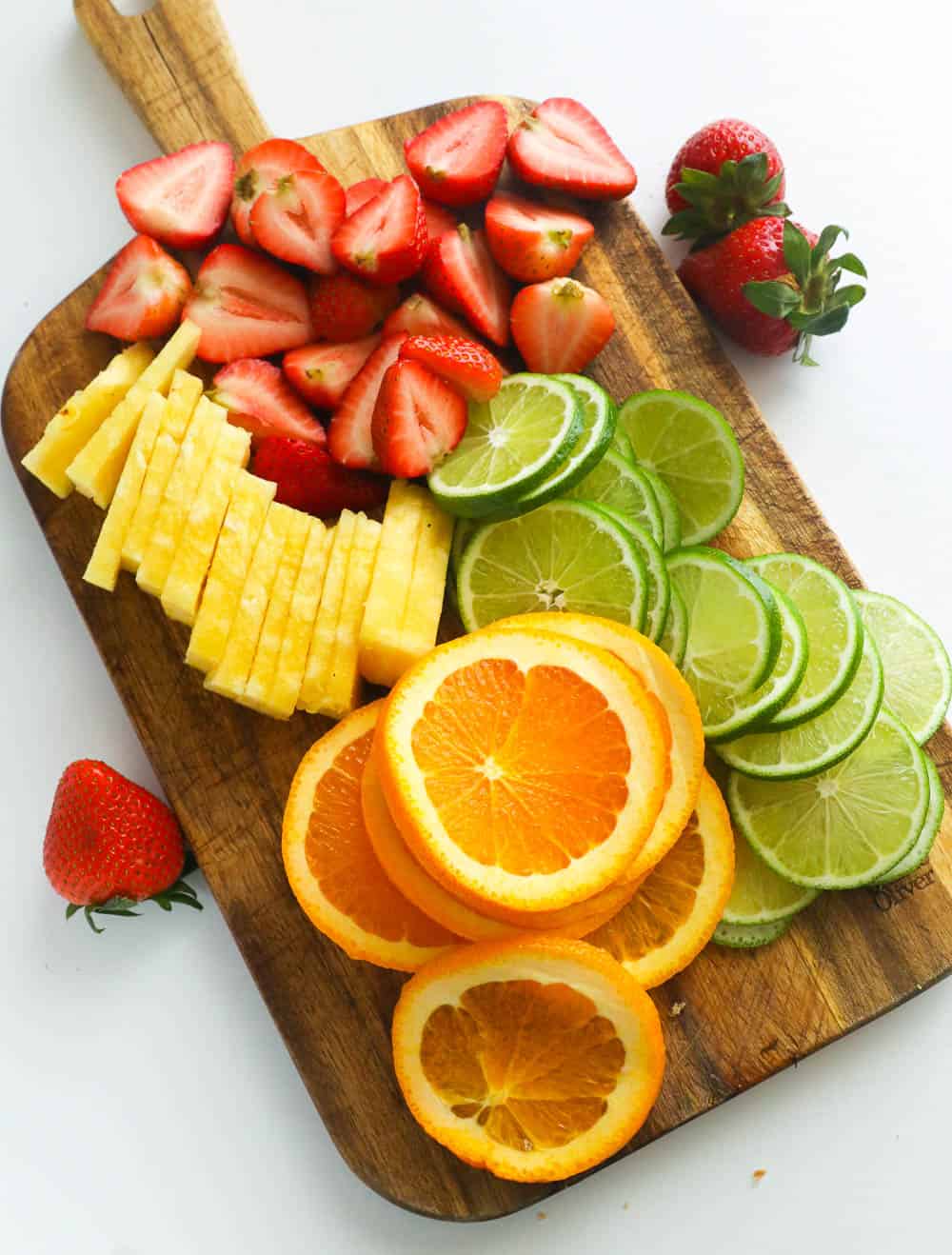 Read more: Unicorn Kisses Cocktail – Fun Girly Cocktail | Family Cuisine
Jungle Juice was an invention of US soldiers stationed in the Southwest Pacific, aka, in the jungle, during the Second World War.
What better way to drown the horrors of war than with the most potent drink you can get. The problem was that alcohol was hard to get, and it was expensive. Solution? Learn to make jungle juice. I think it was probably more like turpentine than a good drink.
As with many fermented beverages, it improved over time. While tons of recipes are out there, the drink still reflects its original purpose of extreme intoxication. That's not what I'm about. I prefer flavor over alcohol. That said, I still enjoy a good drink once in a while.
Can You Taste the Alcohol in Jungle Juice?
No, you can't. The fruit juices hide the taste of the alcohol. So please be careful with this drink because you can't tell how close you are to going comatose. The concept reminds me of the Long Island iced tea. It tastes so much like tea that you'd never guess how much alcohol it has until you're already on the floor.
Jungle Juice Recipe Ingredients
Oranges, lemons, limes, strawberries, and pineapples – all sliced up into the punch bowl make a beautiful presentation.
Rum is the alcohol of choice in most tropical drinks. It's made from sugar cane and goes very well with fruit.
Vodka doesn't have much taste. It is just in there for the alcohol content.
Triple Sec is a delicious orange-flavored liqueur that originated in France.
Pineapple Juice gives the drink that great tropical taste that will remind you of the jungle.
Strawberry Juice adds a refreshing sweet tartness.
Lemonade adds a citrusy flavor to make it even more tropical. I love to use my homemade lemonade version.
Orange Juice is another tropical citrus that adds to the jungle feel and taste.
Lime Soda adds flavor, fizz, and sweetness.
Fruit Punch another tropical fruit juice to sweeten up the mix.
Cranberry Juice may not sound like it belongs in this drink, but it does add a special touch that is refreshing.
Fresh Lime Juice is my go-to that kicks up the flavor with a subtle touch.
Alternative Ingredients
Liquor – Honestly, you can replace the rum, vodka, and triple sec with any of your favorite liquors. Tequila, gin, brandy, it's all good. You can use Everclear, but that stuff scares me. If you want an alcohol-free drink, make mango lemonade. Just kidding, you can leave it out for an awesome fruit punch.
Fruit Juices – You can use a combination of any of your favorite tropical fruit juices. Try papaya, mango, grapefruit; you name it. It is close to impossible to mess up this recipe.
Lime Soda – Lemon soda, ginger ale, cream soda, or any other light-colored or fruit-flavored soda will be great if you don't have lime. You could even get away with seltzer water on this one.
Fruit – You could leave it out, but it wouldn't be nearly as attractive. What fruit do you have? Kiwi, blueberries, apples, or any fruit that can stand up to some stirring. You might get away with bananas, but I think they would get mushy, and it would make the drink a little cloudy. But who cares?
Tips & Tricks
Half or double the recipe – Is the party not as big or bigger than you originally planned? Use my calculator to adjust the measurements to the desired quantity.
Freeze the fruit – Mix the alcohol with the pineapple and freeze it the night before to keep the drink colder.
Read more: How long does detox tea take to work
Reduce the alcohol – You can use half the alcohol or put even less if you want a safer party.
Making Ahead and Storage Instructions
You should make this at least 3-4 hours ahead of time to let the flavors all have fun and bring the best of each other out. If you have 12 hours, that's even better because the fruit soaks up some alcohol. Then I like to eat the spiked fruit.
I would be surprised if there's any left when the party is over, but if there is, you can store it in the fridge for 2 weeks. You can freeze leftovers, too.
Serving Suggestions
Fish & Chips – Crispy fish and French fries are the ideal party mates of the highly alcoholic Jungle Juice.
Ham & Cheese Sliders – These delightful mini sandwiches are perfect finger food at a large party.
Pulled Pork Eggrolls – Enjoy a taste of Asia with these eggrolls. Satisfying and filling bites of pulled pork with BBQ sauce.
Air Fryer Coconut Shrimp – Welcome the tropics with these coconut-crusted shrimp to accompany your cup of Jungle Juice.
More Fun Drinks to Try
Strawberry Margarita – Fruity and citrusy, this drink is truly refreshing on a hot day.
White Sangria – A twist on the traditional sangria made with red wine, this fruit-filled drink with white wine is so good.
Mulled Wine – For those moments you want to get rid of a chill, this hot wine drink is just the ticket.
Piña Colada – One of my favorite tropical drinks because I feel like I'm relaxing at the beach, even if it's only in my backyard.
How to Make Jungle Juice
The Fruit
Add the fruit to a large drink dispenser or bowl, then add fruit juices, soda, and alcohol. (Photos 1-4)
Finishing Touches
Adjust to your taste buds by adding more alcohol or more lime soda. (Photo 5)
Chill it. If possible, chill for a time to let the fruit flavor the cocktail.
Serve cold.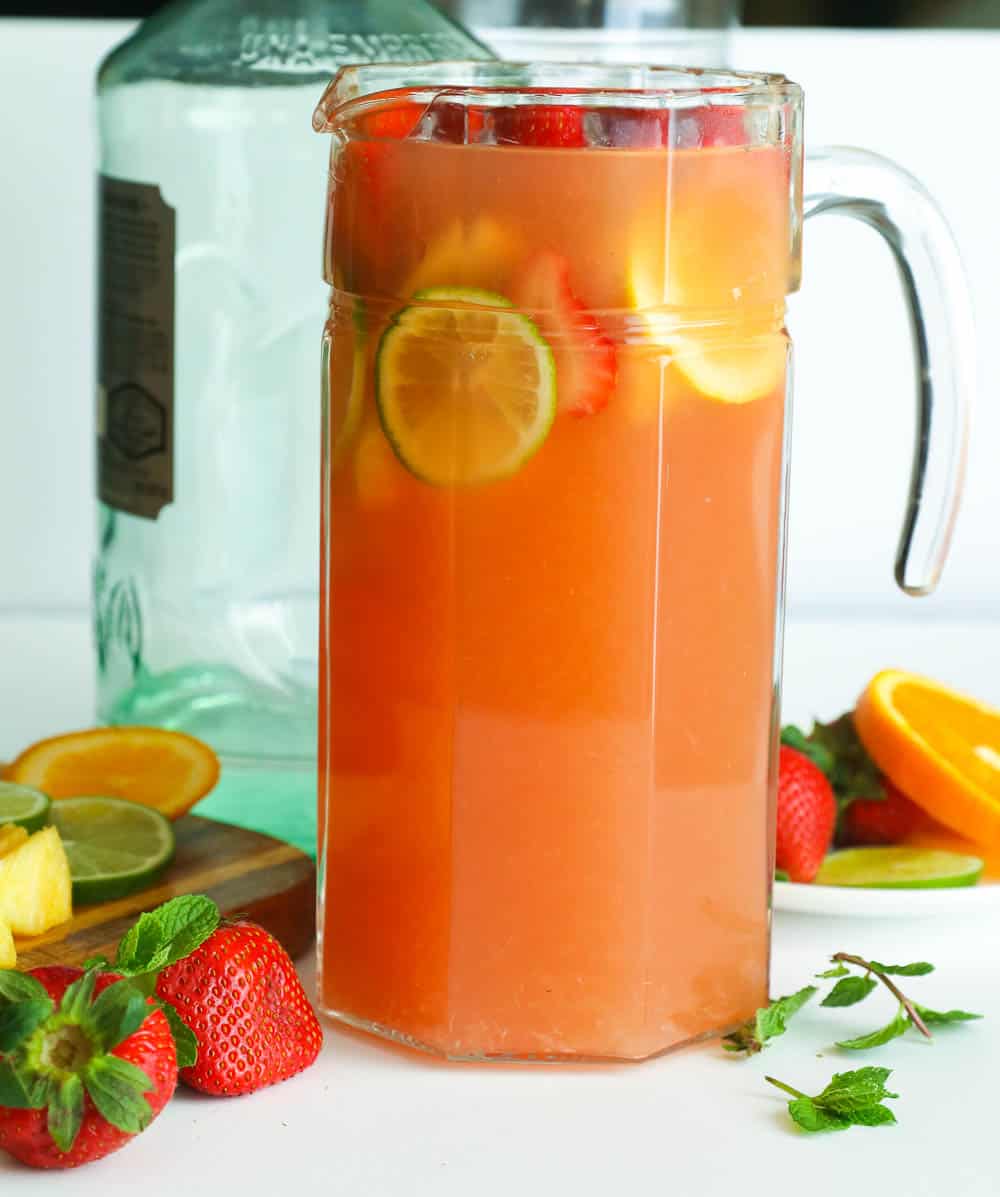 Watch How To Make It
Read more: how to make fruit and vegetable smoothies